Even though Animal Kingdom has always been the largest of the four Disney World theme parks, we personally feel like we can tackle all our must-dos within one day's time… or at least that's what we USED TO SAY! Those days are long gone! Animal Kingdom has grown in size and entertainment, leaving us struggling to keep up in one day. So, we are excited to share that we feel Animal Kingdom has moved from a one-day park to an easy two-day park, if not more. Here are six reasons to spend two days at Animal Kingdom to get in all the "must-dos"!
1 – Nighttime (and Daytime) Entertainment
Sure, Animal Kingdom can't have fireworks due to the animals, but that doesn't stop them from kicking the nighttime entertainment into high gear. Tree of Life Awakenings and Pandora – World of Avatar at night is a whole new world. Experience Animal Kingdom at night with the glowing paths of Pandora and the dancing of fireflies on the Tree of Life. When the sunsets Animal Kingdom comes to life! Plus, let's not forget about all the daily entertainment that could easily fill a day at Animal Kingdom if you wanted it to! You may know about the must-do Broadway-style shows: Festival of the Lion King and Finding Nemo: The Big Blue… and Beyond! No matter how many times we've seen these shows, we still want to watch them when we visit! Outside of these popular shows, guests often pass some of the not-so-well-known entertainment. Feathered Friends in Flight, Harambe Wildlife Parti, Viva Gaia Street Band, and Tam Tam Drummers of Harambe are just a few we highly recommend. Spread out this entertainment among your favorite attractions over two days to get the most out of your Animal Kingdom experience.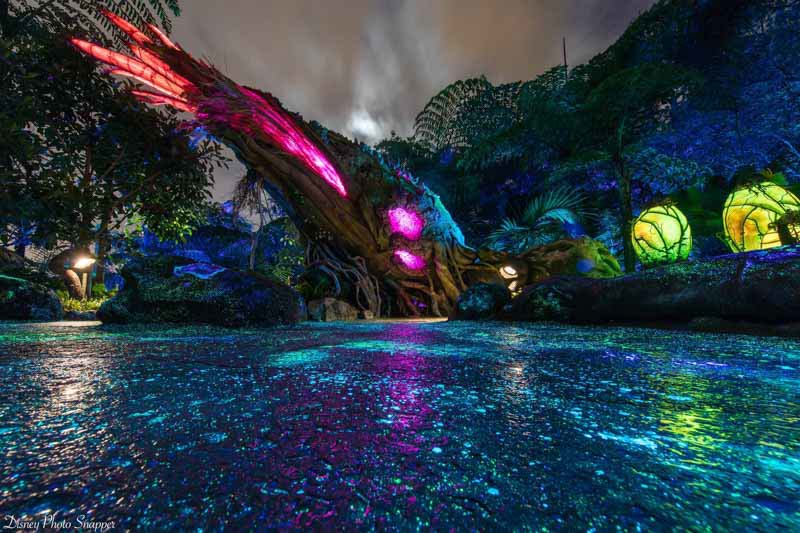 2 – Finally Time to Explore!
When we focus on our "must-do" list, the attractions tend to take center stage. Unfortunately, scheduling time to explore Animal Kingdom doesn't make it into our packed-out day. We love that with two days at Animal Kingdom, we can really stop and enjoy the beauty the Disney Imagineers worked hard to provide. Stop and examine the Tree of Life on Discovery Island Trails. Check out the gorillas on Gorilla Falls Exploration Trail. Take in the sights on the Maharajah Jungle Trek. From Oasis Exhibits to an impressive Conservation Station, exploring at Animal Kingdom may actually make it into your plans now that you have two days to schedule!
3 – Try Different Dining and Lounging Options
To put it plainly, there is just too much goodness to eat and drink in one day! From food kiosks to lounges, to table service dining – we can't get enough of what Animal Kingdom dishes out. By spending two days at Animal Kingdom, you'll have the opportunity to enjoy highly sought-after table service restaurants such as Tiffins, Tusker House, and Yak and Yeti. Excellent quick service options are spread perfectly throughout the park, making a quick meal easy. Check out the quick-service spot known as Satu'li Canteen in Pandora or go with the classic but delicious Flame Tree Barbecue. Numerous kiosks are probably our favorite places at Animal Kingdom to grab a quick bite and be on our way, especially as the cuisine changes when entering different parts of the park. And finally, Animal Kingdom has stepped up its lounge atmosphere with the latest Pongu Pongo in Pandora. We also recommend the Nomad Lounge next to Tiffins. So much to enjoy… why not spread out the deliciousness to two days?!
5 – Do More Than Window Shop
We'll be honest, we aren't huge shoppers. This means that if time doesn't allow for it, we might check out a store as we walk by via the windows! Double our time in the park, however, and in we'll go! We love Animal Kingdom's shops as they have some of the most unique souvenirs you'll find out of all the parks. Connect with the Banshee at Windtraders, snag some sweet treats for later at Zuri's Sweets Shop, pick up an Animal Kingdom-themed Mickey Hat at The Outpost Shop, and find your favorite dinosaur to take home at The Dino Institute Shop. No longer the days of rushing by and window shopping! Head inside and see what memories you can bring home.
6 – Enjoy Extra Character Encounters
We aren't just talking about the incredible animals you'll find on Kilimanjaro Safaris! Animal Kingdom is loaded with characters – some unique to this park only. Meet Mickey, and Minnie (in their wilderness gear), Moana, Donald, Daisy and Chip 'n Dale. You'll also see certain characters on the Discovery Rivery throughout the day. Check the My Disney Experience app, as some of these characters aren't out for meet and greets as often as others. With two days in the parks, you don't need to worry so much about spending time in line to give these Animal Kingdom friends a hug!
7 – Ride the "Classics" Twice
Yes, we think the Pandora attractions rock! But that doesn't mean we don't want to conquer the Yeti on Expedition Everest. By spreading out your plans over two days, you might be able to ride some of the Animal Kingdom "classics" twice, if not more. We would be more than happy to ride Expedition Everest, Kilimanjaro Safaris, Dinosaur, and Kali River Rapids as many times as possible!
For a no obligation, FREE Quote on a Disney vacation package, please contact our travel partner Magical Vacation Planner at 407-442-0227 (407-442-0215 for Spanish). You can also request a FREE quote online by Clicking HERE.