Regal Eagle Smokehouse is the newest quick-service restaurant in the American Adventure pavilion. It opened in February 2020, and the overall reception has been very positive. While the restaurant is an overall hit, there were a few misses. Catch our full review and what you need to know below.
1 – Sam the Eagle
The restaurant takes its name from Sam the Eagle, the Muppet known for his patriotism. Throughout the restaurant, you'll see touches of inspiration in the décor. You'll see him on the sign as you walk in and throughout the restaurant. The restaurant is also decorated with Americana décor. (Click on any photo to enlarge).
2 – A Salute to All Cook-Offs but Mostly Barbecue
Regal Eagle is the site for "Sam's Centennial Cook-Off: A Salute to All Cook-Offs but Mostly Barbecue." The restaurant offers up classic American backyard barbecue from around the United States, including the regions of Texas, North Carolina, South Carolina, Memphis, and Kansas City.
3 – Entrées
The restaurant offers a pretty good variety of different kinds of barbecue. You'll find smoked half-chicken, beef brisket, dry-rub pork ribs, a BBQ burger, and smoked pork butt platter. The restaurant also serves a power greens salad with chilled pulled chicken, and a BBQ Jackfruit burger, which is a plant-based burger with BBQ jackfruit.
We were able to try three of the meats, the brisket, ribs, and pork butt, in addition, the BBQ Burger. If you're a burger fan and you're looking for a step up from the standard Disney park burger, you'll be pleased. For the barbequed meats, we admit that we tend to be barbeque snobs. When we travel around the country, we've gone out or our way to hit some of the country's top-rated barbeque joints. We're also spoiled in Orlando with 4 Rivers (our top restaurant choice), which makes the best brisket we've ever had anywhere. So, we were a little worried going in. However, for the most part, we were pleasantly surprised. The ribs were pretty good. They were surprisingly meaty and had a really good flavor. The pork butt was the big surprise. It was fantastic. As a point of comparison, we thought the pork butt was better than 4 Rivers, which is really saying something. The only disappointment was the brisket. We won't lie; it was pretty bad. (Click on any photo to enlarge).
Since Cindy is trying to cut back on the amount of meat she consumes, she was excited to try the plant-based BBQ Jackfruit burger. The patty is a Beyond brand burger. She has enjoyed Beyond Burgers at other locations, and this one was no different. The patty was generous, perhaps over 6 ounces if we had to guess. Entrees range from $11.79-$16.29. The prices are in line with what other Walt Disney World restaurants charge.
4 – House-Recipe Sauces
You'll find four different house-recipe sauces at Regal Eagle.
Spicy Mop Sauce – inspired by Texas-style "mop"
Sweet BBQ Sauce – inspired by classic dry rub seasonings
Vinegar-based Sauce – inspired by North Carolina's tradition of vinegar and pepper
Tangy Mustard Sauce – often referred to as "Carolina Gold"
The sauces were decent. All were tried, and all were a little off. The Sweet BBQ, which will probably be what most people think of when they think BBQ sauce really needed to be sweeter. The vinegar-based sauce (which Chad is a fan of) didn't really have the pucker factor that makes vinegar-based sauces great. The Spicy Mop Sauce was actually less spicy than the vinegar-based sauce. The Tangy Mustard Sauce was pretty good. Overall, we'd encourage everyone to try them all. Don't immediately dump the sauce all over your meat. Sample all of them before making a decision. After sampling each of the meats with each of the sauces, we actually decided naked was the best choice and finished the rest of the meat without any sauce at all. The barbecue is good enough, it stood alone just fine.
Entrees also come with a side. Sides include onion rings, coleslaw, macaroni & cheese, baked beans with burnt ends, and seasoned French fries. If you want extra sides, they cost $4.99, which is on the pricey side for the amount you receive. Sides were hit and miss as well. We loved the mac & cheese and would get double of this next time. The beans were terrible. Everyone had a spoonful, and the rest was thrown away.
6 – Desserts
The desserts range from $4.99 for a watermelon cup to $5.29 for the sweet treats. You can choose from banana pudding or s'mores brownies. The watermelon is really overpriced for what we saw people receive. Cindy enjoyed the banana pudding. The cake inside was moist, the pudding delicious, and the whipped cream on top is the perfect ending.
7 – Beverages
Regal Eagle also has a decent lineup of beverages to choose from. There is a standard assortment of Coca-Cola Fountain Beverages with three different refill stations. We love how newer restaurants are allowing guests to get their own beverages. It makes getting refills so much easier. The restaurant also has a Berry Punch, which is mixed white grape juice with strawberry, peach, and blackberry. There is also a good selection of draft beers and wines, along with a Tennessee Lemonade cocktail. Outside of the restaurant, there is a drink location featuring an impressive variety of craft beers and ciders on tap, so if you're only looking for a drink, you don't need to come inside to order.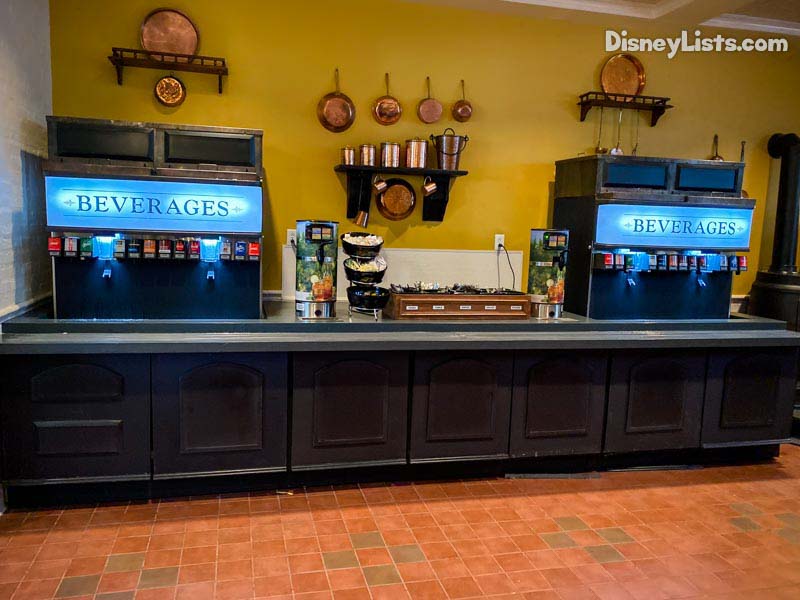 8 – Overall Thoughts
Overall, we really enjoyed our dinner at Regal Eagle. The food offerings are definitely a step up from Liberty Inn's offerings of burgers and chicken nuggets. We feel that even with a few misses, this is an excellent addition to Epcot, and will be our new favorite counter service at this park. The barbecue is a huge step up from Flame Tree Barbeque at Disney's Animal Kingdom. Outside of Food & Wine Festival, craft beer at Disney World usually means things like Sam Adams and Blue Moon. The selection of craft beers at the outside bar is surprisingly solid, with some relatively obscure gems. With the addition of Regal Eagle, Disney World continues its trend of upgrading its food and beverage experience. Regal Eagle is a huge step up from Liberty Inn and is definitely a win.
For a no obligation, FREE Quote on a Disney vacation package, please contact our travel partner Magical Vacation Planner at 407-442-0227 (407-442-0215 for Spanish). You can also request a FREE quote online by Clicking HERE.