Cinderella Castle is the main focal point and icon for the Magic Kingdom theme park.  This castle has become a major icon for Walt Disney World and even Disney as a company around the world.  There aren't many individuals who at least haven't heard of the castle and likely at least seen a picture or video of it.  Here are some great facts and secrets about the beloved Cinderella Castle:
12 – The castle is how tall?
Cinderella Castle is actually 189 feet tall.  It is made to look much taller utilizing forced perception so it looks taller when you are looking at it.  To help put the height and impressive nature in perspective, Cinderella Castle is actually 100 feet taller than Sleeping Beauty Castle at Disneyland in California.
11 – There are 27 towers on the castle.
If you count the different towers on the castle you will count a total of 27.  Interestingly enough, they are numbered from 1-29.  This is because there were 2 towers that ended up being deleted before construction actually began.  Tower 13 and Tower 17 were the ones that ended up getting removed from the design because they wouldn't have been visible from any perspective.  The add-ons to the castle are the newer turrets and aren't part of this numbering system.
10 – There is a guest suite in Cinderella Castle.
No joke, there really is an amazing suite that was used during the Disney Dreams promotion.  The suite was created to match the rest of the splendor of the hotel and every detail was considered in the design.  A family each day was selected to get to spend the night in the suite, getting to live a true Cinderella story.  That promotion is no longer in place, but we imagine that guests do still stay there.  This is likely reserved for VIP guests and celebrities that can afford a hefty price tag in order to stay there!
9 – That is a lot of water!
The moat around the castle actually contains 3.37 million gallons of water.  That is definitely much more water than I would have thought.
8 – The drawbridge is immobile.
You may be familiar with Sleeping Beauty Castle and how the drawbridge is able to be raised.  This isn't the case for Cinderella Castle.  The drawbridge is stationary and unable to be raised or moved.
7 – The castle cannot be dismantled in the event of serious weather.
It has been a long-standing myth and rumor that Cinderella Castle could be dismantled and stored if there were serious weather like a hurricane about to hit.  I can put this to rest by saying that this definitely isn't the case.  The castle is a permanent structure that has been built to withstand heavy winds and extreme weather conditions.  It can actually withstand 110 mile an hour winds!
6 – The Kiss Goodnight.
Most evenings some guests will get to see the "Kiss Goodnight".  This is where Roy Disney's dedication speech is heard along with music and lights going off on the castle.  This occurs about 30 minutes after park closing and is a little bit of extra magic as you are making your way around the park.  If you haven't seen it, you should definitely hang back and wait.  Plus, you'll likely spend less time waiting in line for transportation anyway!
5 – Those are impressive mosaics.
The 5 mosaics that you see in the archway of the castle help to tell the story of Cinderella.  Dorothea Redmond was the Imagineer that led their creation and design.  These were created using over 300,000 pieces of Italian glass!  Not only that this glass is fused together using real 14k gold!  Can you imagine how much these mosaics cost Disney to create?  They definitely spared no expense on the details.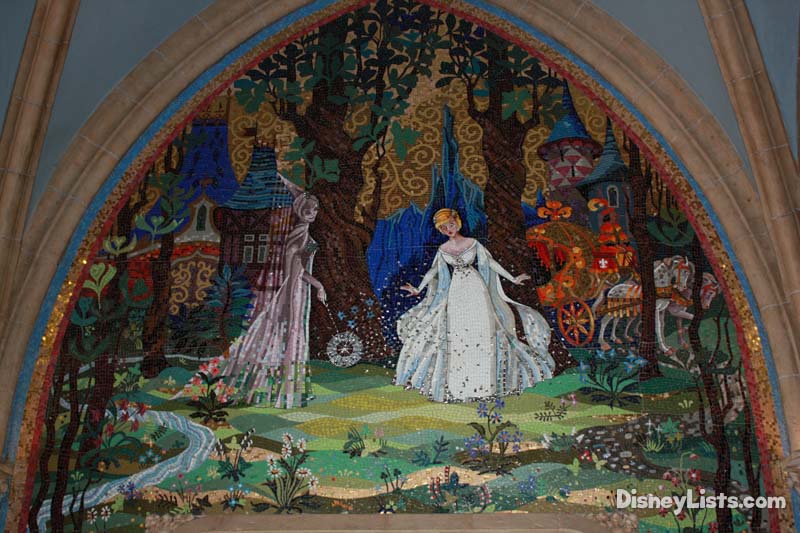 4 – There are 3 elevators inside.
The castle actually does have 3 different elevators in it.  One elevator takes guests up to Cinderella's Royal Table on the 2nd floor. Another elevator is a dumb waiter that is used to move food from kitchen to kitchen.  The last elevator is smaller and mostly used by cast.  It goes to the utilidor level as well as up to the Cinderella suite.
3 – Same amount of energy as running a dryer.
During the holiday season, the castle is all lit up with lights.  200,000 LED lights to be exact.  That is a ton of lights, right?  Since they are LED lights, they are super energy efficient.  All of these lights use about the same amount of energy to power as it would to utilize the average home clothes dryer.  It seems like the electricity for this one item won't break the bank!
2 – Every color you can imagine.
The technology and lighting in place that projects images and scenes onto the castle is quite impressive.  With this technology, Disney actually has a 16.7 million color palate that it can use to create and project perfect images onto the castle.  I didn't even know there were that many colors!
1 – IIII instead of IV on the clock.
You may have noticed and it bothered you that "IIII" is represented as the number "4" on the clock that is on the castle instead of using "IV".  There is actually a great reason for this.  "IV" wasn't used until after the Colonial Period.  "IIII" was even used in the Cinderella film and also appears at the American Adventure pavilion in Epcot and on a clock within the Pirates of the Caribbean.  This was intentional to be true to the time and remain historically correct.
For a no obligation, FREE Quote on a Disney vacation package, please contact our travel partner Magical Vacation Planner at 407-442-0227 (407-442-0215 for Spanish). You can also request a FREE quote online by Clicking HERE.