So, you've walked all around Epcot, and you're still not sure what to bring home as a unique souvenir? Should you get a t-shirt, a mug? How about that ride photo from Test Track where the wind is trying to pull your face off? While no trip is complete without a souvenir to display that others can ask you about, it is always a conundrum as to where and how to spend your money. We can't say we have solved all of your purchasing problems, but we've scoured the park to find these unique Epcot souvenirs.
1 – Germany
Nutcrackers. After stopping for a German beverage and a pretzel, we got down to business. We found German teddy bears, lederhosen, beer steins, and Cuckoo clocks, but nothing quite stood out like the German nutcrackers. I remember my Grandmother's Christmas nutcracker collection, so I might be a bit biased in this department. Also, I don't look that great in lederhosen, so we are confident that these nutcrackers are a better choice!
2 – The Art of Disney
Disney Park Keys. While this isn't a store or item specific to Epcot, we thought it was worth mentioning since it is one of our favorite stores to window shop in. This trip, we noticed something new: Disney Park Keys highlighting different attractions throughout Walt Disney World. Our favorite keys are the ones for the Haunted Mansion, though there are others for Pirates of the Caribbean, the Cheshire Cat, It's a Small World, and for Cinderella Castle. We have seen keys in the Magic Kingdom and the Disney Springs Art of Disney store, but this time the Haunted Mansion ones caught our eyes enough to make us stop and stare.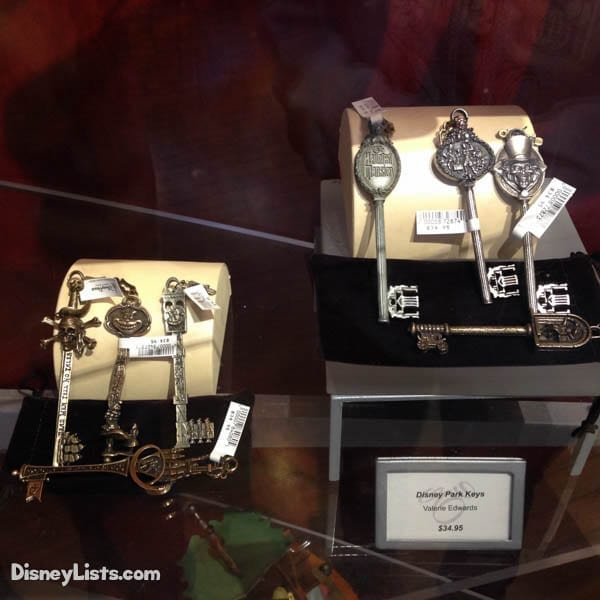 3 – France
Remy statue. Now, by this point, we had almost completed our journey around the world, and we were stuffed with pretzels and pizza, so in France, we skipped a few of the obvious perfumes and went straight to desserts. Once we got back on track, we found a cute statue of Remy and Emile that won't cost you too much. The only appropriate place to put it is in the kitchen, but we thought this was a fun Disney themed French souvenir.
4 – Italy
Limoncello serving pitcher. We may have stopped for pizza before finding this gem in Italy. There are many great things to choose from in this pavilion, including some interesting masks, but a simple, yet unique and functional souvenir is this great Limoncello pitcher. There are a few styles to choose from with different colors and sizes, so finding one to suit your taste should not be that difficult. It's not too expensive or obnoxiously large, plus, who wouldn't like an afternoon liqueur from Italy?
5 – Mexico
Oaxacan Wood Carvings. As you enter the Mexican Pavilion and walk down the ramp toward the center of the pavilion, there is a stand tucked away that would almost go unnoticed. Here we find the hand-carved, hand-painted Oaxacan Wood Carvings. According to the signage, these carvings are a mix of real and mythic imagery. With a variety of colors, animals, and subjects, you'll be hard-pressed to find a more unique or one of a kind gift.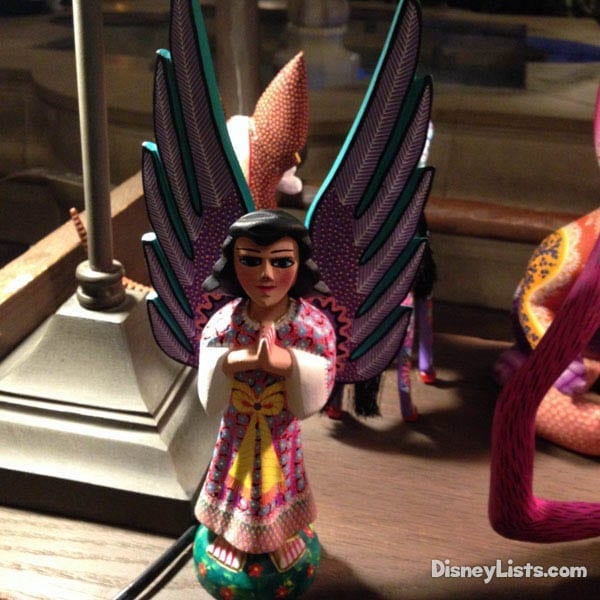 6 – Morocco
Aladdin's lamp. By far, the easiest selection was in Morocco. Where else can you find Aladdin's lamp?! It's almost as if the Genie was calling to us, saying, "pick me!" There are a few sizes to choose from, but these stand out as an obvious choice. Admittedly we tried rubbing a few of the lamps hoping for three wishes. We recommend trying it yourself, just don't pick the lamp that Jafar is trapped in!
7 – Norway
Troll Statues. Norway is a land protected by trolls. In the main gift shop, we were greeted by a larger-than-life wooden troll statue, and, of course, we couldn't pass up the possibility of bringing one home for ourselves. There's a wide selection of trolls to suit any taste.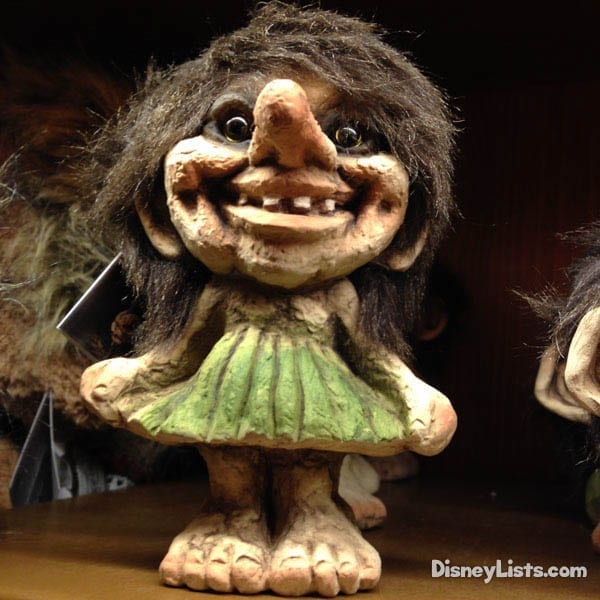 8 – Japan
Chopsticks. We know, we know, this isn't the most exciting souvenir…until you visit this store and see the incredible selection. In fact, we picked up a set as a gift for a family member who was looking for something unique that would go with her color combination. This is one of the largest gift shops we entered with an immense amount of things to choose from. We turned a corner and found a wall of chopsticks in a variety of designs and colors that would make for a great, simple souvenir. It might be a bit obvious, but trust us, when you see the selection, you'll know why we highlighted this item.
9 – China
Tea Set. I have vivid, though not fond, memories of being a 14 yr old and standing through the film in this Pavilion, so, honestly, as an adult, we have not spent much time here. To our surprise, though, there is a colorful gift shop with a thousand possibilities. We passed up several different items that stood out: swords, dragon statues, and Buddha statues. Here we found colorful and intricately designs tea sets that would make great conversation pieces in addition to functional serving sets.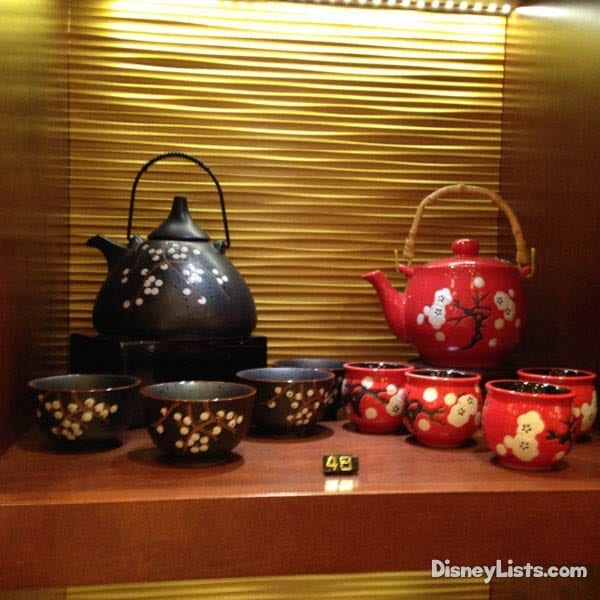 10 – America
Freedom…or an American-themed Disney pillow.We spent a little extra time in the American Pavilion listening to the Voices of Liberty and breathing in the atmosphere of liberty. The most expensive gift we encountered in the world is freedom. Though I think we can leave it at that, my wife wants me to include a tangible souvenir. The American gift shop is actually now a kiosk outside, but we did find this great American/Disney pillow that was tasteful, yet unique. Enjoy purchasing it in our free-market economy.
11 – Canada
'Organic' Soap. The last stop on our tour was the Canadian Pavilion. We thought about a stop at Le Cellier but decided to focus on finding the most unique gift of all. These classic soaps and lotions caught our eye with names like Sasquatch Sweat, Piggy Poop, Beaver Butt, and Bear Breath. Need we explain more?! We didn't dare smell these offerings, but we can't imagine anyone actually using them for anything other than conversation pieces. If you do, please let us know what fragrant aroma they offer!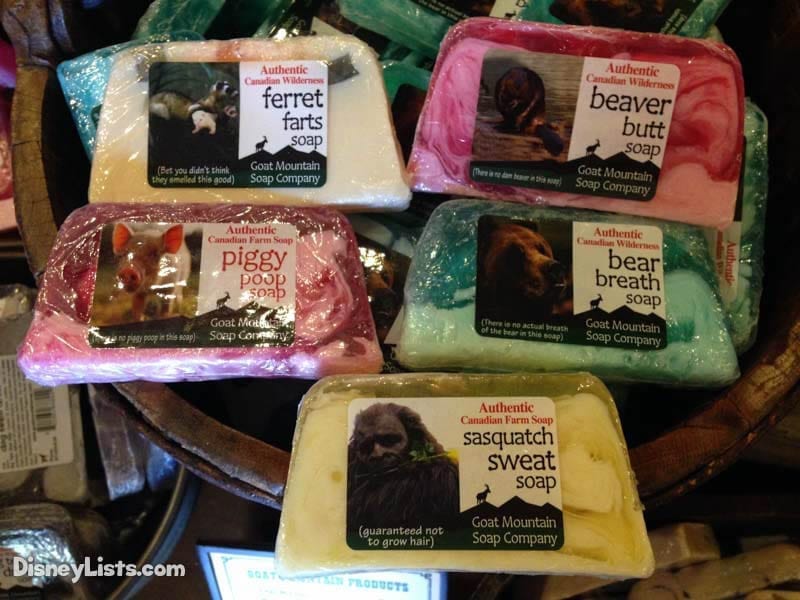 12 – United Kingdom
Family Crest. The Crown & Crest offers a neat souvenir, unlike any other. Flipping through their book of family names, you'd be hard-pressed to find one that is not included. We looked for our own family names along with our parent's maiden names and even grandparents' names just to see if they were involved, and we were not disappointed. A sure conversation piece, you can have just the family crest framed or the crest and a couple of paragraphs about your family history.
There are literally thousands of different souvenirs to choose from at Epcot, depending on your taste, budget, and home décor. One sure thing, though, is that if you're looking for a unique souvenir from your Walt Disney World vacation, Epcot provides incredible options.
For a no obligation, FREE Quote on a Disney vacation package, please contact our travel partner Magical Vacation Planner at 407-442-0227 (407-442-0215 for Spanish). You can also request a FREE quote online by Clicking HERE.