Many guests who enjoy a Disney World vacation love to spend time eating in different restaurants in the four theme parks, two water parks, Disney Resorts, and Disney Springs. Of all of these locations, Epcot is home to some of the most popular and unique dining options thanks to its unique four neighborhoods layout. While there are several dining options in the front of the park, each pavilion in World Showcase is home to at least one quick service and one full-service dining location. With so many options, it is no wonder why guests love to enjoy meals in Epcot. While full-service meals are enjoyable, quick-service meals feature fantastic food with the fast pace and convenience that allow guests to spend plenty of time still exploring all that the park has to offer. From unique themes and foods to beautiful settings and culture, here are the five best quick-service restaurants at Epcot to enjoy on a Disney World vacation.
5 – La Cantina de San Angel
The Mexico Pavilion in World Showcase is home to several dining locations, including a quick service option nestled right on the shores of World Showcase Lagoon. La Cantina de San Angel features several ordering counters surrounded by an open-air patio filled with tables with beautiful views of the water. Guests who enjoy the location for lunch and dinner can dine on options like Empanadas con Queso, Nachos, Pollo Cascabel, and Tacos de Pescado. In addition to the fantastic food, La Cantina de San Angel also serves up specialty drinks, including the Patron Cranberry Margarita on the Rocks, Mango Frozen Margarita, and Lime Frozen Margarita. Guests who are looking to enjoy a wonderful meal with a beautiful view should definitely stop by La Cantina de San Angel.
4 – Sunshine Seasons
One of the most popular quick-service locations in Epcot can be found on the lower level of The Land Pavilion in between Soarin' and Living with the Land. Sunshine Seasons is open daily for breakfast, lunch, and dinner and offers up delicious food that is often grown right inside the greenhouses of The Land. The location features several different counters, which each serve up unique menus for guests to choose from. Once seated with their food, guests can enjoy an open-air dining area underneath the beautiful glass atrium of The Land with seasonal balloons overhead. Sunshine Seasons offers delicious meal options such as Mongolian Beef, The Land Crusher, Rotisserie Turkey Club, and Asian Vegetable Noodle Salad. In addition to enjoying delicious meals at Sunshine Seasons, guests should also order up items from the bakery, like the Strawberry Shortcake and limited-time offerings.
3 – Kringla Bakeri Og Kafe
The Norway Pavilion in World Showcase is home to a quick-service dining location, which brings the charm of Norway through delicious food options. Kringla Bakeri Og Kafe features warm wood paneling, a beautiful mosaic tile floor, and traditional Norwegian touches in a small ordering room that is sure to make guests feel welcome. Once they have their food, guests can enjoy their meals on an open-air patio, which offers great people-watching views of World Showcase. Kringla Bakeri Og Kafe is open daily for snacks. Kringla Bakeri Og Kafe features delectable desserts and pastries, including School Bread, Lefse, Norwegian Kringla, Rice Cream, and Verden's Beste Kake.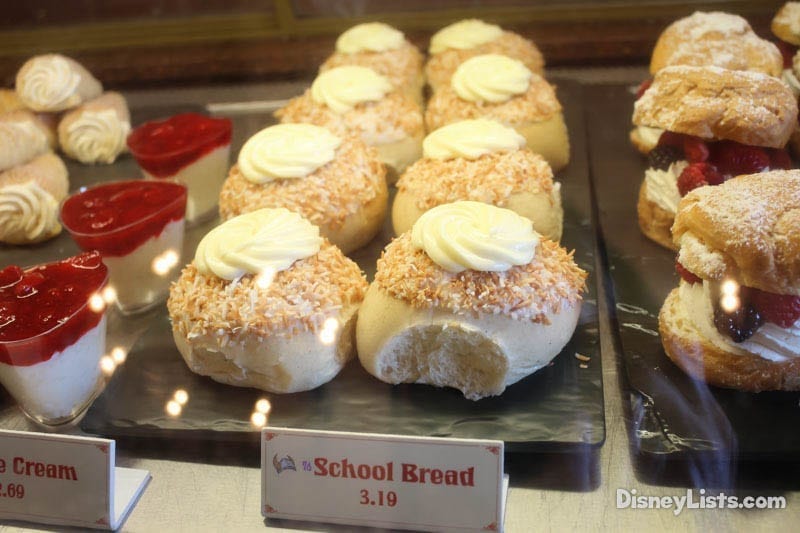 2 – Les Halles Boulangerie-Patisserie
One of the most popular quick-service locations in Epcot can be found in World Showcase's France Pavilion. Les Halles Boulangerie-Patisserie is part market, part bakery, and completely delicious! Open daily for lunch and dinner, guests who visit the location can enjoy options like Dinde B.L.T., Poulet au Pistou, Brie aux Pommes, and Jambon Beurre. In addition to the delicious meals, guests can chow down on savory desserts and pastries, including Macaron, Crème Brulee, Mousse au Chocolat, Croissant, and Pain au Chocolat. With mouthwatering delicacies, delicious food options, and luxurious champagne to boot, Les Halles Boulangerie-Patisserie is a fantastic quick-service location to enjoy in Epcot!
1 – Regal Eagle Smokehouse
Regal Eagle Smokehouse is the newest quick-service restaurant in the American Adventure pavilion. It opened in February 2020, and the overall reception has been very positive. Regal Eagle is the site for "Sam's Centennial Cook-Off: A Salute to All Cook-Offs but Mostly Barbecue." The restaurant offers up classic American backyard barbecue from around the United States, including the regions of Texas, North Carolina, South Carolina, Memphis, and Kansas City. While there are some misses, there are a lot of hits at this restaurant and it's an excellent addition to Epcot's quick-service restaurants. Be sure to check it out during you next visit!
For a no obligation, FREE Quote on a Disney vacation package, please contact our travel partner Magical Vacation Planner at 407-442-0227 (407-442-0215 for Spanish). You can also request a FREE quote online by Clicking HERE.