Dining
6 Amazing Mickey Shaped Foods at Disney World
Guests who visit Disney World love to spend time exploring the massive property and all it has to offer. With four theme parks, two water parks, Disney Springs, and over two dozen Disney Resorts, there are plenty of things to see and explore while on vacation. Part of what keeps guests going on a Disney World vacation are delicious meals and snacks found at countless locations throughout the resort. Dining in Disney World includes everything from quick-service meals and snack carts to character meals and fine dining experiences. While all of the dining options in Disney are amazing, certain foods are made even more special thanks to a familiar shape. Mickey Mouse brings his iconic shape and ears to several food options found throughout Disney World, making everyday foods and snacks even more magical on vacation. Guests who are hungry on a Disney trip should be sure to try a Mickey-shaped food to add a little Disney magic into their day. Here are six amazing Mickey-shaped foods to try at Disney World!

1 – Mickey Premium Ice Cream Bar
One of the most popular snacks in Walt Disney World among guests happens to be shaped like the mouse himself. Guests who are looking to enjoy a cool and refreshing treat should definitely indulge in the Mickey Premium Ice Cream Bar. This treat can be found at nearly every ice cream cart and Disney Resort in Walt Disney World, making it easy to enjoy at all times. The Mickey Premium Ice Cream Bar features creamy vanilla ice cream coated in milk chocolate shaped like Mickey Mouse and served on a stick. Guests are sure to love this classic and delicious option!
2 – Mickey Waffle
Breakfast is a wonderful time in Walt Disney World thanks to a decadent and rich breakfast food made even more magical when shaped like Mickey Mouse. Mickey Waffles are a classic at Walt Disney World and served up nearly everywhere breakfast is offered. Mickey Waffles are small in size but feature distinctive facial features of Mickey Mouse and, of course, his iconic ears. Kids of all ages will love sitting down to enjoy breakfast in Walt Disney World and digging into some classic Mickey Waffles.
3 – Mickey Lollipop
Guests who prefer a sweeter treat might like to indulge in a sugary snack that is shaped like Mickey. Many different shopping locations throughout Walt Disney World, like the Confectionary and the Emporium in the Magic Kingdom, serve up prepackaged candy and treats, including brightly colored lollipops of different flavors. While some of these lollipops are shaped like classic circles, some are shaped like Mickey Mouse! Guests can enjoy licking away at these Mickey-shaped treats while exploring and enjoying the parks!
4 – Mickey Ice Cream Sandwich
After enjoying a Mickey Premium Ice Cream Bar, guests might still be looking for another Mickey-shaped food to hit the spot and help cool them off. Mickey Ice Cream Sandwiches are usually served everywhere, and Mickey Premium Ice Cream Bars are, making them easy to find. The snack features vanilla ice cream sandwiched between two chocolate cookies, making it both cooling and sweet! The cookies feature Mickey's face and his unmistakable ears making the treat both adorable and delicious.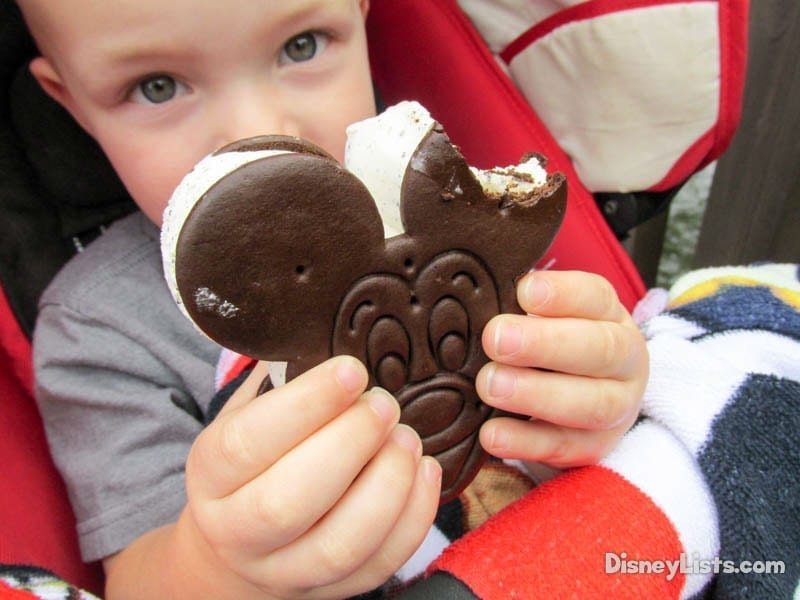 5 – Mickey Pretzel
A special snack that many guests enjoy indulging in can be found in several places throughout Walt Disney World. The Mickey Pretzel features a large soft pretzel smothered in butter and salt and served warm to guests. Mickey Pretzels feature not only Mickey's ears but also facial features like his eyes and smile. Guests who are looking to enjoy a Mickey Pretzel can often find them being served at snack carts in the parks and can even indulge in special dipping options like melted cheese.
6 – Mickey Rice Krispie Treat
The final Mickey-shaped food that guests simply have to try in Walt Disney World can be found in many different stores that serve snacks. Mickey Rice Krispie treats feature delicious marshmallow rice krispies shaped like Mickey complete with ears. While the plain version is delicious, there are many different varieties of Mickey Rice Krispie Treats that are sold, which feature different toppings and designs on the ears. Guests can choose options that include chocolate-dipped ears, chocolate dipped ears with sprinkles, and ears covered in different types of candies. Seasonally decorated Mickey Rice Krispie Treats are also offered at Walt Disney World. With so many delicious options to choose from, guests have to try at least on Mickey Rice Krispie Treat on their next Walt Disney World vacation!
For a no obligation, FREE Quote on a Disney vacation package, please contact our travel partner Magical Vacation Planner at 407-442-0227 (407-442-0215 for Spanish). You can also request a FREE quote online by Clicking HERE.