Ah, yes, meltdowns! If you are like us, you like to pretend that because you are at the most magical place on earth, meltdowns surely won't happen. Sorry, folks – take it from us, meltdowns do happen at Disney, just ask our kids! So, how do you deal with them? Who better to guide us through understanding these meltdown moments than Disney characters! Here are seven tips we've discovered that help when dealing with meltdowns at Disney.
1 – Expect It – Donald Duck
In almost every short film or movie we've seen Donald Duck in, there is always something that gets him going! It's typically out of sheer frustration over even the smallest of things. When watching these films, one thing we know for sure – Donald is going to have a meltdown! It's just part of how he processes things. The interesting part is that those around him (such as Mickey) seem to know it's happening and try to be a calming force in the midst of his temper tantrum. Whether your child has meltdowns at home or not, we highly encourage you to expect them at Disney. Heat, waiting, exhaustion, crowds – we're surprised Donald can keep it together in the parks!
2 – Distractions – Mr. Potato Head
If there is one thing we've learned from our kids' meltdowns at Disney, is that having a distraction at hand can make a world of a difference. Have you ever noticed Mr. Potato Head in Toy Story tends to have a bit of a meltdown whenever everyone is just standing around? He seems to be the most vocal, and he's usually saying something negative. But, pay close attention – once a distraction comes into the mix, such as a job to do or even Mrs. Potato Head – he starts to chill out a little. Pack a few simple, small distractions with you at all times. Bringing small items from home that your child has never seen can save you money in the park and surprise your child with a little something. From a small action figure to a Rubik's cube, pull out that distraction when you see the first signs of a Mr. Potato Head meltdown.
3 – Baby Care Centers – Jack-Jack
We highly recommend you know exactly where the Baby Care Center is in each park – make a note of it on your hand if you have to! If you've seen the movie, The Incredibles, you've had the chance to see the cute little Jack-Jack turn into a fireball (literally!). If/when this happens – immediately be prepared to extinguish the fire! Head to a baby care center or a quiet, cool area and take a break. Rocking chairs, sitting room, highchairs, changing tables, bathrooms, and even a kid's movie on TV – baby care centers are the perfect place to turn that fireball of a baby back into the cutie pie he or she once was!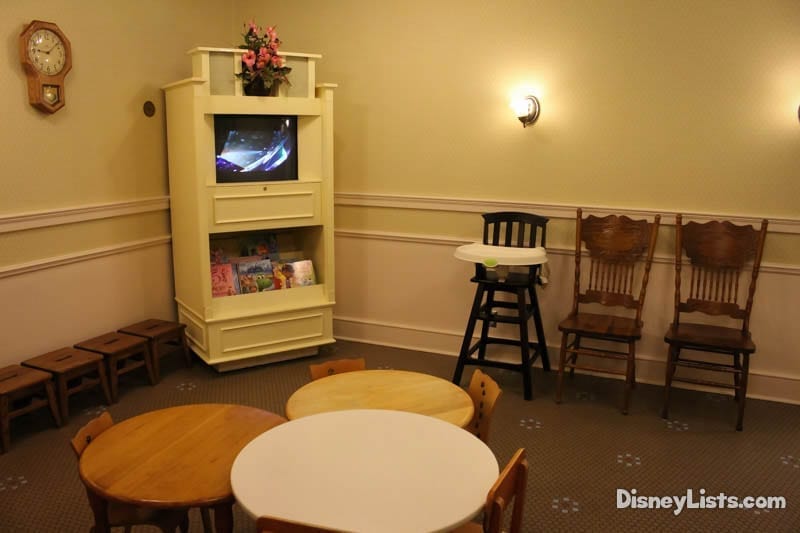 4 – Fuel – Rolly
Sweet little Rolly from 101 Dalmatians! You may remember him from the movie as saying things such as:
I'm hungry mother, I really am.
I'm so hungry I could eat a whole elephant.
I'm not sleepy, I'm hungry.
Did you bring me anything to eat?
Sound familiar? Hungry can turn into "hAngery" in no time flat! If you have a Rolly situation taking place, fuel your young one with food and water regularly. Especially key in on signs from the little ones that can't tell you they are hungry just yet. You may have just prevented a Donald Duck meltdown!
5 – Retreat to the Resort – Carl Fredricksen
Let's be honest – from time to time even us adults have a bit of a meltdown while at Disney. We may never admit that to our kids, but sometimes a Dole Whip and Ice Cream Mickey Bar won't even do the trick! Kids are no different. Take it from Carl Fredricksen from the movie Up. This grumpy old man means well, but seems to be a much happier person when he gets his much-needed rest! Whether you plan to retreat back to the resort for a midday nap or it's just apparent your little (or big) Mr. Fredricksen needs a break, make the most out of this time of rest and wake up refreshed ready for the next adventure!
6 – In the Loop –  Zazu
We have a Zazu in our household! You may remember the bird Zazu from the movie The Lion King. He flies around being informative to the lion pride and simply likes to keep on schedule and understand at all times what is taking place. Our now 7-year-old has always been the child that needs to be in the loop. Unfortunately, it took us a while to realize this and a few meltdowns later we finally discovered how to make it better! Let your child know what the game plan is. Why are you waiting? Where are you going next? And what do you expect of them? Zazu is an awesome help to the lion pride on The Lion King – just be sure to keep that temper in check with simply keeping him in the loop.
7 – Take Notice – Eeyore
"For some reason, I'm always getting forgotten." Poor Eeyore! We personally feel like we rush around from attraction to attraction in an attempt to make all things perfect when really our kiddos are just being dragged along for the ride. Eeyore from Winnie the Pooh is always feeling forgotten, rushed, and overwhelmed… sound familiar? Prevent this sad Eeyore meltdown by slowing down, taking notice of your kids, and remembering this is all about vacationing as a family – not about how many rides you can conquer.
The interesting part about all of these characters is that despite their meltdowns, temper tantrums, and fits, they are still loved characters within each movie! They play important roles and have some of the most memorable parts. We hope these tips help you remain calm when your child starts to show signs of a meltdown. It's going to happen, but it's all about how you handle it that's going to make or break the rest of the day. We'd love to hear how you cope with meltdowns!
For a no obligation, FREE Quote on a Disney vacation package, please contact our travel partner Magical Vacation Planner at 407-442-0227 (407-442-0215 for Spanish). You can also request a FREE quote online by Clicking HERE.