The Parks
Water Parks
2023 Disney H2O Glow After Hours at Typhoon Lagoon – Our Review & Why You Don't Want to Miss Out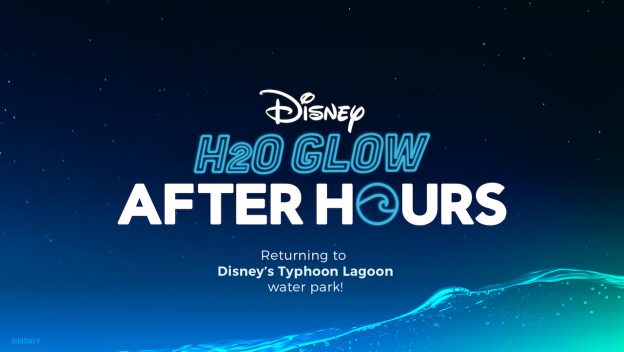 Disney H2O Glow After Hours has returned to Disney's Typhoon Lagoon. The After Hours event returned with elements designed to "glow up'' the summer season. We were there on the opening night of the 2023 summer season and had a blast! Keep reading for our review, what you need to know, and why you don't want to miss this event!
1 – A Quick Overview
The nighttime event runs every Saturday through September 2, 2023. The event offers unique, vibrant décor, complimentary food and beverages, and high-energy DJ dance parties that transform the storm-strewn water paradise into a 'light' night party, creating the perfect ending to the day for families visiting Walt Disney World Resort.
2 – Hours & Event Length
The guest-favorite party allows families to enjoy a luminous tropical oasis three hours after the water park closes to day guests, giving guests easier access to their favorite attractions. Gates open at 6 pm, with the event officially running from 8 pm to 11 pm. That's a total of five hours, including the early entry period. Guests can enjoy Disney's Typhoon Lagoon with lower crowds and many opportunities to enjoy the attractions.
Note the water park closes at 6:00 pm on June 3, 10, and 17 (as they did when we visited on May 20). On May 27, June 24, and after, the water park closes at 8:00 pm. Since regular day guests had already left the water park at 5:00 pm on our night, we enjoyed almost five hours with the lower crowds. Guests who attend on other dates will share two of those hours with water park day guests, so they will likely have higher wait times in that first hour.
Also, since the event officially begins at 8:00 pm, the perks listed below will not be available until after 8:00 pm. For our night, they began handing out complimentary treats and popcorn around 8:00 pm and not before.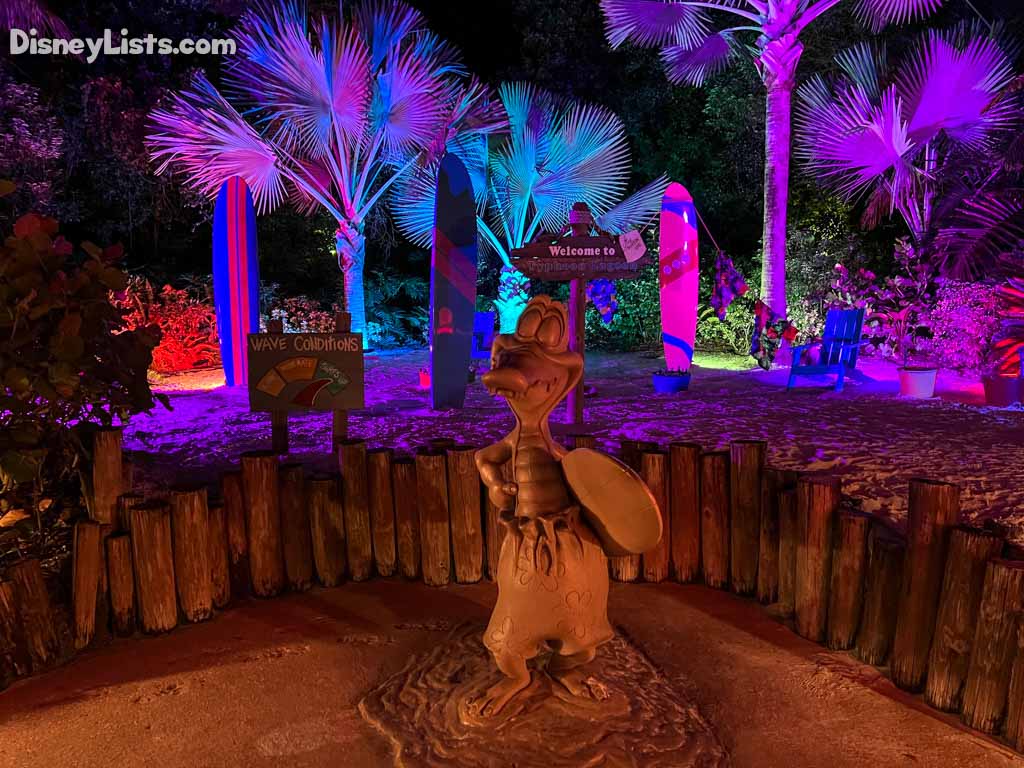 3 – Party Exclusive Perks
Disney H2O Glow After Hours gives guests the chance to have many experiences. Perks of the exclusive party include:
Favorite attractions open after hours (see #4)
Glow lighting effects
High-energy DJ dance parties
Complimentary glow cup – new this year!
Complimentary ice cream treats, popcorn, and selected beverages (see #7)
We want you to be aware of the perks because, unlike most parties or events, we were not given an event brochure or park map when we entered the event. I don't know if they just didn't have them for the first night and will for the remaining nights, but we didn't receive anything. So unless you have an idea of what the party offers, you may miss out on offerings!
4 – Experience Attractions After Hours
Guests can enjoy popular attractions and features of the water park in a light like never before. From exhilarating slides, flumes, and wet and "water-ful'' play spaces, the After Hours event includes spaces for each member of the family to enjoy. Some of the attractions you can experience are*:
Typhoon Lagoon Surf Pool is the largest wave pool in North America, and guests can catch the perfect curl while body surfing on the perfect wave every time.
Miss Adventure Falls, the fast-paced family raft attraction, was created when a sea-faring treasure hunter got her haul caught in a rogue typhoon, which scattered her treasure across this tropical paradise years ago.
Crush n' Gusher is a thrilling "water coaster" that features three 400-foot-long tube slides named for the various fruits they once transported.
Castaway Creek is a scenic lazy river that encircles the entire water park, offering gentle passage past shady grottoes, gushing waterfalls, overhead rope bridges, and lush rainforest landscapes.
Humunga Kowabunga offers a choice of three adrenaline-filled body slides set against the steep inclines of Mount Mayday.
Bay Slides
Gangplank Falls
Mayday Falls
Storm Slides
Ketchakiddee Creek
* Subject to change due to inclement weather or other reasons.
5 – Reduced Crowds & Our Experience with Wait Times for Attractions
The biggest reason to come to this event is the reduced crowds. Attendance is greatly reduced with the goal of most slides having a very short to no wait. We did enjoy short waits all night. We went to most of the attractions, waited anywhere from five to ten minutes for many, and walked on many, especially in the last hour of the event. The Typhoon Lagoon Surf Pool was also significantly less crowded than during the daytime. It was much better during the event, and there was plenty of room to move around. Overall the wait times were much less than what you'll find on a typical summer visit to Disney's Typhoon Lagoon.
6 – Complimentary Ice Cream Treats, Popcorn, and Select Beverages
One of the best perks we enjoy during After Hours events are the ice cream treats, popcorn, and beverages that are included with your admission. While it will not completely offset your admission price, enjoying plenty of treats throughout the event is a great way to get some bang for your buck. Ice cream treats available at the event are Mickey Bars and Mickey Ice Cream Sandwiches (normally around $6 each) and a Strawberry Fruit Bar (normally $5.75). There were popcorn boxes out for guests to enjoy; popcorn at Disney World is normally $5.50. Everyone in our party had anywhere from three to four ice cream treats and took home multiple boxes of popcorn. While we certainly wouldn't pay to eat four Mickey Bars in one night, getting as many treats as you like as part of the event is nice.
They only had two popcorn locations and two ice cream treat locations at our event. In the photo below, you can see the treat locations. You can find the popcorn at Crush 'N' Gusher and Lowtide Lou's and find the ice cream treats at Happy Landings and Typhoon Tilly's.
A word on the beverages. If you've attended a Magic Kingdom After Hours event, you'll know that they hand out bottles of complimentary beverages at those events. That is not the case for this event. Small paper cups near beverage stations can be used at the fountain machines throughout the water park. This was really nice! Most fountain stations are regular stations. However, near the Snack Shack, you'll find a Coca-Cola Freestyle Machine, giving you even more options for drinks at that station. A regular fountain drink at Disney World costs $3.99; you don't get a refill at most locations. So even though the event offers small cups, you're still getting a great value since you can have unlimited refills throughout the night. And if you head over to the Freestyle Machine we mention above, you'll be able to enjoy unique beverages throughout the night at no extra cost. We love this perk!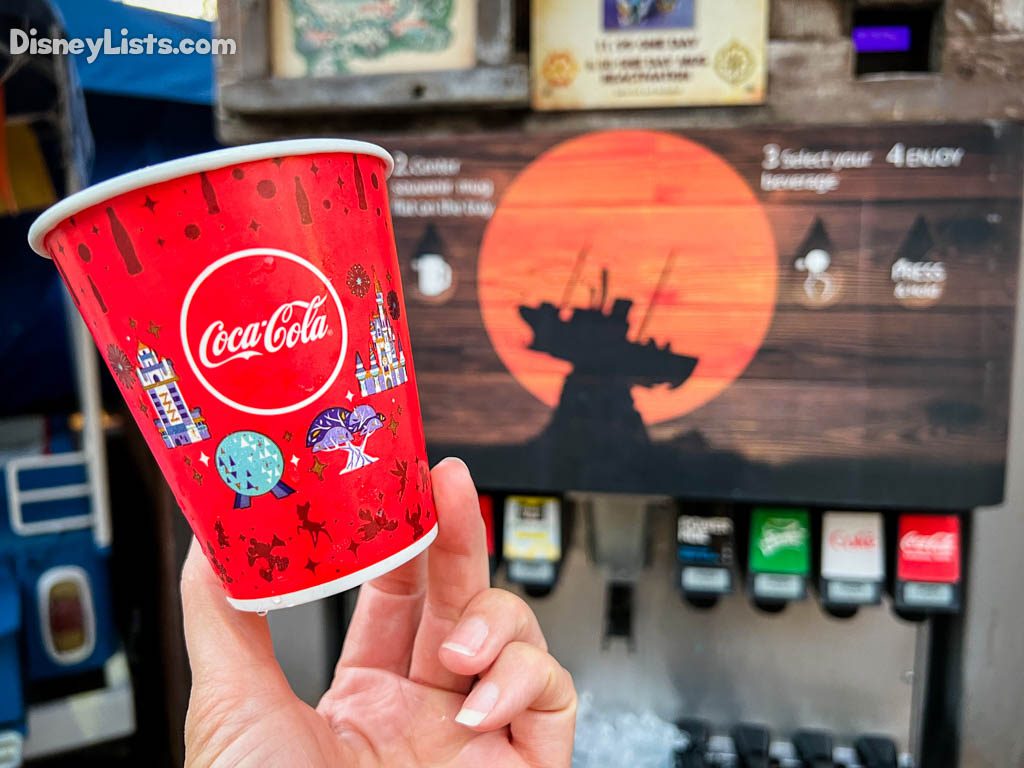 7 – DJ Dance Party at Surf Pool Beach
The last perk that we really enjoyed was the DJ Dance Party at the Surf Pool Beach. While we're not normally going out of our way to go to a DJ Dance Party, we really enjoyed this one. Guests certainly seemed to enjoy it, and we got a chance to see Goofy, Chip 'n Dale, Captain Hook, and Mr. Smee. Characters are not guaranteed, and they may change who is out during the dance party. It was a lot of fun.
9 – Pricing
Prices
Adult (ages 10 and up): $75 plus tax
Child (ages 3 to 9): $70 plus tax
Discounts
Passholders and Disney Vacation Club Members can purchase specially priced tickets:
Passholder or Disney Vacation Club Member – Adult (ages 10 and up): $59 plus tax
Passholder or Disney Vacation Club Member – Child (ages 3 to 9): $54 plus tax
That's a savings of $16 per ticket.
Purchase Tickets
Buy tickets online.
Tickets are limited and may not be available for purchase on the day of the event.
10 – Is it Worth It? Should I Just Buy a Day Ticket?
When considering any special ticketed event, the question of whether or not it is a good value always comes to our mind. We think this one is a no-brainer. A regular one-day water park ticket is $69 (adult) and $63 (child). You can enjoy this special event for only $6 more per person. Here are several reasons we feel a ticket to the H2O Glow After Hours is better. We've already talked about the reduced crowds and the benefit of the complimentary treats and beverages. Here are more reasons why we think the party option is the way to go:
No burnt feet, sweltering sun, and no sunscreen needed. We love the water parks, but as locals, we usually visit them during the spring and fall. Why? Because it's crazy hot in the summer! Obviously, we know, but when it's that hot, it's hard to cool off, even at a water park. The heat also makes the water parks' surfaces hot, making walking very uncomfortable without shoes. It's warm but not oppressively hot at night, and no sunscreen is required! Really, even though it was humid, as always, it was a pleasant evening. It was so nice to experience the water park that way!
Typhoon Lagoon is awesome at night! Beyond the relief from the sun, Typhoon Lagoon is so cool to experience at night. The lighting and atmosphere of the party were amazing and really added to the event's overall experience—something you can't get in the daytime! Going through some of the slides in the dark added a whole new element to the ride. Also, some tubes had glow lighting, which also upped the awesome factor. Simply put, the park is just fantastic at night!
Get more done in less time! By now, you know about the lower crowds. Again, this means you'll get more done than if you came during the day. You'll be able to experience most, if not all, of the water park in a much more enjoyable atmosphere.
Don't lose a Park day! Another great reason to get a party ticket over a full-day ticket is that you don't lose a park day. You would be able to enjoy a Disney Park through dinner and then head over to Typhoon Lagoon for an evening of fun. You'll be able to experience the water park without sacrificing a morning or whole day you might need for other plans.
11 – Final Verdict: A Great Option for Guests Looking to Experience Typhoon Lagoon
We were really happy with this event and will definitely do it again. It's a really great option for guests looking for a chance to experience one of Disney's water parks without losing time in the parks. You get to experience lower crowds, enjoy special food and beverages, and enjoy slides without the crazy summer sun. It's a total win!
For photos and video from the night, click here to view our Instagram Story!
Editor's Note: Our visit to Disney H2O Glow was not sponsored in any way. We purchased our ticket at the regular ticket rate. As always, our thoughts and recommendations are completely our own.
For a no obligation, FREE Quote on a Disney vacation package, please contact our travel partner Magical Vacation Planner at 407-442-0227 (407-442-0215 for Spanish). You can also request a FREE quote online by Clicking HERE.