I'll never forget the amazing stage show entertainment that we enjoyed on our first Disney Cruise Line cruise on the Disney Magic. One of the highlights was getting a chance to watch Tangled: The Musical. It was fantastic and we can't wait to see it in person again someday. Thankfully, Disney Cruise Line has shared a virtual viewing of this amazing production so we can watch it from the comfort of our homes. Catch all the details below.
Here are all the details from by Jonathan Frontado, Public Relations Director, Disney Cruise Line, Adventures by Disney and Disney Vacation Club:
Gather the family and get ready to have the best day ever as we celebrate our favorite crafty princess. Today we are excited to bring you a great lineup of fun activities and entertainment inspired by Disney Cruise Line's "Tangled: The Musical."
It's Showtime!
You are invited to virtually step into the beautiful Walt Disney Theatre for a special presentation of our Broadway-style production, "Tangled: The Musical." This previously recorded video features the original cast from the show's opening.
And so I'll Read a Book, or Maybe Two or Three
There is no question that Rapunzel won at finding ways to keep entertained all those years locked in the tower. Whether "it's puzzles and darts and baking, paper mache, a bit of ballet and chess," she's always finding outlets for her creativity. Our friends from Disney Family shared this fun activity kit to inspire you to create.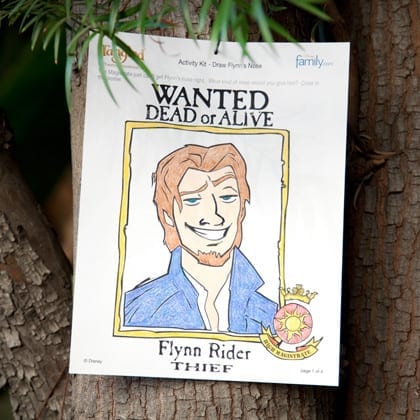 Rapunzel's Purple Popcorn
If you are looking for the perfect sidekick (no offense to Pascal) to accompany you during our special showing of "Tangled: The Musical," we invite you to try this sweet treat inspired by Rapunzel's signature color. Just check out this fun and easy recipe from Disney Family.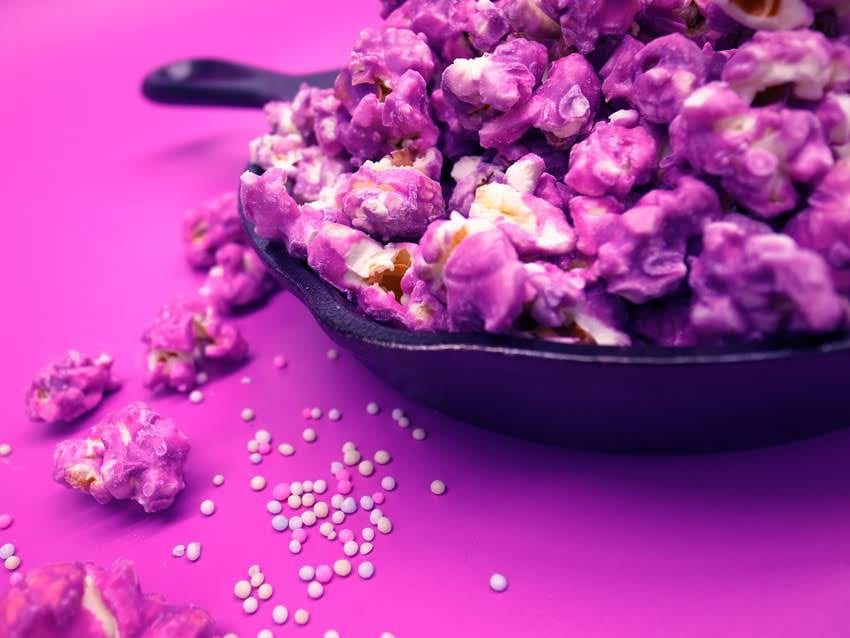 RELATED ARTICLE: Stage Show Entertainment on the Disney Magic – What You Need to Know
by Chad and Cindy Nykamp
From Broadway-style shows to adventurous deck parties, Disney Cruise Line offers a full itinerary of exciting entertainment for guests to enjoy on every sailing.
"As part of the Disney Cruise Line experience, our guests have told us that they love seeing beloved Disney stories come to life onstage," said Jim Urry, vice president of entertainment for Disney Cruise Line.
On the Disney Magic, entertainment abounds with live shows, deck parties, character meet-and-greets, movies and much more. Our favorite part of our cruise on the Disney Magic was the three Broadway-style shows. Learn more about these shows below!
1 – Twice Charmed: An Original Twist on the Cinderella Story
"Twice Charmed" immerses you in a story that begins where the original ended and features Cinderella, Prince Charming and other favorites from the original fairy tale classic. We thoroughly enjoyed this Broadway-style show. The singing, acting, and stage magic were all top-notch. When we saw this show, we thought Prince Charming stole the show! He was the perfect prince and did a fantastic job! The whole production was everything you would expect a Disney production to be. This Broadway-style stage show is performed exclusively at the Walt Disney Theatre on the Disney Magic. If you're sailing on the Disney Magic, don't miss this amazing show!
2 – Tangled: The Musical
"Tangled: The Musical" is the first-ever stage adaptation of the beloved animated film. Presented exclusively aboard the Disney Magic, it's the first-ever stage adaptation of the beloved animated film, "Tangled." Combining a heartfelt story, an enchanting score, and lavish production numbers, the new musical showcases the thrilling adventure of Rapunzel and Flynn Rider as they face ruffians, thugs and a budding romance on an exhilarating journey of self-discovery.
Disney assembled an all-star creative team to develop this lavish production. Academy Award-winning composer Alan Menken ("Tangled," "The Little Mermaid") and Grammy Award-winning lyricist Glenn Slater ("Tangled") created three new songs exclusively for this show. Other top-notch theatrical talent included Tony Award-winning costume designer Paloma Young ("Peter and the Starcatcher"), master puppet designer Michael Curry (Disney's "The Lion King" on Broadway), set designer Bradley Kaye (Disney's "Aladdin—A Musical Spectacular"), director Gordon Greenberg and choreographer Connor Gallagher. "Tangled: The Musical" was produced by Walt Disney Imagineering Creative Entertainment.
When you learn about the talent behind the show, you understand why we think the show was terrific. The group of actors who performed (the same group as the night before in Twice Charmed), were again top-notch giving incredible performances. For us, the "Mother/Witch" was just amazing. She stole the show and was absolutely perfect in her performance.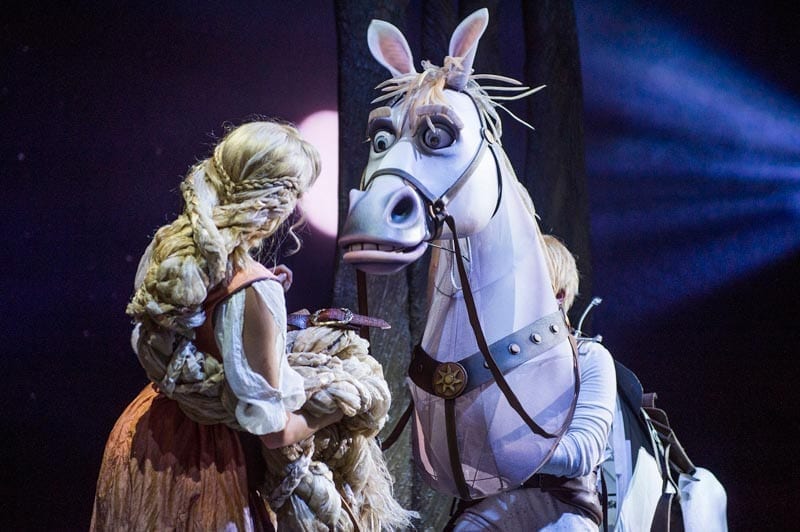 Here are some fun facts about the show provided by Disney:
Rapunzel's story begins with a magical flower, but more than 200 physical flowers have been drawn, painted, carved, sewn and otherwise "planted" in scenic elements, costumes, and even Rapunzel's hair.
"Tangled: The Musical" features 15 scenes and seven locations.
More than 40 scenic elements bring the fairytale locales of "Tangled: The Musical" to life.
The 15-foot-tall tower features more than 20 glowing flowers hidden in a mural design.
The mural in Rapunzel's tower set piece was designed by Claire Keane, who created the original mural design for the animated "Tangled" film.
Every set piece for "Tangled: The Musical" was sculpted and painted by hand.
Tony Award-winning costume designer Paloma Young developed 125 costumes using more than 200 different types of fabrics.
Rapunzel's royal dress that appears in the show's final scene is made of custom fabric developed especially for this show.
The dazzling costumes are made complete with 85 pairs of shoes and 60 wigs.
It takes more than 200 feet of hair to bring Rapunzel's famous golden tresses to life onstage.
3 – Disney Dreams … An Enchanted Classic
"Disney Dreams…An Enchanted Classic," is a signature Disney Cruise Line show that tells a bedtime story featuring Peter Pan, Beauty and the Beast, Aladdin, Cinderella, Ariel, Timon and Pumbaa and many other popular Disney characters who together teach a young girl the power of her dreams. This Broadway-style stage show is performed exclusively at the Walt Disney Theatre on the Disney Magic and Disney Wonder.
The entertainment staff on our voyage continued to impress us; they were outstanding. At the end of the show, it was hard not to get choked up. I admit I did cry—it's the kind of feeling you get when watching the fireworks on Main Street USA with Cinderella Castle in view. Disney just has a way to inject magic into everything they do, and this was one of those moments. The production, singing, acting, and dancing blew us away for the third night. I can't say enough about this team and their performances. We loved them!
For a no obligation, FREE Quote on a Disney vacation package, please contact our travel partner Magical Vacation Planner at 407-442-0227 (407-442-0215 for Spanish). You can also request a FREE quote online by Clicking HERE.