Dining
Top 8 Buffets at Walt Disney World
While we love browsing Disney menus and drooling over what each item might look and taste like, we have to say buffets are the BEST! Being able to survey multiple food options right in front of your eyes, then having the choice to taste a portion of each item makes buffets the top of our dining list. Not only is the food variety a win, but the bang for your buck is superb… especially if you plan ahead to eat your fill! So, grab a plate, and walk with us through what we feel are the top eight buffets at Walt Disney World.
8 – Chef Mickey's @ Disney's Contemporary Resort
Chef Mickey's is one restaurant we recommend everyone try at least once! It's not necessarily a buffet; we have to revisit time and time, as the experience here is more memorable than the food. Chef Mickey's has a true American buffet for breakfast, brunch, and dinner and delivers a very large buffet for the volume of guests that pour through here. The food is good but not fantastic. What is fantastic, however, is that guests will be visited by five extremely popular Disney characters, including Mickey Mouse, Minnie Mouse, Pluto, Donald Duck, and Goofy. If the characters aren't enough, the location of Chef Mickey's is perfectly situated in the Contemporary Resort, just below the Monorail. Chances are, while you dine, you'll see the Monorail sail through the resort multiple times. Reservations here go FAST, so book 60 days in advance to see Chef Mickey!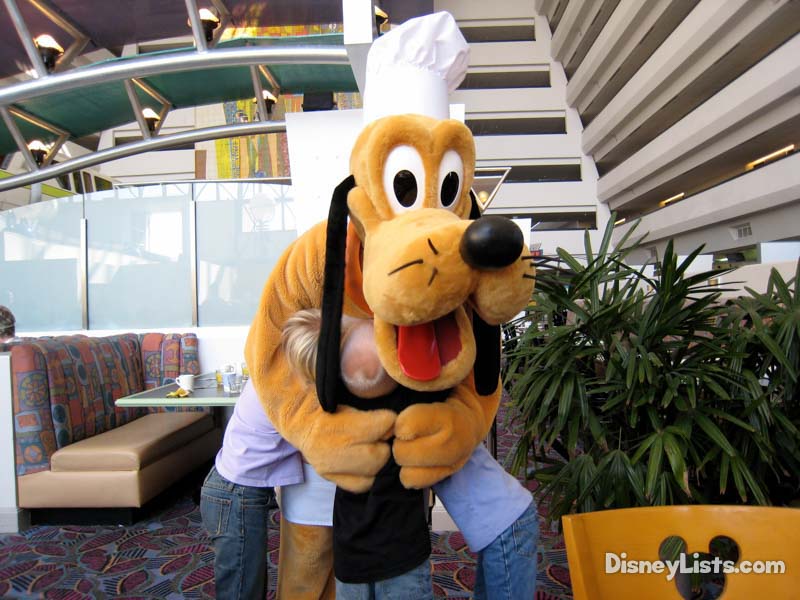 7 – Hollywood and Vine @ Hollywood Studios Theme Park
If you are a fan of Hollywood Studios' nighttime spectacular known as Fantasmic!, Hollywood and Vine is the buffet for you! Hollywood and Vine is part of the Fantasmic! Dining Package that offers an excellent buffet meal plus a VIP spot when you check in to Fantasmic! for the evening. Breakfast, lunch, and dinner buffets have fairly standard American food. Breakfast has Mickey waffles, pancakes, fresh fruits, and breakfast meats. Lunch and dinner buffets are the exact same, with shrimp, chicken, bread, pasta, salads, and more. What really sells Hollywood and Vine for us are the characters. At Disney Junior Play 'n Dine breakfast, guests are greeted by Disney Junior characters. If your little one is hooked on Disney Junior – this is the only character dining experience with these characters. Lunch and dinner host Minnie's Seasonal Dining. Each season's theme varies slightly with experiences, such as Springtime Dine and Summertime Dine. Minnie and her pals (such as Mickey, Daisy, Donald, and Goofy) drop by your table in their season's finest outfits. While the food is pretty standard, the experience of dining with these characters definitely makes Hollywood and Vine worth a visit.
6 – The Crystal Palace @ Magic Kingdom Theme Park
It's a "Friendship Day Celebration" every day from open to close at Magic Kingdom's Crystal Palace restaurant. While the outside of The Crystal Palace is beautiful enough, wait until you step foot inside to see the stunning restaurant inspired by London's Crystal Palace Exhibition of 1851. It's a beautiful place to dine, with views out the window of Cinderella Castle. This popular character dining location offers breakfast, lunch, and dinner buffets. The fresh and delicious food, but we've never been overly impressed with the variety. It's a fairly small American cuisine buffet that looks large initially, but only because the menu items repeat themselves. The omelet station is the highlight of breakfast, while the meat carving station is the highlight for sure at lunch and dinner. Our favorite perk to visiting The Crystal Palace is meeting Winnie the Pooh and his Hundred Acre friends, including Piglet, Tigger, and Eeyore.
5 – Tusker House @ Animal Kingdom Theme Park
Tusker House is the only character dining experience and the only buffet available at Animal Kingdom… making this buffet an extremely popular destination! Not to mention, Tusker House is part of the Rivers of Light Dining Package, which is a great way to have reserved seating for the nighttime spectacular and a hearty meal! Tusker House serves breakfast, lunch, and dinner and fills up for all three meals rather quickly. The breakfast buffet offers your typical breakfast dishes, but we highly recommend you don't stop eating until you've had at least two servings of their banana bread pudding and plenty of Jungle Juice! Lunch and dinner have identical buffets with some of the most unique options. While you can enjoy American favorites like chicken and macaroni and cheese, the Tusker House buffet offers an array of options with an African flare. Characters greet at all three meals, so be sure to go back for seconds in-between visits from Safari Donald and other safari pals such as Mickey, Daisy, and Goofy.
4 – Cape May Café @ Disney's Beach Club Resort
This resort restaurant is often overlooked but definitely ranks high on our Disney buffet list! Cape May Café at Disney's Beach Club Resort boasts a New England beachside atmosphere with beachy blue and fresh white tones. Even better, Cape May Café offers two totally different buffet experiences. Minnie's Beach Bash Breakfast boasts a large buffet of the very best breakfast foods, from Mickey Waffles to salmon! Our favorite part of breakfast is having Minnie, Goofy, and Donald visit you right at your table in their best beach attire. The restaurant closes down after breakfast to prepare for the Seafood-and-More Dinner Buffet. If you are a seafood fan, THIS is the very best buffet for you in all of Walt Disney World. A variety of seafood is available such as shrimp, clams, crab legs, and more. Not a seafood fan and don't mind the seafood smell? You'll still love dinner at Cape May Café as their ribs are delicious, as is their chicken! Keep in mind there are no characters at dinner. While we always recommend making reservations in advance, Cape May Café dinner is typically an excellent last-minute meal to snag.
3 – 1900 Park Fare @ Disney's Grand Floridian Resort
Editor's Note: 1900 Park Fare is currently closed and listed as temporarily unavailable on the Walt Disney World website. We hope it opens again soon!
We can't help but feel like royalty while dining at 1900 Park Fare at Disney's truly grand, Grand Floridan Resort. Visit 1900 Park Fare for an exceptional buffet meal for breakfast or dinner. If the charming atmosphere and 1800's French band organ known as "Big Bertha" isn't enough, prepare for delectable dishes and extremely unique characters, making breakfast or dinner memorable! The Supercalifragilistic Breakfast buffet has all the favorite breakfast items but with a high-end taste in every bite. Characters you might just meet over breakfast include Mary Poppins, Alice, The Mad Hatter, Tigger, and Winnie the Pooh. Known as Cinderella's Happily Ever After Dinner, guests arriving for the dinner buffet will find a great spread of culinary masterpieces like beef, seafood, and pasta. Dinner is also a character dining experience with unique characters like Cinderella, Prince Charming, Lady Tremaine, Anastasia, and Drisella. Truly a royal experience!
2 – Biergarten Restaurant @ Epcot Theme Park
Just one step into Biergarten, and you'll be hit with an aroma of deliciousness! The Oktoberfest celebration is underway! The buffet is unlike anything you'll find in all of Walt Disney World and likely anywhere else but Germany itself. It's embarrassing to say, but our family enjoys going to the buffet for dessert first. It may sound ridiculous, but the Bavarian cheesecake and the apple strudel are heavenly. The real buffet staples are easily the bratwurst, pork schnitzel, and rotisserie chicken. Just don't forget to order a German beer (which is not included in your buffet price). You'll be impressed with the LARGE glass filled to the brim with beer! Oktoberfest entertainment is all part of the fun with live music, including some very unique instruments and dancing. Open for lunch and dinner only, be sure to grab a reservation well in advance.
1 – Boma – Flavors of Africa @ Disney's Animal Kingdom Lodge
A true hidden gem! If you haven't dined at Boma in Disney's Animal Kingdom Lodge, go ahead and put this on your must-try list for your next Disney World visit. If not staying at Disney's Animal Kingdom Lodge, this resort restaurant is somewhat off the beaten path but totally worth spending the time to dine at. The atmosphere alone is so intriguing at Boma as it transforms guests into an African marketplace theme. Boma opens its buffet for both breakfast and dinner with a break over the lunch period. Both buffets are some of the largest and best as far as variety and taste go that we've experienced. There is no shortage of your standard American dishes, but what's more prevalent is the African-inspired options such as the corn beef bobotie (South African quiche) for breakfast or the spicy Nigerian peanut soup on the dinner buffet. Compliment your signature dinner buffet items with South African wines (not included in the buffet price) and the coveted Boma dessert knowns as Zebra Domes. Don't forget to explore the Animal Kingdom Lodge while you are thereby looking out over the animals on the savannah!
For a no obligation, FREE Quote on a Disney vacation package, please contact our travel partner Magical Vacation Planner at 407-442-0227 (407-442-0215 for Spanish). You can also request a FREE quote online by Clicking HERE.