Each Walt Disney World vacation is magical and sure to leave guests with memories to last a lifetime. From amazing attractions and entertainment to unforgettable meals and Resort stays, there are plenty of things to remember from each Disney vacation. In addition to memories, one of the best ways to remember or commemorate a trip to Walt Disney World is through shopping and purchasing souvenirs to return home with. Luckily Walt Disney World is full of amazing shopping locations, including everything from massive stores to attraction-specific locations. Guests who spend time in the Magic Kingdom can enjoy amazing attractions and entertainment as well as wonderful shopping locations, which are sure to leave them with plenty of perfect souvenirs. From spooky and ghostly merchandise to Christmas ornaments and circus treats, stores in the Magic Kingdom offer it all. Here are the top five fantastic gift shops of the Magic Kingdom.
1 – The Emporium                                                                                              
The absolute best place to shop for souvenirs in the Magic Kingdom can be found on Main Street in the front of the park. The Emporium is a massive location that takes up almost one entire side of Main Street from the end of Town Square to the hub facing Cinderella Castle. The store is designed to be a turn of the century general store with many different rooms that focus on specific types of merchandise. Guests who spend time browsing the Emporium can purchase toys, clothing, memorabilia, housewares, kitchen accessories, jewelry, keepsakes, and holiday merchandise. Pretty much any type of souvenir or merchandise can be found inside the massive Emporium, making it a great place to enjoy shopping in the Magic Kingdom. Some of the best times to enjoy the location are immediately after parades and after Wishes Nighttime Spectacular when many guests head for the exits making Main Street crowded.
2 – Memento Mori
The Haunted Mansion is a favorite attraction of many guests, and luckily there is a relatively new shopping location that allows them to take into their ghostly sides. Memento Mori can be found in Liberty Square near the exit of the Haunted Mansion and offers up unique merchandise that is specific to the attraction. The store itself was supposed to be the earthly home of Madame Leota, and guests can observe a massive portrait of her hanging on one of the walls inside. Guests who spend time browsing Memento Mori can check out dishes, clothing, toys, artwork, jewelry, and accessories that directly pay homage to the attraction. One of the coolest items that Memento Mori sells are portraits of guests which magically transition into ghoulish images when pivoted.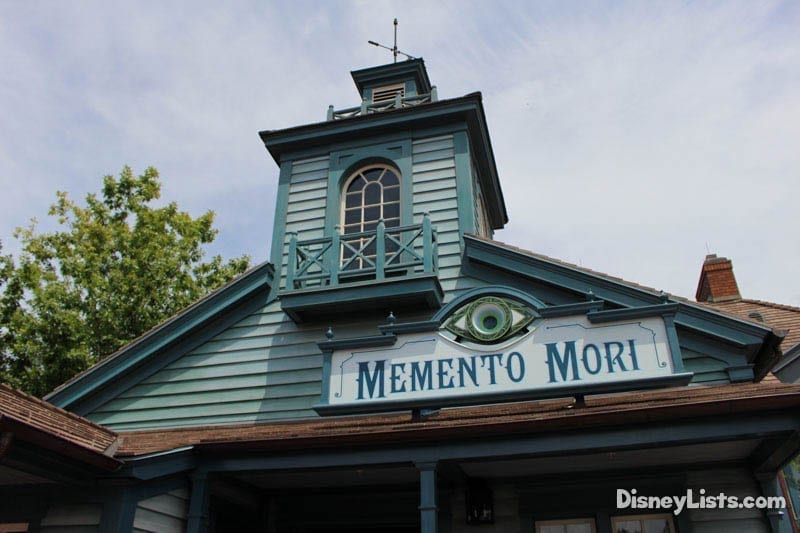 3 – Uptown Jewelers
Guests who are looking to splurge a little and purchase a unique souvenir from their Disney vacation should head over to Uptown Jewelers on Main Street. The store is located on a corner on the right-hand side of the street about halfway between Town Square and the hub and sells beautiful merchandise which any guest is sure to fawn over. Guests who spend time perusing the location can check out Disney charms and bracelets from PANDORA, handbags from Dooney & Bourke, Alex & Ani jewelry, and unique artwork and keepsakes.
4 – Ye Olde Christmas Shoppe
Liberty Square is also home to a wonderful store, which lets guests get into the spirit of the season any time of the year. The Ye Olde Christmas Shoppe invites guests to browse through beautiful ornaments in a shop filled with Christmas cheer and decorations. There is even a special service offered in the store that allows guests to pay an additional fee to personalize any ornament purchased. Guests can add their names, important dates, the year, or any other message making each ornament even more special. With Christmas every day, guests are sure to find the perfect ornament to return home with and hang on their tree to remember their wonderful Walt Disney World vacation and time in the Magic Kingdom!
5 – Frontier Trading Post
Looking for unique Disney Trading Pins to purchase? Then Frontier Trading Post is the place to look. This store not only offers a huge selection of pins, but this is also where limited-edition pins are found. If you're into pin trading, you don't want to miss this store!
For a no obligation, FREE Quote on a Disney vacation package, please contact our travel partner Magical Vacation Planner at 407-442-0227 (407-442-0215 for Spanish). You can also request a FREE quote online by Clicking HERE.