If you're planning a Disney Vacation and looking at which resort to book, the Value resorts are a great option for many groups and families. Here are nine reasons to stay at a Value resort at Walt Disney World.
 9 – Not Overrun by Disney Parks Guests
Any Disney guest can visit the resorts on property. They can't necessarily take advantage of all the amenities, but many park guests make the resorts their destination, especially Deluxe resorts, because of the restaurants, lounges, and activities. Because the Value resorts don't offer the same type of theming, table service restaurants, or as many amenities, they don't tend to be a popular place for park guests to visit. This can be a huge bonus when you're staying at a Value resort, as your home away from home will be less busy with guests.
8 – Transportation
The transportation system at Disney is fantastic. At the Value resorts, guests can catch a bus to all the parks. The buses drop you off very close to the front gates at the parks, making it a quick and easy option for traveling around Disney World. The bus system helps make your vacation stress free. No need to worry about directions, paying for parking, or worrying about how you'll get back and forth between your resort and destination.
If you're most excited about the theme parks, the Value resorts are the perfect place to stay. They offer guests a comfortable resort with some theming and everything you need while on vacation. There's nothing too fancy about them, and sometimes it's nice to have a simple place to return to after the excitement and busyness of a fun-filled day at the parks.
6 – The Big Blue Pool
All the Value resorts have great pools, but the Art of Animation has a Finding Nemo themed pool, the Big Blue Pool. It is the largest of the resort pools. It's a zero-entry pool, with big jellyfish and Finding Nemo characters all around the pool area.
5 – Family Suites
The Art of Animation Value resort has amazing family suites for families that need extra space but still want a good deal. The theming in these rooms is probably some of the best at the Value resorts. The colors, furniture, carpets, and wall décor match the theme of each area. The family suits can accommodate up to six adults, they offer an eating area, sofa area, and a microwave, and even a separate bedroom room.
4 – Larger than Life
The Value resorts are just plain fun. The décor and theming feature larger-than-life Disney characters from your favorite films. The massive statues decorating the Value resorts vary in height, ranging from 20 to 40 feet. The All-Star resorts feature characters such as Pongo and Perdita, the characters of Toy Story, and the brooms from Fantasia. The Art of Animation has huge statues of characters from Cars, The Little Mermaid, Finding Nemo, and The Lion King. These massive icons give a major wow factor to the resorts, and they make for amazing photos!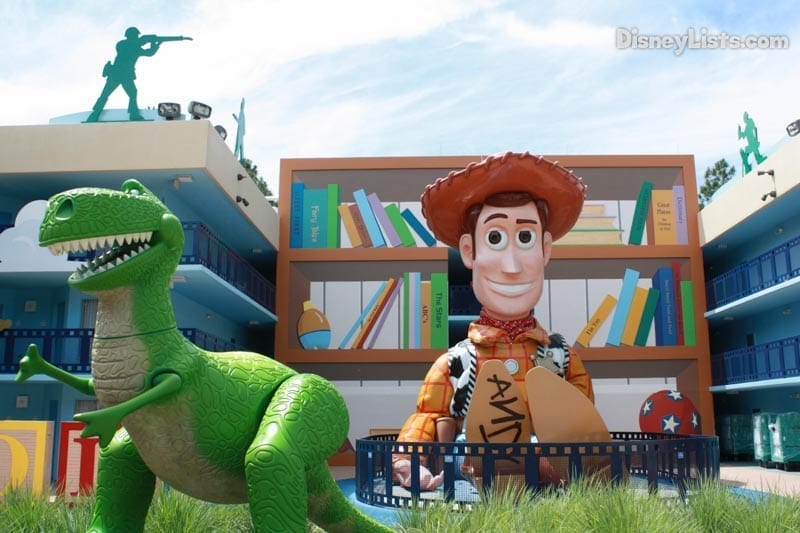 3 – Your Focus is the Parks
If you're planning on being at the parks from sun up 'til sundown, staying at a Value resort is a really good idea. Why spend a good chunk of your budget on a resort that you don't plan on spending much time at? If you just want a clean, comfortable, and fun place to rest your head at night, the Value resorts are the place for you.
2 – Price
The price is the big draw of the Value resorts, because they are just that, a great value. They are the most economical resort choice, but they still have a lot to offer. Chances are you really won't be spending much time at your resort, so it's smart to put a good amount of your budget towards something else like souvenirs, the dining plan, or tours. The lower price of the Value resorts makes it possible for many people to have the full Disney vacation experience.
1 – Resort Perks
Even though the Value resorts don't have the same perks as the Deluxe resorts, like a spa, travel by monorail, table service restaurants, they do have a lot of amazing things that will make your Disney vacation magical. There is quick-service dining available with many food options for all meals and snacks with a large common eating area. They all have amazing pools with movies under the stars and you can request a character wake-up call. But best of all, you'll feel like you're surrounded by Disney magic during your entire stay.
For a no obligation, FREE Quote on a Disney vacation package, please contact our travel partner Magical Vacation Planner at 407-442-0227 (407-442-0215 for Spanish). You can also request a FREE quote online by Clicking HERE.