Voila! AbracadaBar is not just a catchy play on words (Not "abracadabra" but AbracadaBAR), it is a fantastic lounge worth saying "open sesame" for! We are thrilled with this new lounge at Disney's Boardwalk that calls all magicians to taste extraordinary concoctions. Here are five reasons we find AbracadaBar to be filled with magic that has us excited about our next visit.
1 – Boardwalk Hot Spot
While the crowds might be flocking to Disney Springs for the lounge experience, we find ourselves enjoying the Boardwalk located next to Disney's BoardWalk Inn Resort even more. A relaxing, beach-side vibe exudes from the Boardwalk with its beautiful views, fun entertainment, pleasant gift shops, and tasty eateries. Nestled between two restaurants, Flying Fish and Trattoria al Forno, the addition of AbracadaBar has been an exciting one for Boardwalk visitors. If staying in the Epcot Resort area or visiting Hollywood Studios or Epcot theme parks, AbracadaBar is easily within reach either by walking, the Disney Skyliner (to the Epcot International Gateway), or by Disney's boat transportation. If you are off-site and want to park at the BoardWalk Inn to enjoy AbracadaBar on the Boardwalk, we recommend making a lunch or dinner reservation at a Boardwalk restaurant so you will be allowed to park with no issues.
2 – A Magician's Haven 
AbracadaBar is easy to spot with its red canopy entrance, outdoor seating, and boxed flower beds. The elegant appearance outside is intriguing and it's easy to be drawn in through the doors that have an "Open Sesame" sign above the door frame. Inside the lighting is dim and the décor is straight out of the Victorian period with dark reds, black, and hints of white. Handsome trim work, mirrors, booths, and tables fill the small lounge. We especially loved the magicians' posters on display and the awesome case of magician props! The lounge was busy when we visited with only a few seats left outside. Servers were on the move through the lounge to assist those seated. We made our way to the bar to check out the menu and place an order to take with us on our stroll through the Boardwalk. The bar staff was very friendly and efficient. Our order was taken in moments and the bartender whipped up our concoctions in no time!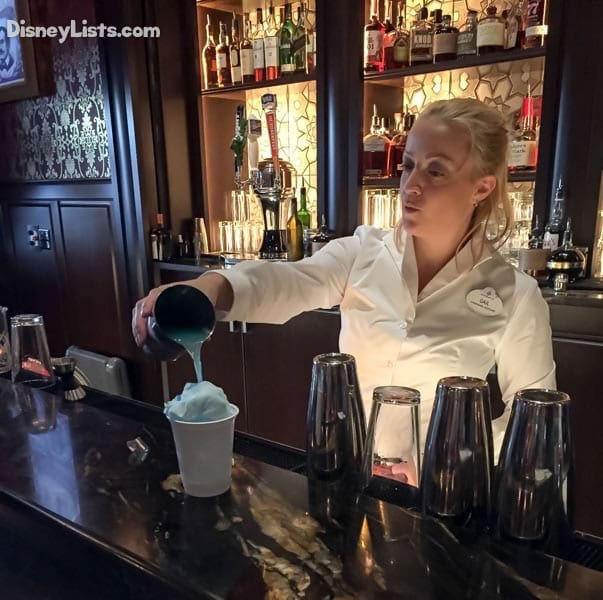 3 – Curious Concoctions
The front of the drink menu states "The old magic lounge still holds a few tricks, open this menu, and see if one sticks!" When we opened it – several tricks stuck! We could have easily tasted multiple drinks but tried to keep the libations to a minimum. The menu features cocktails, wine, and beer. We were immediately drawn to the cocktails where we ordered The Conjurita ("A colorful margarita that never reveals its secrets") and a Seashore Sweet ("A cotton candy creation dedicated to two BoardWalk beauty queens"). They were wonderful-tasting drinks! The wine menu has white, red, rose, and champagne selections. The list of Baffling Beers was rather impressive as well, with bottled, canned, or draft selections.
4 – Enchanting Cast Members
We were very impressed with the enchanting Cast Members that were serving guests quickly but still with a smile. Everyone at both the inside and outside seating areas seemed pleased with their service and tasty drinks. One Cast Member stood towards the back of the lounge near the restrooms observing and assisting as needed. We were very impressed with the bartenders and how they added a hint of magic when serving the Seashore Sweet cocktail. They magically made a huge ball of blue cotton candy disappear as they poured lemonade into the glass. We were very pleased with how quickly we were served despite the crowd.
5 – A Few Secrets of Our Own
Tips for your next visit to AbracadaBar:
Arrive early to snag a booth or table. The lounge is small, and inside access to Flying Fish and Trattoria al Forno becomes an easy middle ground for folks to enjoy a drink. The lounge is typically open from 4 pm-12 am, and if you are looking to sit inside, you'll want to arrive closer to 4 pm.
Most of the cocktails can be made into non-alcoholic drinks if you have someone under 21 interested in trying one. Non-alcoholic drinks that are being taken out of the lounge come in a white plastic cup for easy deciphering between what is alcoholic and non-alcoholic.
While children are welcome, the atmosphere at AbracadaBar is a lounge environment, after all. If you have the children with you, maybe one adult can go in and order while the other stays with the children. We took a stroller in to place our order, which was way too tight.
Have you had the opportunity to visit this magician's haven? If so, we'd love to hear about your experience. In the meantime, it's time for us to vanish!
For a no obligation, FREE Quote on a Disney vacation package, please contact our travel partner Magical Vacation Planner at 407-442-0227 (407-442-0215 for Spanish). You can also request a FREE quote online by Clicking HERE.