The classic 1955 Disney film, Lady and the Tramp, comes to life in the beautiful Tony's Town Square Restaurant! So, what makes it easy to love Tony's Town Square? Here are our top five reasons why we find ourselves dining at Tony's Town Square time and time again.
1 – Romantic Atmosphere
Lady and the Tramp shared their first kiss at Tony's, so of course, this restaurant holds a sweet, romantic vibe both inside and out. The location is superb – nestled in the entrance hub of Main Street, U.S.A. at Magic Kingdom. Upon entrance into the park, simply look right and spot the grand building with a hanging sign featuring Tony – the famous meatball chef from Lady and the Tramp. He looks as if he's eager to take your order with the restaurant name, "Tony's Town Square Restaurant," surrounding him. The building itself exudes charming details such as French doors, an elegant front porch, and Victorian-style columns. The lighting inside and the décor, such as the Lady and the Tramp fountain, provide perfect hints of the memorable Lady and the Tramp film without going overboard. While waiting to be seated, the Lady and the Tramp movie plays to entertain both children and adults alike!
2 – Parade Views
Plan your dining experience surrounding a Magic Kingdom parade and you may have a chance to watch it go by while dining at a front porch table! Be sure to ask a host/hostess in advance and suggest that you would be willing to wait past your reservation time to snag one of the outside spots. We personally enjoyed watching parades from the porch and were pleased when we noticed that servers blocked off the porch space in front of the tables, so outside guests couldn't stand in front to obstruct the view. If you visit during either Magic Kingdom Halloween or Christmas parties, you can time your dinner to include parade viewing. Keep in mind that while there is a parade view, it's not the perfect place to be for a parade. With the crowds below, typically, you'll see the top parts of the floats that go by and not always the street action. If you've seen the parade from the street, this is a great way to reminisce and take in the magic while enjoying your lunch or dinner.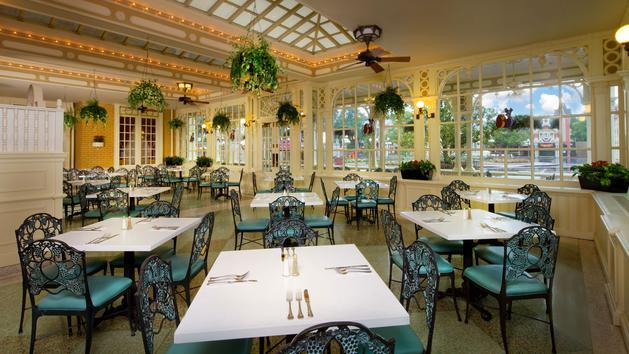 3 – Italian Cuisine
Italian at its best! Guests won't be disappointed with the fantastic selection of Italian cuisine and a mix-in of American favorites for lunch and/or dinner. The food is hearty and filling, and we feel you definitely get your money's worth at Tony's. Appetizers include selections such as bread, salads, soups, and more. Our favorite entrees are the spaghetti and meatballs (of course!), chicken parmigiana, and the butcher's steak. The desserts at Tony's are some of our favorite table service restaurant desserts with choices such as the Tony's Spumoni Tart, Italian Strawberry Shortcake, or gelato. The chefs in the back may even surprise you with a little drawing in chocolate of Lady and the Tramp on your dessert plate!
4 – Reservations
While advanced dining reservations are recommended 60 days in advance, we have found that Tony's Town Square is one of the last table service restaurants at Magic Kingdom to fill up. This doesn't mean the food and atmosphere aren't excellent based on our opinion, but rather that some restaurants simply aren't as popular as the others surrounding it. For example, in Magic Kingdom, Tony's Town Square competes with Be Our Guest, The Crystal Palace, and even Cinderella's Royal Table, among other table service selections. We honestly love this about Tony's Town Square because it's easier to snag those last-minute dining reservations. We don't say this to advise that you should wait to make reservations because, in fact, we try to book them 60 days in advance for sure! It's just nice knowing if plans change a few weeks in advance, Tony's sometimes has seating available.
5 – Excellent Cast Members
Of all the Disney World restaurants we've dined at, we must say that Tony's Cast Members (servers, hosts, chefs) are some of the best we've experienced. They are incredibly accommodating to both families and couples and we'd recommend Tony's Town Square if not for their excellent food – for their superb service. From food to seating requests, we have been pleased time and time again with Tony's extraordinary service. They must have picked up a few tips from Tony, the chef, and his sweet care for all those around him… even the four-legged friends he feeds meatballs to in the movie!
Have you had the opportunity to dine at Tony's Town Square Restaurant? We'd love to hear about your dining experience!
For a no obligation, FREE Quote on a Disney vacation package, please contact our travel partner Magical Vacation Planner at 407-442-0227 (407-442-0215 for Spanish). You can also request a FREE quote online by Clicking HERE.