Are you the type of person that packs a vacation full of activities only to leave you more exhausted than you were before you left for your trip? We understand and have fallen into that cycle time and time again. But – wait… we're here to help you break that cycle! A lazy day at Disney is especially recommended if you are planning a week-long or more visit to Disney World, have an Annual Pass, and/or have purchased enough park tickets that adding on an extra day is super cheap. Put on those comfy pants and flip-flops and let's enjoy the best lazy day possible at Walt Disney World!
1 – Sleep In
Example – 8:30 am Alarm with an hour to get ready.
While we don't recommend sleeping in every day of your trip, we suggest it for your lazy Disney day. It is a vacation, after all, and pressing that snooze button is well deserved. Forget waking before sunrise while attempting to beat the crowds to the park for just one day despite what your "Type A" personality is telling you! Because you're sleeping in and enjoying a lazy day, you won't want to use Genie+ or pay for a la carte Individual Lightning Lane attractions since you need to make those selections at 7:00 am.
2 – Go for a Late Character Breakfast
Example – 10:30 am Reservation at The Garden Grill in EPCOT
Some character dining breakfast options go until 10:45 am, depending on the restaurant and specific time of the year. Make your dining reservation 60-days in advance to snag that late breakfast time with no troubles. Stroll in hungry and leave satisfied both with hunger and entertainment.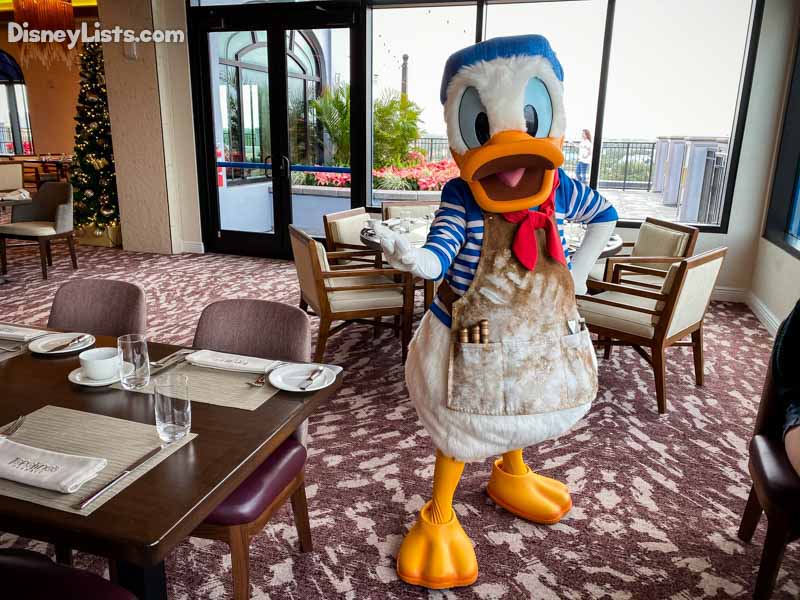 3 – Enjoy an Attraction
Today is your lazy day, so it's not all about the attractions. That said, why not catch a quick ride on your favorite attraction, especially if you have breakfast in the same park?! As we mentioned earlier, since you're not spending too much time in the parks today, you don't want to pay for Genie+ for the day because you won't get the value out of the cost. So after breakfast, take a look at the Tip Board in Disney Genie or Wait Times on the app and choose an attraction that interests you with a reasonable wait time. 
4 – Back To The Resort For Pool Time
Example – 1:00 pm Swimming in Your Disney Resort Pool
Why not enjoy your Disney Resort while you can? Plus, the middle-of-the-day dip in the pool is the best way to beat the Florida heat in the summer and still feels fantastic in Disney's heated pools in the winter. Wade in the zero-entry, hot tub it, or layout – whatever sounds best to you on your lazy day! Grab a pool snack as you wrap up your pool time to hold you over from your late breakfast until dinner.
5 – Shop At Your Resort
Example – 2:30 pm Gift Shopping at Your Disney Resort
From value to deluxe resorts, Disney knows how to do gift shops well! So, before you even head back to your room after your swim, visit the gift shop and pick up those souvenirs you've been eyeballing. This is a great way to shop leisurely without fighting the crowds.
6 – Go For A Spa Treatment 
Example – 4:00 pm Visit Senses Spa at Grand Floridian
In an ideal world, you'll be staying at one of the resorts above, and you can easily access the spa or possibly have a massage treatment right in your room! If you're staying at a different resort, no problem. Just ask Guest Services the best way to reach Senses. Don't forget to book your reservation in advance so you can receive your treatment at the desired time.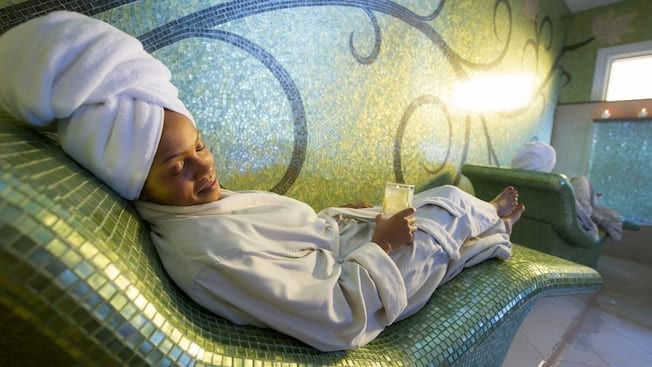 7 – Hit The "Town"
Example – 7:00 pm Stroll Disney's BoardWalk
Now that you are relaxed after your spa treatment, you'll be ready to enjoy a night out and about. We recommend for the best lazy day to visit BoardWalk. The reason? BoardWalk can be as thrilling or as relaxing as you'd like, and it's not nearly as crowded as Disney Springs! With an advanced dining reservation, enjoy a late-night dinner at Flying Fish. After dinner, Atlantic Dance Hall might be calling your name if you are a dance club type. If you want to sit and watch the lights glow over the water, pick up a drink from AbracadaBar. Street performers, shopping, and dining – BoardWalk is our favorite "hidden" gem for a lazy day!
8 – Keep Transportation Easy
Example – 11:00 pm Uber a ride to your Resort
Don't let transportation take your lazy day of relaxation to complication! While getting around Disney property can be done with Disney's complimentary transportation, it is sometimes tricky to understand which form of transportation goes from one area to another. While Uber or a taxi will cost you, the price will likely be worth the transportation hassle, especially if you split the cost with a friend. We definitely recommend this if you are planning on drinking. If you go by our examples above, you can have Uber or a taxi pick you up right outside of Disney's BoardWalk Inn lobby.
There you have it… our tips for a lazy Disney day! The best part about it is that you can make this plan your own. Use what tips work best for you, and leave off the ones that don't! The ultimate goal is to relax and be reminded of what vacation is really all about.
For a no obligation, FREE Quote on a Disney vacation package, please contact our travel partner Magical Vacation Planner at 407-442-0227 (407-442-0215 for Spanish). You can also request a FREE quote online by Clicking HERE.