Planning
Disney Style: 8 Ideas to Rock Coordinating Outfits During Your Disney World Vacation
You know you want to, so go ahead and get to planning those coordinating Disney outfits! Where else but Disney can you rock out crazy awesome matching clothing and not feel like a goober? Here are eight ideas to rock coordinating outfits during your Disney World vacation.
1 – Character Personality Matching Gear
This is one of our favorites to see in the parks, especially with large families. Ask each family member a simple question… which Disney character are you most like? You could hear anything from beloved Mickey Mouse to the villain Cruella de Vil! Head to a local t-shirt company or check out some online shirt customization shops. You could also change this one up a little and surprise your family with shirts, with the name of the character YOU think matches their personality the most. But for the love of Pete – do not make your mother-in-law the Evil Queen!
2 – Family Name and Vacation Year
Another great t-shirt design is when you list your family name along with the year of your vacation. Not only is this fun in the parks, but it's also a great souvenir to remind you of what an awesome trip you had together. Keep in mind when using matching t-shirts as a family, it's a good idea to go with bright colors so it'll be easy to spot each other. And for the fun of it, add in some matching knee-high socks!
3 – Couple's Retreat
Some of our favorite outfits have been sported by couples. We once saw an elderly couple walking the park with Mickey Ears and matching shirts that said, "He's my Mickey" and "She's my Minnie," and had arrows pointing to each other. So sweet! We also love the Star Wars themes with Han Solo and Princess Leia. T-shirts such as "I love you" from Princess Leia and "I Know" from Han Solo are excellent choices – plus don't forget to sport the hair buns, Princess Leia!
4 – It's All About the Ears
Disney has an excellent variety of Mickey Ears, Minnie Bows, and character hats for their guests to choose from. While purchasing the same hats or ears for everyone in the family is fun, it's also great to see personalities come out with different ear or hat selections. We've seen a family of ten, all different ages, walking in almost a straight line, all with different ears. It was neat to see all of their ear selections.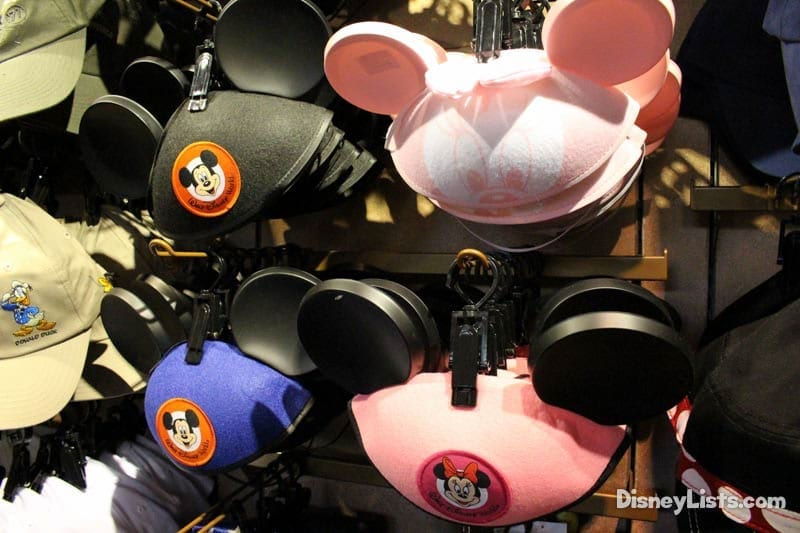 5 – Animated Families Come to Life
This is a fun one for small families, especially. If you are a family of three, you could look at outfits or t-shirts resembling an animated family's style and color. For example, Dad is King Triton, Mom is Ursula, and your little girl is Ariel. With so many family dynamics in Disney's animation, you are sure to find a family that matches yours in size. The Incredibles are another great coordinating outfit for families that we've spotted quite a few times.
 6 – Pick a Theme
Are you headed to Disney for a girl's weekend? Have each shirt or outfit color coordinate one of Disney's princesses. Or maybe you are heading out with the guys? Sounds like some Pirate gear is in the works for you! If you are just looking for some spooky fun, your family or friends could go with outfits that match your favorite villains. We've even seen rides/attractions-themed outfits being rocked out!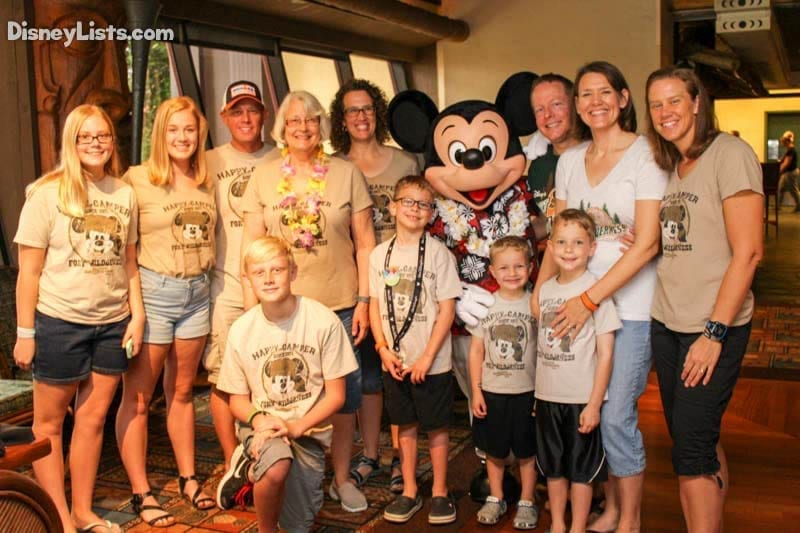 7 – White Out
Looking for a super-easy way to spot your crew? Have them go into whiteout mode for the parks. For example, your family of six can find white t-shirts, white shorts/pants, and even socks and shoes and go entirely in white! Not interested in white – you can always change up colors. We don't, however, recommend black as Florida's sun is very unforgiving with dark colors!
8 – Dreams – Really – Do – Come – True
This one is rather tricky for those focused groups out there! We love seeing each group member with a different word on their shirt. The word alone might not make any sense, but if the group were to stand next to each other, it would spell out a simple phrase like "Dreams Really Do Come True." Of course, with this example, you would need five people, one word per person. The tricky part with this outfit idea is that you have to remember your order. Plus, the front of the shirt should have a different word than the back of your shirt – otherwise, when people look at your back, they will be reading a phrase backward.
Make the Most of Your Outfits!
You've spent your time and energy on these outfits, so why not make the most out of them! If you have the opportunity, don't forget to pose with the character you rocking out. It would make for a great keepsake picture! Don't forget to ask for their autograph so maybe you could place it with the picture. Lastly, if you are trying to be selected as the family of the day at Magic Kingdom, they say being some of the first people at the entrance upon park opening with some awesome coordinating outfits is an excellent way to increase your chances!
Things You Really Should Know
Make sure nothing is obscene about your outfit, or security will quickly ask you to change. Second, if you are rocking out a princess or character outfit, you can't come too close to what the character truly looks like to confuse guests because, once again, security will ask you to change. The same goes for copyright laws – which t-shirt customization shops, both local and online, should be able to guide you through that process. Third, don't forget comfort is key! Keep your coordinating outfits comfortable and simple, and everyone in your party will thank you. Finally, if you decide to customize t-shirts, don't forget about the back of your shirt. Most people will likely see your back as the crowd walks through the park versus the front of you.
We'd love to hear your coordinating Disney outfit ideas. Better yet, share some pictures of your customized t-shirts and accessories!
For a no obligation, FREE Quote on a Disney vacation package, please contact our travel partner Magical Vacation Planner at 407-442-0227 (407-442-0215 for Spanish). You can also request a FREE quote online by Clicking HERE.