Olivia's Café is one of our favorite hidden gems at Disney! Within the tropical paradise of Disney's Old Key West awaits the perfect place for you and your family to enjoy a delicious, relaxing meal.
1 – Atmosphere
Just outside the front entrance to Olivia's Café you will notice the nautical theme begins with a ship's wheel that our kids would steer all day if we let them! Since Old Key West is primarily a Disney Vacation Club Resort, when you enter Olivia's you are greeted by multiple picture frames with photos of Disney Vacation Club members (known as the "Family Album") hanging on the atrium wall. Awaiting inside Olivia's you will find the space to be rather bright and airy with unique ceiling fans, ship oars, fisherman's nets, and several other nautical décor items. Check out the different colors of all the mismatched chairs! Our favorite place to sit (pending good weather) is outside in the midst of the Old Key West boating dock and boardwalk. We enjoy the tasty meal and drinks while sitting back, breathing in the Florida breeze, and listening to the tropical music. Olivia's and it's laid back atmosphere is the perfect place to dine after an exhausting day at the park, or just because you are looking for a great meal and experience!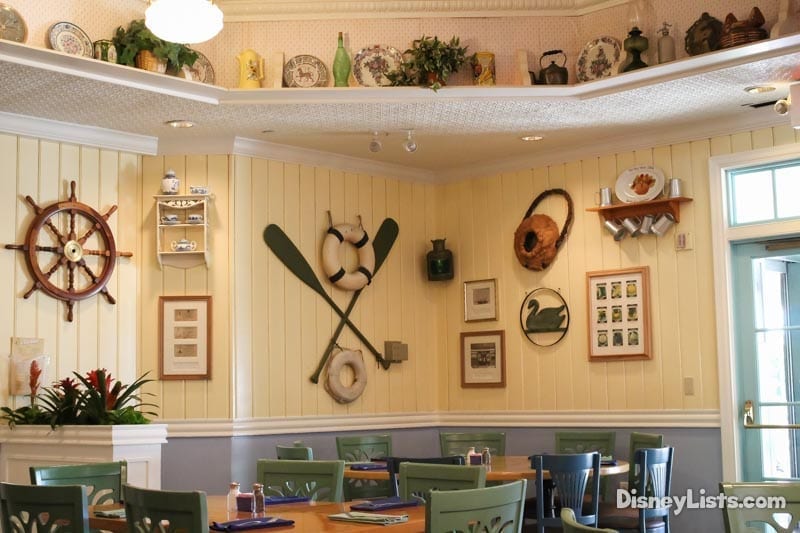 2 – The Story Behind Olivia
Can you imagine being so incredible that Disney decided they would go ahead and name a restaurant after you? Here enters Olivia Farnsworth. Resident of the Turtle Krawl area in Old Key West, Olivia was noted to be an incredible cook that decided to use her home cooking to invite strangers and friends alike to come on in and eat. Eventually, folks flocked to Olivia's graciousness (and delicious food!), and soon enough she was opening her own little eatery. It is said she was always willing to pull up another chair for anyone who cared to join in on dinner. You will see her pictured on the menu when you dine. Olivia and her story really are a complete summary of what you can expect when you dine at Olivia's. You won't be disappointed by the welcoming and friendly Cast Members that carry on Olivia's legacy, as they encourage you to pull up a chair and enjoy incredible food.
3 – Food Selection
Serving  brunch and dinner, Olivia's has a great variety of food selections at every meal. The menu items for brunch include omelets, eggs, biscuits and gravy, pancakes, bacon, sausage – all the yummy home-cooked breakfast items you could ask for. Then, our favorite – dinner! A Cast Member will bring out some Hawaiian/coconut bread to start your meal. This bread is on our top five favorite foods at Disney! Dinner menu selections include the catch of the day, slow-cooked prime rib, chicken, and whatever the special of the day is. Of course with each meal, there is some element of dessert you should treat yourself with. We have yet to be disappointed with a dessert selection. Lastly, the adult beverage menu seems limitless. With the Old Key West Gurgling Suitcase Bar right next door, drinks are easy to request and make it to the table quickly. Enjoy!
4 – Old Key West Location
Even if you aren't staying at Disney's Old Key West Resort but still want to dine at Olivia's Café, we recommend making a small adventure out of it. Old Key West Resort is worth spending some time in and around, browsing through the resort clubhouse and enjoying the lush landscape. While taking a walk around the main pool, take notice of the towering lighthouse and not-so-hidden mickey of a waterslide. If you didn't order a beverage while dining at Olivia's Café, grab a drink from the Gurgling Suitcase and sit under the umbrellas on the dock. Soft serve ice cream is also available at Goods Food to Go… just in case you need a second dessert! Across the atrium from Olivia's Café, you will want to browse the gift shop which is especially unique with Disney Vacation Club Member merchandise. The welcoming and relaxed atmosphere you'll experience at Olivia's just extends throughout the Old Key West resort.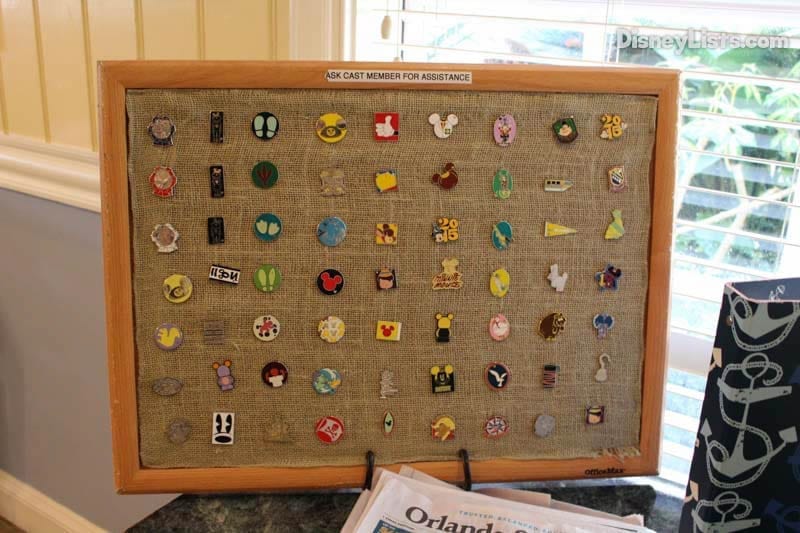 5 – Extras!
Any pin traders out there? Check out the large pin trading board located near the hostess stand at Olivia's. If that's not enough of a selection for you, you'll want to head over to the resort lobby to see more pins to trade. At times Olivia's offers an "Artist of the Day". For the young and young at heart, color a picture of a character the hostess will provide you with and see if they are in need of an Artist of the Day. Your artwork will be displayed and you will receive a certificate to remember your accomplishment. It's the fun little stuff like this and great food that has not only us, but our kids hooked on Olivia's. One last note – while we like to make dining reservations in advance if possible, we have found that Olivia's typically has seating available with minimal wait unless you are visiting during the extremely busy season.
Words don't do Olivia's Café justice! Visit and you'll see exactly why we can't help but be repeat guests at this hidden gem of a restaurant.
For a no obligation, FREE Quote on a Disney vacation package, please contact our travel partner Magical Vacation Planner at 407-442-0227 (407-442-0215 for Spanish). You can also request a FREE quote online by Clicking HERE.