Disney Cruise Line
10 Tips and Tricks for Families with Kids for the Best Disney Cruise Line Cruise Ever
Whether you've been on a cruise or are finally making your dream of cruising a reality, we expect you'll have an outstanding time on the Disney Cruise Line (DCL)! Paramount to any other cruise line, Disney knows what they are doing with an exceptional focus on families cruising with children. Get ready to sail out to sea by checking out these ten tips and tricks we hope will help your family experience the best DCL cruise ever!
1 – Review Ship and Ports Before as a Family
Before you set sail, have a DCL family night! Pull up the internet, get YouTube on the TV, and have a map ready. Explore each of your ship's decks to see what may or may not appeal to the kids. Check out YouTube videos of the pools and kids' activity centers. Talk a little geography with a map showing the kids where you will be cruising. Don't forget to look into your ports of call so the kids will understand where they will visit and what may be unique to that particular port. Reviewing the ship and ports before as a family is a perfect way to keep everyone in the loop – plus, build the excitement while on land!
2 – Decorate Your Door
Decorating your door is something very special about the DCL. It is simple enough but really adds that extra touch of Pixie Dust! The cruise doors are magnetic, meaning you can decorate your door with fun Disney-inspired magnets. You can purchase cruise door magnets online and personalize them with your individual kids' names, or you can do a family name. If you prefer, instead of ordering them online – you can get crafty and make them with your family at home. It's the small stuff that adds that extra magic.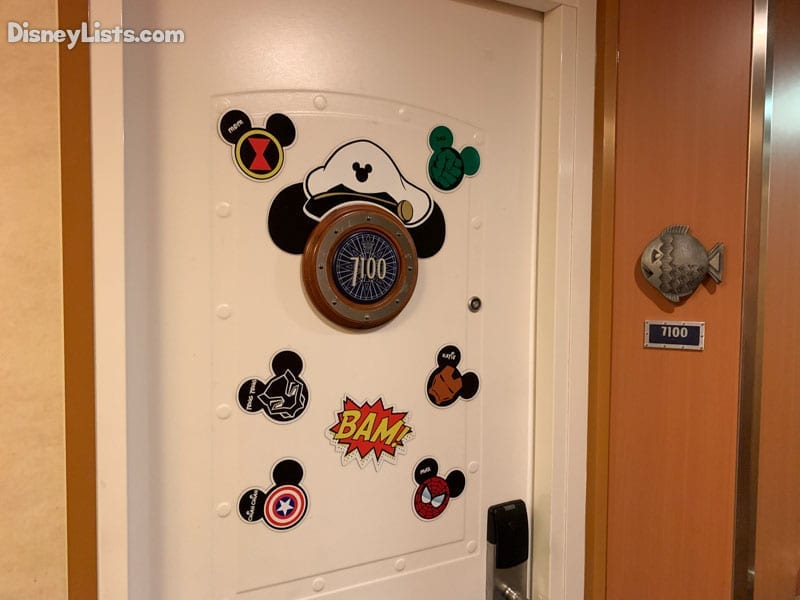 3 – Make a Splash!
If your kids are anything like ours, get ready to live in your swimsuit throughout your cruise. From the moment they wake up to the time they go to sleep, they want to know when they get to swim next! The family pools on the Disney Cruise Line are super crowded, so be prepared for that in advance. Early morning, late evenings and days at ports are typically the least crowded times to swim. You'll also want to do a little research in advance to understand which pools, slides, and water activities you'll find aboard your DCL ship, as they do change slightly from one ship to the next. Bringing a couple of swimsuits per person is a good idea as it's no fun putting a wet one on from earlier that day.
4 – See Deck Shows & Fireworks
If you're looking for that best day ever on the DCL, you don't want to miss these experiences. Deck shows and fireworks are all about the kids with characters, songs, and fun performers! Typically, some form of deck show is held every night, but you'll want to check your ship's entertainment schedule in advance so you can plan accordingly. DCL also offers a night where they shoot fireworks from the ship! It's an incredible sight to see! Your kids will be ready to climb into bed with dreams of Mickey and his pals.
5 – Plan Time for Characters
No surprise here… there is never a shortage of Disney characters available on the DCL. Mickey, Minnie, Princesses, and so many more characters are available for meet and greets at select times in different locations. Some character meet and greet lines do take time, so plan accordingly to arrive early enough, so hopefully, you'll catch the line before it gets too long. Characters are known to change their outfits too. You may find Captain Mickey one night, but he could come decked out as Pirate Mickey the next! These character meet and greets make for especially memorable family photos.
6 – Check Out the Kids' Clubs
Woohoo – the kids get to run free without their parents! We are confident our kids love us, but geez, were they excited to check out the kids' clubs! Depending on your child's age, they can go to one of the clubs, including It's a Small World Nursery (6 months – 3 years), Oceaneer Club (ages 3-12), The Edge (ages 11-14), or the Vibe (ages 14-17). All of these clubs are free except for It's a Small World Nursery. Energetic Cast Members await to host games, dance parties, crafts, and more. There is also plenty of independent playing/hang-out time with Cast Member supervision. Not only will a little time in the kids' clubs be a favorite for your kids, but you'll have some adult time for yourself. It's a win-win situation for the whole family!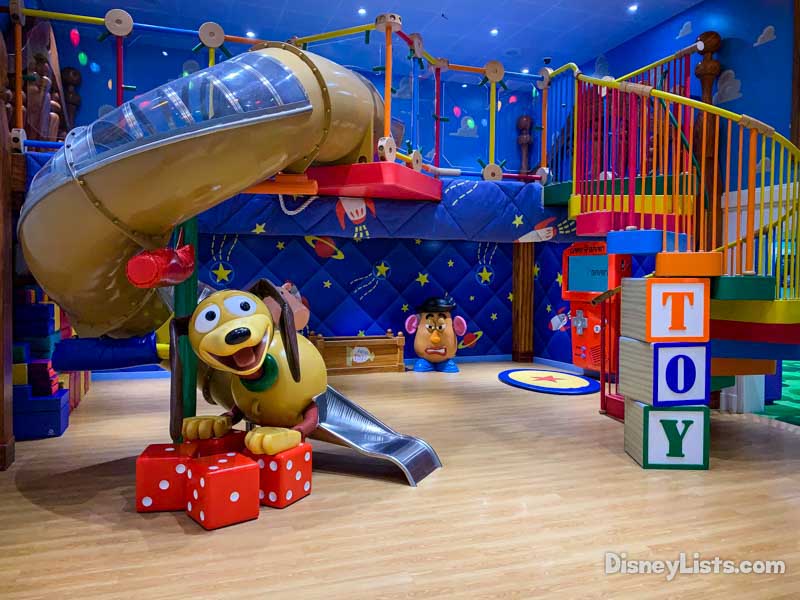 7 – Do the Onboard Scavenger Hunt
DCL has onboard scavenger hunts that will take you all over the ship. Everyone in the family will get into this as you hunt for the next clue on the ship to solve a mystery. Join the "Midship Detective Agency" and select the mystery you want to solve. You will receive a map of where the clues are located. Upon arrival to a clue, your detective card will unlock a short film on what looks like a regular wall painting. The best part is each of the mysteries has multiple experiences meaning you can do it several times without ending up with the same outcome. We've even come across Goofy trying to solve a mystery! Just be aware that scavenger hunts are especially popular on days at sea. Lines to find your next clue are likely these days, but they move rather quickly.
8 – Encourage Kids to Try New Foods
Food is included in your package, so now is the best time to encourage your child to try something new! Buffets are especially great for this. If there is something in the restaurant that your child wants to try and doesn't like it, your dining server will bring them something new upon request. We find this to be a great time to let those young taste buds do a little exploring if your child is willing to take the risk!
9 – Eat Dessert First!
When we talk with our kids about memorable experiences on the DCL – they always seem to come back to the desserts! Even us adults can't get enough of the DCL sweet treats. Don't worry so much about spoiling their next meal… go ahead and have that 6th ice cream cone as a family before dinner! Chances are, having many desserts or eating dessert before a meal isn't something that often happens at home. So, go ahead and let this simple family experience be one the kids will remember. The diet can wait for when you get home.
10 – Don't Forget to Pack… 
Let us say that almost everything can be purchased right on the DCL if you realize you forgot something. Multiple sundry items, clothing, merchandise, accessories, and more are available. The only bummer is having to pay the Disney price when it would have been much cheaper from the local stores back home. Don't forget to pack items you might not think of every day, including goggles, swim diapers, glow bracelets and necklaces for the nighttime shows, sunscreen, and motion sickness medicine, just to name a few. You'll especially want to remember the items that can't be purchased onboard, such as a child's favorite stuffed animal or blanket.
We hope these tips and tricks will help make this the BEST DCL cruise your family has ever experienced!
For a no obligation, FREE Quote on a Disney vacation package, please contact our travel partner Magical Vacation Planner at 407-442-0227 (407-442-0215 for Spanish). You can also request a FREE quote online by Clicking HERE.