It's the most wonderful time of the year! No, we're not talking about Christmas. We're excited that the Epcot International Food & Wine Festival is finally here! It's one of the top reasons fall is such an amazing time to visit Disney World. As amazing as this festival is, it can be overwhelming for first-timers and veterans alike. With over 25 global marketplaces to visit, special dining experiences, seminars, and concerts, not to mention big crowds, navigating the festival can be tricky. We're all about maximizing your time and enjoyment at the parks.
Over the years, many weekends, and many dollars, we've learned a thing or two about tackling the festival. Here are our top eight tips for experiencing the Epcot Food & Wine Festival.
Click here for details on the 2023 EPCOT International Food & Wine Festival.
8 – Have a Plan
Reviewing the menu options before heading to the Food & Wine Festival is best. There are literally hundreds of choices once you get there. Out of those hundreds of options, there is always a handful that I know I need to have the second I hear about them. I want to make sure I don't miss those favorites, so I plan what I want to get first. If you still have room after that, keep going.
Click here for photos of the menu boards for the Global Marketplaces with pricing for easy planning!
7 – Get a Passport
The Festival Passport is a fun and helpful way to keep track of everything you've done during the festival. We highly recommend using this passport for many reasons. First, it's an entertaining challenge. It's fun to go to each marketplace and place your sticker that shows where you have visited. Second, it's a great way to plan your "must-haves." We always stop and highlight the items we really want to enjoy to ensure we don't miss anything we are looking forward to. Also, it's a great way to track what food and drink you have actually tried. With so many choices, after a while, it can get challenging to remember what you have and have not had. We like to have a goal to get one item from every marketplace. Using the passport throughout the festival, we can easily see which marketplaces we still need to visit. Finally, in the end, they make fantastic souvenirs.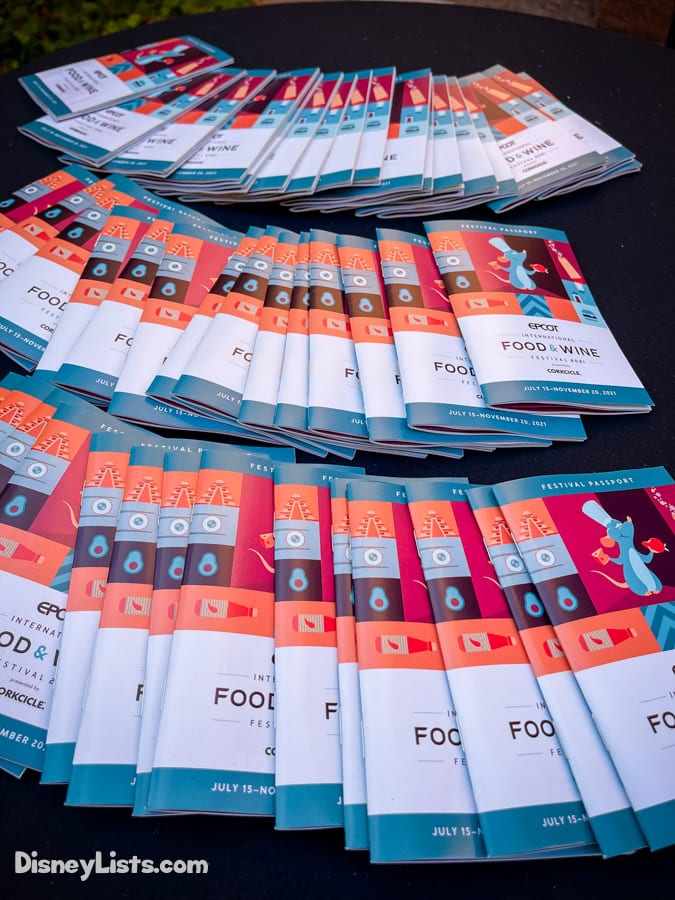 6 – Try Remy's Ratatouille Hide & Squeak
Remy's Ratatouille Hide & Squeak invites kids of all ages on a magnifique adventure to find Chef Remy around the festival. Guests can purchase a map and stickers from select locations and then search for statuettes of the "Little Chef" hidden throughout World Showcase and the Global Marketplaces. Those who complete the scrumptious scavenger hunt earn a special surprise, courtesy of Chef Remy.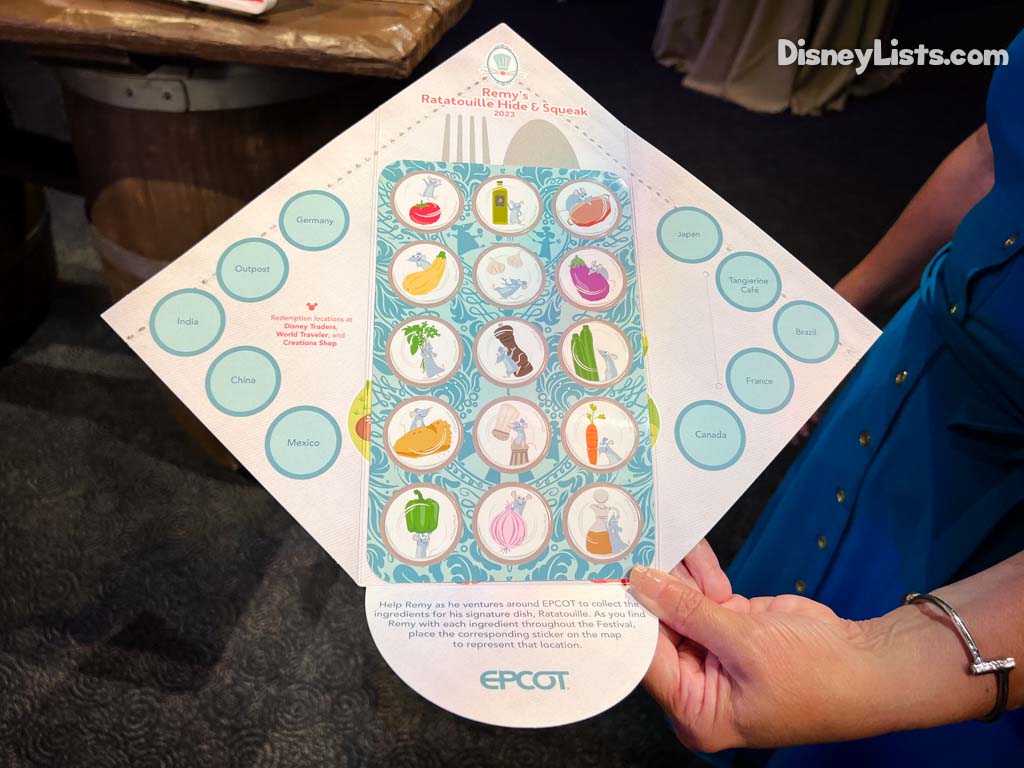 5 – Use Your Dining Credits Wisely
Editor's Note: Disney Dining Plans are temporarily suspended. However, Disney has confirmed that they will return for vacation packages beginning January 9, 2024. Those packages are now on sale.
Those of you on the Disney Dining Plan will have one snack credit a day. Using those credits during the festival can be an excellent way to save some significant money and get maximum value from your plan. Most menu items at the festival can be purchased with a snack credit and are often significantly more expensive than usual park snacks like popcorn or ice cream. Clearly, all snack credits are not created equal. We recommend using the credits for those most expensive festival items and using your cash for the items that you have to pay for. Another reason is to check the menu ahead of time and have a plan.
4 – Get a Gift Card
Disney has made it really easy to spend money during the festival (that's good and bad news). Every year, they release gift cards with the festival logo you can wear around your wrist. You'll want to take advantage of the gift cards for a few reasons. First, it makes it paying for your items significantly faster! We all want the lines to move as quickly as possible. Do your part by using a festival gift card. Gift cards can be purchased and reloaded at many locations and can be loaded using cash or credit card.
It will also help you stay within a spending budget. The festival is not cheap, especially if you want to sample a lot of offerings. By purchasing a gift card, you can (try to) force yourself only to spend what is on the card. Blindly, charging here and there on your MagicBand or credit card can quickly get out of control.
Finally, it makes reviewing your credit card statement or balancing your checking account a lot easier. Instead of dozens of small charges, you have one charge. You can also easily replace a lost gift card if you keep the receipt.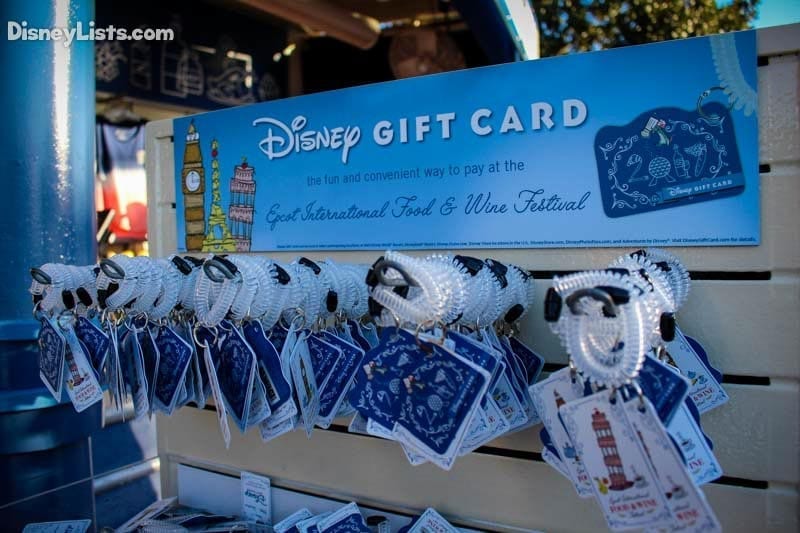 3 – Spread It Out
Epcot Food & Wine Festival is an event best spread out, both over time and physically. It's tough to get everything in throughout one crammed day. Unlike experiencing a park where your only limits on conquering everything are the park hours, at the Food & Wine Festival, you have to contend with the size of your stomach and alcohol tolerance. If you are going to be at Disney World for multiple days and have a park hopper pass spread Food & Wine out over your entire stay. Plan a couple of hours of tasting each day rather than one marathon session. Better yet, replace one meal a day with a trip around the world.
We usually recommend experiencing all the attractions you want to in one area before moving on to avoid bouncing all over the park and adding a lot of time and mileage going back and forth. This isn't one of those times. You'll do a little more walking, but we like to hit a marketplace on our list and then skip three or four, making two or three laps around the lagoon instead of doing everything in order. It spreads the consumption out more and keeps us from getting too full or too tipsy too early. It also prevents our experience from becoming all lines and stuffing our faces and allows time for conversation and enjoyment of the atmosphere.
2 – Try New Things
We have a rule in our family; you must try everything, even if it's just one bite. We have famously picky eaters in our family, but to their surprise, they found new favorites when actually trying new things! Crazy, I know! There are so many different foods to try, and we encourage you to take advantage of the extensive offerings by trying foods you wouldn't normally eat.
The best thing about the Food & Wine Festival is the opportunity to try new flavors from around the world without committing to a whole meal. Just a taste of a sample is a pretty low risk. We still get our favorites, year after year, but we also make sure to try new offerings. That's one of the great things about the festival, there are always so many new things to try!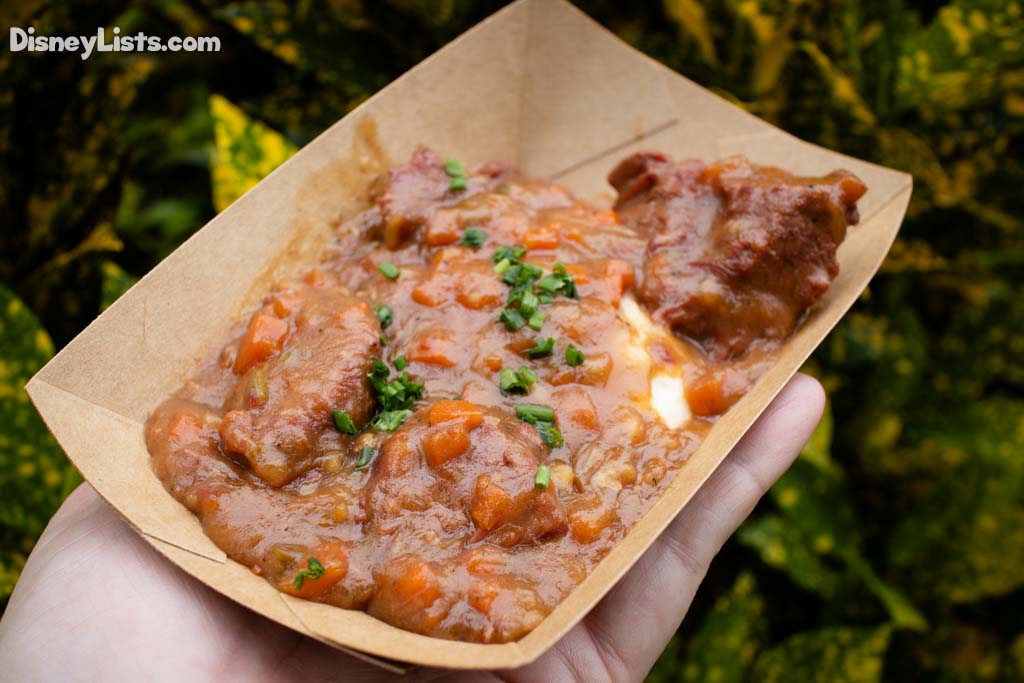 1 – Share
Disney World is about creating and sharing memories with other people. The Food & Wine Festival is a great place to do that. If you are traveling with a group of people, take the opportunity to share. Instead of everyone getting their own individual food items, plan for each person to get something different, and then everyone gets a taste of everything. It's a great way to multiply the number of things you can try and create some conversation as you discuss and rate things as a group. There are disposable utensils at every kiosk to make splitting food up in a sanitary way is easy. If you discover something amazing and you just have to have a full serving, you can always go back for seconds.
Epcot's Food and Wine Festival is Disney at its best and is a fantastic opportunity to experience the adult side of Disney World. Soak up as much as you can, and make sure you try the Canadian Cheddar Soup.
For a no obligation, FREE Quote on a Disney vacation package, please contact our travel partner Magical Vacation Planner at 407-442-0227 (407-442-0215 for Spanish). You can also request a FREE quote online by Clicking HERE.