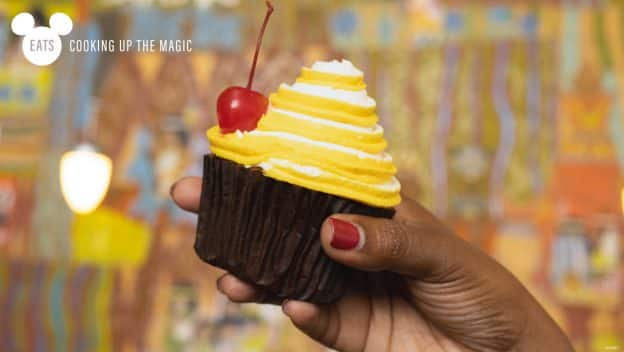 DOLE Whip is a classic Disney treat that many fans love. Disney has released a new recipe inspired by the pineapple dessert. Learn more below.
Here are all the details from Disney Cast Member Katie Wilson:
It's almost DOLE Whip Day! Today we're cooking up the magic by sharing a recipe for Pineapple Cupcakes inspired by DOLE Whip from Disney's Contemporary Resort. Since I love pineapple desserts and DOLE Whip, I was thrilled to test these cupcakes!
Our chefs created a delicious pineapple mousse-filled cupcake topped with pineapple buttercream and garnished with a cherry. Using yellow and white buttercream gives the cupcakes the look of the classic DOLE Whip swirl. After enjoying a few cupcakes, I can confirm that they're as delicious as they are cute, and the perfect way to celebrate DOLE Whip Day at home.
It's time to share the recipe! Use your favorite yellow cupcake recipe or box mix for this recipe. If you have leftover pineapple mousse, it tastes great with graham crackers or as a fruit dip. It's even delicious on its own!
PINEAPPLE CUPCAKES INSPIRED BY DOLE WHIP
Contempo Café, Disney's Contemporary Resort
Makes 12 Cupcakes
PINEAPPLE MOUSSE
1/2 cup heavy whipping cream
1/3 cup whole milk
3 tablespoons pineapple-flavored powdered gelatin
PINEAPPLE BUTTERCREAM
1 tablespoon pineapple juice
3 tablespoons pineapple-flavored powdered gelatin
1/2 cup vegetable shortening
1/2 cup unsalted butter, softened
4 cups powdered sugar
2 tablespoons whole milk
CUPCAKES
12 vanilla cupcakes, from a favorite recipe or box mix
Yellow food coloring
Orange food coloring
12 maraschino cherries
FOR PINEAPPLE MOUSSE:
Whip heavy cream in the bowl of an electric mixer fitted with a whisk attachment until soft peaks form. Set aside.
Heat milk in a small saucepan over medium heat until very hot, but not boiling. Whisk in gelatin and stir until dissolved. Remove from heat and cool for 10 minutes.
Fold gelatin mixture into whipped cream until fully incorporated.
Refrigerate for at least 4 hours, up to 2 days.
FOR PINEAPPLE BUTTERCREAM :
Combine pineapple juice and gelatin in small bowl, stirring until gelatin is dissolved. Set aside.
Cream shortening and softened butter in the bowl of an electric mixer fitted with a paddle attachment until fluffy.
Add gelatin mixture and beat on medium speed until fully incorporated.
Add powdered sugar, one cup at a time, and beat on low speed until fully mixed. Increase to medium speed and beat, scraping side of bowl as needed, until frosting is stiff.
Add milk, one teaspoon at a time, until buttercream is light and fluffy.
Divide buttercream in half and store in two airtight containers until readyto use.
FOR CUPCAKES:
Using a 1-inch cookie cutter or apple corer, cut hole about 2/3 of the way down the center of each cupcake. Fill with reserved pineapple mousse. Using an offset spatula, remove any excess mousse from the top of the cupcake.
Add a few drops of yellow and orange food coloring to one of the reserved pineapple buttercream containers until desired shade of yellow is achieved.
Place white buttercream in a piping bag fitted with a star tip. Spoon yellow buttercream in a second piping bag fitted with a star tip of the same size.
Pipe buttercream on cupcakes, alternating between yellow and white to create a soft-serve swirl look. Top with maraschino cherry.
Always use caution when handling sharp objects and hot contents. Please supervise children who are helping or nearby.

This recipe has been converted from a larger quantity in the restaurant kitchens. The flavor profile may vary from the restaurant's version.
Be sure to download a PDF version of this delicious DOLE Whip-inspired recipe here and get baking!
For a no obligation, FREE Quote on a Disney vacation package, please contact our travel partner Magical Vacation Planner at 407-442-0227 (407-442-0215 for Spanish). You can also request a FREE quote online by Clicking HERE.