Have you ever been walking through Disney's theme parks or your Disney resort and noticed a Disney Vacation Club (DVC) site? Typically, you'll spot them with the large DVC logo, a friendly Cast Member, some gorgeous images of resorts, and a big "Welcome Home" sign. If you haven't had the chance to stop by for a chat, or just aren't sure you want to get roped into something, this article is for you. Here's what we feel you need to know about Disney Vacation Club.
1 – The DVC Low Down
Just when you think Disney's crew has thought of everything they possibly could to benefit their guests… here enters Disney Vacation Club (DVC) and you realize they really HAVE thought of everything! DVC allows members to enjoy vacations while using their vacation ownership program. Not only does DVC provide guests with flexibility on when and where they would like to stay, but with major cost savings in the long run. So, let's say you are a Disney Vacation Club member. Welcome home! Now let's start vacation planning.  As a DVC Member, you've purchased "real estate" at a DVC Resort. This purchase is represented by "Vacation Points" which are dumped into your DVC point account annually. How many points you receive annually simply depends on how much "real estate" you purchased. The more money you put towards your DVC real estate, the more points you'll have to play with when vacationing.
2 – "Vacation Points" Talk
What's all this "Vacation Points" talk? These little babies are what make the magic happen! You spend your vacation points like they are cash for your DVC vacation resort/destination. Depending on which DVC destination, when you want to go, length of stay, and what type of resort room you would like, the amount of points you will need to use varies. Certain destinations will use more points than others, and the same goes for certain times of the year and room selections. If you bought in with a low number of points and want to spread them out over a couple of trips, you'll want to stay off-season at the lower point resorts. If you bought a bunch of points and want to "go big or go home" and spend all of your points on one trip, you'll be able to enjoy peak season and a top DVC resort. If you find yourself unable to use your points for the year, you can "bank" them until the following year. Or, if you find yourself needing more points for the year, you can "borrow" from next year's points. Here are some helpful examples from 2023 off of the DVC website to give you an idea of how points really work:
125 Points: A week in a Savanna View Deluxe Studio at Disney's Animal Kingdom Villas during the summer of 2023
189 Points: A week at Aulani, Disney Vacation Club Villas, Ko Olina Hawaiʻi, in an Island Gardens View Deluxe Studio during July 2023
282 Points: A week at The Villas at Disney's Grand Floridian Resort & Spa in a 1-Bedroom Villa with a Standard View in May 2023
Disney Vacation Club's current point chart is a helpful guide to get an idea of how many points you may need for your dream vacation. While a DVC Cast Member can provide you will a mailing that will give you a full point booklet – here is a helpful link to view resorts and points required per night to give you an idea.
3 – Where to Stay?
You'll be welcomed home at DVC Resorts! The list of places you can stay while using your points at Disney World and throughout the World is breathe taking! The list of DVC locations off of the DVC website lists around 3,500 resorts and hotels. So, we'll spare you the long list, but here's the link if you are interested. Here are the DVC Resorts located a Walt Disney World:
Bay Lake Tower at the Contemporary Resort
Animal Kingdom Villas (located at both Jambo House and Kidani Village)
Beach Club Villas
Boardwalk Villas
Old Key West Resort
Polynesian Villas and Bungalows
Riviera Resort
Saratoga Springs Resort
Villas at the Grand Floridian Resort
Boulder Ridge Villas at Disney's Wilderness Lodge
Copper Creek Villas & Cabins at Disney's Wilderness Lodge
Disney Rivera Resort
If you want a change from the WDW Resorts, travel internationally! Or even use your points to stay aboard one of Disney's unbelievable cruise ships!
4 – Home Resort
You'll hear the term "Home Resort" come up frequently when researching DVC. Your home resort is simply the location you purchase your "real estate" deed from. Of course, you are welcome to stay at any other DVC resorts even though it's not your home resort. Your home resort selection is important because you have priority reservations by booking eleven months in advance versus the seven months advance booking at the DVC resorts that are not your home resort. Note – if the current home resorts don't appeal to you, ask a DVC Cast Member about other home resort possibilities. You may just be able to get on a waiting list to purchase real estate former members sold back to Disney at other DVC locations such as Old Key West Resort or Saratoga Springs Resort at Disney World.
5 – All About the Money Honey
Budgets in our household are a must! So what's DVC going to cost you? Of course, this depends on how many points you want and what you select to be your "home resort". Here is a super easy calculation site off of DVC's website for an easy way to see what DVC may cost you. The calculation takes into consideration your home resort, the number of points you would like, closing costs, and annual dues. Disney offers financing but as a little side tip – you may want to compare Disney's interest rates against other financing agencies for possibly lower interest rates. Don't forget to ask a DVC Cast Member about the "Exchange Fee". When staying at particular locations, such as DVC hotels, you will be required to pay an exchange fee for the stay. Usually, this is right around a $90 fee. The "exchange" you are paying for is when Disney exchanges your points for money to the DVC hotel when you stay outside of the DVC Resorts (nationally or internationally).
6 – Personal Experience and Perks
Perks for Disney Vacation Club Members include wonderful resort selections, travel, huge long-term savings, 10% off Disney dining and merchandise, excellent DVC phone line, website, point account access, DVC member celebrations, and much more. We bought into Disney Vacation Club a few years ago, and our only regret is not buying MORE points – which we'll likely be adding a point soon! We've enjoyed numerous trips to Disney that we would never have been able to pay for without being DVC members. Plus, with our points, we've been able to share the magic with family and friends by inviting them to come along or getting a resort room for them. We love knowing that even now that our points are paid off, we will be able to enjoy our purchase for another 35+ years. We absolutely love everything about it, to be honest. Of course, DVC isn't for everyone so review all points to be sure you will use your points. If you decide you don't want them, though – we'll take them! ;)
7 – Non-DVC Members Can Rent Points From DVC Members
Not a DVC member but want or need larger accommodations or a kitchen? Want to test DVC out before buying? DVC member and have points you can't use? If you find yourself in any of these situations, there's a great option for the exchange of DVC points. David's DVC is an exchange service connecting DVC owners who find themselves with extra points with non-owners who want to rent a DVC villa but don't want to purchase a DVC membership. They've been doing it for years, and they make it easy. We've even found that guests can often rent a DVC villa for nearly the same price as a regular room.
To explore renting DVC points with David's Vacation Club Rentals click here.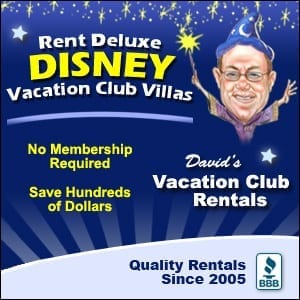 While we tried to cover the basics in this article, there are many parts to DVC that make the package whole. Be advised that while some non-Disney point selling sites have decent reviews, we recommend you get all of your information from the real DVC first. For all your questions and to start the process of becoming a Disney Vacation Club member, you'll want to check out the Disney Vacation Club website. Maybe we'll bump into you at the next DVC member celebration!
For a no obligation, FREE Quote on a Disney vacation package, please contact our travel partner Magical Vacation Planner at 407-442-0227 (407-442-0215 for Spanish). You can also request a FREE quote online by Clicking HERE.