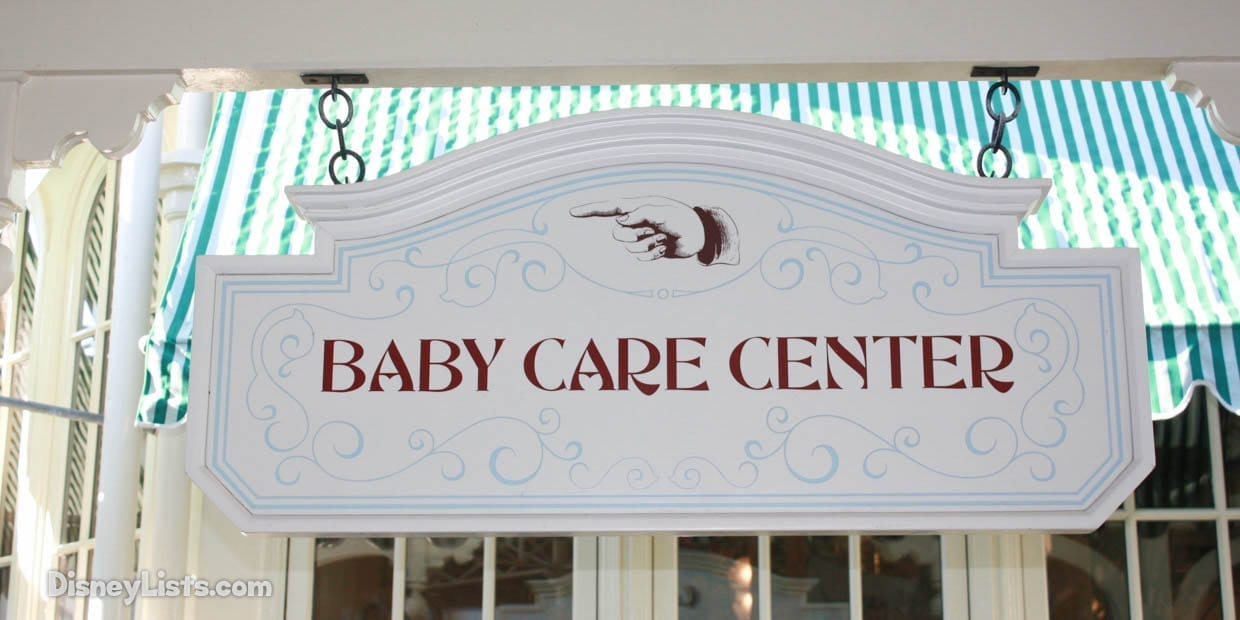 Traveling with a baby can feel like a feat far greater than worth managing at times! All the planning, packing, and stressing are exhausting. So, traveling with a baby to Disney World isn't any different, you say? Wrong! Disney World, in our opinion, is a fantastic place to visit with a baby and probably one of the most stress-free traveling experiences we've had with our little one. Here are our top ten tips for visiting Disney World with your little mouse!
1 – Be Prepared
It sounds simple enough, but we've met up with several parents that forget some of the baby basics. Whether you are visiting for a short period or an extended stay, make a list. Walk through a typical day with your baby and note what items you need. The key is to keep the baby on as regular of a schedule as possible. FOOD – Bring plenty of the same food/snacks your baby eats at home to the parks with you. If you are flying, you can always ship a box of supplies to your resort before you leave so it will be ready for you to pick up when you arrive. CLOTHES – This is no beauty contest! Forget the dress-up shoes, bows, outfits, and stick with the basics. You want your little one as comfortable as possible. BABY FAVORITES – What does your baby typically play with throughout the day? We actually brought a walker with us one trip so our little guy would be comfortable roaming around the resort room. Another note – keep in mind what the resort may have to offer. Many resorts have a pack-n-play in the room for you to use.
2 – Baby Care Centers
Hands down – one of the best lifesavers at Disney World! Each park has a baby care center. Be sure to check a map before you go to the park so you can easily find the location when you may need it. These air-conditioned spaces are perfect for changing your baby, breastfeeding, watching a cartoon, purchasing extra supplies – and simply relaxing! Whenever our little one seemed to be overstimulated and wouldn't fall asleep in the stroller, we would take him to the baby care center. After a bit of rock and feed in a calming place, he would fall asleep, and we'd head back out to our next adventure.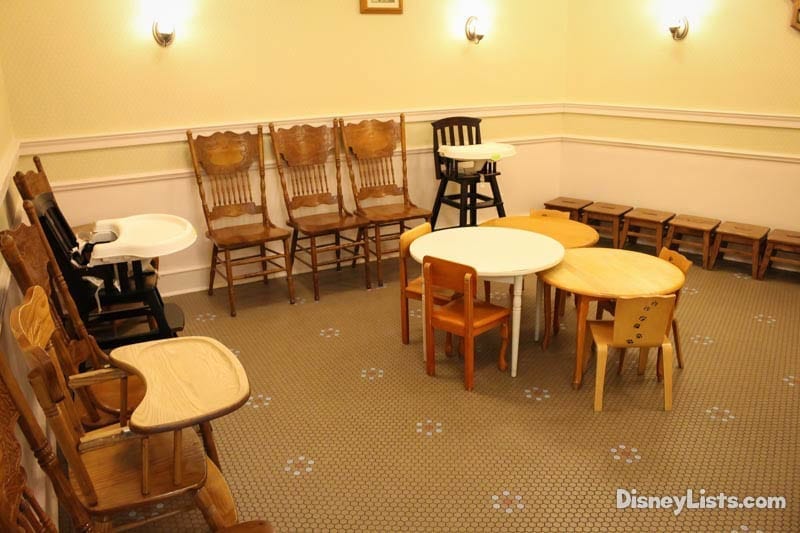 3 – Rider-Switch
Disney at its finest – taking care of those parents out there that might have to sit with the baby while the rest of the family goes on a ride. Have your party ask for a rider switch at the entrance (you will need to be in the Cast Members' view with the baby). They will provide the family with a pass that allows up to 3 guests to go on the ride through the FastPass line. Be sure to read up on the rider-switch policy on Disney's website.
4 – Ride Research
With all the excitement your baby will be experiencing, keep in mind some of the enthusiasm may be slightly scary or overwhelming. Do your ride research. Just because the ride says, it's for any age – check out Disney's ride disclosure details. Disney notes if the ride may be scary for youngsters. It will also note dark rides and loud noises. What works best for your baby may be different for another. If you think your little adventurer is up for it, by all means, go for it! If you know you have a timid baby, take that into consideration before getting on a ride. We also suggest you pay attention to the length of the attractions as some may be too long for a little one.
5 – Meeting the Characters
As parents, we have this fantasy that our baby will laugh, smile, and hug Mickey and his many pals at Disney World. Realistically, don't expect your baby to perform as such! It's hard to imagine what they're thinking when this tremendous character is in front of them or even when an unfamiliar face (such as the princess) is talking to them. Our little man has experienced the characters at three months, six months, and ten months; each time, the experience is slightly different. Don't force your baby to be next to a character for the photo you were hoping for. Instead, take it slow and let the character guide you. The characters are trained to stay back and not overwhelm your little mouse. They do an excellent job of being very aware of their comfort level.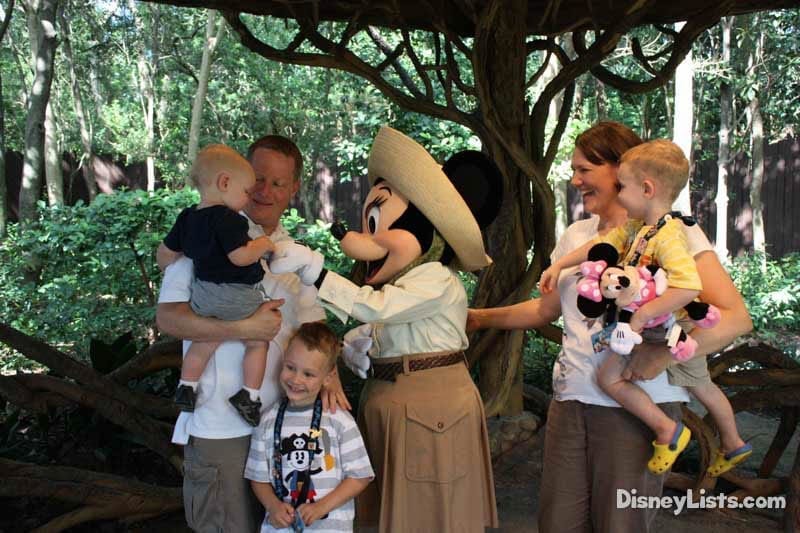 6 – Be Aware of the Weather
Florida's weather is somewhat unpredictable, but you can still check the 10-day forecast before you depart. In the warmer months, plan to bring a hat, sunscreen, sunglasses – whatever helps your little one stay cool. Our must purchase in the warmer months is a stroller fan. It simply clips on to the stroller and provides a cool breeze for your baby. We bought ours at Babies-R-Us, but you can also find them online from several retailers. Don't forget extra batteries so it will last your entire trip! In the colder months, plan for layers and even bring a blanket into the park. Rain is always a possibility. Not only will you need ponchos and/or umbrellas for your body – but plan to bring an extra poncho to cover the stroller with. If you have the stroller parked while going on a ride, you'll want to be sure it's included if you suspect rain. This way, when the rain lets up your baby will still have a dry seat!
7 – New Toy Surprise
Our favorite trick is to head to the store before we set off on our magical adventure and purchase a few toys that we know our baby will enjoy. At random parts in the vacation surprise your baby with a toy! All you need is something small and simple to throw in your bag. If you are in a long line and need a distraction, if they wake up from a nap grumpy, or if you simply think they need a little surprise just because, having a toy ready to go works magic! Don't go overboard, and definitely save by buying items in advance if possible. This trick has been one of our favorites, and we highly recommend it for any parents in a time of need!
8 – Plan a Resort Day
Particularly on lengthy trips, we suggest a Resort Day or two! Take a day to enjoy the Resort shops, dining, and of course, the pools. Catch up on laundry and maybe even get an extra nap for the little one and yourself! We like to plan our resort day in the middle of your stay to break up the hustle and bustle with a day of rest.
9 – Slow Down!
The natural feel at Disney is to do as much as possible in a day. We suggest you check this mentality at the door! Pick your must-dos in each park and count the rest as icing on the cake. We aren't saying you can't do several things because, in our experience, you still can. However, keep this trip a magical one by understanding that it's ok to slow down to take in the little moments with your baby. Let him/her stretch their legs on occasion, dance with them during a parade, or simply allow them to have a few licks of your ice cream. Don't rush this time together.
10 – Plan for Meltdowns
Despite all planning efforts, it's inevitable that your little one will meltdown at some point. Tears, screaming… it's likely to happen, and it's ok! How you react to the situation will set the tone for how the rest of the day will go. Step away for a quiet moment with your baby and regroup. If that doesn't work, don't be opposed to heading back to your resort for a break. The bottom line – each one of our monsters is slightly different. Take the time to ask, what does my baby need right now? We are confident if you do this, your trip with your baby will be one with more magical memories than those dreaded moody memories!
For a no obligation, FREE Quote on a Disney vacation package, please contact our travel partner Magical Vacation Planner at 407-442-0227 (407-442-0215 for Spanish). You can also request a FREE quote online by Clicking HERE.