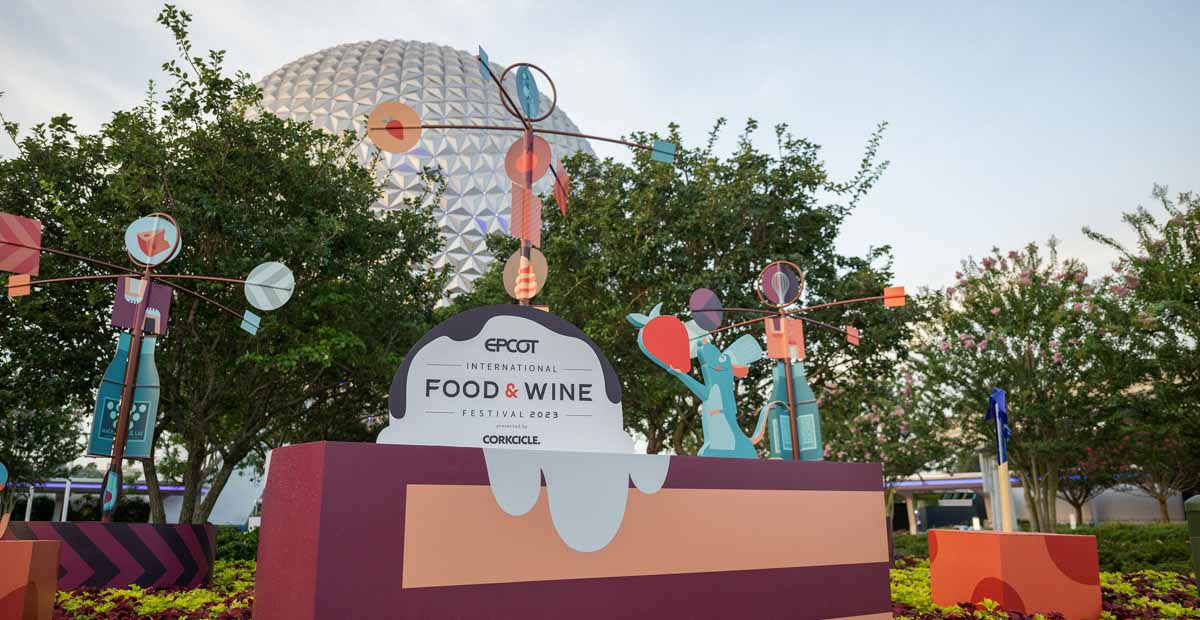 It's the tastiest time of the year! The EPCOT International Food & Wine Festival presented by CORKCICLE kicked off on July 27. The festival continues through November 18, 2023, giving guests 114 days of tempting tastes, live entertainment, and festival fun for all ages. We enjoyed a preview, returned on opening day, and have the information you need to make your visit the best yet. Read on below for the reasons you don't want to miss this year's festival!
1 – One of the Most Popular Festivals at EPCOT
The EPCOT International Food & Wine Festival is one of the more popular festivals at EPCOT. Many guests make plans to visit in the late summer and fall so that they can enjoy the festival offerings. While the other festivals at EPCOT offer food and beverages, the offerings are not as plentiful as the Food & Wine Festival. The food and beverage items are truly the stars of the show, and it's the reason most guests come back year after year.
2 – Global Marketplaces – Returning Favorites
This year's festival begins with 25 Global Marketplaces – themed locations throughout the park offering a wide variety of bites and sips. Another six Global Marketplaces will appear later during the festival. Several guest-favorite Global Marketplaces return to this year's festival, including The Fry Basket, Flavors from Fire, Greece, Canada, India, and Spain.
Click here for the full menu lineup for this year's Food & Wine Festival.
Click here for photos of all of the menu boards with pricing for easy planning!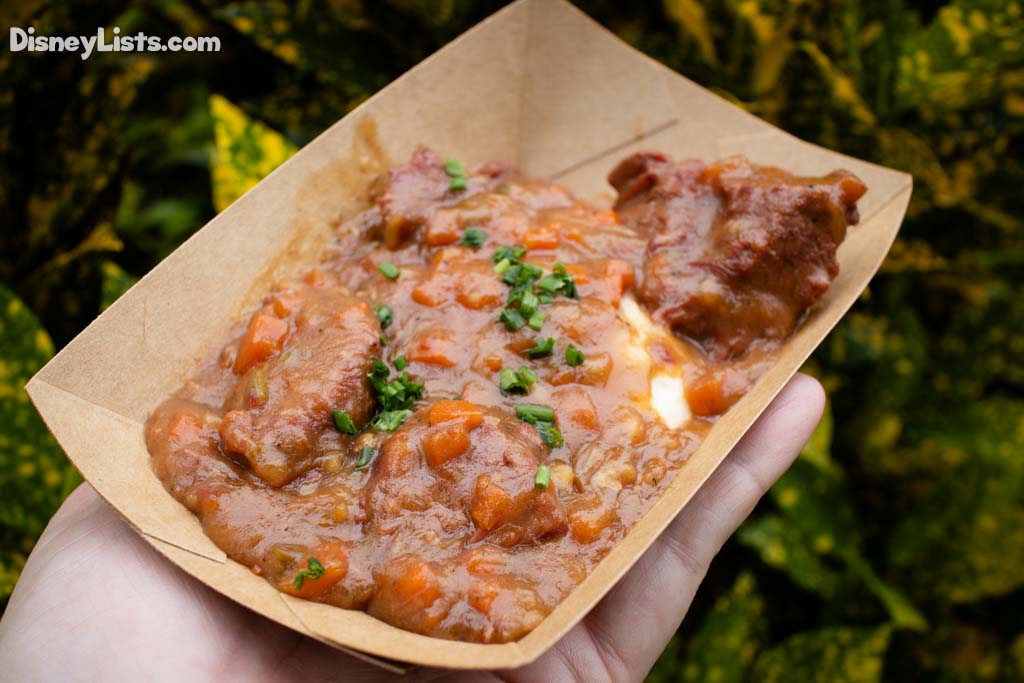 We also had a chance to try the Remy Liege Waffle from Connections Cafe. This treat is a Cream Cheese Liege Waffle with Cream Cheese Icing, Graham Cracker Crumbs, and a Remy Chocolate Garnish! It's delicious!
Beginning August 15, the festival will welcome back two fan-favorite flavor destinations: Hawaii featuring flavors from the Pacific paradise, and The Noodle Exchange, offering savory ramen and noodle bowls.
3 – Global Marketplaces – What's New and Open Now
New at the festival this year, Brew-Wing Lab at the Odyssey invites guests to go on a flavorful adventure featuring the culinary creations – and madcap mishaps – of Muppet Labs. Dr. Bunsen Honeydew and his trusty partner Beaker have concocted some items you don't want to miss. Wing options include both traditional chicken wings and plant-based options. Novel flavors like Unnecessarily Spicy, Yet Extremely Tasty Scotch Bonnet Pepper-Curry Wings with Cool Cucumber Yogurt and Peanut Butter and Jelly Sticky Wings are as interesting and tasty as they sound. Or enjoy traditional flavors with a new twist, such as ImpossibleTM Buffalo Chicken Tenders with plant-based blue cheese, plant-based ranch, and celery.
Click here to view our Instagram Story with photos of our time in Brew-Wing Lab at the Odyssey.
Festival-goers can also sample innovative beverages like the puckery Pickle Milkshake and the Frozen Fusion featuring Twinings Pomegranate and Raspberry Herbal Tea fused with Orange Ice Cream Molecules. These drinks provide the perfect cooling accompaniments. The Pickle Milkshake is all the talk of this year's festival. It's interesting, for sure. If you are a pickle fan, you may just love it, but Cindy didn't care for it.
Flavors of America in The American Adventure serves up three new dishes. Dip into the sumptuous Italian Hot Beef Sandwich, with shaved beef, spicy giardiniera and au jus on a French roll; dig into the savory Cioppino, a seafood stew with saffron-infused tomato-fennel broth; and dive into Chilaquiles featuring corn tortilla chips tossed in salsa verde with Ranchero chicken, queso fresco, cilantro-lime crema and topped with a soft-poached egg.
4 – Four All New Marketplaces – Opening September 22
On September 22, four all-new Global Marketplaces will debut to mark the Disney100 celebration that commemorates the 100th anniversary of The Walt Disney Company.
We're excited for Char & Chop, which takes inspiration from classic butcher shops, and spotlights a fusion of greens and grilled meats. Dishes include Roasted Porchetta with lemon-parsley salsa verde and shaved fennel salad; Grilled Impossible Spicy Sausage with herbed polenta, puttanesca sauce, and ricotta; and Meat Assorti – a trio of shaved meats with baby arugula, pickled mustard seeds, truffle oil, and grilled ciabatta.
Wine & Wedge celebrates delightful cheese and beverage pairings. Southern Pimento Cheese with bread-and-butter pickled vegetables offers an upscale take on a regional favorite. At the same time, Boursin Fig & Balsamic Soufflé with fig tapenade marries sweet and savory flavors flawlessly. Pair the treats with Selbach-Oster Zeltinger Sonnenuhr Riesling Spätlese, Hartley Apple Brandy, and Florida Orange Groves Winery Black and Blue Port.
Bubbles & Brine strikes a celebratory note with a fresh seafood and Champagne menu.
Finally, indulge in whimsical desserts, from a Mickey-shaped liquid Nitro Cake to Fanta Floats at Swirled Showcase.
5 – Eat to the Beat Concert Series presented by Florida Blue Medicare
Each evening, musical acts from yesterday and today take to the stage during the Eat to the Beat Concert Series presented by Florida Blue Medicare. The live musical performances at the America Gardens Theatre will take place nightly, with local bands performing Tuesday through Thursday and well-known artists taking the stage each week from Friday to Monday.
Some of this year's lineup includes:
Ruben Studdard with Haley Reinhart (NEW)
Joey Fatone & Friends
Los Amigos Invisibles
Boyz II Men
Orianthi (NEW)
FOR KING + COUNTRY (NEW)
We The Kings (NEW)
Ayron Jones (NEW)
Phillip Phillips (NEW)
Raul Acosta and Oro Solido (NEW)
98°
Billy Ocean
Hanson
Sheila E.
Big Bad Voodoo Daddy
Special packages are available that include dinner in one of the park's world-class restaurants and guaranteed seating for a concert performance. The Eat to the Beat Dining Packages are available at select EPCOT restaurants Friday through Monday and offer guaranteed seating for performances. Learn more at TasteEPCOT.com.
6 – Engaging Experiences Encourage Exploration
The EPCOT International Food & Wine Festival also offers fun for the whole family. Another highlight for many is the scavenger hunts and food strolls, encouraging guests to interact and explore World Showcase together.
Emile's Fromage Montage is a fun way to sample delectable cheeses served in a variety of ways. With the purchase of any five cheese dishes listed on the back of the Festival Passport, guests collect a stamp. Once they have collected five stamps, they can visit Shimmering Sips hosted by CORKCICLE for a specialty treat.
Remy's Ratatouille Hide & Squeak is a "Ratatouille"-inspired adventure that is très magnifique! Explorers can purchase a map and stickers from select festival merchandise locations and search for Remy statuettes throughout World Showcase and the Global Marketplaces. Whether or not they complete the hunt, they can redeem their map to receive a special festival keepsake.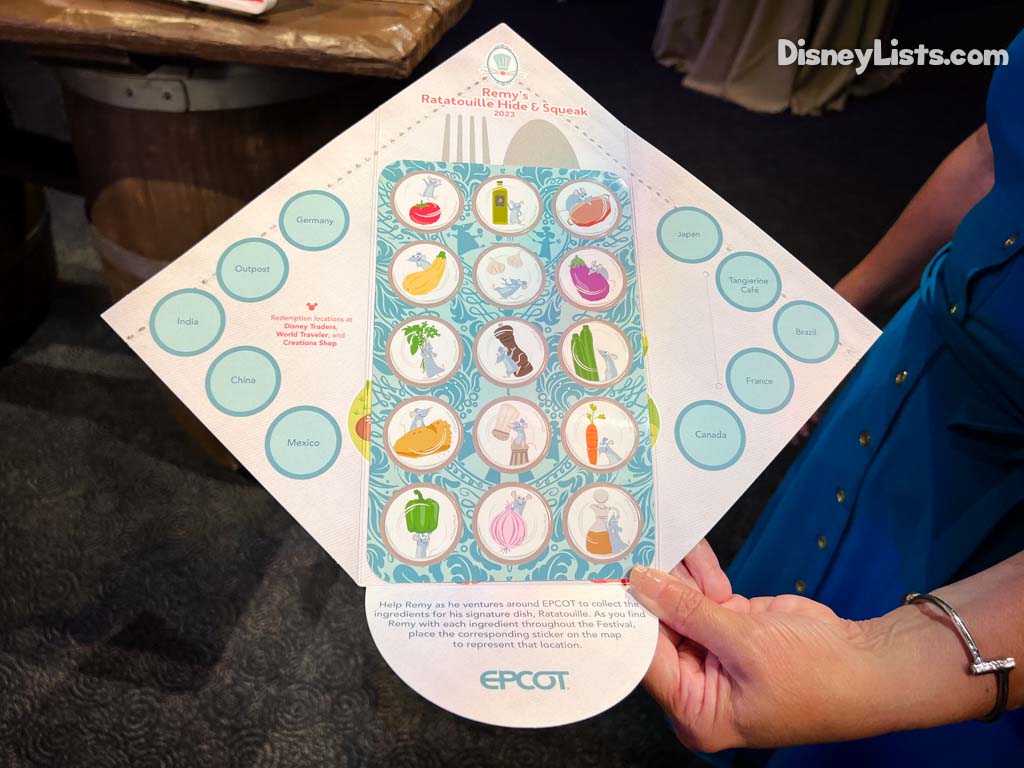 From September 29 through October 31, or while supplies last, Pluto's Pumpkin Pursuit is the perfect way for kids of all ages to usher in the gourd times. It is easy to join in the fun. Guests purchase a special map and stickers, then search throughout EPCOT for hidden Disney character-themed decorative pumpkins. Maps can be redeemed at the end of the hunt, whether or not they are completed, for a spooky festival keepsake.
7 – Spectacular Merchandise to Savor
Crave-worthy festival merchandise collections ensure that the festival magic continues at home. Three new collections are available for purchase and include:
The 2023 EPCOT International Food & Wine Festival Event Logo Collection features bright colors and bold graphics.
The Mickey Mouse & Minnie Mouse Picnic Collection offers whimsical design elements.
The 2023 EPCOT International Food & Wine Disney Encanto Collection celebrates joyous gatherings in a panoply of vibrant colors.
Look for the perfect festival memento at Creations Shop, Food & Wine merchandise kiosks throughout EPCOT, and in World Traveler at International Gateway.
Click here to view photos of some of the merchandise available for purchase at this year's festival.
8 – So Much More to See and Do
In addition to enjoying the festival, guests can explore the endless possibilities that EPCOT has to offer. They can help save the galaxy on Guardians of the Galaxy: Cosmic Rewind, shrink to the size of Remy on Remy's Ratatouille Adventure, dine with Disney Princesses at Akershus Royal Banquet Hall, and so much more.
9 – Disney100 Celebration Coming in September
Beginning September 22 guests can also join the Disney100 celebration that commemorates the 100th anniversary of The Walt Disney Company. EPCOT will mark the milestone with fun photo ops, special culinary creations, and spectacular lighting displays on Spaceship Earth nightly.
For a no obligation, FREE Quote on a Disney vacation package, please contact our travel partner Magical Vacation Planner at 407-442-0227 (407-442-0215 for Spanish). You can also request a FREE quote online by Clicking HERE.