There's one thing as sure as "death and taxes," … that is – RAIN in Central Florida! The Orlando/Kissimmee area typically has at least one, if not more, afternoon showers a day during the summer months. While we like to dream there is a magical dome around the Walt Disney World property, we know even wishing upon a star can't stop mother nature from coming to the Disney parks! Disney's Hollywood Studios is no exception to the rule. Don't fret about the rain, however! Instead, check out these ten fantastic things to do when it rains at Disney's Hollywood Studios.
10 – Go Shopping
Why not take cover inside the many Hollywood Studios shops? We'd recommend heading over to Hollywood Boulevard, where you'll find the shops connect with one another to keep you out of the rain as much as possible. If you're over by Star Wars Launch Bay, this is a great place to shop and take cover during the rain. If over in Star Wars: Galaxy's Edge, see if they have any openings at Savi's Workshop to build a lightsaber or the Droid Depot to make a one-of-a-kind droid. The only downfall to shopping in the rain is that we usually buy random items we didn't need! #WorthIt
9 – Meet Characters
Get out of the rain and give the characters hugs! Disney's Hollywood Studios has some great indoor character meet and greets, such as Mickey and Minnie at their Mickey & Minnie Starring in Red Carpet Dreams. Get warm hugs from Olaf over in Celebrity Spotlight. Visit Star Wars characters such as Chewbacca over at Star Wars Launch Bay. Want to see some Disney Junior stars? Join the fun at Disney Junior Dance Party. While this is more of an attraction than a meet and greet, you'll still have a chance to see some great characters. Get out of the rain and get some photo ops accomplished!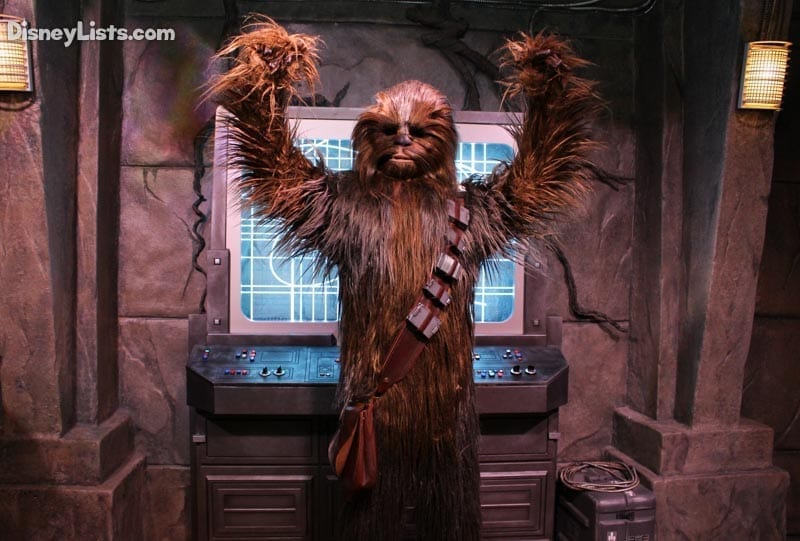 8 – Head to a Lounge or Quick Service
The table-service restaurants may be all booked up with reservations, but there are still plenty of lounges and quick-service restaurants you can make a dive into if rain interferes. A few of our favorite lounges include Tune-In Lounge (near 50's Prime Time Café), Oga's Cantina (if the wait isn't too long), and Baseline Tap House. You'll find lots of space for quick service at the ABC Commissary, PizzeRizzo, and Backlot Express. While they tend to be crowded even without the rain, we do love Docking Bay 7 Food & Cargo and Ronto Roasters in Galaxy's Edge. Snag a table, food, drink, and indulge yourself while waiting for the rain.
7 – Experience the Family-Friendly Indoor Attractions
Thankfully, several of Disney's Hollywood Studios attractions are indoors! This includes family-friendly attractions for all ages from 0 to 99! Feel the speed by checking out Lightning McQueen's Racing Academy off Sunset Boulevard. If you're a Frozen fan, sing along with For The First Time In Forever: A Frozen Sing-Along Celebration. You can't go wrong with visiting the sweet Muppets in the theater at Muppet Vision 3D.
6 – Be Inspired by Walt
Let the rain slow your scurry around the park and take time to explore Walt Disney Presents – a self-guided exhibit through the history of Walt Disney himself. Walk by the different exhibits and see the Disney legacy unfold. At the end of the exhibit, you'll have a chance to sit down in a small theater to watch a 15-minute documentary. Take a few minutes to see the work the man behind the mouse put in to make our dreams come true!
5 – Laugh along in the Mickey Shorts Theater
Head over to the Echo Lake area, where you'll find the laughter and fun of Mickey Shorts in the Mickey Shorts Theater. "Vacation Fun" is the current short that lets guests sit back and relax in theater-style seats while enjoying a short Mickey film. Kids and adults alike will enjoy this time off their feet, out of the rain, with a fun show to keep them amused.
4 – Compete with Toy Story Mania
A little competition is healthy, right? Well, get ready to compete with family and friends in the Toy Story Mania attraction in Toy Story Land. This 4D carnival-style shooting game is a blast for all ages. Hold tight as your ride vehicle moves swiftly from one game to the next. Hold on to your blaster and shoot to win points. The beloved Toy Story friends on the screen will guide you on your way! Most of this ride queue is indoors, making it a perfect attraction to experience when the rain comes in.
3 – Experience the Thrills
There are two especially thrilling attractions, both indoors and out of the elements of the weather! Head to the end of Sunset Boulevard, where you'll find Rock 'n' Roller Coaster Starring Aerosmith and The Twilight Zone Tower of Terror. Rock 'n' Roller Coaster will have you holding on for dear life as this is one fast indoor coaster. Be prepared for flips and corkscrews along the way! Tower of Terror is a different kind of thrill where you are taken up an elevator and chillingly dropped multiple times. Keep in mind that some of the ride queues are outdoors (especially Tower of Terror), so hopefully, you have an umbrella to hide under while you wait.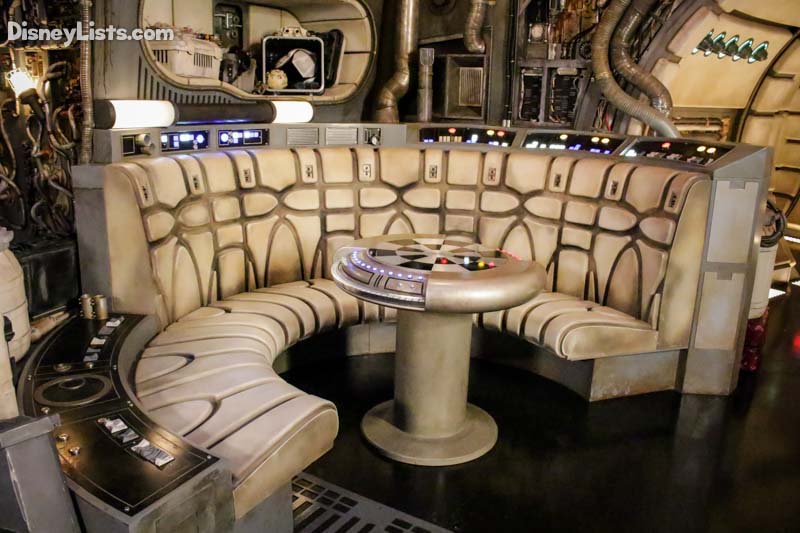 2 – Use the Force
No rainstorm can stop the Force…the Star Wars Force that is! When the rain sets in, be ready to support the Resistance! Head over to Galaxy's Edge, Star Wars: Rise of the Resistance and fight the First Order. Or head to Millennium Falcon: Smuggler's Run in Galaxy's Edge to experience riding in and possibly flying the "fastest hunk of junk in the galaxy". Outside of Galaxy's Edge, head over to Star Tours: The Adventures Continue just outside of Galaxy's Edge, where you'll board a Starspeeder and jump into hyperspace for a 3D space flight.
1 – All aboard! Mickey & Minnie's Runaway Railway
The newest and most exciting thing to do in the rain is to board Mickey & Minnie's Runaway Railway! The rain won't get you down as you ride through a cartoon universe featuring no other than our favorite Disney couple, Mickey and Minnie. With a little help from Goofy, the Conductor, you can be sure this ride won't go exactly according to plan! Your "runaway railway" will have you experiencing several Mickey shorts as if you're IN the cartoon. Hold on and prepare for a fun experience in this first-of-its-kind ride.
BONUS – Grab a Poncho and GO!
If you've tried an anti-rain dance and sang "rain, rain, go away" a couple of times and mother nature isn't cooperating… our vote is to grab a poncho and go! Of course, if there is lightning and a hot mess of a storm, you may want to wait on this. But, a little rain won't make you melt if it's your regular afternoon rainy weather. Jump in puddles, skip along the empty paths, and remember – you are only in this magical place for a short while!
For a no obligation, FREE Quote on a Disney vacation package, please contact our travel partner Magical Vacation Planner at 407-442-0227 (407-442-0215 for Spanish). You can also request a FREE quote online by Clicking HERE.