Remy may not be the most famous rodent in the shadows of the star of all things Disney… THE Mickey Mouse! But, we will say that we fell in love with Remy's curious rat character when the Disney/Pixar film, Ratatouille was released in 2007. Remy is a rat that not only knows how to cook but even washes his hands – so he gets our approval! When we learned about Remy's Ratatouille Hide and Squeak available during the Epcot International Food and Wine Festival, we knew we wanted to give it a whirl. Scurry with us as we run down 6 things you'll want to know before playing Remy's Hide and Squeak!
1 – A Rat's Story
If you've never seen the film, Ratatouille, you may not know that Remy is a master chef that embraces new and fresh ingredients in all his delicious masterpieces despite how crazy his rat family and friends think he is. He has a great sense of smell and taste and strives to become something greater through his gift of flavors… and with a little help from his human friend, Linguini. Remy is making his famous dish known as Ratatouille at Epcot's International Food and Wine Festival and needs your help finding all 15 wonderful ingredients that go into his dish.
2 – Scrounge Up A Map
We purchased our Remy's Ratatouille Hide & Squeak maps from Gateway Gifts, located near the Epcot main entrance on the right, under Spaceship Earth. Maps are available at numerous gift shops in the front of the park and around the World Showcase during the Food and Wine Festival. Most of the stores selling the maps had signs stating "Remy's Ratatouille Hide & Squeak Maps Available Here." Each map costs $9.99 plus tax and includes a thick paper map and a sticker sheet. Disney Vacation Club or Annual Passholder discounts are available, so we saved 20% on our maps!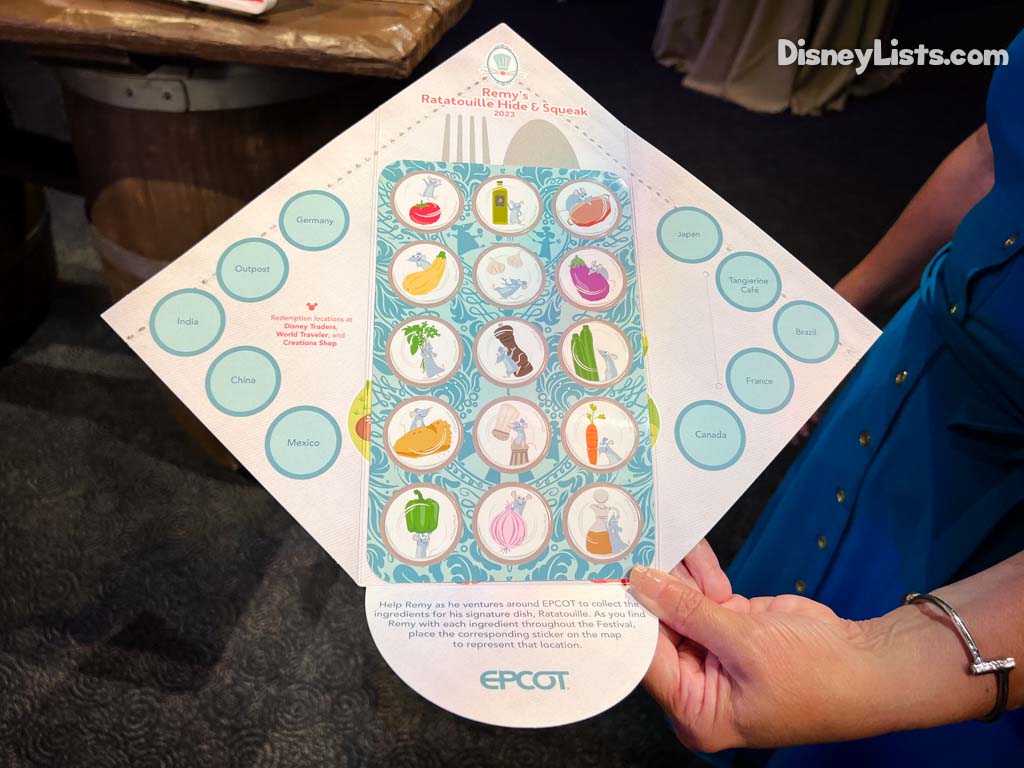 3 – Scavenger Hunt Remy-Style
Now that you have your map, let the fun begin! This game's goal is to place an appropriate sticker (which has a picture of Remy with a specific food) on the corresponding location where the ingredient was found. All eleven World Showcase Pavilions/Countries have a circle to fill in and four extras, including three Food and Wine Festival booths between the front neighborhoods and the World Showcase. Travel around looking for Remy and his special ingredients until you collect all 15 for his Ratatouille. An example for you… Mexico has a spot on the map. Let's say this is your first stop, so you have no idea which of your 15 ingredient stickers to place on this spot. As you stroll through Mexico, look for Remy hiding out with his ingredient. Once you spot him (in this case, he had a green pepper), place the green pepper ingredient on the Mexico circle on the map. You don't have to go in any particular order, just as long as you find the right ingredient in the right country.
4 – Sneaky Little Rat
First and foremost, note that the trick is to look UP! Remy is especially good at hiding up high and, at almost all locations, was found sitting on a roof or on a window sill. We were very appreciative of this, especially for our kids, because it gets rather crowded during the Food and Wine Festival, making it hard to see Remy if you had to look through the mass of people. Instead, just look up, and hopefully, you'll be able to spot him! Remy was super easy to find in some of the 15 locations and very tricky in others. We especially had a tricky time in China as you have to travel pretty far into the Pavilion. We also had a difficult time in Japan and finally had a Cast Member give us a hint that Remy was near the water! Don't hesitate to ask a Cast Member for help if you aren't having any luck, as this is supposed to be a fun activity… not homework. We had one lady in her mid-20s that actually saw us holding the map and came up to our 9-year-old for help! So, don't be embarrassed to ask.
5 – Cute Prize
Yay! You've done it. You've collected all of Remy's ingredients and have filled your map. Notice on your map the redeeming locations noted with Mickey ears where you can go get a prize for helping Remy! We headed to Disney Traders at the International Gateway. Prizes change every year, and sometimes they also change throughout the festival. If you don't finish the map or have an ingredient on the wrong spot, you can still redeem your map for a prize… likely because you paid the $9.99 for it!
6 – All Rats Welcome!
Just know that this game really isn't about the prize but rather something to keep yourself or the kids entertained while enjoying Epcot's Food and Wine Festival. We did it together as a family of four, which included our 9-year-old and 2-year-old. Our 9-year-old was on it like it was a secret quest! She LOVED it. Our 2-year-old never spotted Remy until we pointed him out but thought it was hilarious that this random rat kept popping up in different areas. He also loved putting the stickers on the map, but we held the stickers while we traveled… otherwise, he would have decorated his body with them! We saw older couples, single people, and other families with maps. It's really a fun scavenger hunt for all ages.
In Remy's words: "I know I'm supposed to hate humans, but there's something about them. They don't just survive, they discover, they create." Don't let Remy down! Get out there and start discovering.
For a no obligation, FREE Quote on a Disney vacation package, please contact our travel partner Magical Vacation Planner at 407-442-0227 (407-442-0215 for Spanish). You can also request a FREE quote online by Clicking HERE.