Ragland Road Irish Pub and Restaurant is an extremely popular restaurant at Walt Disney World. It is popular for dining, drinks, entertainment, and nightlife. It is a truly unique experience that you can't find just anywhere. If you are considering this location, here are eight things that you definitely need to know:
8 – The restaurant's location.
Ragland Road is actually located in Disney Springs. It was a restaurant that was there when it was known as Downtown Disney and managed to survive the new branding and theming for Disney Springs. It is located close to the water and close to tons of shopping and other experiences to enjoy in the area. It is a very lively area to hang out in and a great way to spend time on your Disney vacation.
7 – The atmosphere is a lot of fun.
You seriously will love the atmosphere for the restaurant. The servers and entertainment are lively and will keep you engaged and in awe. The restaurant's dining room is vast and full of wood trimmings and Irish-inspired accents. The artwork and paintings in the restaurant perfectly match the theme and help make the experience even more authentic. There is also a gift shop where you can buy authentic Irish merchandise and themed merchandise to commemorate your experience.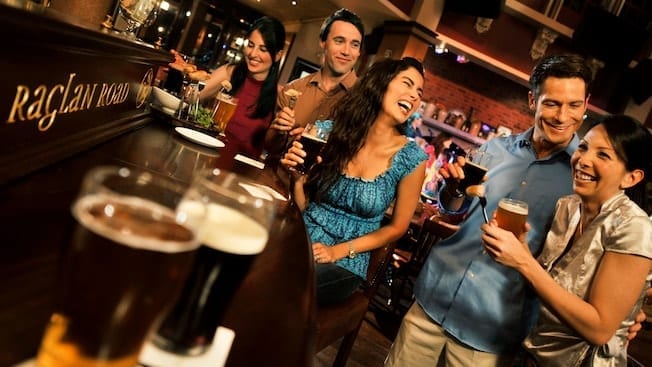 6 – There is live entertainment to enjoy.
There is a main stage in the restaurant where the entertainment happens. There is typically an Irish band that performs classic Irish-styled music for guests to enjoy. When they aren't performing, you will likely get to see my personal favorite, the Irish dancers. Irish dancing is so lively and impressive. I can't get enough of watching it. The dancers will also invite kids and other guests on the stage to teach them some of the dance moves and let them try it out. It makes for a really great, entertaining time for everyone. Click here for the entertainment schedule. 
5 – There are multiple food services.
You will find that this restaurant is open to cater to various meal options. There is a brunch service on the weekends that includes Irish breakfast options mixed with other brunch favorites. You can also dine there for lunch and dinner services. Since the restaurant is popular for nightlife, there is also a special late-night dining menu that still keeps many of the delicious menu items available for the crowds that come to close down the place early into the morning. This makes it extremely flexible to fit into your plans, depending on what works best for you and your group.
4 – The nightlife at the location is amazing.
Between the music, food, drinks, and atmosphere, it makes this location a great place to hang out with friends and enjoy the nightlife at Disney Springs. You have everything you need right at the location, so there isn't much of a need to hop to other bars. It is a unique experience that is fun for everyone and has something to offer for each member of your party. This helps to ensure that everyone in the party will have a fantastic time.
3 – The location hosts special events.
For events like St. Patrick's Day, New Year's Eve, and various other significant holidays, there are typically special events. These events can include unique entertainment, drink specials, special food items, and more. Be sure to check the website if you will be in town over holidays as you may find one of these events are being hosted, and you definitely won't want to miss out on those.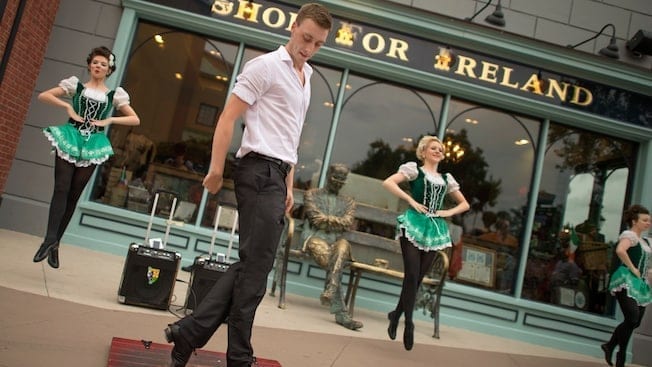 2 – There are tons of delicious drinks.
It should come as no surprise that this location would have an extensive list of drinks. You can enjoy mixed cocktails that include various Irish whiskeys. You can also enjoy a wide variety of Irish craft beers for you beer connoisseurs out there. There are also numerous other mixed drinks, wines, and domestic beers available so that you can ensure each member of your party can find their favorite drink on the menu.
1 – You should definitely save room for dessert.
The dessert list at the restaurant is far more than just a couple of dessert options. The Fluffy Lemon Clouds is delicious! If you have a sweet tooth, then you will definitely want to make sure to save room so that you can sample one of these delicious treats.
For a no obligation, FREE Quote on a Disney vacation package, please contact our travel partner Magical Vacation Planner at 407-442-0227 (407-442-0215 for Spanish). You can also request a FREE quote online by Clicking HERE.