Dining
Dining at Epcot
BRAND NEW! 10 Reasons Why You Need to Visit Shiki-Sai: Sushi Izakaya – the Japan's Pavilion's Newest Restaurant in EPCOT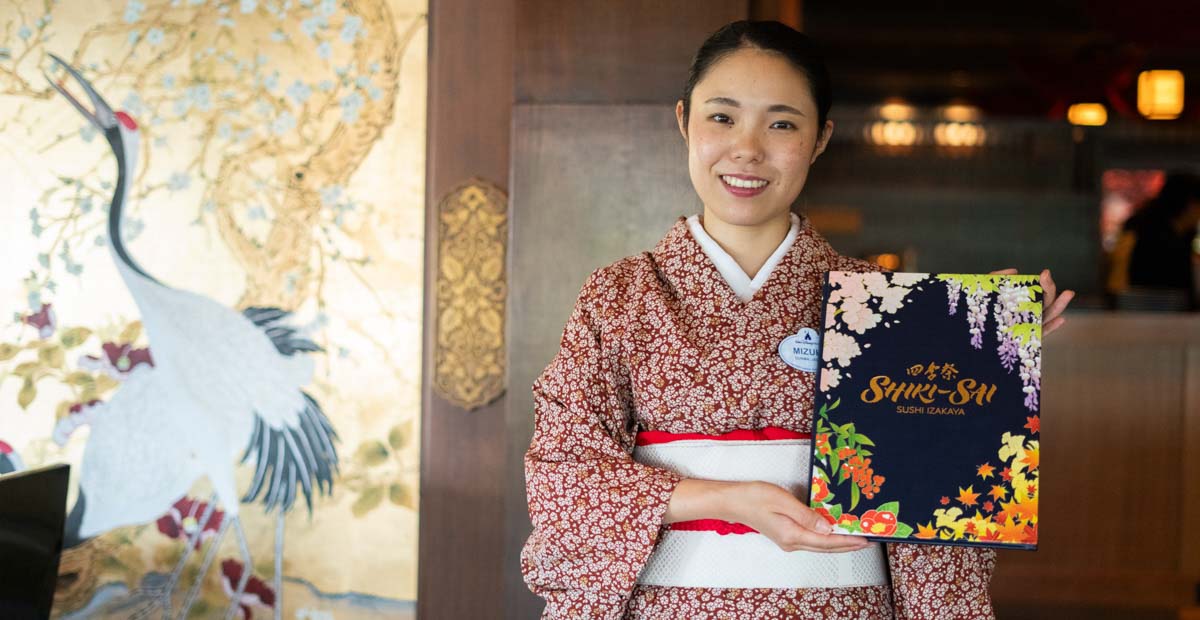 Shiki-Sai: Sushi Izakaya EPCOT's newest restaurant in the Japan pavilion is now open! After a short tour of the newly designed space, I recently enjoyed an amazing lunch, learning about the cultural influences that inspired the restaurant's design. The thought and care that went into the design, food selection, and quality were evident. Learn more about this new restaurant and learn why you need to visit Shiki-Sai: Sushi Izakaya during your next trip to EPCOT below.
Click here to view our Instagram Story with lots of photos and video from our lunch at Shiki-Sai: Sushi Izakaya!
1 – Another Fantastic Dining Option in the Japan Pavilion
The Japan pavilion offers guests a wide variety of dining options, from quick service and kiosks to signature dining. Disney Cast Members shared with us their desire to give guests three distinct dining styles in the pavilion. First, Takumi-Tei is the high-end signature dining experience, perfect for date nights. The popular Teppan Edo is a fantastic option for families looking for an exciting dinner with the entertainment factor. Finally, Shiki-Sai: Sushi Izakaya, the newest table-service option that replaces Tokyo Dining, offers guests a festive environment with a large menu with a lot of variety for all tastes. Each of the dining options is a great option for guests, but we highly recommend Shiki-Sai: Sushi Izakaya as a middle-of-the-road option.
2 – Shiki-Sai: Sushi Izakaya
During our visit, we spoke with Disney Cast Member Terasa Younker, Operations Manager at Mitsukoshi USA (operator of the Japan pavilion). Terasa shared so much about the design and inspiration for the restaurant. One of the things we learned was the meaning of the restaurant's name. Shiki-Sai means the "festival of the four seasons." Guests will quickly see the influence of the seasons in the restaurant's design. Izakaya literally means "eat, drink, place." It's an informal place for people to come and relax, drink, eat, and have great conversation.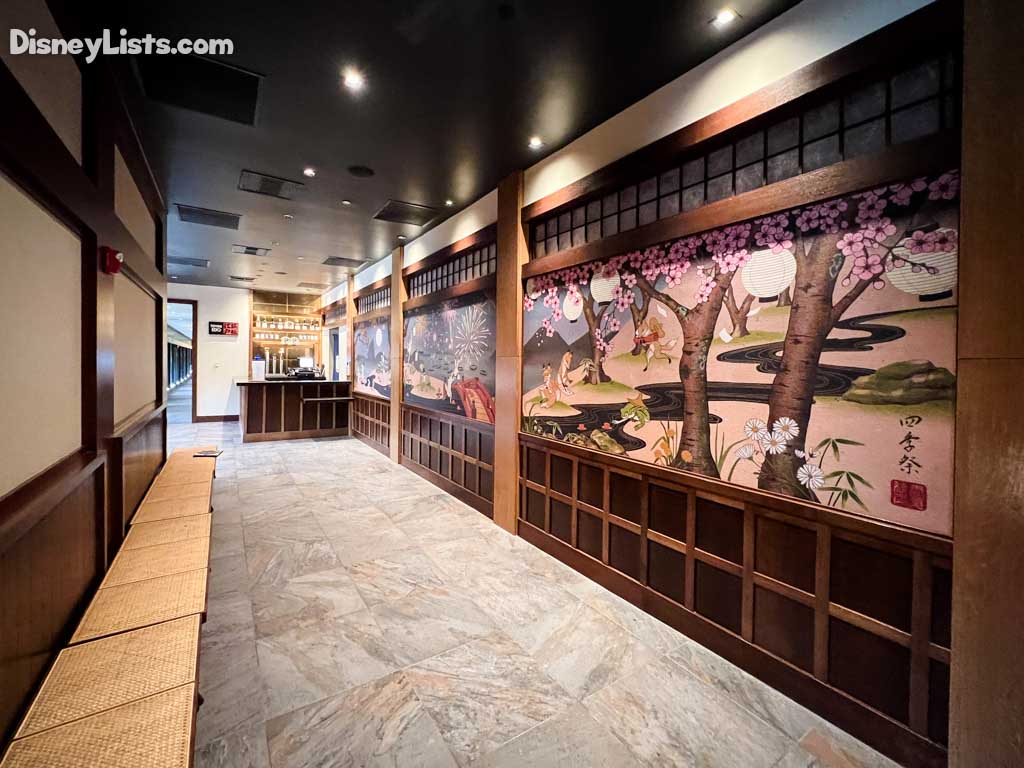 3 – Tokaido
A newly designed space in the building that houses Teppan Edo and Shiki-Sai: Sushi Izakaya is the area that is called the "Tokaido." The Tokaido is the old road from Kyoto (the old capital of Japan; the imagined location of Shiki-Sai) and Tokyo. In this space, you'll find a new small bar for drinks, including non-alcoholic options, so you don't have to go outside while waiting to be seated. Guests will also have a chance to admire a beautiful new mural depicting three seasonal festivals (see #5).
4 – Festival of the Seasons
The main concept of the restaurant focuses on three old festivals in Japan: the spring festival of cherry blossoms, the summer festival of fireworks viewing, and finally, the autumn festival of moon viewing. You'll see these three seasons in the restaurant's interior as well as the mural out in the Tokaido (#3). The four seasons are very important in Japanese culture and that is reflected in the restaurant's design. When asked about why the winter festival is not included, it's mostly because, in Orlando, it's hard to celebrate cold and winter when the weather is so warm, even in December. However, they are planning for a big New Year's celebration, but the winter season is not included in the décor.
5 – Seasonal Mural
As mentioned above, in the Tokaido (#3) is a beautiful new mural. The mural was inspired by 12th-century scrolls and based on the old custom of writing poetry and having banquets around a stream, which goes through all three sections of the mural. In the mural, you'll see foxes and other animals writing and putting out cups of sake or food and floating them on the river, according to tradition. The flowers in the mural all have seasonal significance. In the spring section, you'll see cherry blossoms that represent the evanescence of life. In the summer scene, you'll see lotus flowers that represent purity. Finally, in the autumn scene, you'll see red spider lilies that bloom around the Japanese Day of the Dead festival.
6 – Two Distinct Dining Rooms
The restaurant features two distinct dining rooms that both offer a festive environment. The first dining room is a warm and inviting area that is intended to be like a Japanese pub. It features "windows" that are looking out at nature scenes. These are actually monitors that rotate between three seasons: a spring scene with cherry blossoms, summer nights with fireworks, and an autumn scene. Over the course of an hour, guests will have a chance to enjoy all three seasons. This dining room also allows guests to watch chefs making sushi and grilling certain dishes. When dining in this room, be sure to look up because there are beautiful lanterns with flower designs associated with the different seasons. Your server can answer any questions you have about what they represent.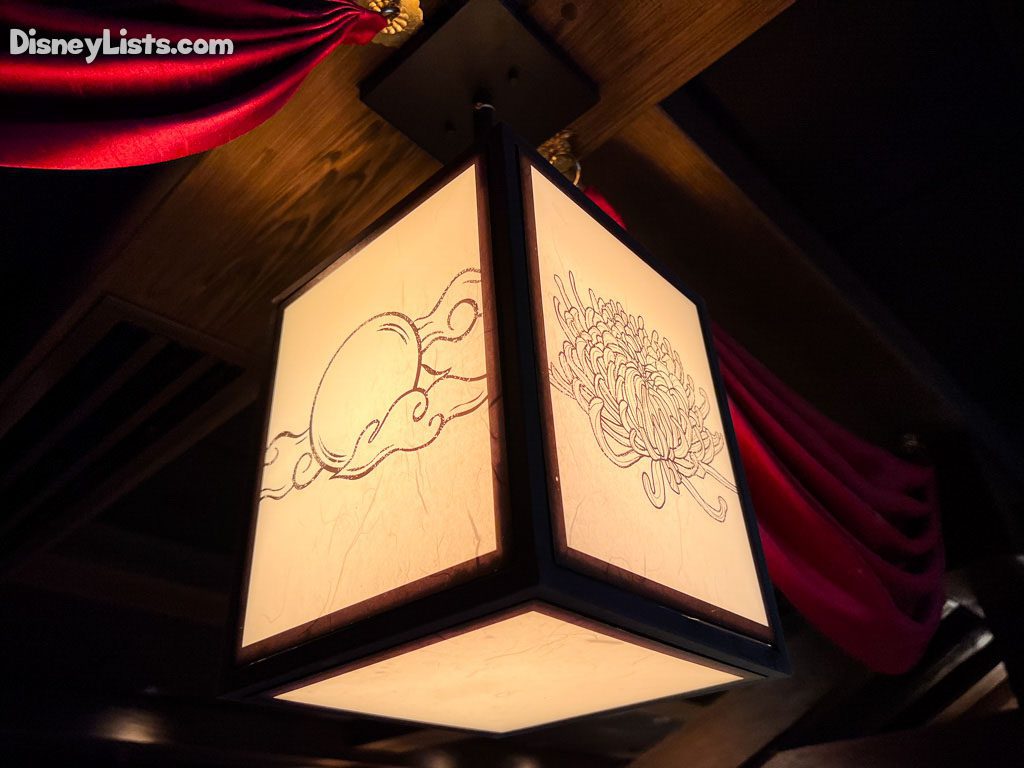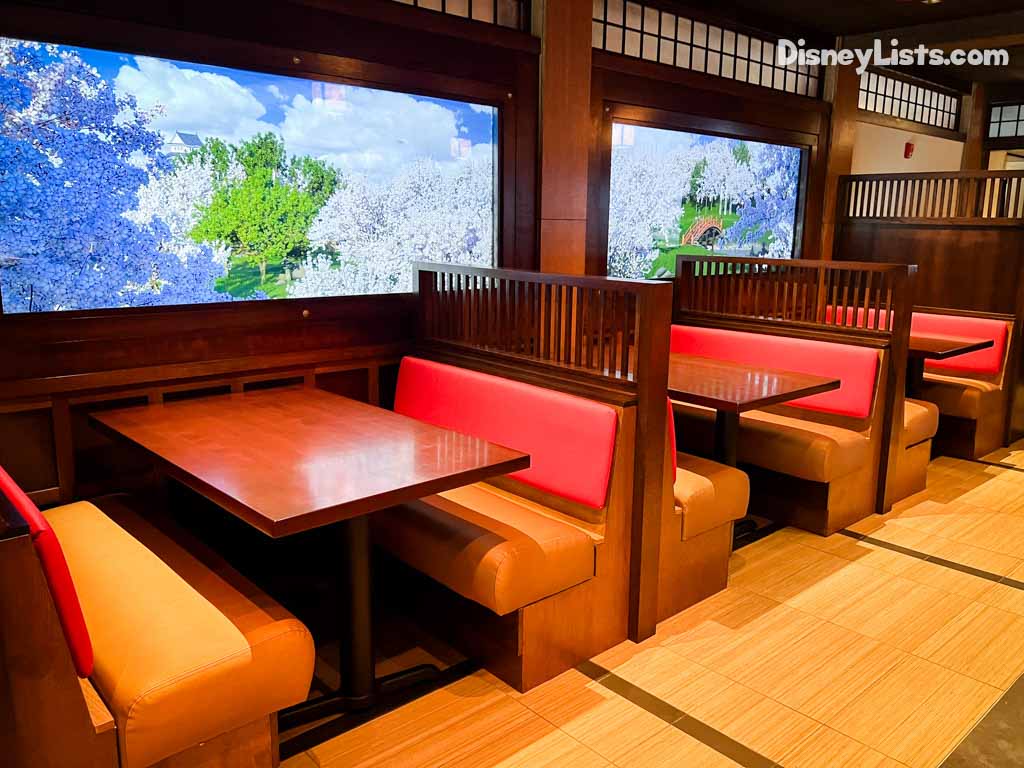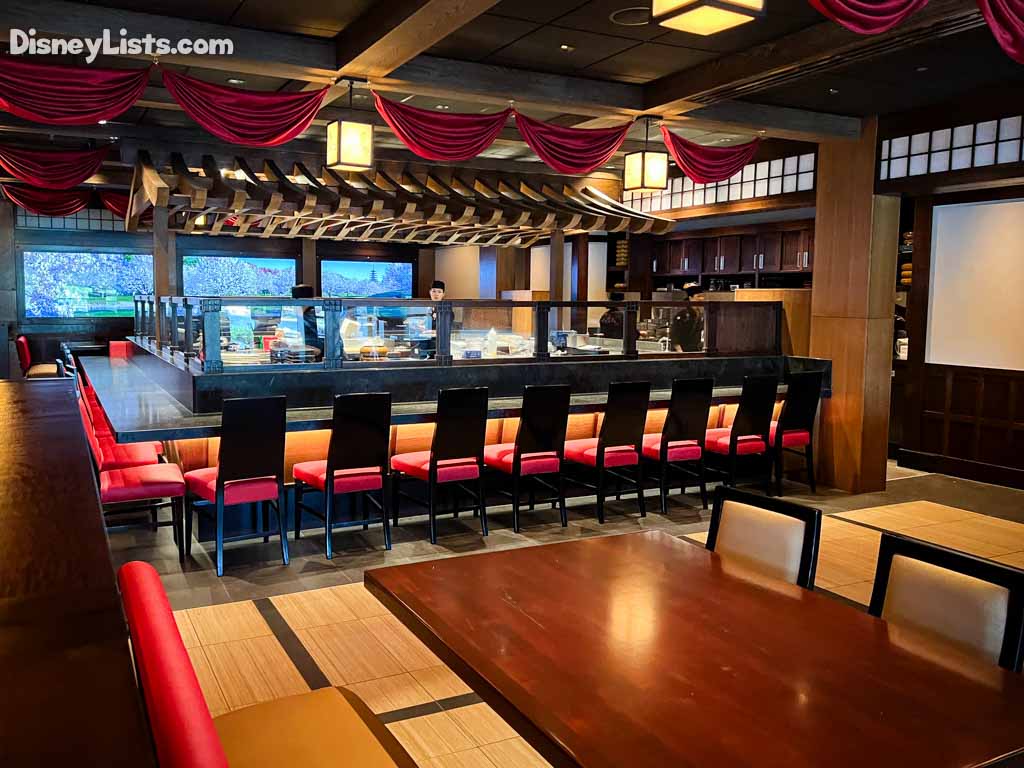 The second dining room is the room with a fantastic view of World Showcase Lagoon and the Japan pavilion. The room features large windows, new ceiling tiles with plants representing different seasons, and a panel that displays all four seasons. It's clear that a lot of thought and detail went into the design of the space, and it makes for a more authentic experience.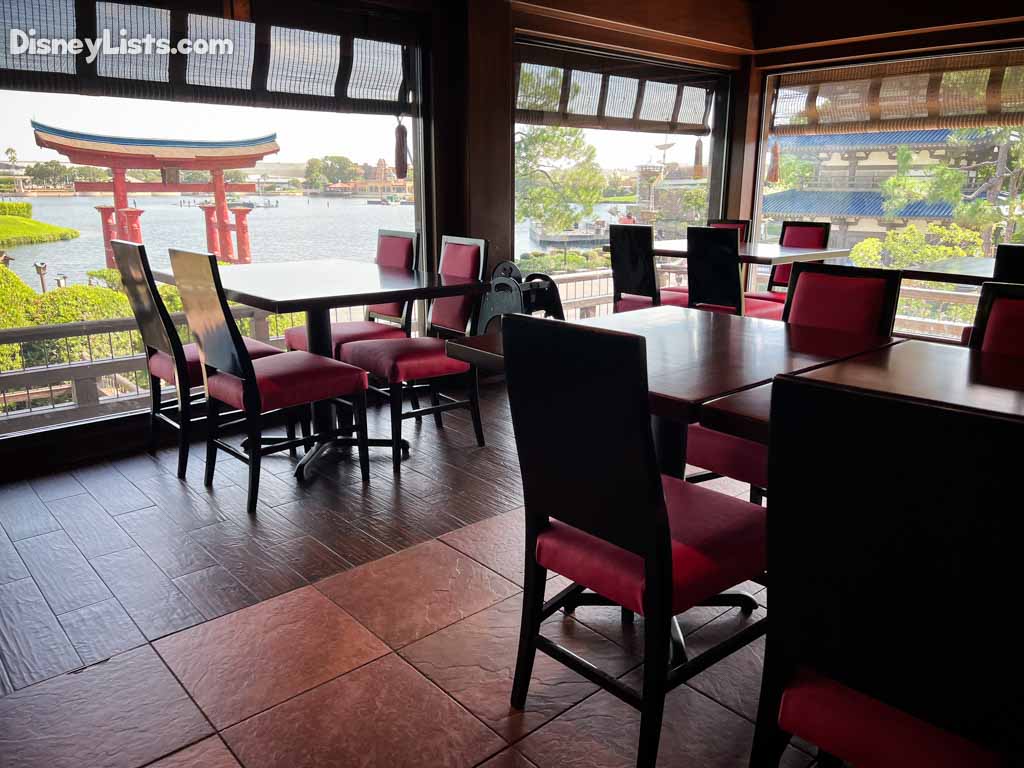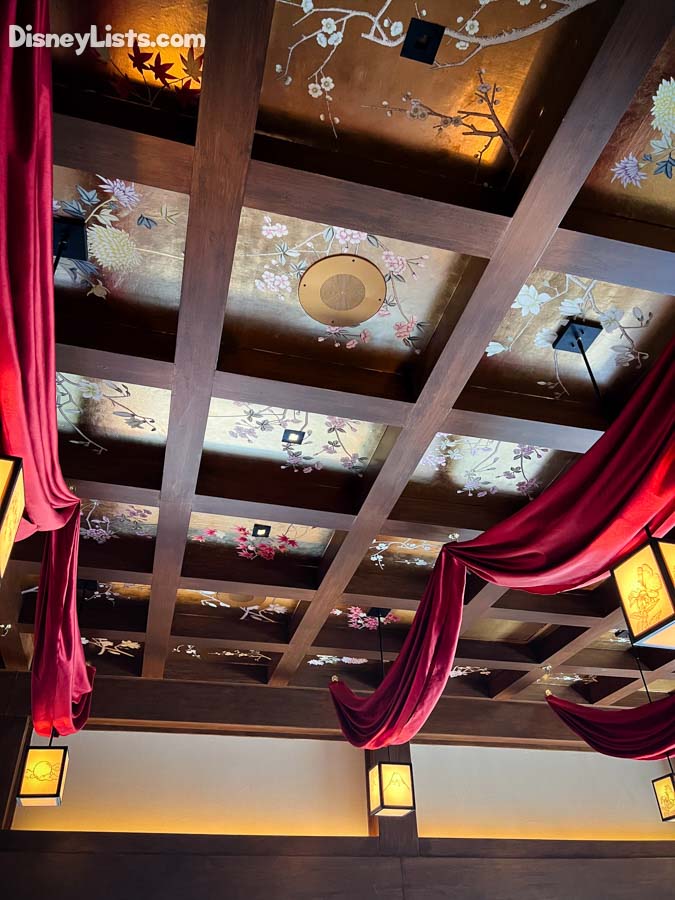 7 – "Tapanese" Style of Dining
Bob, one of the Cast Members we spoke to, shared with us a phrase that explains the style of dining at the restaurant. He and his team coined the term "tapanese," which is a combination of "tapas" and "Japanese." Anyone familiar with Spanish tapas will know that means "small plates" to share. That describes the menu of Shiki-Sai well. There are many small plates that are meant to be shared and enjoyed slowly. The servers will bring the food when it's ready, so you'll enjoy food and drinks the entire time, allowing you to have good conversation over the course of the meal. This is the "Izakaya" style I mentioned earlier. Of course, you can order as much or as little as you desire, but the restaurant is a great option for sharing foods and getting a wide variety of flavors over one meal.
8 – Large Menu with Lots of Options
Shiki-Sai features a large menu with a lot of dish options. As I mentioned above, these dishes are great to share, but they also work if you want a small mid-day snack to get a break from the heat as you walk around World Showcase.
The first section of the menu lists the Chef's Specials. If you are a seafood or sushi lover, then you'll have trouble picking just one item! The highlight of the Chef's Specials is the Fune Sushi Boat, which will feed four to six people. You'll be served a premium assortment of sushi and sashimi presented in a boat! It's quite a sight to see. While I'm not a seafood eater, those around me raved about the sushi and said it was delicious.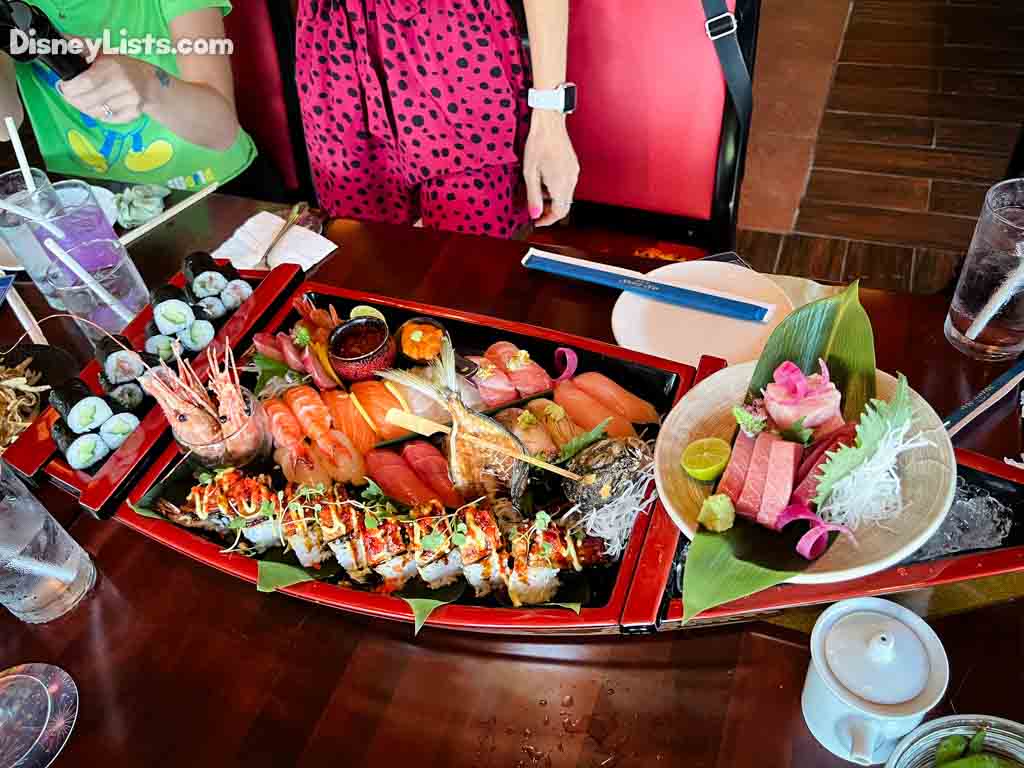 There are plenty of Starters to choose from. My favorite was the Kara-Age Chicken, a Japanese-style fried chicken flavored with garlic and ginger, which was delicious!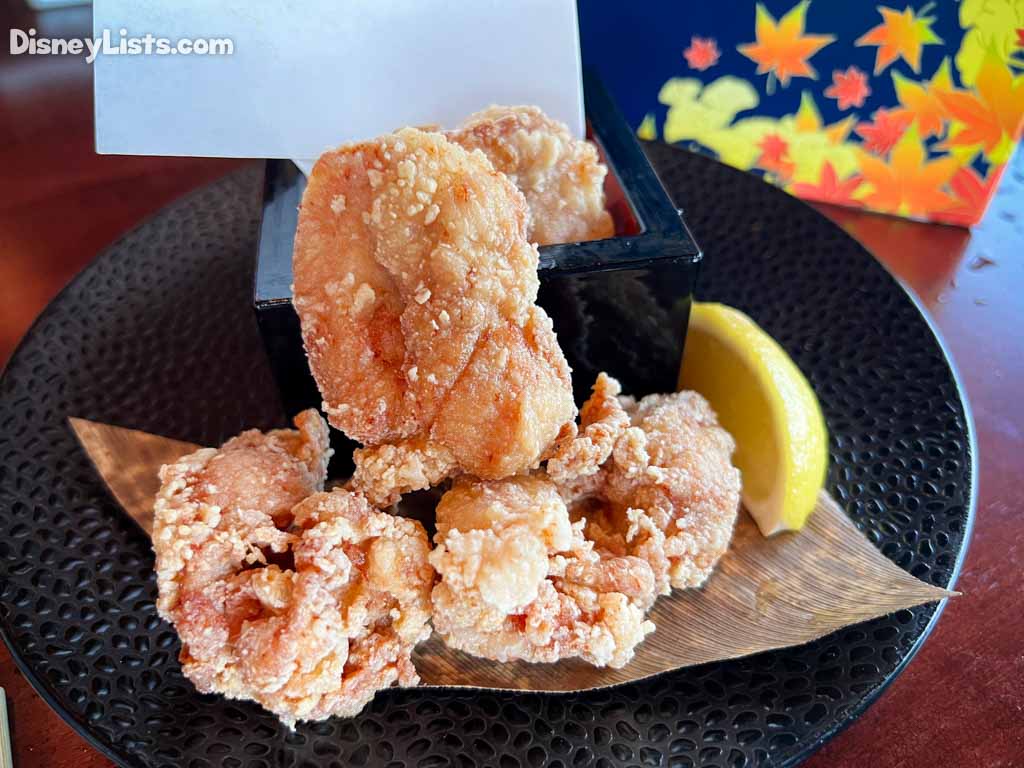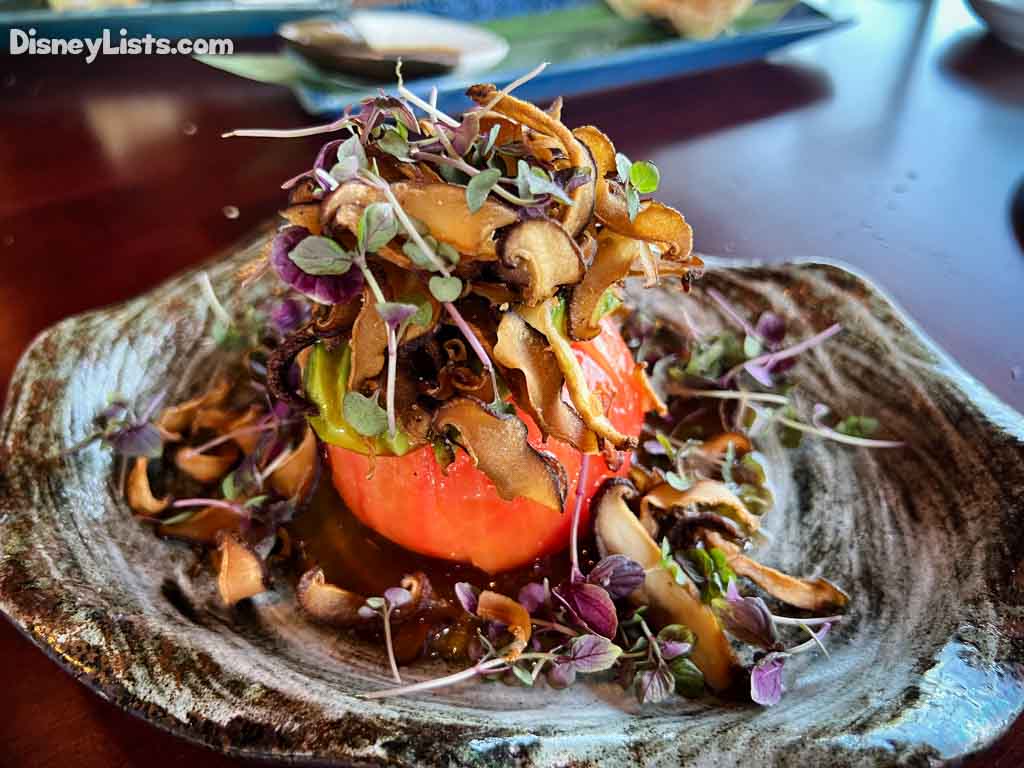 As expected, there are plenty of Japanese favorites to enjoy, such as sushi, sashimi, nigiri, donburi, and plenty of rolls to choose from.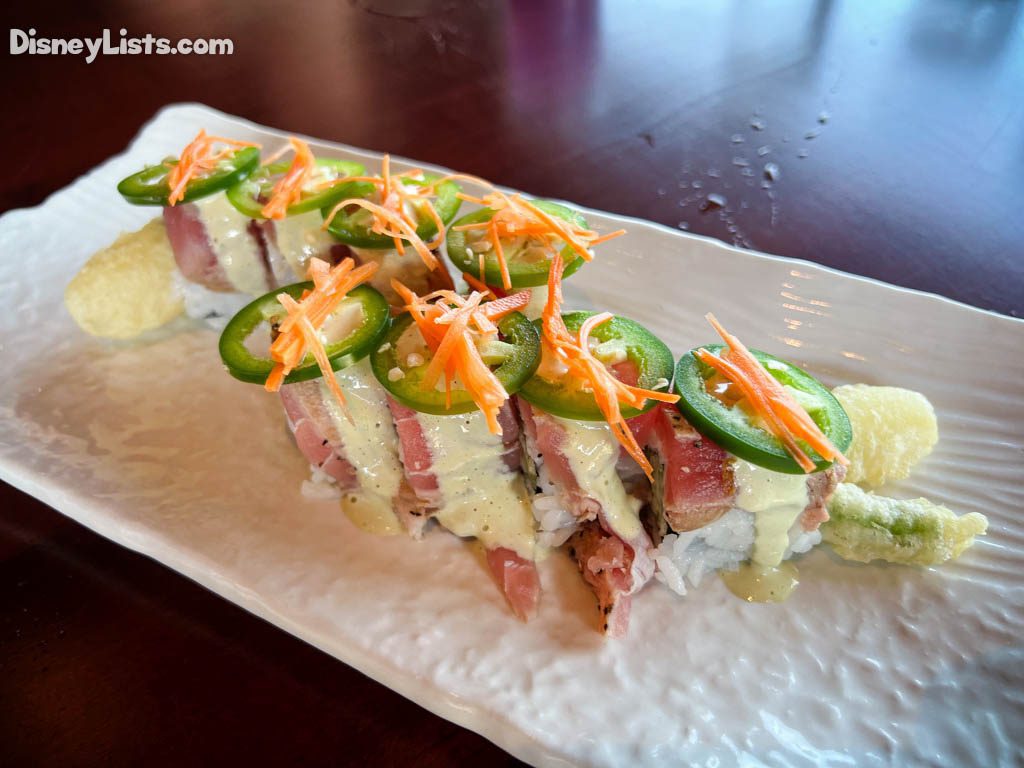 In the Izakaya Classics, you'll find a good variety of items such as squid, wagyu, tofu, and eggplant – something for everyone. I especially enjoyed the Grilled Wagyu Gyoza, pan-fried dumplings filled with smoky A5 Japanese wagyu beef.
In the From the Grill section, you'll find some great options, especially for those who don't like seafood. The Okonomiyaki, a Japanese savory pancake filled with bacon, was a very nice surprise, and I can't wait to get it again.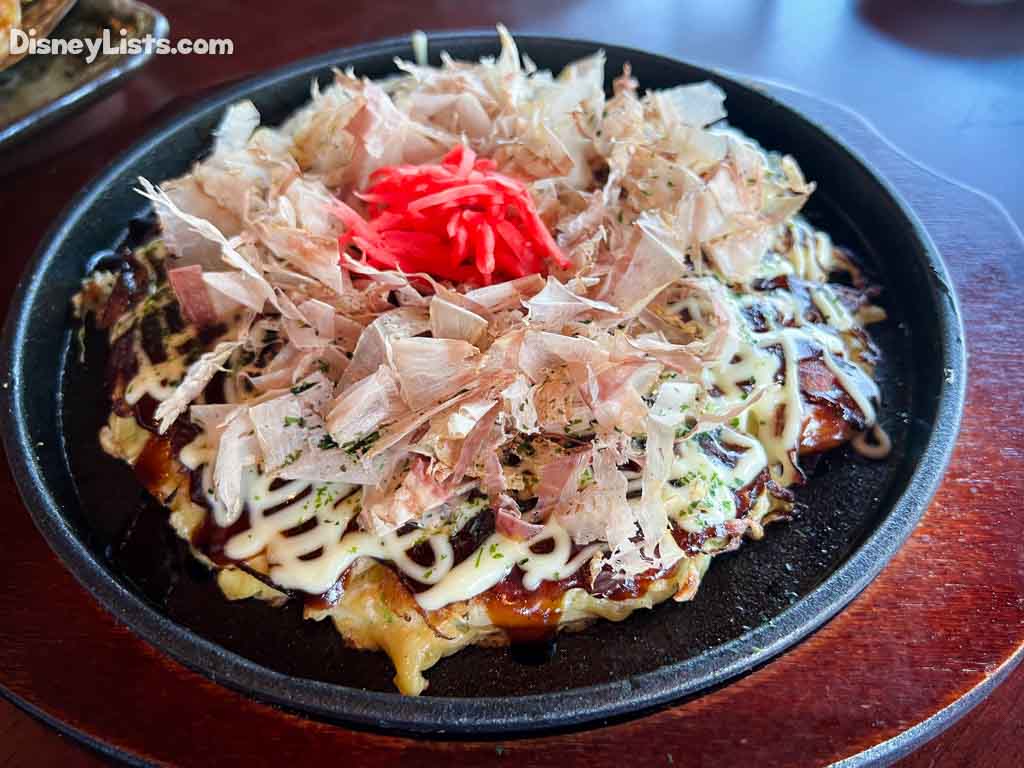 Of course, the Rice & Noodles options are fantastic. I really enjoyed the Ishiyaki-Sukiyaki Rice, which features grilled strips of beef in a hot stone bowl cooked tableside along with spinach, and rice in a sweet garlic sauce.
While children can certainly enjoy many dishes on the regular menu, there is a Kids Menu featuring a small Temaki Sushi Set and Kids Bento.
Be sure to save room for Dessert! My absolute favorite was the Ichigo Parfait, which offers layers of strawberries, cheesecake, and vanilla ice cream. It was so delicious and such a perfect ending on a hot summer day.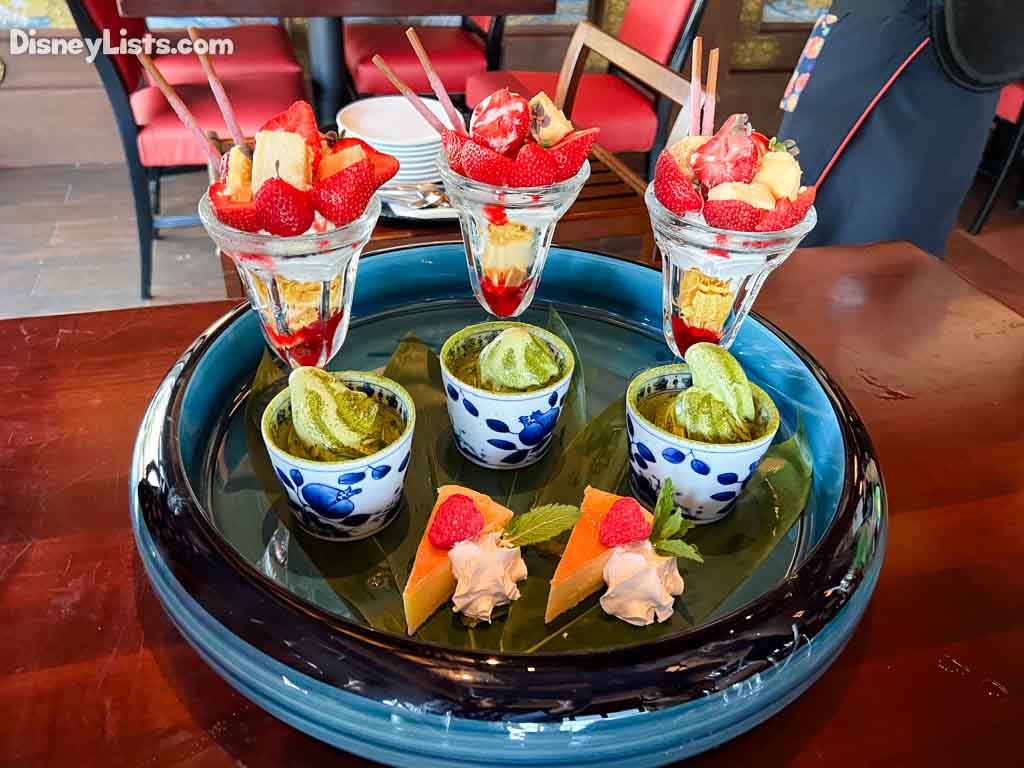 The menu also boasts a strong Drink Menu with plenty of sake and other Japanese drink specialties. There are also many beer, wine, and specialty cocktail options, including tasty non-alcoholic drinks. I enjoyed two drinks during my meal. First, I enjoyed the Tokyo Sunset, which is a sunset-colored cocktail with pineapple, coconut rum, and orange juice with a splash of grenadine. Later in the meal, I enjoyed the Calpico Dragon, which is a pink ombre-colored mocktail with dragon fruit and Calpico. Both were delicious!
9 – Tanabata – Star Festival
The restaurant will offer a cultural event for guests to participate in while visiting. The current summer festival is the Tanabata or Star Festival. During the summer season, at the end of your meal, your server will hand you a card where you can write your wish. Feel free to ask your server to write your wish in Japanese on the card! All servers are Cultural Representatives from Japan, and they are happy to help! Then, as you leave, you can hang it on a bamboo, and it will come true! Or take it home for a nice souvenir! At the autumn equinox, a new experience will be offered.
10 – Overall Thoughts & Recommendations
I thoroughly enjoyed my time at Shiki-Sai: Sushi Izakaya. The design and feel of the restaurant is warm and inviting. The seasons are well represented throughout the design of the restaurant. There is a wide variety of dishes and prices that are perfect for sharing or make a great snack as you make your way around World Showcase. The food was delicious, and there was not one item that I didn't enjoy. I highly recommend visiting Shiki-Sai on your next visit to EPCOT! We will be adding it to our "must-do" table service restaurants not only at EPCOT but also at Walt Disney World!
Click here to view our Instagram Story with lots of photos and video from our lunch at Shiki-Sai: Sushi Izakaya!
Editor's Note: Mitsukoshi USA provided us with a restaurant tour and complimentary lunch at Shiki-Sai: Sushi Izakaya. However, as always, the thoughts and recommendations contained in this article are entirely our own.
For a no obligation, FREE Quote on a Disney vacation package, please contact our travel partner Magical Vacation Planner at 407-442-0227 (407-442-0215 for Spanish). You can also request a FREE quote online by Clicking HERE.