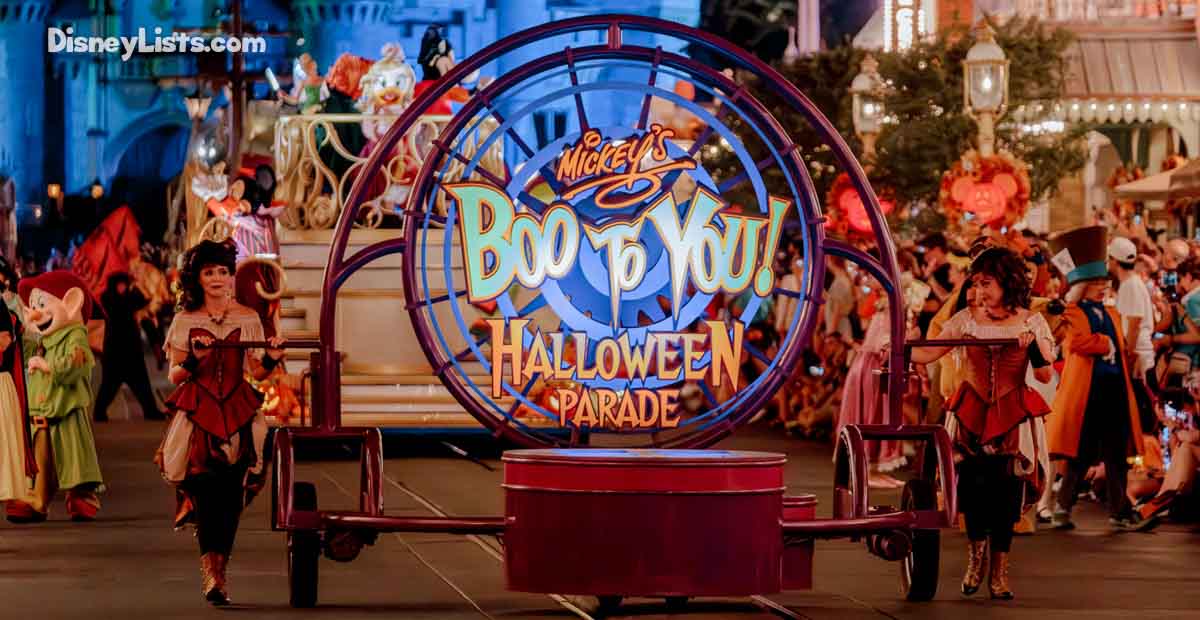 One of the biggest draws of Mickey's Not So Scary Halloween Party is the fantastic lineup of entertainment. The entertainment offerings are one of the reasons many guests return to the party year after year. It certainly is for us. We firmly believe that Mickey's Not-So-Scary Halloween Party has the best Disney entertainment offerings. The lineup includes one of the best Disney parades, an incredible fireworks show, a spell-bounding stage show, a Disney singing quartet, and fun dance parties for all ages. Learn more about the entertainment at Mickey's Not So Scary Halloween Party below.
Click here for our review and what you need to know about the 2023 Mickey's Not-So-Scary Halloween Party!
1 – Mickey's Boo-To-You Halloween Parade
Mickey's Boo-To-You Halloween Parade is by far our favorite Disney parade. In 2023, the parade was updated, so even if you have seen the parade before, you'll want to see the updates. In the descriptions below, we note which sections of the parade have something new in them.
Pre-Parade:
Headless Horseman – Your favorite galloping Headless Horseman is also back and rides through the streets of Main Street USA to set the spooky tone for the parade. He appears about twenty minutes before each parade performance, following the entire parade route.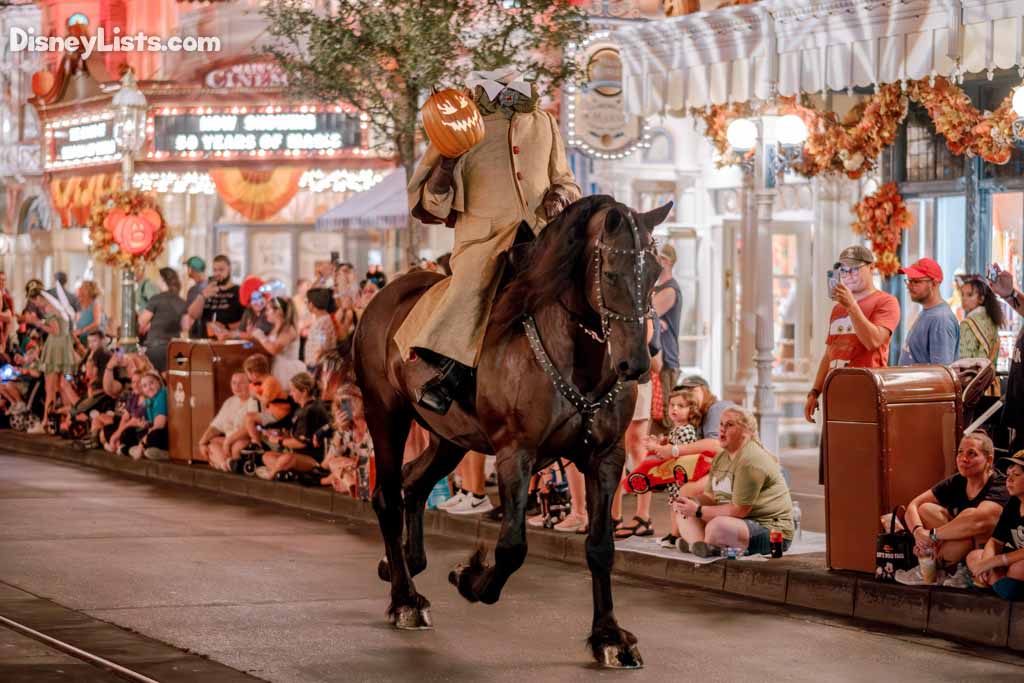 Max Goof – Also before the parade, guests can 'Stand Out' and dance along with Max Goof, who is cosplaying as Powerline, his favorite pop superstar. Joining Max is a 90's dance crew that encourages guests to dance along with them. Max Goof and the dancers make their way down Main Street, U.S.A., to the Railroad Station.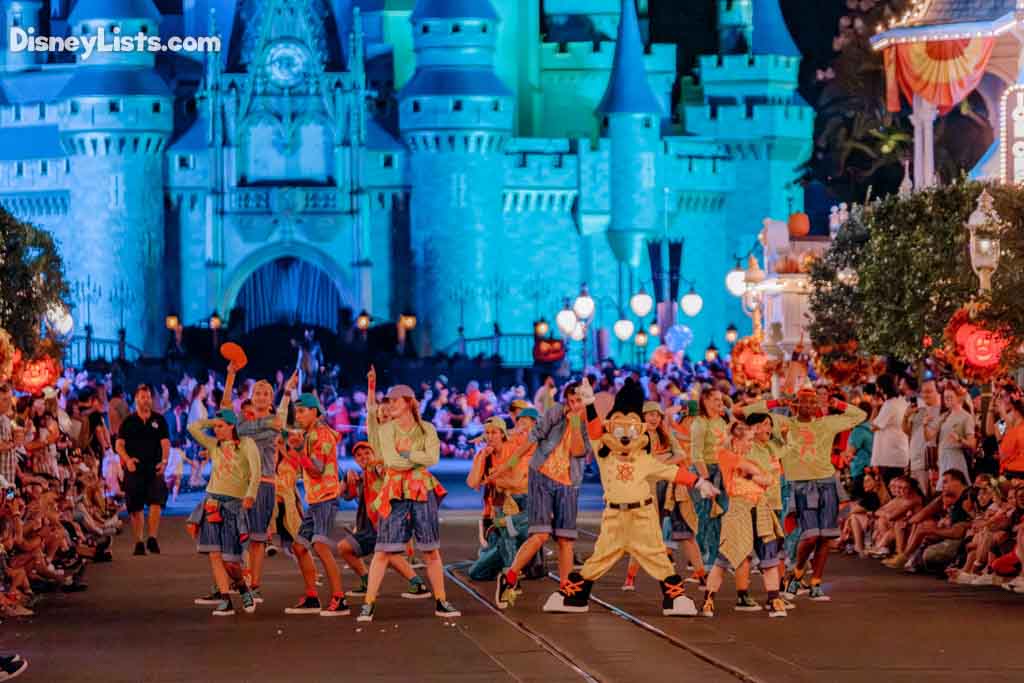 Boo to You Parade:
Pluto, Tigger, Winnie the Pooh, Mad Hatter, Alice and Wonderland, Snow White, Dopey, Jasmine, Aladdin, Rapunzel, and Flynn
(NEW) Minnie Mouse, Daisy Duck, and Clarabelle Cow as the Sanderson Sisters, Mickey, Donald, and Chip 'n Dale – New for 2023, partygoers can see Minnie Mouse, Daisy Duck, and Clarabelle Cow dressed as the Sanderson Sisters from Disney's "Hocus Pocus." We love their costumes! These characters are on a new float. The old gazebo is (thankfully) gone. However, it is a little tricky seeing the sisters up on the float as the metalwork of the float blocks them. Mickey, Donald, and Chip 'n Dale are in Halloween costumes.
Smee, Captain Hook, Wendy, Peter Pan, and some Lost Boys, ahead of Tinkerbell sitting on her treasure.
Pirates with flags dance troupe ahead of a pirate ship with Barbossa, Angelica, and Captain Jack Sparrow.
Haunted Mansion – Gravediggers, Leota Float, waltzing ghosts, the Spectral Bride, and the famous Hitchhiking Ghosts.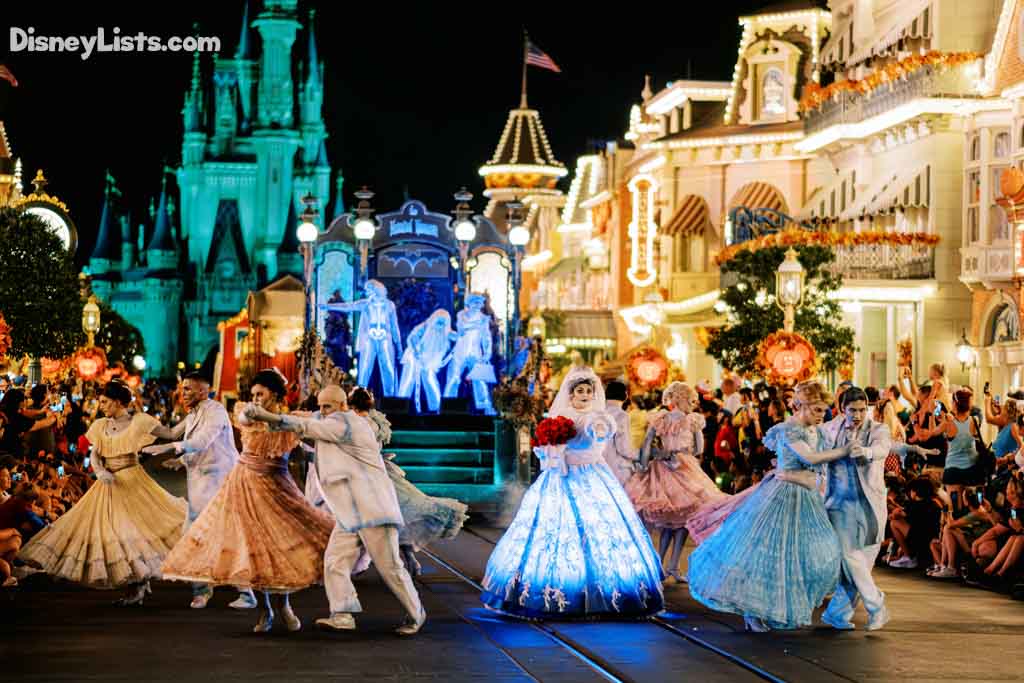 (NEW) Halloween Hoedown – new scarecrow dancers lead this unit, and they are a lot of fun to watch. Next up is Goofy with an all-new costume and is perched ahead of a red silo with Clara Cluck sticking out of the window. Behind them are the Country Bears and Horace Horsecollar.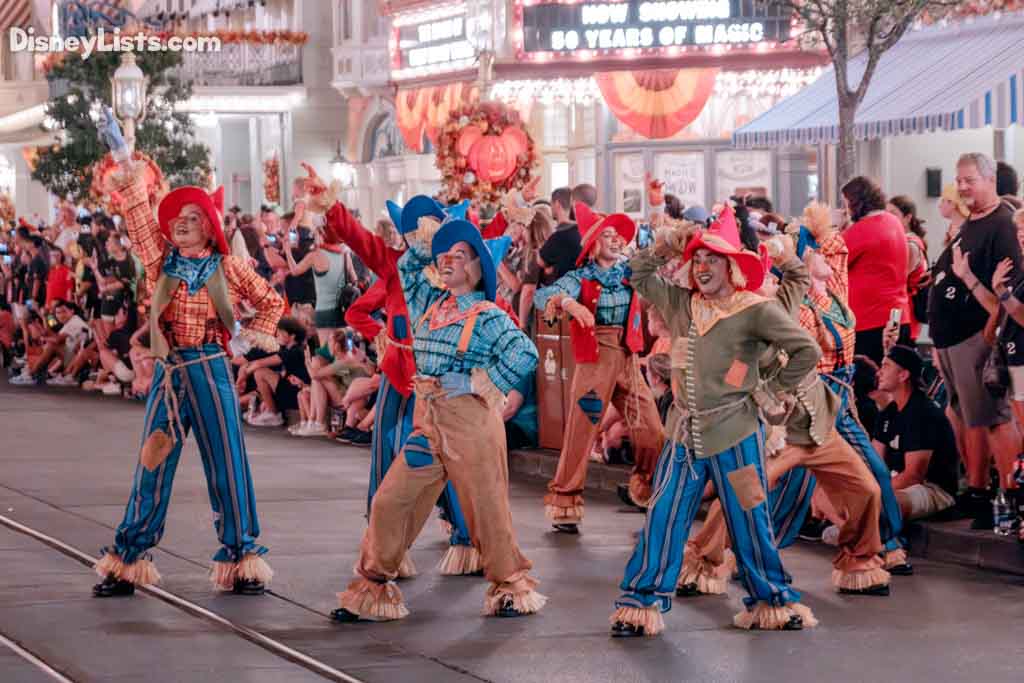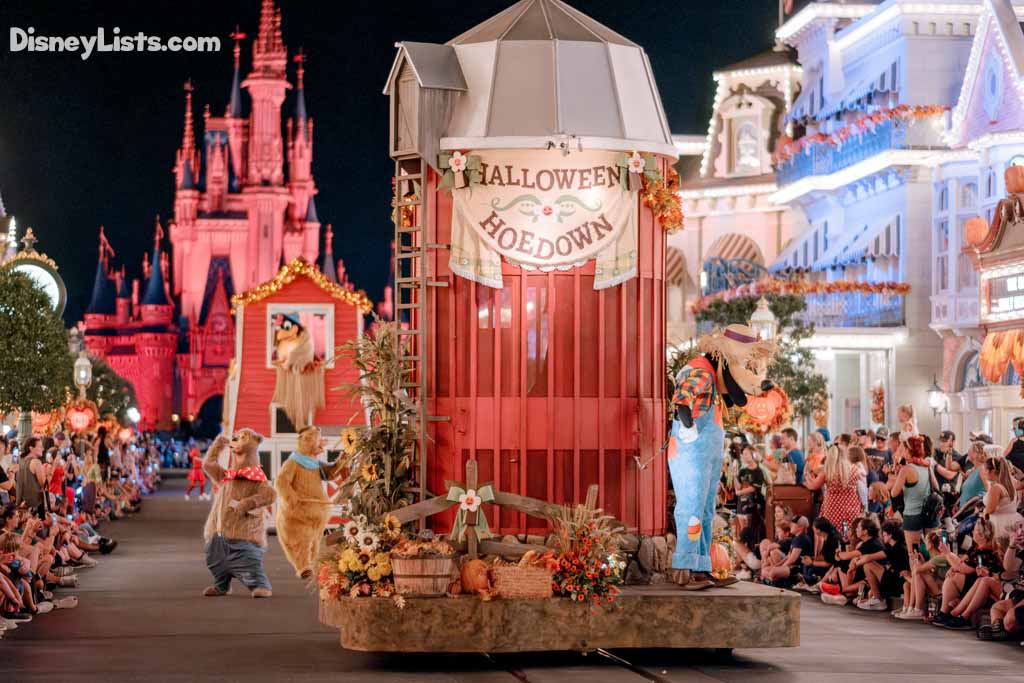 Sugar Rush – Vanellope and the girls from Sugar Rush make sure there's plenty of candy to go around during the parade.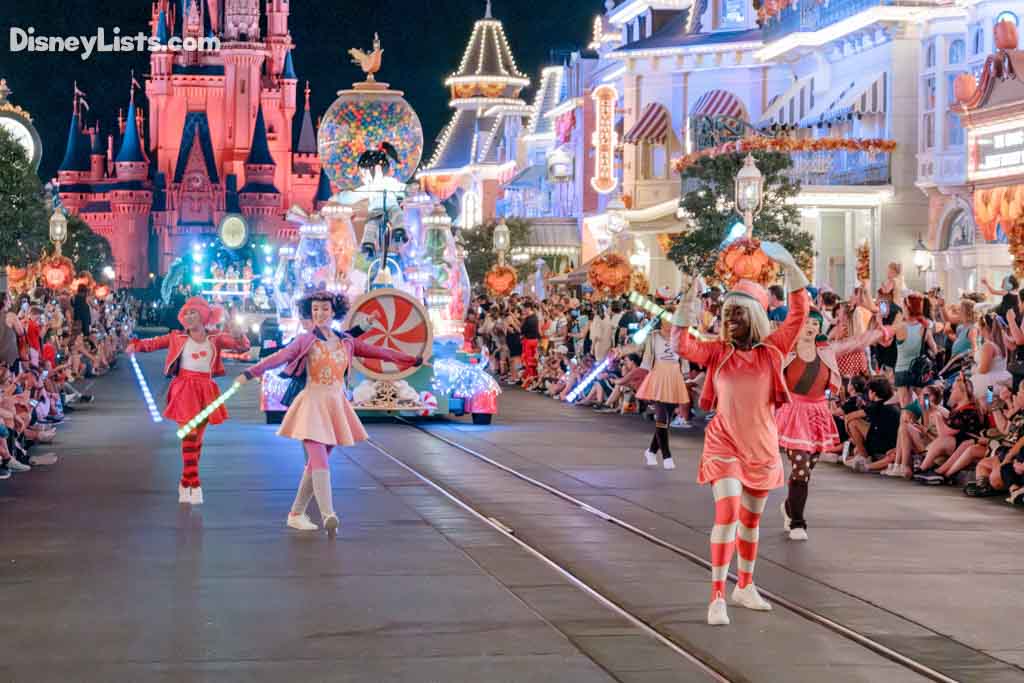 (NEW) Expanded Villians – Guests will be delighted to see Ursula, joined by Flotsam and Jetsam puppets, which is new in 2023. Ursala glides along the parade route and is a terrific addition.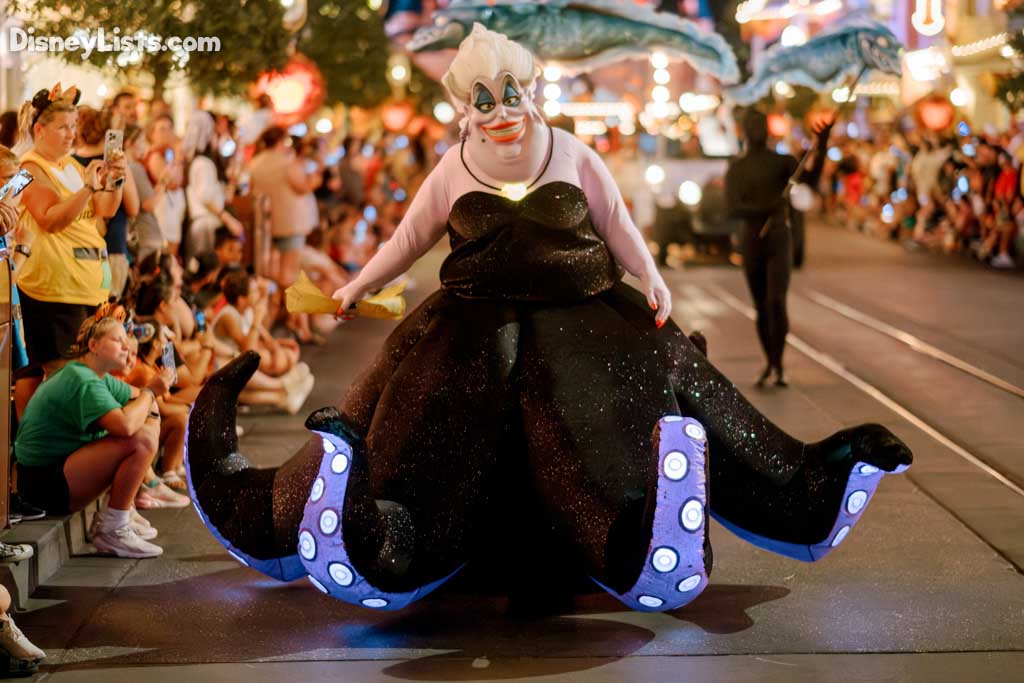 Cruella Devil is now riding in a car along with Jasper and Horace, who are also new to the parade.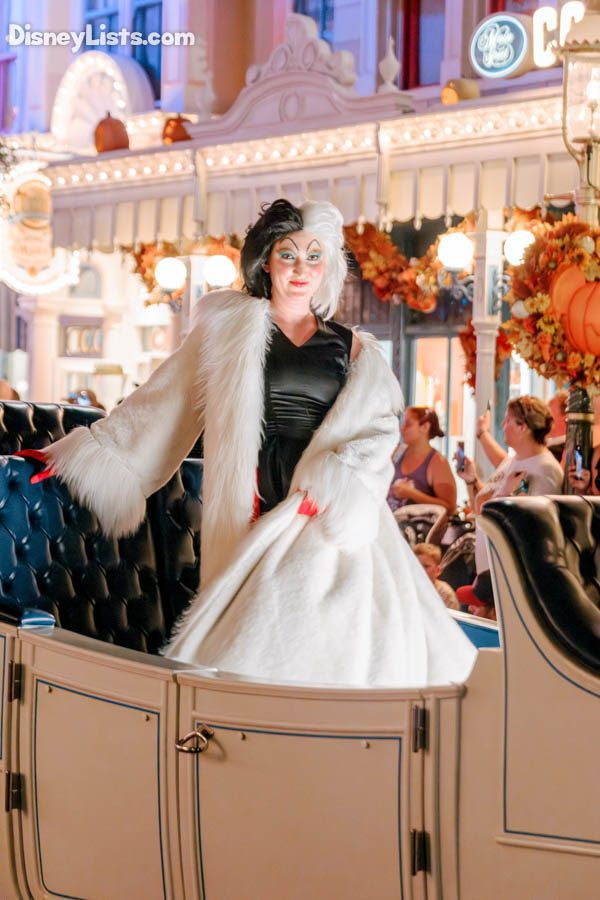 The Queen of Hearts is now accompanied by her card army, giving her an expanded role in the parade.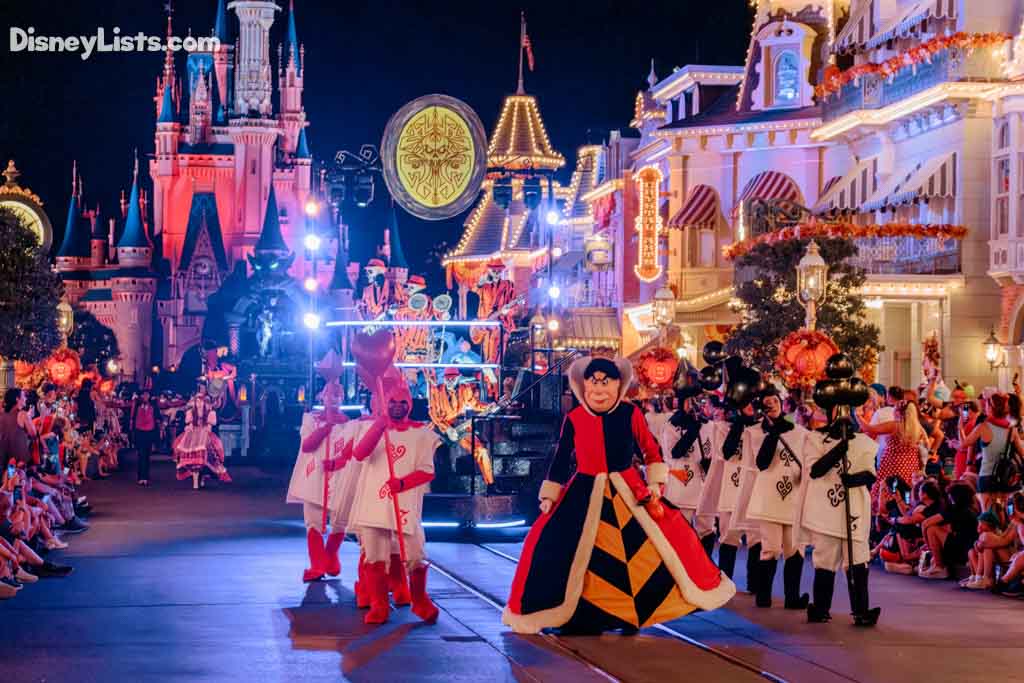 The Skeleton Band returns this year. Next is a group of Villains, including Anastasia and Drizella Tremain, Evil Stepmother, Gaston, Honest John and Gideon, and Oogie Boogie.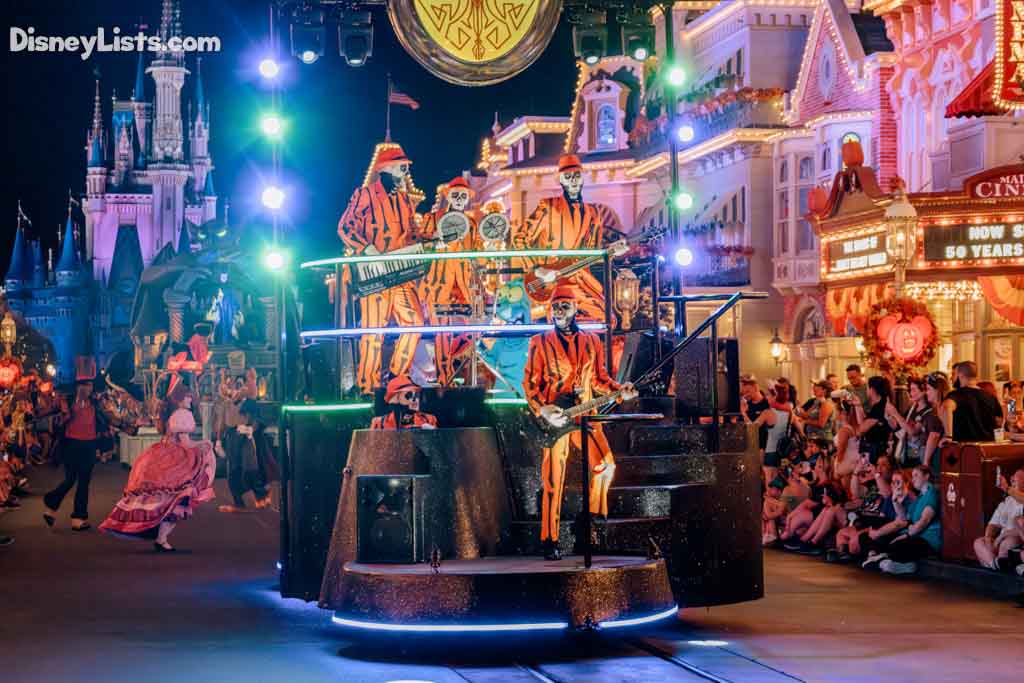 Finally, the classic villains float with Maleficent, Jafar, and the Evil Queen, ends the parade.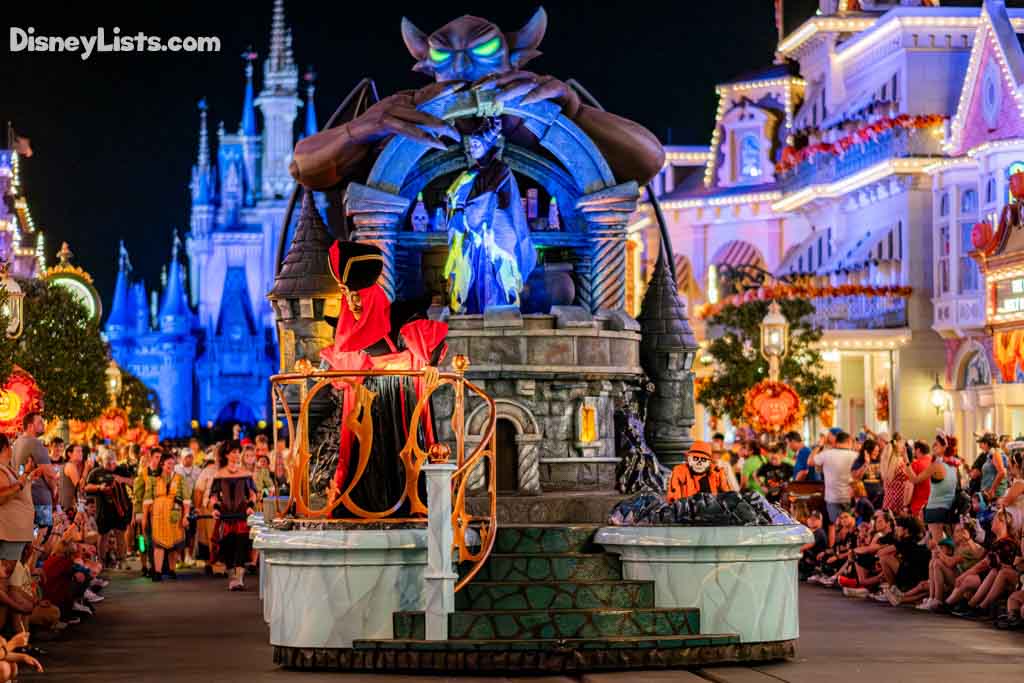 The parade follows the Festival of Fantasy parade route, beginning in Frontierland and ending near the City Hall on Main Street USA. The parade runs at 9:15 pm and 11:15 pm. Usually, the second parade is less busy, and you may not have to line up as early to get a good spot.
2 – Hocus Pocus Villain Spelltacuar
The Sanderson Sisters are as popular as ever, and the stage show "Hocus Pocus Villain Spelltacular" is a chance to see them at their best. The cast is extremely talented, and I've always enjoyed watching this show. During this show, you'll have a chance to see Dr. Facilier, Oogie Boogie, Maleficent, and of course, the Sanderson Sisters, who are trying to cast a spell over everyone at Magic Kingdom.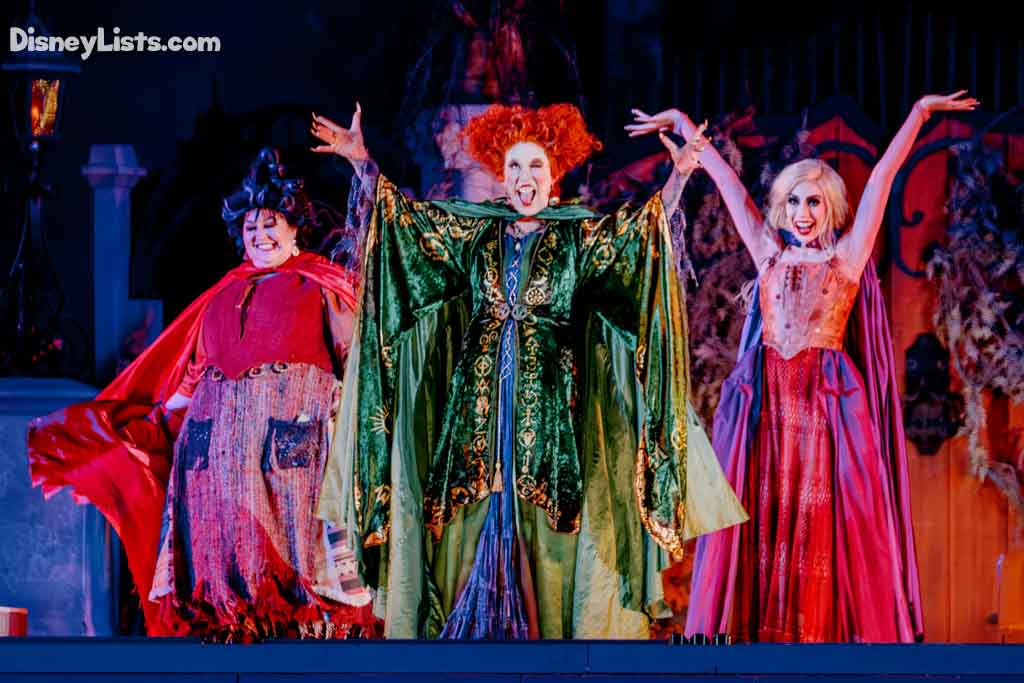 In August and September, the show runs at 8:35 pm, 10:45 pm, and midnight. In October, you'll have an extra chance to see the show with the addition of a 7:40 pm show. The show runs for about twenty minutes, so keep that in mind when planning your evening. We always recommend guests catch the last show at midnight so you won't miss any party time. There is so much to do and see at the party; by watching it at midnight, you can fit other things in and save it for last.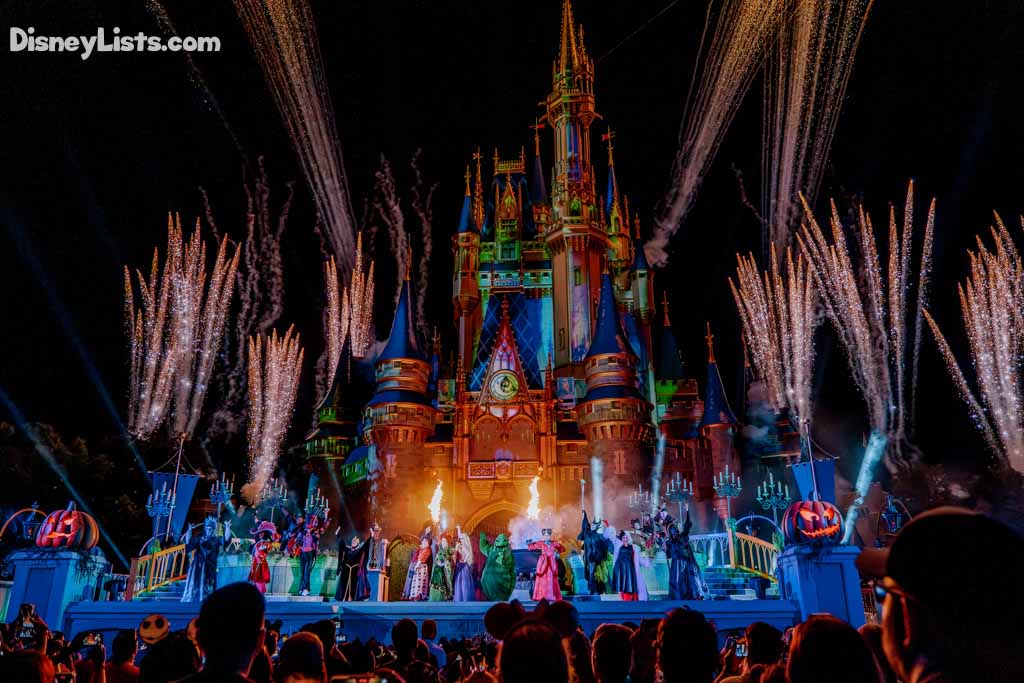 3 – 'Disney's Not So Spooky Spectacular'
In 2019, "Disney's Not So Spooky Spectacular" debuted and quickly became a fan favorite. The fireworks show lights the night sky with projections and fireworks. As host of the spectacle, Jack Skellington from Tim Burton's "The Nightmare Before Christmas" spins a not-so-scary tale about how anything can happen on Halloween night. Jack's ghost dog, Zero, brings everyone along on a trick-or-treating adventure where four friends – Mickey Mouse, Minnie Mouse, Goofy, and Donald Duck – find themselves drawn into a haunted house. Encounters with dancing skeletons, waltzing ghosts, and wickedly troublemaking Disney villains make for a hair-raising adventure. It all comes to life with state-of-the-art projection effects, lasers, lighting, and dazzling fireworks.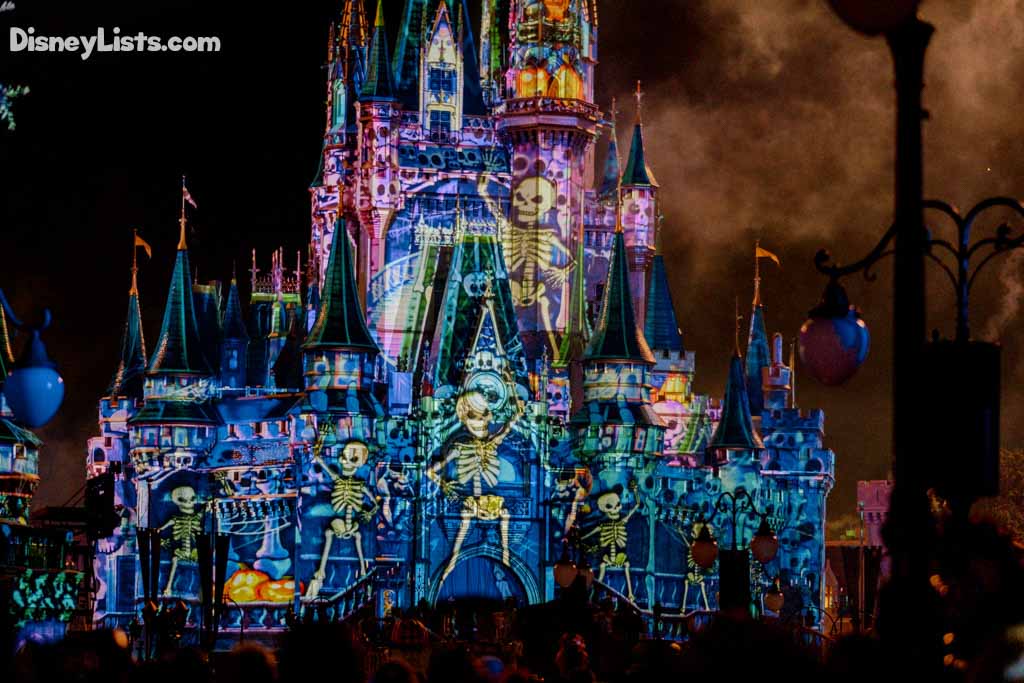 The fireworks show is a lot of fun, and we really encourage you to catch it. It runs at 10:15 pm with the best viewing in front of Cinderella Castle, much like Happily Ever After. When choosing when and where to find your spot for the fireworks, keep in mind that the entire Hub area in front of the castle will be packed with people the whole night, from people watching Hocus Pocus Villain Spectacular at 8:35 pm and Mickey's Boo to You Halloween Parade at 9:15 pm.
4 – Cadaver Dans
Finally, fans of the Dapper Dans won't want to miss catching the Cadaver Dans. This quartet will sing your favorite spooky tunes in Frontierland throughout the evening at 7:00 pm, 7:45 pm, 8:30 pm, 9:50 pm, and 10:30 pm. Their "dead pan" humor is to die for and very entertaining.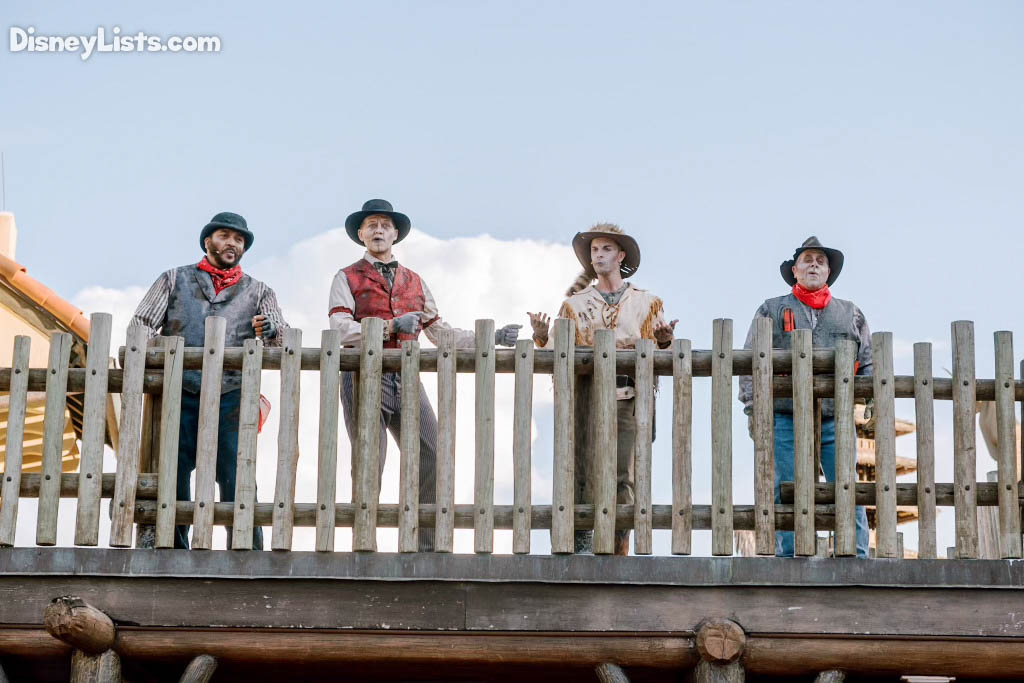 5 – Rusty Cutlass Pirate Band
A new offering is in Adventureland! A spirited pirate band performs near Pirates of the Caribbean with spooky sea shanties. These guys were a lot of fun and added a lot to the atmosphere. You can catch them off and on throughout the evening.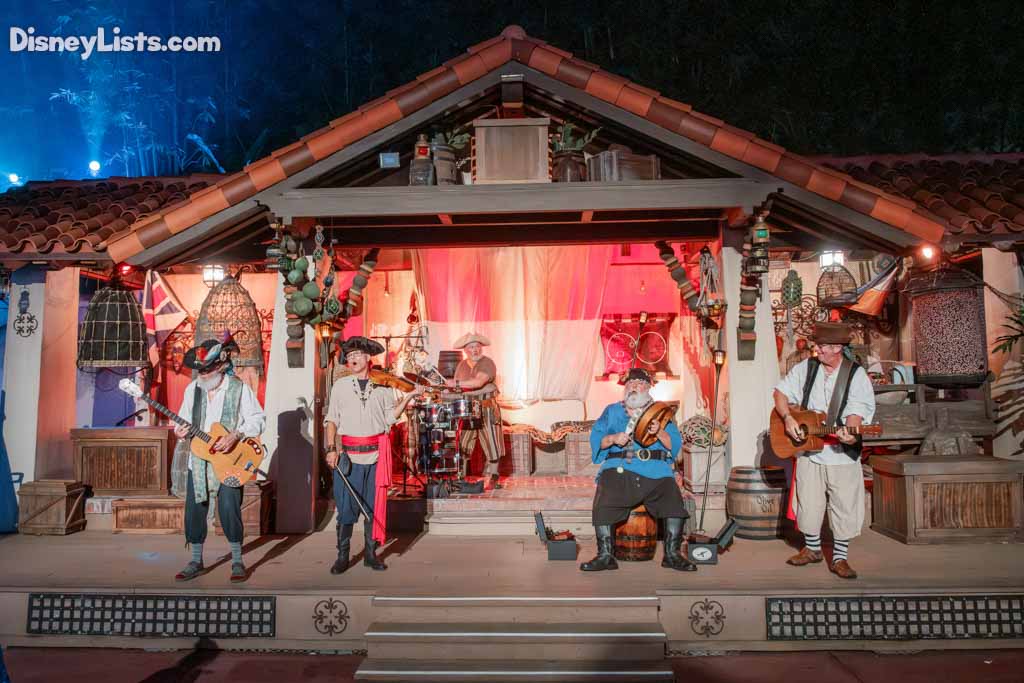 6 – Zom-Beatz Bash
Over in Tomorrowland at the Rocettower Plaza Stage, guests can dance with zombies, cheerleaders, werewolves, and aliens for an out-of-this-world dance party!
7 – Disney Junior Jam
At Cosmic Ray's Starlight Cafe, guests can dance the night away with Vamprina and some of your other favorite Disney Junior Characters. Kids will certainly enjoy this one!
Editor's Note: Disney Parks, Experiences and Products provided us with a complimentary Mickey's Not So Scary Halloween Party ticket with media-specific experiences. However, as always, the thoughts and recommendations contained in this article are entirely our own.
For a no obligation, FREE Quote on a Disney vacation package, please contact our travel partner Magical Vacation Planner at 407-442-0227 (407-442-0215 for Spanish). You can also request a FREE quote online by Clicking HERE.