Most of us would love to have our Fairy Godmother travel with us to Disney World to ensure that our children have an unforgettable vacation. Since that won't be happening, how can parents prepare for a trip of a lifetime? Walt Disney World doesn't have to be a ton of work or a frustrating experience for parents out there, especially if you plan ahead. Here are twelve truths that you should definitely know before visiting Walt Disney World:
12 – Plan for nap and/or pool time.
It can be a lot of the kiddos to walk or ride around the parks all day. They get tired and cranky after being in the heat and getting so tired. It is definitely a good idea to plan a nap and/or pool time where they can relax and move around without all the hustle and bustle of the parks. You will definitely get more sanity back, and the kids will be happier, too.
11 – Everyone needs comfortable walking shoes.
You definitely need to make sure that the entire crew has comfortable walking shoes, even the little ones that you don't plan to do a ton of walking still need to have comfortable shoes. You will be standing in lines and walking from place to place where you may not be able to bring your stroller, so you definitely want to make sure everyone is comfortable.
10 – If in doubt, don't skip the stroller.
There is a lot of speculation and differing opinions as to when you should ditch the stroller. My general rule of thumb is that if you have any doubt at all you should still bring it. You definitely don't want to end up with miserable kiddos because you don't have one, and they are very expensive to rent directly from Disney.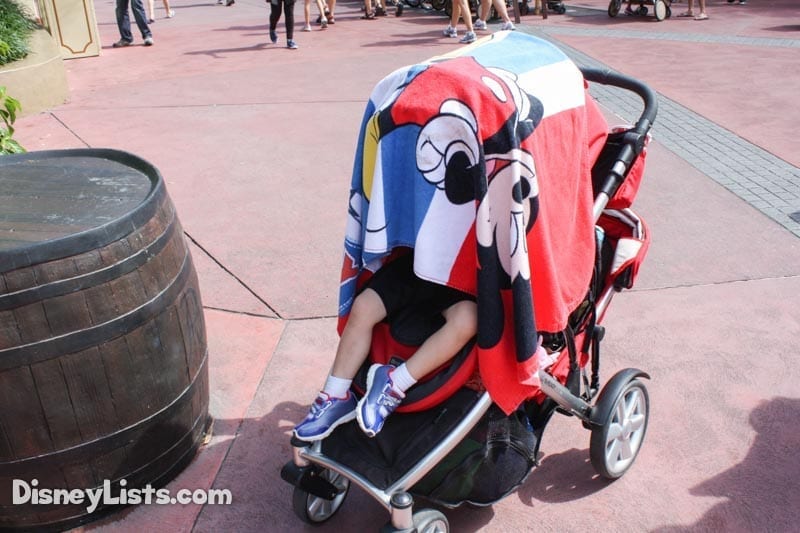 9 – Plan ahead for the weather.
You will want to check what weather to expect during your trip. Unless you are traveling in the winter months, you can likely expect it to be hot every day, so you will want to have comfortable, breathable clothing that will hold up when sweating or if you encounter any rain during your trip.
8 – Make use of the Baby Care centers if needed.
There is a Baby Care center at each of the major theme parks. You can buy diapers, formula, and other supplies from the center. You will also be able to utilize the feeding areas and rocking chairs in the air conditioning so that you can feed your baby in a quieter, more comfortable place. These are definitely great to take advantage of if you need a break from the parks.
7 – Learn how to use Rider Swap.
Rider Swap is an excellent feature for guests that are traveling with small kids. You have your party show up to the standby line and tell the cast member that you will need a rider swap. Only part of your party will have to wait in line, and then they will get rider swap passes for the rest of the party. Then you can trade off the kiddos, and one other person can ride by going through the Lightning Lane line so that they don't have to wait the full time.
6 – You don't have to pack a ton of stuff to tote around with you.
You may think that you need to come prepared with everything you can think of to tote around the parks. We haven't found this to be so. We typically make sure to pack light ponchos, sunscreen, and water bottles, but we find that we can get almost anything else we might need in the parks. We find kid-friendly snacks, even healthy ones, in the parks so that we don't have to tote that around. We like to try to stick to one small bag (and hopefully none as they get a little older). Buy travel size in anything you do need so that you don't have large containers to carry around with you.
5 – Consider Purchasing Lightning Lane Access
While it's not right for everyone, you may want to consider paying for Lightning Lane access. There are two Lightning Lane paid options that include different attractions. First, you can purchase Disney Genie+ for the day of your visit. This costs anywhere from $15-$35 per day, per person. With Genie+, you can access the Lightning Lane at select attractions at each park. A second option for purchasing Lightning Lane is the a la carte method, where prices vary by attraction ranging from $7-$25. There are attractions at each park that are NOT included with your Genie+ purchase and must be purchased separately. Keep in mind that you do not have to purchase either of these options to enjoy these attractions. The standby queue is available for all attractions. However, if you want to skip the line and get more done, this may be a good option for you and your family. 
4 – Read up on the attraction warnings and height requirements.
You definitely want to check out the warnings and height requirements so you plan your day. You won't want to talk up an attraction to your kiddos if they aren't able to ride it. That would just cause an upset that could be avoided.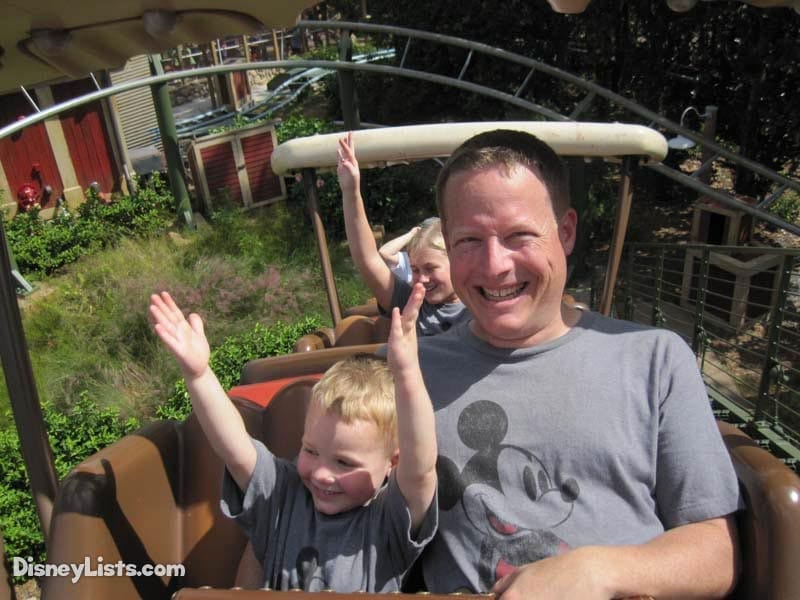 3 – Don't be afraid to do the family shirts and outfits.
The family shirts are such a fun staple at Walt Disney World. You will definitely be among friends with fun, brightly colored shirts with your family name and fun images on them. We always plan vacation shirts for each of our stays and get a ton of comments on them from the cast and other guests. It is so much fun!
2 – Memory Maker is amazing!
We definitely think that Memory Maker is an add-on that is worth the cost. The add-on is around $170, and you get unlimited downloads of every single one of your PhotoPass photos. This includes special dining photos and ride photos, too. You get all the photos, plus you can have everyone in them instead of someone constantly missing out to hold the camera.
1 – Be sure to plan ahead.
You will definitely want to research and plan your vacation in advance. This planning can help your family to have a better trip and alleviate frustration and confusion once you are there. You don't need to over-plan the trip, but it is definitely a good idea to have a basic itinerary.
For a no obligation, FREE Quote on a Disney vacation package, please contact our travel partner Magical Vacation Planner at 407-442-0227 (407-442-0215 for Spanish). You can also request a FREE quote online by Clicking HERE.