As we all learned in Finding Nemo – it's "a big blue world" out there Disney fans! What better way to enjoy a meal than dive into delicious food in an aquatic atmosphere at the lovely Coral Reef. So, without further ado, let us dish out five things we feel you should know about the Coral Reef Restaurant.
1 – Epcot's Hidden Gem
When thinking about dining at Epcot, chances are you have your mindset on one of the many restaurants located around Epcot's World Showcase. But, if you are looking for a break from the crowds and something off the main path, the Coral Reef is pleasantly located in World Nature– neighboring The Seas with Nemo and Friends attraction. If standing at the entrance of The Seas with Nemo and Friends, take a right around the building, and you'll spot the Coral Reef sign followed by the entrance. While the location is a hidden gem – we also love that Coral Reef typically has reservations available a few days in advance of when dining. This isn't always the case, but we've had plenty of luck making reservations well past the 60-day advanced dining mark. If you know you want to dine here, however, and have a set day and time you are seeking, go ahead and make your reservation early to be sure you secure what you are looking for.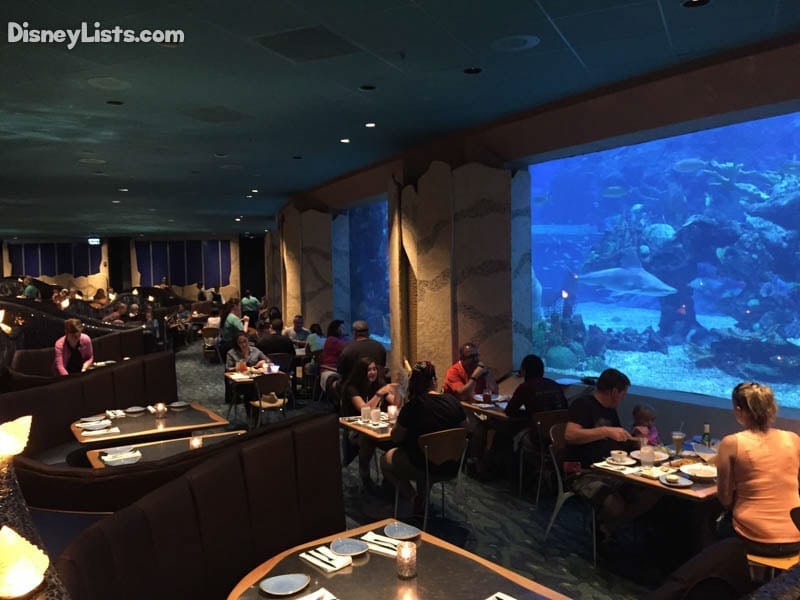 2 – A Blue Oasis
The atmosphere inside the Coral Reef is sophisticated, yet casual. Right from the get-go, someone will greet you at the Hostess/Host stand and invite you to head inside to wait for your name to be called for a table. The walls, flooring, ceiling, and even the lighting seem to glimmer with the blues of the ocean. When entering the main dining area, you'll notice there are several rows of tables and booths on each level, with the levels slowly stepping down. The feature in the dining hall is the massive aquarium wall. We appreciate that the restaurant levels down (just as a theater would), so everyone has a chance to see the aquarium without worries of having your view blocked. The blues throughout, the elegant tables and semicircle booths, and the detailed aquatic décor (such as the mosaics), provide a sense of calming oasis to dine in.
3 – The Aquarium Wall
Bursting with over 4,000 sea creatures, the aquarium wall looked as though we had a chance to see into the ocean while we were dining. Colorful fish, massive stingrays, sharks, turtles… it's a beautiful sight to see – all right from your table. Don't forget to take note of The Living Seas Fish Guide provided. This guide shows pictures and gives names of what you might expect to see in the aquarium while you dine. A special tip – ask the Host/Hostess if you can be seated next to the aquarium wall. While these seats are limited and there is no guarantee, sometimes, if you are willing to wait, you might just get lucky and be seated at the best spot in the house.
4 – Seafood and More
If you like seafood, you'll likely be delighted with Coral Reef's lunch and dinner menus. You can expect seafood such as shrimp, mahi-mahi, and salmon. If you aren't a seafood lover – no worries! Coral Reef has you covered with selections like chicken and prime rib. The kid's menu is excellent, too, for all types of picky eaters, with varieties from chicken, pasta, and a junior steak. And as always, we highly recommend the dessert menu with favorites like The Chocolate Wave, Key Lime Tart, and mousse! Overall, we were extremely pleased with the food.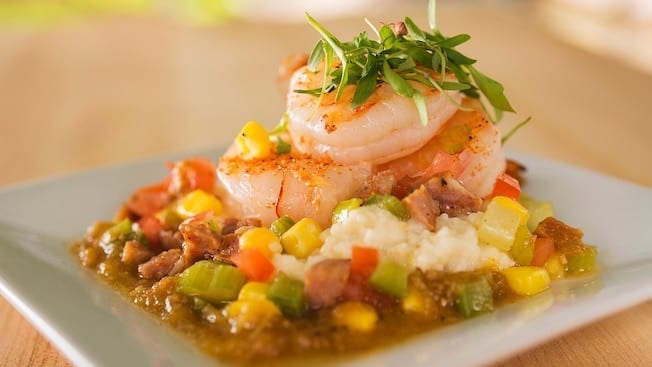 5 – Diving Mickey is Not So Common
One reason we especially wanted to try Coral Reef was to have a chance to see Mickey Mouse in his diving gear in the aquarium, which we've read about. Unfortunately, Diving Mickey is not a very common sight, so don't expect it when making your Coral Reef reservation. From what the staff at Coral Reef told us, Mickey used to go swimming somewhat regularly, but now he jumps in only for very special circumstances – such as a marriage proposal.
Overall, we recommend that everyone try the Coral Reef at least once! It didn't necessarily make our list of top ten favorite restaurants, but we are glad we tried it and will go back in the future for sure. Have you been to the Coral Reef Restaurant? We'd love to hear about your experience!
For a no obligation, FREE Quote on a Disney vacation package, please contact our travel partner Magical Vacation Planner at 407-442-0227 (407-442-0215 for Spanish). You can also request a FREE quote online by Clicking HERE.