News
NEWS: Disney Reveals Two Magic Kingdom Attraction Makeovers & New Pirate Lounge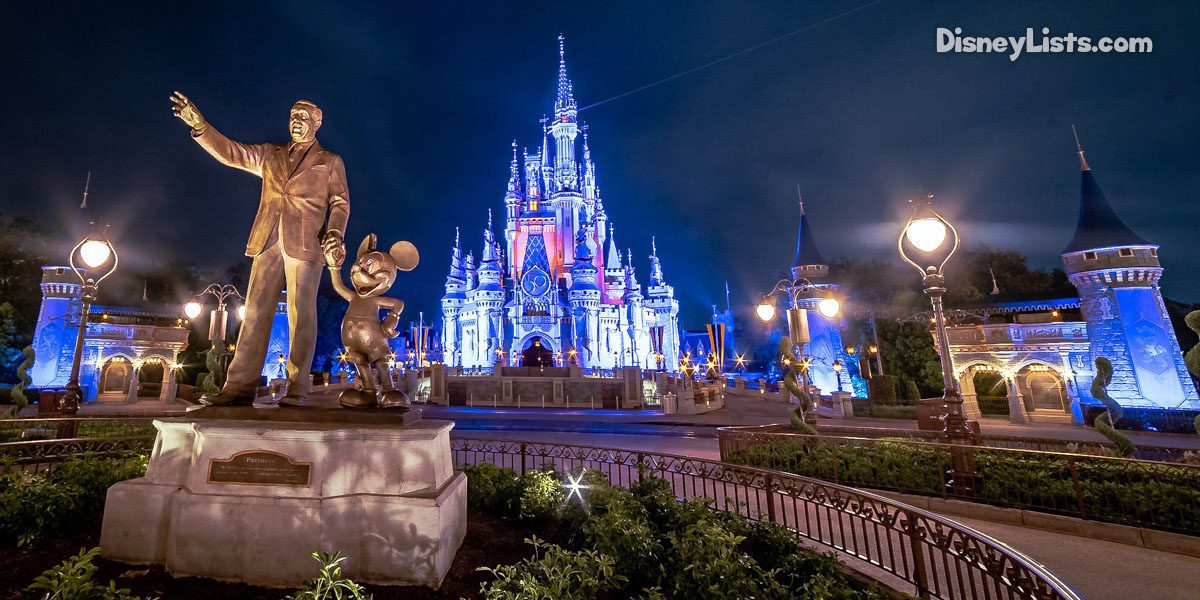 There was a lot of exciting news out of the Destination D23 2023 event at Walt Disney World this past weekend. At the "A Celebration of Disney Parks, Experiences and Products: Yesterday, Today and Tomorrow" presentation, Disney Parks, Experiences and Products Chairman Josh D'Amaro, announced the exciting updates that are coming to Magic Kingdom. Learn more below.
1 – Country Bear Jamboree to Receive Update
Country Bear Jamboree will be getting new songs, and the Bears will perform a new act! Disney Imagineer Chris Beatty told the Destination D23 audience that when the show debuts, the bears will be reinterpreting favorite Disney songs in different country music genres – like rockabilly, bluegrass, pop-country, and other styles. Imagineers are envisioning the new take as a homage to the Grand Ole Opry in Nashville, and they're working with Nashville musicians to get the authentic country sound.  The popular attraction will continue to have a fun and friendly tone and same characters.
2 – New Pirate-themed Lounge Coming to Adventureland
A new Pirates of the Caribbean-themed lounge is coming to Adventureland at Magic Kingdom. This first-of-its-kind experience will extend the story of Pirates of the Caribbean. Imagineers are in the design process now, and more details are coming in the future.
3 – Hatbox Ghost to Materialize in the Haunted Mansion in November
Disney announced in 2022 that the famous Hatbox Ghost would be coming to Magic Kingdom. A few updates later, we've received news that the Hatbox Ghost is coming to the Haunted Mansion attraction in Magic Kingdom Park in late November 2023. The Hatbox Ghost will be materializing in the Haunted Mansion as you pass the attraction's Endless Hallway. Take a look at the new concept art below.
RELATED ARTICLE: 19 Things You Might Have Missed at Magic Kingdom at Disney World
by Lori
Magic Kingdom is just that, a kingdom full of magical things to do and see, and chances are you probably missed a few of them during your last visit. Here is our list of nineteen things you might have missed at Magic Kingdom.
19 – Tortuga Tavern
Tortuga Tavern is a quick-service restaurant that opens seasonally. Walking right by this hidden gem is easy as you head towards Frontierland from Adventureland or vice versa. The menu rotates and features barbecue, Mexican, and more. Because of its seasonality, eating here can be a rare treat. If you're a fan of Pirates, this is a great place to stop for a bite on your next visit.
18 – The Mosaics at Cinderella Castle
Five beautiful mosaics line the walls of the walkway through the castle. The mosaics tell the story of Cinderella and are made of more than one million pieces of Italian glass, including real silver and gold pieces.
17 – Cinderella's Wishing Well
Another detail you may have missed near the castle is Cinderella's Wishing Well. It's located on the path between the castle and Tomorrowland. It's the perfect spot for a photo, and is also a popular proposal spot! Any coins tossed in the wishing well are donated to charity.
16 – Frontierland Hoedown
A few times a day, cast members and some characters gather in front of the Country Bear Jamboree for a hoedown. Guests will be invited to dance with cast members, some of the Country Bears, Brer Bear, and Brer Rabbit. It's a fun show to catch if you're in the right place at the right time.
15 – Buzz Lightyear's Space Ranger Spin Targets
This attraction is not hard to miss in Tomorrowland, but it can be tricky to rack up the points. One target you may have missed is worth 100,000 points. Look for the orange robot and aim for the mark on the inside of his left hand. Hit this particular target enough, and you'll max out your points at 999,999 in no time!
14 – Festival of Fantasy
You might wonder how someone could miss the parade with a fire-breathing dragon in it. Often, the parade is offered twice a day. Guests can miss this spectacular parade if they're stuck in line for a ride or over in Tomorrowland, so be sure to check your My Disney Experience app for showtimes.
13 – The Flag Retreat
Every day at 5 pm, the American flag on Main Street USA is lowered and folded in a patriotic demonstration. It's a beautiful ceremony to witness at the Magic Kingdom.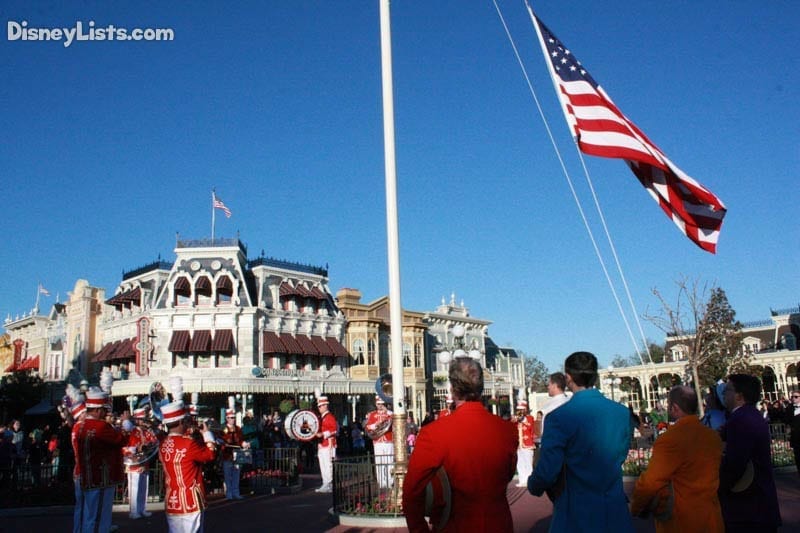 12 – Main Street Vehicles
For a short period in the morning, guests can cruise down Main Street USA in 1900's style. Guests can ride in a horse-drawn streetcar, a jitney, an omnibus, or a fire engine.
11 – Mickey Mouse!
No visit to Disney World is complete without stopping for a hug and photo with the mouse that started it all, Mickey! However, many guests miss out on meeting the Big Cheese because they expect to spot him walking around the park. Nope. Can you imagine the complete chaos if Mickey strolled down Main Street USA? Fortunately for guests (and Mickey), Disney World has provided a place to meet Mickey in a calm, orderly, and air-conditioned experience. If you're looking for Mickey, head over to Town Square Theater near the train station. Be sure to bring your autograph book!
10 – Electrical Water Pageant
The Electrical Water Pageant takes place on the Seven Seas Lagoon and floats past Magic Kingdom and the surrounding resorts. It features King Triton and sea animals depicted in lights that look like dancing on the water.
9 – Mr. Toad
There is a tribute to the now-closed attraction Mr. Toad's Wild Ride at the Haunted Mansion. As you exit the Haunted Mansion, look for the pet cemetery. There, you will find a statue/gravestone in the shape of Mr. Toad.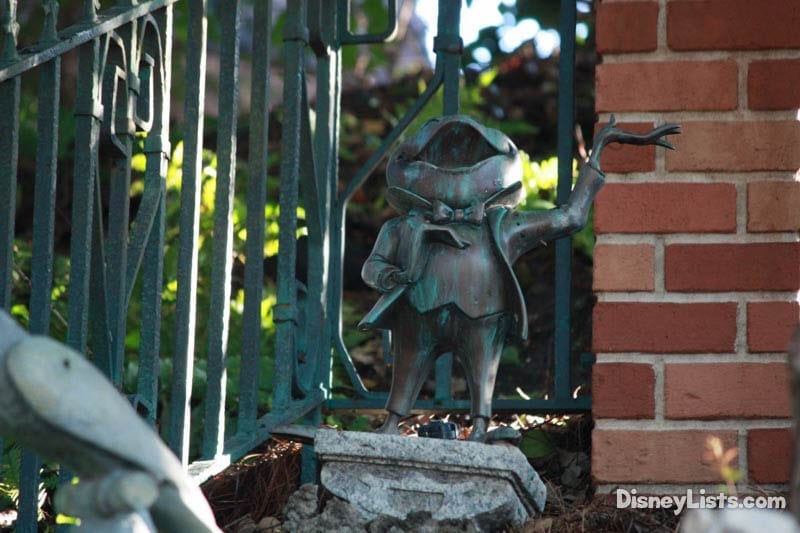 8 – Main Street USA Windows
As you stroll along Main Street, look up at the windows. Find the windows advertising piano and singing lessons, listen carefully, and you may hear the music lessons in progress.
7 – Harmony Barber Shop
On Main Street, there is a fully functioning barbershop. The Harmony Barber Shop is open daily, and kids and adults are welcome. It is a popular spot for parents to take their children for their first haircut, and they're presented with Mickey ears with the words "First Haircut" embroidered on them.
6 – Sonny Eclipse
At the quick-service restaurant Cosmic Ray's Starlight Cafe, a lounge singer is out of this world, quite literally. Sonny Eclipse is an Audio-animatronic alien who entertains guests on his Astro-organ while they dine on burgers and BBQ pork sandwiches.
5 – The Sword in the Stone
Just in front of the carousel is The Sword in the Stone. While it looks purely ornamental, a guest comes along who is worthy every once in a while.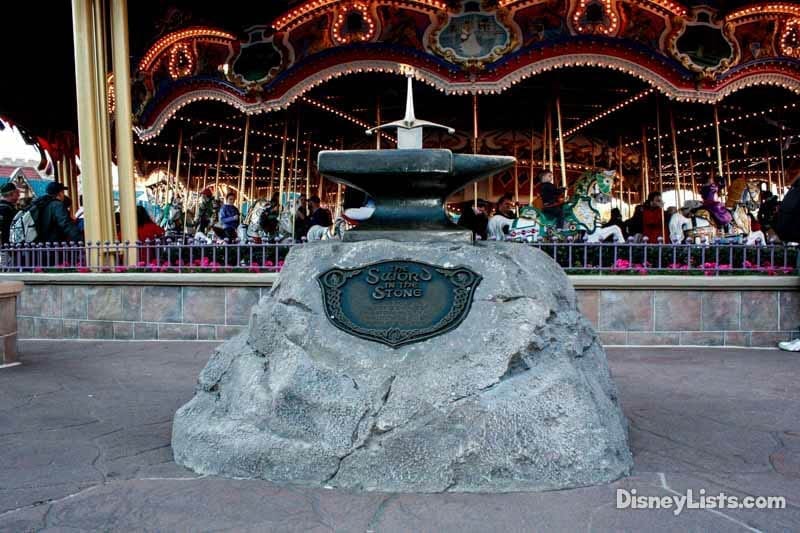 4 – 13 Minutes
If you notice the standby wait time for The Haunted Mansion is 13 minutes, get in line! Thirteen actually codes for 'there is no wait at all.'
3 – A Golden Ribbon
The horses in Prince Charming's Regal Carousel pretty much all look the same, but there is one horse with a golden ribbon tied around its tail. This is said to be Cinderella's favorite horse.
2 – Opening Ceremonies – "Let the Magic Begin"
"Let the Magic Begin" opens the park five minutes before the posted opening time. Mickey and friends magically open the park! This stage show takes place at the Castle Forecourt Stage. The Welcome Show sets the tone for a special day at Magic Kingdom.
1 – The Goodnight Kiss
You'll miss the Goodnight Kiss if you leave the park before closing. When the park closes, the song "When You Wish Upon a Star" plays throughout the park, the castle sparkles with lights, and Roy O. Disney thanks guests for visiting Magic Kingdom. It's a very touching and magical way to finish your day at the happiest place on earth.
For a no obligation, FREE Quote on a Disney vacation package, please contact our travel partner Magical Vacation Planner at 407-442-0227 (407-442-0215 for Spanish). You can also request a FREE quote online by Clicking HERE.