There's a restaurant at EPCOT that is out of this world! Space 220 Restaurant opened in 2021 and quickly skyrocketed to be one of the most popular restaurants on property. Space 220 serves guests delicious food and beverages from a lunch and dinner prix fixe menu. We've enjoyed dining at Space 220 several times and recently enjoyed a fantastic lunch where we were invited to check out a new drink menu to celebrate the restaurant's second anniversary. Learn what you need to know below.
Click here to view our Instagram Story of our most recent visit to Space 220.
1 – 220 Miles Above Earth
Space 220 is next to Mission Space, which perfectly carries the space theme. You check in with the hostess when you enter, and you'll be given a space elevator boarding pass. The boarding pass is needed because the restaurant is actually 220 miles above Earth in the Centauri Space Station!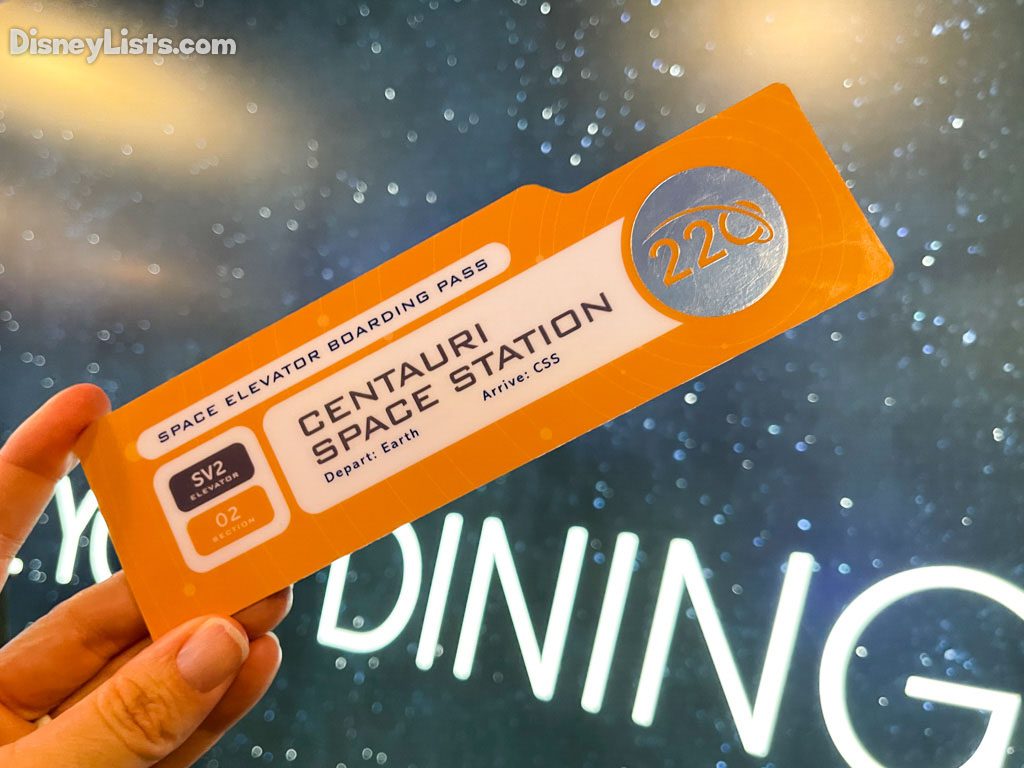 Once in the elevator, you'll see EPCOT drop away under your feet and look up to see the rapidly approaching station. The scenic journey is fun for the whole family and phase one of Space 220's immersive dining experience, providing guests with stellar views of Earth by day and night.
2 – Space Station Dining
Phase two begins once you step off the space elevator. You'll walk past a Grow Zone of spinning produce representing the fresh ingredients on the menu.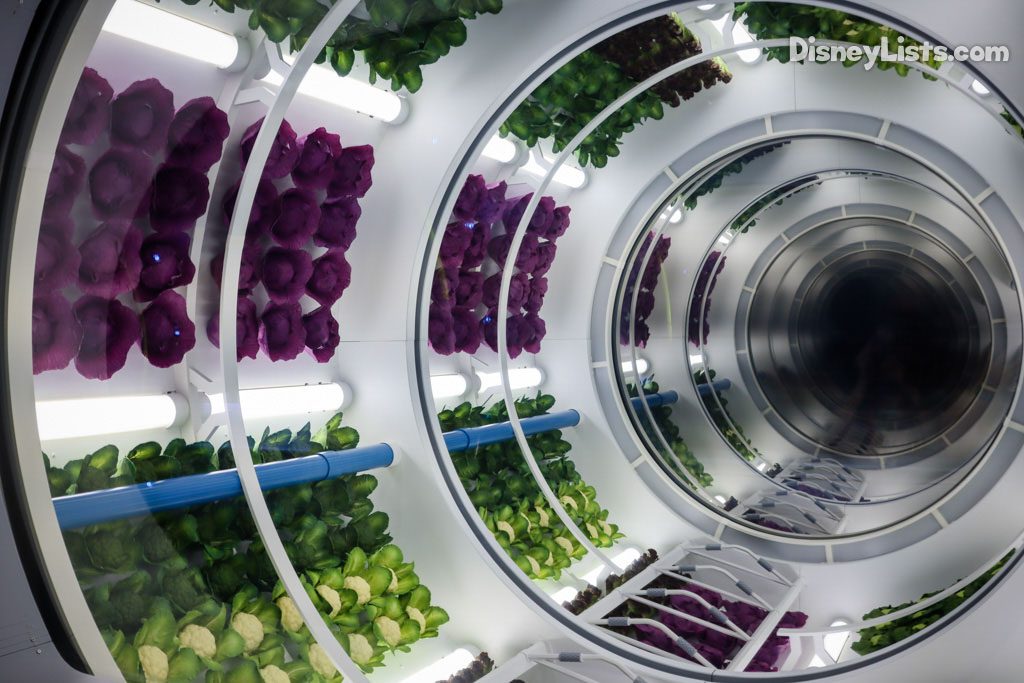 Next, a Space 220 crew member will guide you to your table. Once seated, all guests will have panoramic views of Earth as the backdrop to an out-of-this-world dining experience.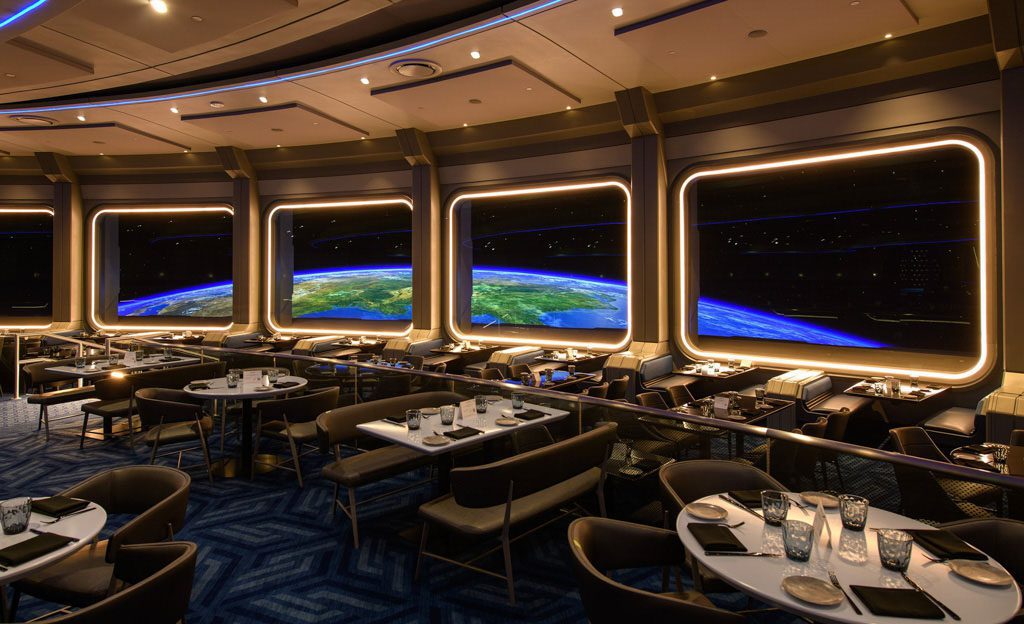 3 – Lunch and Dinner Prix Fixe Menu
The restaurant is open daily for lunch and dinner at Space 220, beginning at 11:30 am. With Executive Chef Marc Kusche at the helm, the restaurant serves upscale, contemporary fare, featuring a two-course prix fixe menu for lunch and a three-course prix fixe menu for dinner. Guests can enjoy a selection of lift-off appetizers, star-course main entrees, and a choice of supernova sweets for dessert. Satellite sides will also be available a la carte. In addition, visitors can expect unique beverages with a colorful lineup of atmospheric spirits, zero-proof (non-alcoholic) cocktails, big dipper brews, and worldly wines.
4 – New Extensive Drink Menu
EPCOT's out-of-this-world dining experience, is celebrating its 2nd Anniversary of galactic excellence with a new menu of signature cocktails and zero-proof mocktails, available now. We had a chance to taste all of the new drinks and were really impressed with the offerings. There is a wide variety of flavor and liquor options that will appeal to many guests. The mocktails were also delicious and young and old will enjoy them.
New Cocktails:
Galaxy Spritz – Lagoon Bay aperitif, lychee liqueur, fresh lemon juice, prosecco
M4RG4R1TA – Espolon Blanco tequila, watermelon lime sour, salted lime foam
Illumination – bacardi, malibu, passion fruit, blood orange, pineapple, lime sour, passion fruit boba
Saturn 2.0 – Bacardi 8, velvet falernum, orgeat, passion fruit, lemon juice
Black Hole Fashioned – Knob Creek, demerara, whiskey barrel aged bitters
Space Age Mule – Tito's vodka, fresh carrot juice, mango, lime juice, ginger beer, tajin rim
Command Center – Hendricks gin, st germain elderflower liqueur, lemon juice, citrus elderflower foam
Shuttle Crew – Ketel One peach and orange blossom vodka, vanilla, tangerine, red bull and tang foam
Gamma Burst – Grey Goose strawberry lemongrass, midori melon liqueur, strawberry popping pearls
New Zero-Proof Mocktails:
Starship Lemonade – butterfly pea flower, lemonade, sprite, glow cube
Moon Rocks – lemon juice, blue cotton candy syrup, sprite, pineapple juice, pop rocks
Solar Flare Sour – Lyre's Agave Blanco non-alcoholic tequila, mango, lime juice, grapefruit bitters, fever tree tonic water *must be 21 to enjoy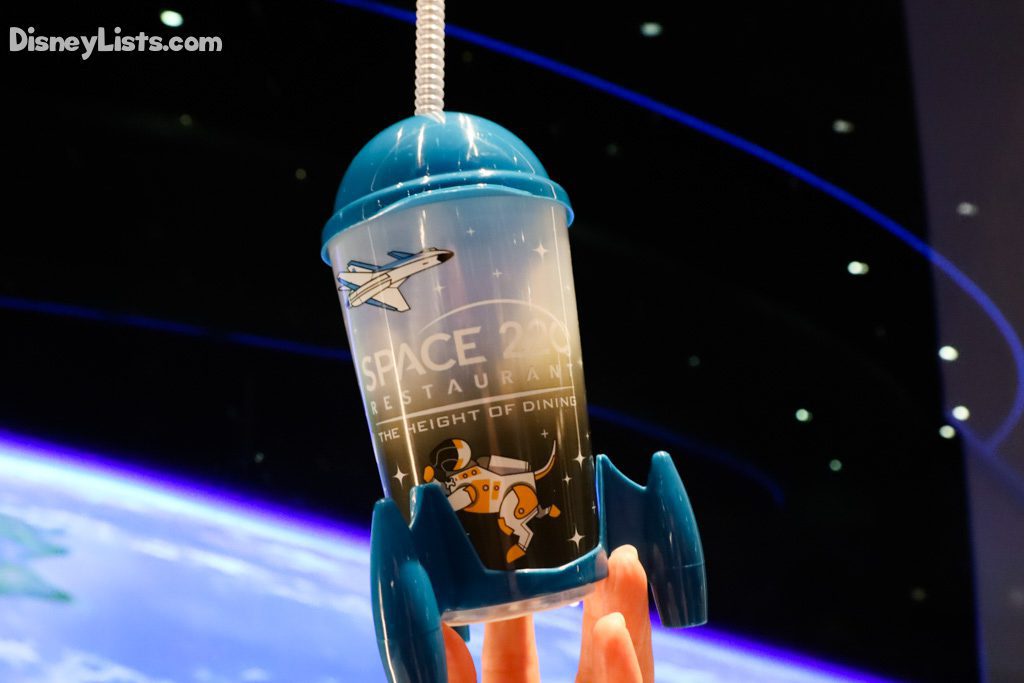 5 – Our Lunch Review
I thoroughly enjoyed my lunch at Space 220. The drinks were unique and tasty, and the appetizer and entrée were filling. The Gemini Burger was cooked perfectly, and the potatoes were absolutely amazing. I spoke with others about their meals, and no one had any complaints. The food is fantastic.
The space atmosphere adds to a terrific dining experience. The elevator ride up (and down) sets the stage perfectly for the story and are a great touch. Views of space are also interesting and entertaining. Be sure to look for spaceships, dancing astronauts, and more. It's a lot of fun.
6 – Reservations Needed!
As we mentioned above, Space 220 is a very popular restaurant and reservations are hard to come by. You'll want to make your reservations as soon as possible. If you want to dine at this restaurant, be sure to set an alarm for 6:00 am, 60 days before your visit. Reservations are also required for the lounge as well — click here to book.
Space 220 is a fantastic addition to EPCOT. We've only heard good reviews and know why. The food and drinks are fantastic, and the dining experience and theming are terrifically done. We expect Space 220 to be very popular and be the place to dine for some time!
Editor's Note: The Patina Restaurant Group provided us a complimentary lunch and restaurant tour that included media-specific events. However, as always, the thoughts and opinions contained in this article are entirely our own.
For a no obligation, FREE Quote on a Disney vacation package, please contact our travel partner Magical Vacation Planner at 407-442-0227 (407-442-0215 for Spanish). You can also request a FREE quote online by Clicking HERE.