Disney has confirmed the opening date of the much anticipated Jock Lindsey's Hangar Bar at Disney Springs. We've been standing on benches to get a peek over the construction walls for months, but that is about to come to an end. The 150-seat lounge will open September 22.
Located next to The Boathouse, the Hangar shares a prime waterfront location and (as usual) spectacular theming. Featuring food and drinks inspired by Jock's (Indian Jones's pilot) globe-trotting to all continents – everything from a Hovito Mojito to Dr. Elsa's She-Deviled Eggs. The Hangar is stocked full of airplane parts and mementos from Jock's travels around the world.
The story goes like this. Jock made a home at this waterfront property in the 1940s after discovering this charming little town while flying Indiana Jones over the Sunshine State in search of the elusive Fountain of Youth in 1938. As a member of the Society of Explorers and Adventurers, Jock often welcomed his globetrotting friends to his hangar for a drink and fun times.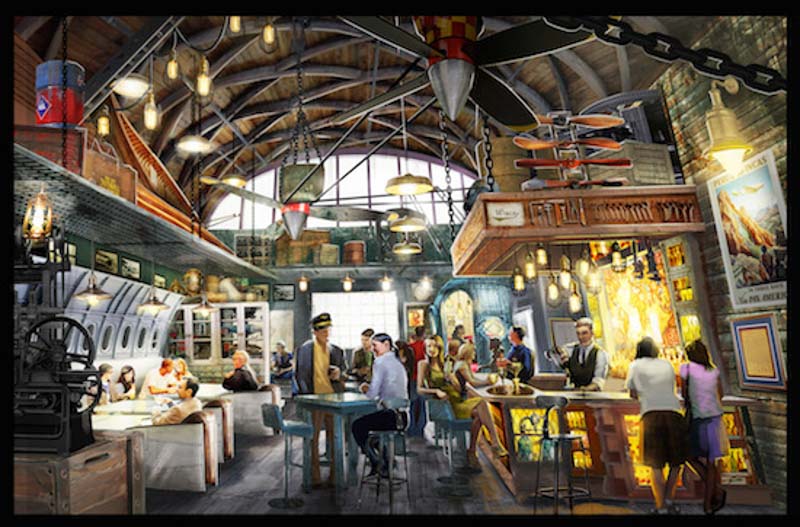 Now Jock and Indy may be gone, but his legendary adventures live on at this exotic watering hole. And that's what gives the place its charm – and a creative menu of adventurous tastes.
Along with beer and wine, start with clever cocktails such as Reggie's Revenge and The Fountain of Youth featuring Florida vodkas; Hovito Mojito and The Bitter Barkeep with Peruvian Pisco; Anything Goes with an Asian spirit that packs a little heat; The Aviator's Flight and The Scottish Professor, and that Cool-headed Monkey with African spirits.
Each of the small plates has a delicious twist, and they're great for sharing. Dr. Elsa's She-Deviled Eggs are brined in beet juice with lump crab filling. "Good" Dates feature goat cheese-stuffed dates with Marcona almonds and pickled veggies. Snack of Ra gives a taste of Africa with salads and dips served with injera (bread) and naan crisps. Tanis Tacos are filled with falafel, shredded lettuce and cucumber-tomato salad. The pretzels come with house-made mustard and beer-cheese fondue.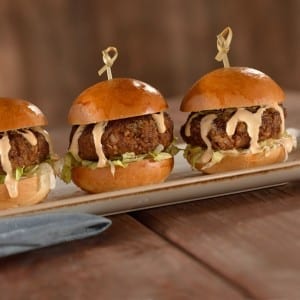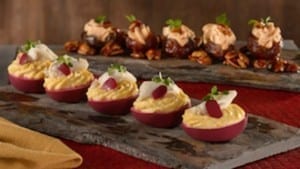 A little more substantial are the Rolling Boulder Sliders with three spice meatballs on mini-buns with yogurt sauce. Or Brody Brats, grilled bratwurst with mustard and pickled cabbage. Jock Lindsey's Hangar Bar's take on chicken wings features spicy Asian wings (called "Lao Che's Revenge"). And "Squid! Why'd It Have to Be Squid" is fried calamari flatbread with spicy harissa.
See you there on September 22!