Trader Sam's Grog Grotto, hidden away in the Polynesian Resort, is one of Disney World's popular lounges. We love this watering hole because it's so much fun! Inspired by the classic Disney attraction, The Jungle Cruise, this isn't your average bar. Even finding it is an adventure. Tucked in the very back corner of the resort, the entrance is almost hidden. The sign is smaller than those on the restrooms, and if you weren't looking for it, you might mistake it for a janitor's closet and walk right by. It's almost as if Trader Sam himself wants to make sure only true adventurers are admitted into this intimate experience. With some looking, we managed to find it. From there the fun began.

Intimate is definitely the word to describe the establishment. With a capacity of only 50, there is no danger of being overwhelmed or lost in the crowd. While this creates some significant wait times for seating (no reservations here), we found it to be a critical element in the experience. From the moment you enter, you know this isn't a normal bar. The view from the "windows" shows a great view of the local volcano. Try not to anger the island goddess, or bad things could happen! Among all the other decorations, it's hard to miss the bunch of Trader Sam's shrunken heads or the octopus at the ready with a bottle of rum.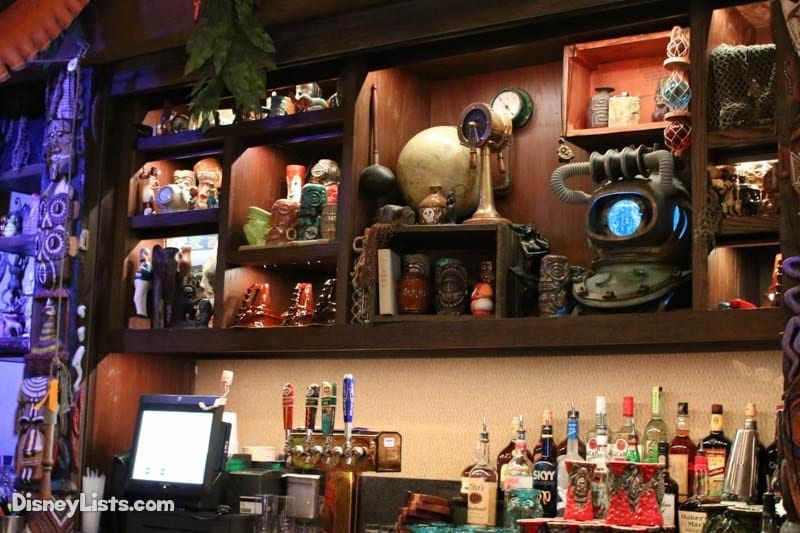 The décor isn't just about ambiance. It's part of the show. And that's what makes this place unique. Are the food and drinks good? Yes. But what sets Trader Sam's apart from other lounges is the element of entertainment in the service and location. Having a drink at Trader Sam's is interactive. Without giving too much away, don't be surprised when the room comes alive. You should also be ready to be pulled into the fun.
As cool as the room is, the cast members are the true magic here. With excellent service and even better humor, I got the sense that it was as much play for them as it was a job. The inspiration of the Jungle Cruise is even more evident here than in the design of the lounge. Cast members had fun with each other and guests as they played up the routine and treated guests to a non-ending stream of jokes so bad you couldn't help but laugh. Jungle Cruise fans will recognize much of the humor. There's a script that plays out through the night that largely corresponds to drink orders, and as east coasters become more familiar with the shtick, they will learn to play along more and more.
So, the atmosphere, cast members, and entertainment are all top-notch. But how about food and drink? There is a full selection of wines, beers, and spirits. However, the specialty mixed drinks, mostly tropical inspired, are undoubtedly the stars of the show. They also trigger "the show" as each drink will bring different elements of the room alive and come with specific jokes. Even the delivery of the drinks to your table is well scripted and out of the ordinary.
We ordered the Castaway Crush and Tiki Tiki Tiki Tiki Tiki Rum (think about it for a bit). Both were good, but the Tiki Tiki Tiki Tiki Tiki Rum was delicious. For extra fun, you may want to sing the order of this drink. In fact, bartender Kat "didn't catch" my order at first as I missed a "Tiki." Singing it solved the problem. The Castaway Crush had a very unique flavor profile and was more bitter than sweet.
Overall, Trader Sam's reminds me of 50's Prime Time Diner. There is heavy theming throughout the experience, and the servers play a huge part in the story. The experience is heavy on "shtick," and you'll find yourself loving the place in a way that has very little to do with what is being consumed. We really enjoyed our visit and are looking forward to getting back there as soon as possible.
I highly recommend carving out time for Trader Sam's. That being said, here are 8 things you need to know before you go.
8 – The Outdoor Trader Sam's Tiki Terrace is Not the Same
Polynesian resort also has an outdoor bar just off the indoor lounge called Trader Sam's Tiki Terrace. Please note that while the drink and food choices are the same as the indoor grotto, you will not get the same experience. For full effect, the indoor location is a must.
7 – Be Ready to be Part of the Show
If you're looking for a quiet, subdued experience, this isn't the place. The first 10 minutes you'll be wondering what the heck you walked into, but you'll quickly get into the groove. Your server will go way beyond simply taking your order and may join you if there's an empty seat at the table. If you're not an on-stage type person, don't worry. We didn't see anyone put in an embarrassing situation. It's a group effort, and you are free to participate as much or as little as possible.
6 – Be Prepared to Sit with People You Don't Know
There are three distinct seating options in the lounge. First, the bar offers a limited number of stools (fixed too far away from the bar, hard to get comfortable). There is also one long community table in the center of the room. Finally, there are small 4-person tables along the outside edge of the room. Obviously, if you are seated at the community table you will be sitting with people you don't know. However, if you are a party of two sitting at a table don't be surprised if another couple is seated with you. With such limited capacity, they will fill every possible seat.
5 – This is Not a Restaurant
While there is a pretty good selection of appetizers and the food was certainly good, keep in mind that this is not a restaurant. If you enjoy sampling several small plates or tapas, you'll be fine. However, if you require a more substantial meal, you'll want to plan this around a dinner reservation somewhere else. For ease and best use of time, make a reservation somewhere at a monorail resort and then start or end the night here.
4 – No Children Allowed After 8 pm
Underage guests are allowed until 8 pm, and there wasn't anything about the experience that would make me uncomfortable about bringing my kids to Trader Sam's early in the day. There was some very mild innuendo in some of the humor, but it would most certainly go over the head of children (and probably many adults). However, remember that this is not a restaurant. This is very much a lounge where drinks are the main event, and the limited food options play supporting roles. Kids are unlikely to appreciate the experience thoroughly. After 8 pm children will not be allowed no matter how nicely you ask.
3 – You Don't Need to be a Drinker to Enjoy the Visit
If you choose not to drink alcoholic beverages, there are still options available to you. Trader Sam's offers a respectable line up of non-alcoholic mixed drinks.
2 – Ask Your Server About Drink Flavors Before Ordering
Like everything else at Trader Sam's, the drinks are unique, and guests may be surprised to find that something that sounds familiar will taste very different. For example, the Castaway Crush could only be described as strange. Not bad, but strange. I was glad the bartender took the time to talk to us about it before we committed. I highly recommend asking what a drink taste like before ordering.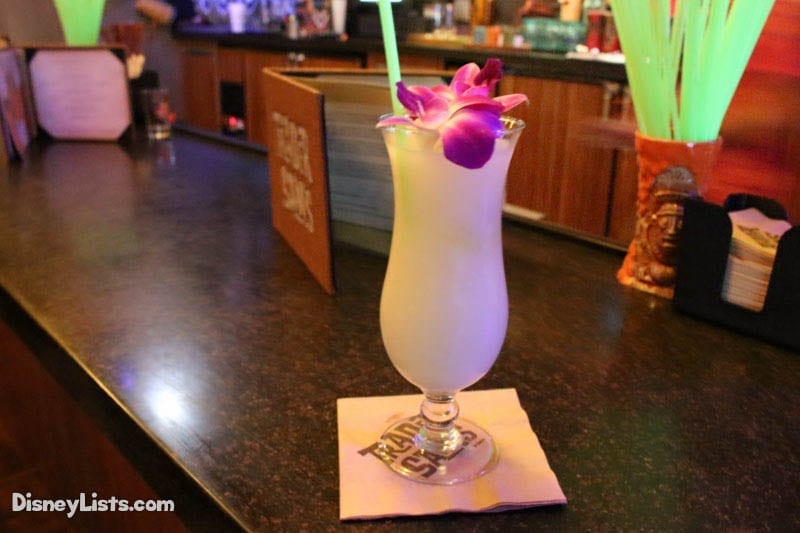 1 – Get There Early or be Prepared to Wait
As mentioned earlier, Trader Sam's is not only very popular; it's also very small. This adds up to long waits for a seat. One strategy for dealing with this is to get there early and beat the crowds. Trader Sam's opens at 4 pm, but folks start lining up earlier. Make sure your phone is fully charged, grab a bottle of water and get in line by 3:30 pm or so. You'll still need to wait a bit, but the wait will probably be shorter, and you'll know that when the doors open your wait will be over.
Overall Ratings
Service = A+
Atmosphere = A+
Drinks = A-
Food = B-
For a no obligation, FREE Quote on a Disney vacation package, please contact our travel partner Magical Vacation Planner at 407-442-0227 (407-442-0215 for Spanish). You can also request a FREE quote online by Clicking HERE.