It has been confirmed that Disney World will close long time EPCOT attraction, Captain EO for good on December 6, 2015. Captain EO, starring Michael Jackson, is a multi-sensory 3D movie attraction located in the Imagination pavilion. For fans of a simpler day when Figment and Dream Finder were the highlight of the EPCOT experience, this will likely come as a disappointment as one last tie to a time when Journey Into Imagination didn't totally suck is severed. For others (probably the majority of guests), the reaction will likely be, "What the heck took so long?"
Captain EO was originally introduced to EPCOT in 1986 and ran for ten years before being replaced in 1996 by Honey I Shrunk the Audience. Captain EO made a comeback in 2010 after the death of Michael Jackson. Genuinely amazing 30 years ago, unfortunately the film and the technology don't hold up well for today's audience. However, there is certainly a nostalgia factor that has continued to draw people to the theater.
At this point there is no information on what may replace the attraction if anything. Considering what a cesspool of a ride Disney has created with the current iteration of Journey Into Imagination, rumors have begun to circulate that the entire pavilion may be headed toward extinction. As we learn more we will provide updates.
To make sure you hear all the Disney World news first, sign up for our free email newsletter.
UPDATE: Disney World Resort has now unveiled future plans for the Magic Eye Theater following the closing of Captain EO. In early December Disney will debut "Disney & Pixar Short Film Festival" featuring among other things many of the wildly popular animated shorts produced by both companies. Read the Details Here
Check out our article below on 5 Things You'll love about World Showcase in Epcot
We love Epcot! It is one of our favorite parks to visit. Plus, a visit to Epcot is such a great value because it is really two parks in one. In the front of the park, Future World highlights technological innovations and progress. In the back, World Showcase highlights 11 countries: Mexico, Norway, China, Germany, Italy, The United States, Japan, Morocco, France, United Kingdom, and Canada. We love Future World, but there is so much to do, see and taste in World Showcase. Here are 5 things we love about World Showcase and you will too.
5 – It's Totally Different
Culture and cuisine are the stars at World Showcase. It's decidedly not your normal theme park. And while there is plenty to see and do and even a "water ride" it's not what you think a theme park will be. World Showcase Lagoon is at the center and the 11 countries ring the lagoon making it a full circle round trip. Don't worry-this is no boring field trip. Each country pavilion has lots to see and do. Kids can visit each country's Kid Cot center where they can meet a cast member from that country, get a country stamp and a Duffy Bear to color. You can spend an entire afternoon here and not get to everything!
4 – Around the World in 1.3 miles
Each country pavilion offers a glimpse of their country's culture through various means. China, France and Canada all have movies that showcase their countries. O! Canada was recently updated in 2007 and is narrated by Martin Short. The 18-minute Circle-Vision 360-degree film is our family's favorite film in World Showcase. Other countries have small museum type displays where guests can learn of cultures where they may never travel in life. Again, don't think stuffy and boring. Exhibits are interesting and interactive. Even Jules Verne never would have guessed that you could travel around the world in only 1.3 miles!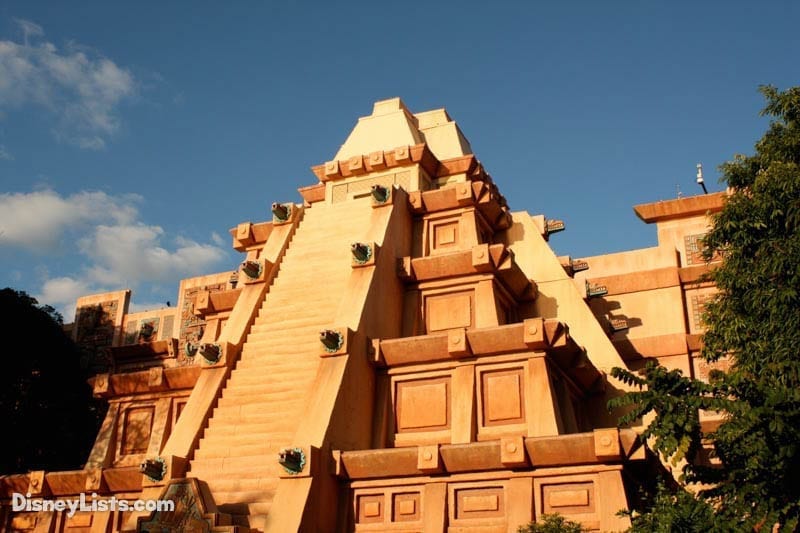 3 – Unique Character Meetings
Because of the many countries, Epcot is a character lover's dream come true. Characters such as Aladdin and Jasmine, Mary Poppins, Winnie the Pooh, Alice and Wonderland, Snow White, Aurora, Duffy the Bear, Belle, Mulan, and Donald Duck are all out and available to meet along World Showcase. Times and characters vary, so be sure to check your times guide for up to date information.
2 – Amazing Nighttime Fireworks Spectacular
Illuminations: Reflections of Earth is a nightly 9:00 p.m. fireworks show that takes place around World Showcase Lagoon. The show has three distinct parts: Part 1-The Earth is Born, Part 2-The Triumph of Life, and Part 3-Hope for the Future. You'll want to grab a spot early for this amazing award winning show. FastPass+ is available for special viewing areas. There is also an Illuminations Sparkling Dessert Party where guests can sample international desserts and wines as they watch the show. During the Holiday's Around the World at Epcot, the show incorporates the spirit of the season.
1 – Best Dining at Disney World
The dining at World Showcase is a destination all it's own. World Showcase features 17 table service restaurants, offers 23 different dining events throughout the year, and too many to count stands and other quick service food options. The hands down highlight of the year is the annual Food & Wine Festival which takes place from late September through the middle of November. You'll "taste your way around the world" at over 30 global marketplaces featuring foods and beverages from all over the world. This is all in addition to the regular abundance of food offerings World Showcase has. If you're a Foodie, then a day (or more) at World Showcase is a must!
Please note that World Showcase officially opens at 11:00 am, although the World Showcase does open at the normal park opening and you are free to walk between Future World and the United Kingdom pavilion.