News
BREAKING NEWS: New Entertainment Debuts in Epcot at Walt Disney World
On the heels of two entertainment closures at Epcot (Read about the first closure here and and the second here), a brand new addition to the live entertainment line up made its debut today. Quickstep is a four-member group whose authentic songs draw from Scottish, English and Irish traditions. They bring lively, acoustic performances, featuring fiddle, flute, highland bagpipes, a traditional Irish frame drum and more.
Quickstep will be performing Wednesday to Sunday, just off the High Street along Tudor Lane at the United Kingdom pavilion in World Show case. If you have two ears and a heart, you're going to love their blend of Irish and Scottish folk music. We've seen them in action and as you would expect from Disney World, their good. Add a pint of Guinness for good measure and this new addition is a total winner.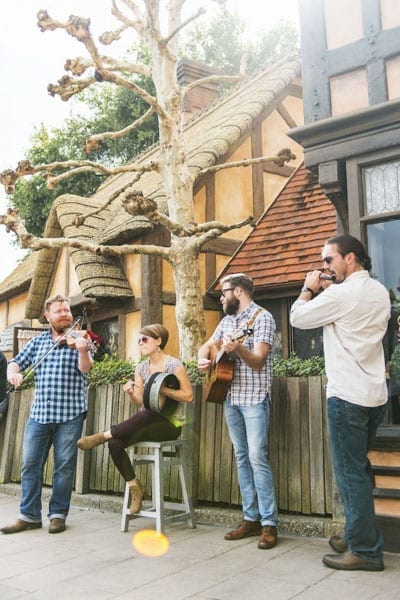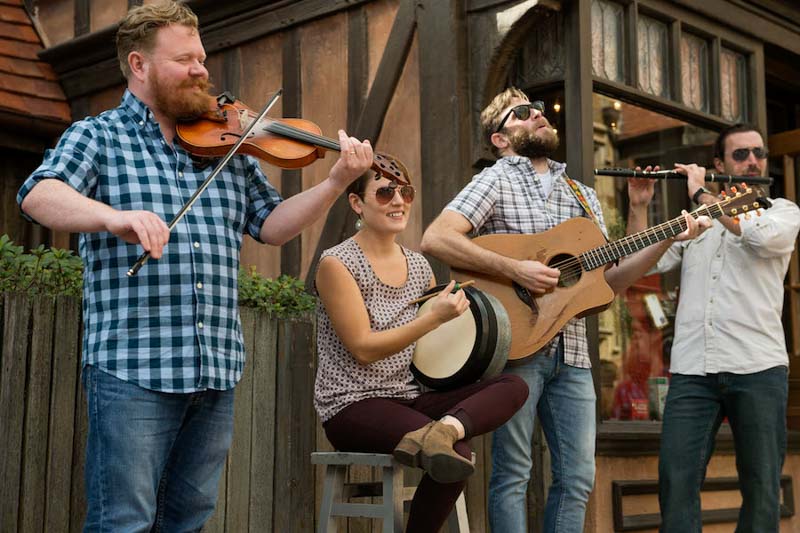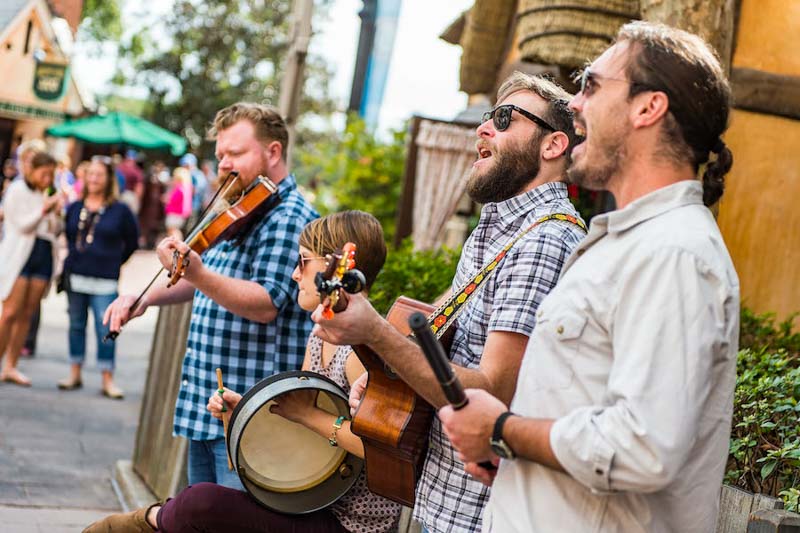 Top 5 Tips for Dealing with Rain at Disney World
By Cindy N
Rain, rain, go away, come again another day! Don't worry, it will. Florida may be known as the Sunshine State, but you may be surprised to learn that Central Florida has a lengthy rainy season. In fact, an afternoon thundershower is almost a daily occurrence. No, we aren't kidding. It rains nearly every single afternoon. The good news is it typically doesn't last more than an hour. An all day rainy day is truly rare.
This rainy period begins late May and lasts five months ending in October. If you are visiting Walt Disney World during this time, chances are you'll be dealing with rain so you might as well be ready for it. Here are the top tips for dealing with rain while visiting Walt Disney World.
5 – Plan for It
With all of the technology available to us today, keeping track of the weather forecast shouldn't be too challenging. Check the forecast at least 10 days before your trip. Keep checking it. When you arrive at Disney, check the forecast again. You get the idea. While not 100% accurate, you'll at least have some idea of when the storms might hit. Generally, the daily thunderstorms hit during the late afternoon. When planning for your Fast Passes, choose late afternoon slots for any of the indoor attractions that you want to see. That way, you'll skip the line when everyone else heads indoors. Which leads us to…
4 – Head Indoors
If you don't want to get wet during the rain, the obvious choice is to head indoors. Thankfully, there are plenty of indoor attractions. Here are a few of the indoor attractions at each park:
Magic Kingdom: Mickey's Philharmagic, The Laugh Floor, The Carousel of Progress, Buzz Lightyear Space Ranger, The Haunted Mansion, Pirates of the Caribbean
Animal Kingdom: It's Tough to Be a Bug, The Lion King Show, Nemo-The Musical, Dinosaur
Epcot: The Seas with Nemo and Friends, Living with the Land, Soarin, Test Track (the wait at least), Mexico Pavilion, O! Canada, The American Adventure, Ellen's Energy Adventure, Mission Space, Reflections of China, Spaceship Earth
Hollywood Studios: Rockin' Roller Coaster, Tower of Terror, The Great Movie Ride, Toy Story Mania, Muppet Vision 3D, Star Tours
3 – Get the Right Rain Protection
Even if you head indoors for an attraction, you may not be able to avoid being out in the rain. The difference between soaked and damp may be the difference between a happy family and a miserable one. The right rain protection can make all the difference.
If you already own rain gear, bring it with you. Always. Even if there is no rain in the forecast, bring the rain gear. Florida weather is famously finicky, and we've been known to have a monsoon when there was 10% chance of rain. Around here, 10% chance of rain means there's a 10% chance you'll need a small watercraft along with your umbrella.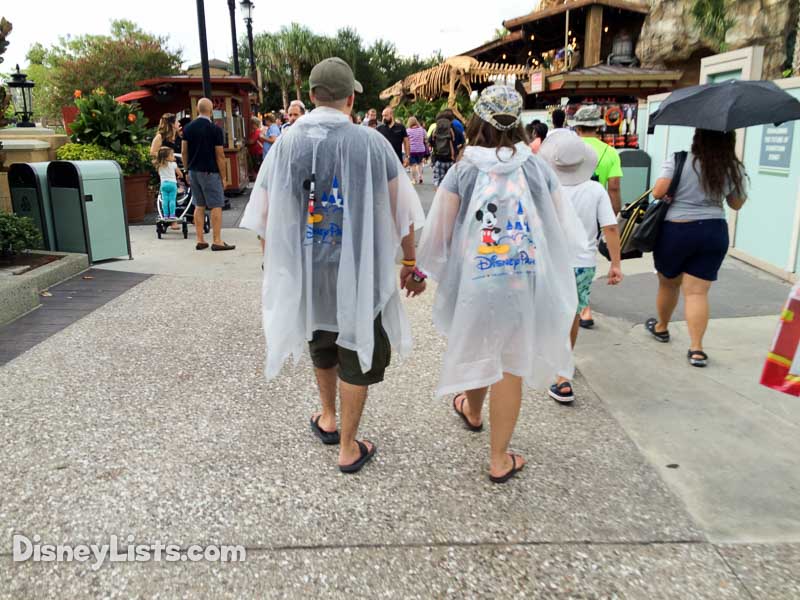 The simplest and cheapest rain gear option is the famous rain poncho. You can buy a poncho at Walmart before you come. Or if you want Mickey on your back, Disney will be happy to sell you a Disney Parks poncho. Ponchos are excellent choices because they take up very little space in your bag.
2 – Just Get Wet
Another option is to simply go play in the rain! For the serious park goer, a rainy day is a perfect time to visit the parks. The crowds are usually smaller and the lines will be significantly shorter. When everyone else is hiding in their hotel room, you could be getting extra spins in on Dumbo. I've seen plenty of families just enjoy the rain! It's a lot of fun to see people act like kids by splashing in puddles and having fun getting wet!
1 – Expect the Rain and Be Thankful
The best tip I can give you is to expect rain and decide ahead of time to not let it ruin your vacation. Rain happens. Wet things dry. Don't let the rain ruin your day. In fact, I think you can be thankful when it rains. I've lived in the Orlando area for five years now and have experienced the very hot and humid summers. I've come to love the daily rain and thunderstorms because they bring clouds! And what do clouds do? They block the intense heat of the sun! It is HOT in Orlando, but clouds and rain bring relief from the heat. With the right about of planning and proper expectations you might find yourself thankful for the rain as well!
How about you? What are your tips for dealing with rain at Disney World?