Few things spark the ire of Disney World fans more than price increases. From tickets, to room prices to food and souvenirs, guests know that prices go up, not down. However, in a surprising move Disney World announced price decreases on their popular PhotoPass Memory Maker packages.
The Memory Maker package gives guests unlimited downloads of the many photos taken on rides, with characters or at picture spots by Disney photographers. The Standard Memory Maker Package price has been reduced $30 from $199 to $169. The advanced purchase price of the package has been reduced $20 from $169 to $149. Guests who have purchased the package for an upcoming trip at the higher rate will be receiving refunds for the difference.
Additional changes have now been announced. Read more here.
Top 10 Repeat Photo Spots at Walt Disney World
by Cindy N
I admit it. I love taking pictures! Specifically, I love taking pictures at Walt Disney World.
Even with a bazillion great places for snapping a picture, I've found myself going back to a handful of favorite spots. It might be part of a vacation ritual, a magical moment, or a special location for a group photo where we could watch our family change over the years. Whatever the reason, there have been a handful of photo spots that have become a part of every vacation photo album. These are the top 10 places I find myself coming back to over and over and over.
10. Room # Plaque, Resort Hotel
This one may seem a bit odd. Whenever we go on a vacation, we take a picture of our room number. That way I always know what room we stayed in. Since Disney room number plaques are also themed, it serves as a visual reminder of what Disney Resort we stayed in. Can you guess what Disney Resort this is?
9. Mosaic Tile Fountain, Morocco Pavilion, Epcot
There are many hidden areas of Epcot just waiting to be explored. One of my favorites is way back in the Moroccan Pavilion at Epcot. There is a beautiful tiled fountain that I have my family stand in front of and snap a picture. You might even, for a moment, forget you are at Disney.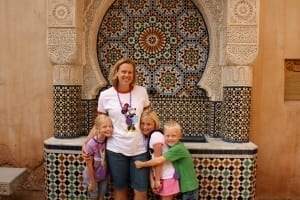 8. World Showcase Bridge with France in the Background, Epcot
One of the more popular spots to get a picture is on the bridge overlooking the France Pavilion in Epcot. We always stop to snap a picture and dream of going to Paris someday.
7. Canadian Totem Birds, Canada Pavilion, Epcot
What kid doesn't love sticking their head into a hole? Here's a chance for your kids to experience Canadian culture. Go crazy.
Tip: Dad might need to help boost up the younger kids.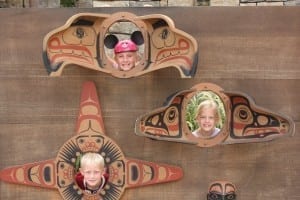 6. Inside Bruce the Shark, The Seas with Nemo & Friends, Epcot
It's fun looking back on years past and see just how much the kids have grown—inside of a shark. Look, Mom, I'm glad I'm a friend, not food!
Tip: Dad will definitely need to boost up younger, smaller children. It can be a challenge taking this picture due to the shoving and jostling children experience while trying not to slide down Bruce's mouth. Also, with low light conditions, have your flash ready.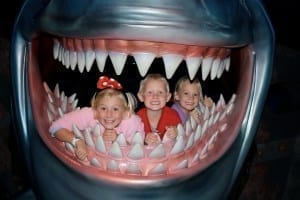 5. English Phone Booth, England Pavilion, Epcot
There is something about an old red English phone booth that just makes you want to stop and take a picture.
Tip: Conduct a human experiment. Ask as many random strangers to cram into the phone book with you. You might be surprised at how many are willing to join in on the fun.
4. Star Wars Speeders, Across for Tattooine Traders, Hollywood Studios
For the Jedi in every family. Fly off to a galaxy far, far away.
3. American Stocks, Liberty Square, Magic Kingdom
Looking to teach your children a lesson on punishment used in Colonial America? Look no further than the stocks in Liberty Square in Magic Kingdom. Just don't leave your kids there for too long.
Tip: Dad might need to give the younger kids a boost.
2. Horses on Cinderella's Carrousel, Fantasyland, Magic Kingdom
We always stop and ride Cinderella's Royal Carrousel during our visit to Magic Kingdom. I always take a picture of each child on their horse. This quickly became a favorite tradition.
1. A Special Goodbye to Mickey and Minne, All Parks
Meeting Mickey and Minne is usually a top priority for most families. One idea, that my husband thought of, was to say goodbye to Mickey and Minnie the last night of our vacation. This helped our kids (and parents) transition to leaving the wonderful world of Disney, although it often came with many tears. It also makes for a great family portrait. We've even used a few of ours for our Christmas cards. Even if you don't have kids, who doesn't love getting their picture taken with Mickey Mouse!
Tip: Even if you are using Disney's Photo Pass, feel free to ask the photographer to take a picture with your camera. Disney Photographers are always happy to take pictures using your camera.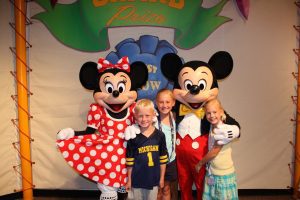 Is there a picture spot that you regularly stop at? Where is it? Share your favorite photo spots and tips below!