As the massive construction project continues at Disney Springs, guests were finally able to enjoy the latest addition to the food and dining line up with the opening of the Ganachery Chocolate shop. Don't be fooled into thinking this is just another candy shop. The Ganachery celebrates chocolate with an experience much like a wine tasting. A variety of custom ganache, a mixture of melted chocolate and cream, are painstaking hand crafted in the shop. Crispy Chocolate Pearls where another delightful surprise. Naturally, Disney puts their own unique spin on it by fashioning it after and old-fashioned apothecary and weaving in a story.
From Disney:
Thanks to Walt Disney Imagineering, the little shop expands the story of chocolate through the design, costumes, graphics, props and packaging, says Imagineer Theron Skees.
"We like to tell a story, because when guests arrive they want to feel like it's a real place," says Skees. Like all the buildings at Disney Springs, there is a history – the shop used to be an apothecary where residents of the springs came for medicinal needs. Then, as the story goes, the space was taken over by a South American couple who turned their love for the cocoa bean into a fantastic chocolate shop. (Most of the cocoa beans are sourced from South America, so the Imagineers wanted to layer in a Latin American flair, from the ceramic drawer pulls to music seasoned with South American sounds.)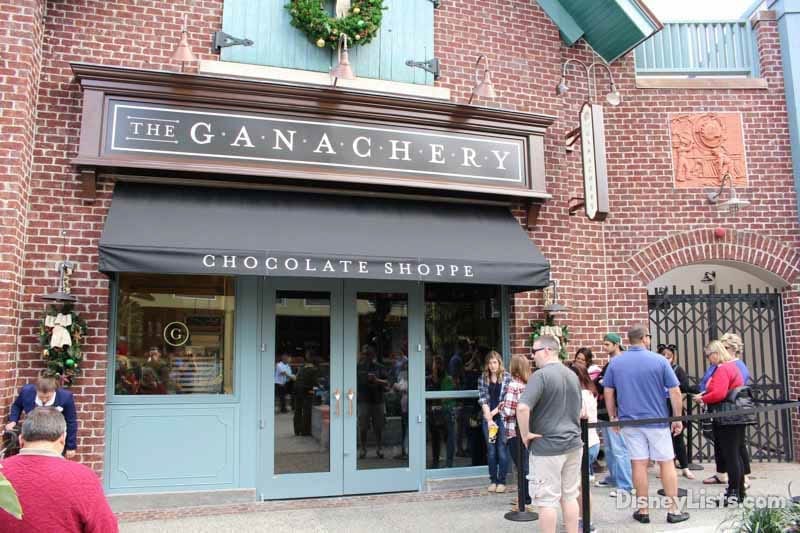 "It's a fresh take on an old apothecary," says Skees. Bottles, scales and other props are inspired by drugstores of another era, and well-used copper pots add a layer of history. Be sure to check out the chandelier made from authentic copper pots and kettles used to make chocolate.
Walls are painted the color of dark chocolate, another the color of caramel. Photos on the wall are the couple that opened the shop, making a fictitious history seem more real. "Our cast members will bring our story to life and make our guests feel part of it," says Skees.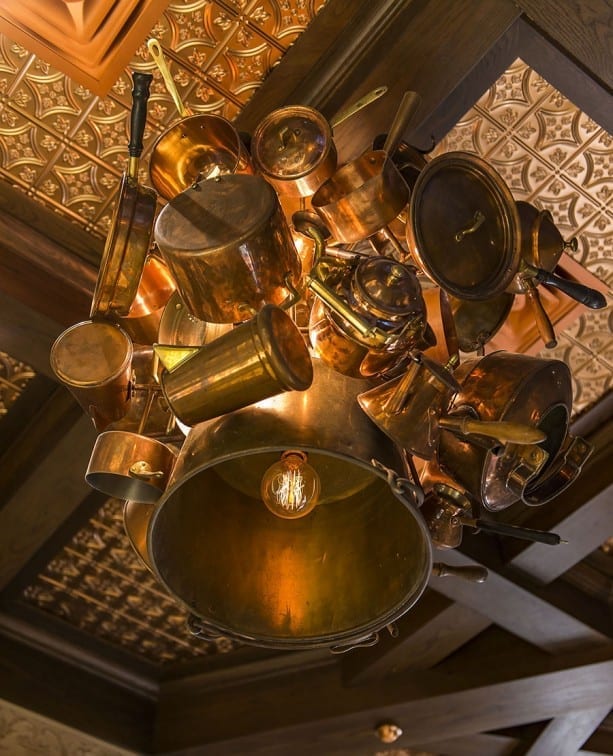 The theming carries through right down to the packaging, says Skees. "Traditional Apothecary labels are 'blocked' with spaces for weights, measurements and descriptions, so we were inspired by that idea and made it more modern for the elegant chocolate bars and chocolate boxes." Thus the clever tagline, "the cure for common chocolate." The packaging design and all of the shop's coloration are browns, caramel, cream and ivory, inspired by all the colors of chocolate.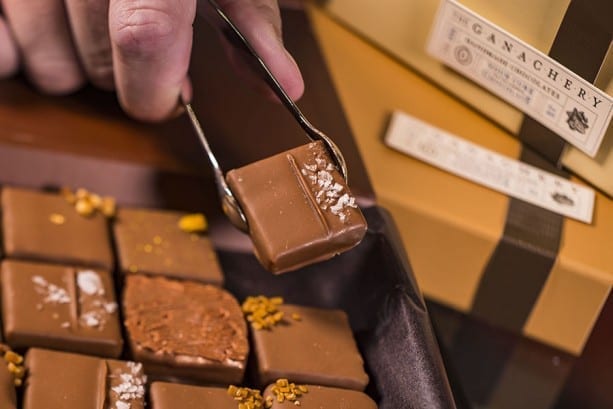 A big show window looks into a gleaming white, stainless steel kitchen where you can see chocolatiers preparing all the chocolate. "This is where Old World meets New World," says Skees. Stop by and try one of the 16 flavors of ganache, like dark chocolate with a touch of shaved Egyptian salt, or milk chocolate with a dash of dark chocolate and a pinch of Sri Lankan cinnamon. You'll never think of chocolate the same.
We checked it out this weekend and you won't be disappointed. There is no greater compliment to the quality of their work and their product than a line of eager guests. Apparently, they are very good at what they do because we found a line out the door and into a queue area. We enjoyed watching the chocolatiers busy creating their bite size masterpieces through the large glass front of the shop. You can find the Ganachery across from Paradiso 37.