Disney World doesn't get it wrong very often, but when they do they do it wrong the whole way. There's no better example of this than the hot mess the Imagination Pavilion in Epcot has become. Like many people, this was actually my favorite ride in all of Disney World. I could explore with Dreamfinder and Figment on Journey into Imagination all day. But the fun didn't stop with the end of the ride. In fact, the fun was just getting started. Upstairs was ImageWorks; and amazing wonderland of interactive fun. Sadly, in addition to destroying a fantastic ride and replacing it with ever worse abominations, ImageWorks was shuttered and left to collect dust. Until now.

Disney has announced that the long abandoned space is being refurbished and put back to use. Before you get too excited, no, the original ImageWorks is not coming back. Opening in Spring of 2016, the second floor of the imagination pavilion will now host a member only lounge for Disney Vacation Club members. In addition to comfortable seating to take a break from touring Epcot, the lounge will also feature complimentary soft drinks, computers with printers, Wi-Fi, charging stations and member services consultants. The new lounge is part of a series of new benefits Disney is introducing to celebrate the 25th anniversary of Disney Vacation Club.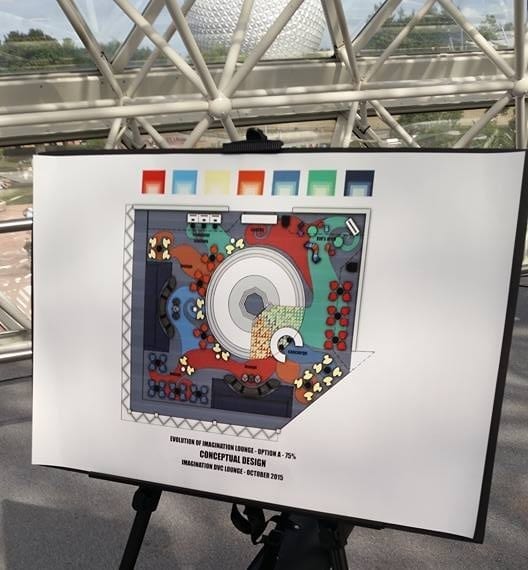 Is this ground breaking? No. Is this as good as a revitalization of the pavilion and the addition of a legitimate attraction? Not even close. However, it will be a pleasant rest stop on hot Florida afternoons for members and is certainly better than using the space to collect cobwebs.
9 Spots to Take a Break at Disney World
by Cindy N
Tackling Disney World is a tiring business. Guests report to walking up to 8-10 miles a day around the parks and resorts. Add to that the fatigue you get from standing for long periods of time and your legs will be ready at some point for a break! Even the most fit need to rest their legs from time to time. While Disney has benches and places for rest all over, we've found a favorite spot in each park. It's a place we keep going back to if you need a rest. Here are the nine best spots to take a break at Disney World.
1 – The Area Just Outside the Tangled Restrooms, Fantasyland, Magic Kingdom
Since its opening in March 2013, we love resting at the area outside the Tangled restrooms in Magic Kingdom. I know that it's a bit weird, but this spot offers much more than just cool bathrooms. First, the theming in the area is amazing. You feel like you've stepped into Rapunzel's kingdom complete with her famous lanterns. Also, you'll spy her famous tower in the distance. But what makes the pit stop worth it is that the seating area includes many outlets to charge your portable devices. Using a smartphone at Disney is a battery draining business and you'll likely need to charge your phone at least once during the day. There are seats and benches that allow you to charge your device while you enjoy Rapunzel's village.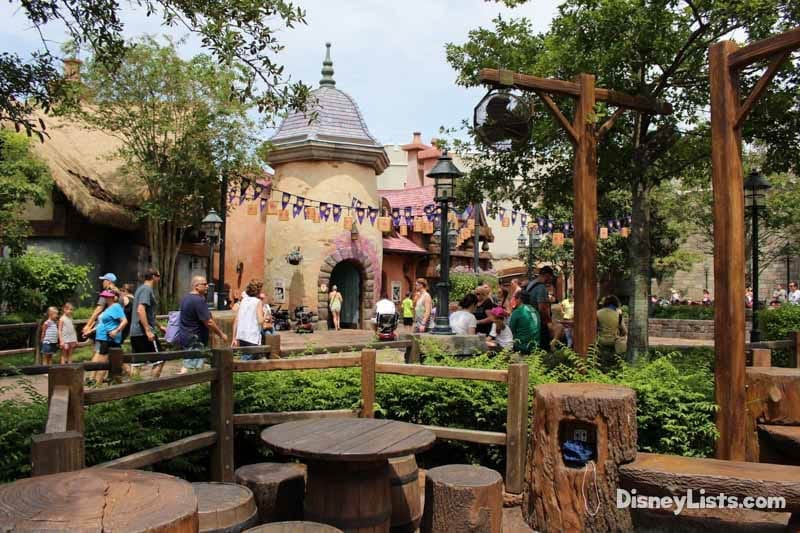 2 – Innoventions West, Future World, Epcot
The southern half of Innoventions West houses Epcot Character Spot, Cool Club and the Fountain View Restrooms. Tucked in behind there is a long wide corridor running the length of the building and is the perfect place to take a break in Epcot. This one is inside so in the heat of summer you'll get a nice cool break. So many people had been sitting on the floor resting in the area that Disney recently recognized the rest stop and added tables and chairs for everyone's convenience. As a bonus, there is also an often overlooked exhibit on the history of Epcot that 99% of guest have no idea is there. It is a nice quiet place to rest up at Epcot.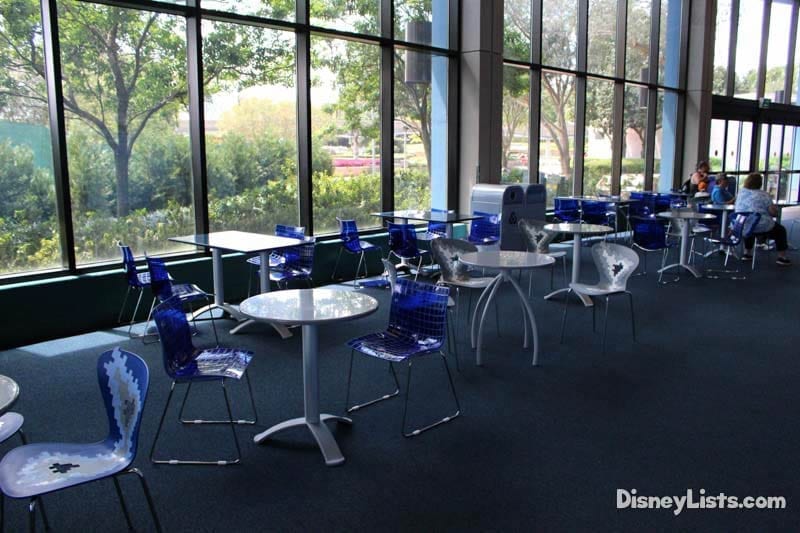 3 – Dawa Bar, Africa, Animal Kingdom
Located at the front of Africa, Dawa Bar is a great place to sit and take a rest. Its outside location is open and airy, and covered which gives protection from sun and rain. There are plenty of tables and chairs for everyone in your party. Adults will appreciate the opportunity visit the bar for refreshments. Tamu Tamu Refreshments is also across the way and Kusafiri Coffee Shop and Bakery is close by for those looking for quick snack or sweet treat. Bring them back and enjoy your drinks, snacks and a rest at Dawa Bar!
4 – Eating Area off of Sunset Boulevard, Hollywood Studios
Off of Sunset Boulevard is a collection of quick service restaurants that offers plenty of food and snack options and plenty of seating. Most of the seating is covered by umbrellas or pavilions. Restaurants include Hollywood Scoops, Fairfax Fare, Catalina Eddie's, and Rosie's All-American Cafe. You'll also find fruit stands for some healthier options. We like resting in this area because of the many different food options. Everyone in our party can get what they want! It's also fun to sit and listen to the screams from Twilight Zone Tower of Terror!
5 – The Landing, Disney Springs
The Landing is quickly becoming the place to be at Disney Springs because it has so many fantastic new restaurants. Tucked in between Jock Lindsey's Hangar Bar and The Boathouse is a really cool rest area. This small amphitheater area has plenty of seating and a great view of the water. You'll also be able to catch the launching of amphicars–cars that drive on both land and sea! On select days you may catch a live musical performance.
6 – Boat Transportation, a.k.a. "The Floating Bench"
One of the most relaxing and enjoyable ways to relax is to take a boat ride. If you are using the boat transportation from your resort, you'll enjoy great views on your way to your destination. Epcot offers two boats in World Showcase. If you want to cut down on the walking, you can hop on the "floating bench" and enjoy a brief rest on your way across the lagoon. Boat transportation from Disney Springs to Port Orleans Riverside is our top choice for a long, relaxing ride through some beautiful areas of Disney property.
7 – Walt Disney World Railroad, Magic Kingdom
Walt Disney loved trains and so can you. If you are looking to cut down on walking or for a chance to just enjoy the view and ride the train, you can travel on the Walt Disney World Railroad. This railroad has three stops: Main Street, U.S.A., Frontierland, and Fantasyland. A full round trip is twenty minutes. It's a great chance for you to rest up and enjoy a trip around Magic Kingdom!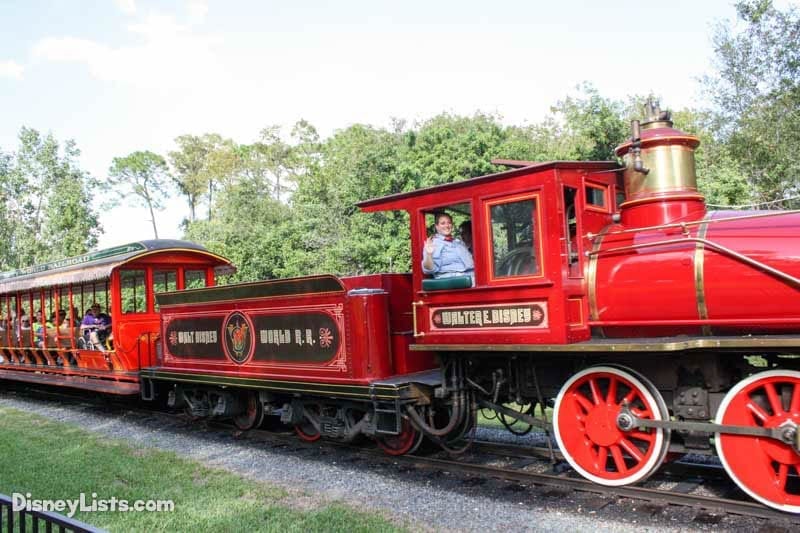 8 – One Man's Dream, Hollywood Studios
Tucked in between the Little Mermaid show and Pixar Place is an attraction that, sadly, many guests pass on by. One Man's Dream is a look at the life of Walt Disney, the man that made all of this possible. The experience starts with a walk through multiple exhibits showing the story of Walt and the Walt Disney Company with some very cool artifacts on display. The attraction ends with a very well done movie on Walt Disney that should be mandatory education for every Disney fan. Take a sit and enjoy learning something about a truly extraordinary person.
9 – Ellen's Energy Adventure, Epcot
Okay, this attraction isn't exactly Disney at it's best. In fact, it's so outdated and desperately in need of a completely overhaul it's a downright embarrassment. However, it's a 45-minute experience inside with most of it sitting down.
So, what great rest stops did we miss? What is your favorite?