It's no secret that at DisneyLists.com we are BIG fans of all things food. So, we pay pretty close attention to any changes Disney makes to anything dining related. This past week was unusually busy on this front as Disney removed several fan favorite menu items, continued testing new reservation models, and expanded hours at one of the best kept Disney secrets.
1 – Same Day Reservations Rolled out at Skipper Canteen
Skipper Canteen, the most recent addition to Magic Kingdom's table service line up, will now accept same day dining reservations. This is a limited time test and will run through February 27, 2016. Prior to now, the location has not accepted reservations and instead seated guests on a walk up basis only. Same day reservations are not available via the normal dining reservation system. They can only be made on the Skipper Canteen page here or on the My Disney app.
There is no information on what will happen at the end of this test. Will the restaurant finally be added to the full reservation system, continue with same day reservations or go back to taking walk ups only. When Skipper Canteen opened, we speculated that Disney was testing the walk up only concept as a way of dealing with the common complaint that dining options were limited to non-existent for guests who didn't plan their trip months ahead. Disney maybe testing other concepts, or acknowledging that the walk up model didn't work as well as they had hoped.
The launched of Skipper Canteen has been rocky at best. When we visited, the location was half empty and that appears to be the norm. Fan's have voiced complaints about service, food quality and portion size. During our visit, we found the service to be satisfactory and the food to be surprisingly good for a Disney operated in-park restaurant. However, the portion sizes were shockingly small compared to other Disney restaurants. Whether the floundering of Skipper Canteen is due to it's exclusion from the reservation system or problems with the restaurant itself is unclear. However, if things don't improve soon you can expect to read about more changes here in the near future.
2 – Two Fan Favorite Snacks Removed at Animal Kingdom
Disney has removed two very popular snack items from all locations at Animal Kingdom. Guests looking for churros or pretzels will need to look elsewhere. Though no explanation was given, it is likely due to problems with guests feeding bits of the treats to the animals. So, a big "thank you" goes out to all the folks who blatantly ignore not only the hundreds of signs asking guests not to feed the animals, but also the welfare of the animals themselves. Please save the park food for animals that walk on two legs and wear clothes.
3 – Chicken & Waffles Sandwiches Removed from Magic Kingdom
Fans of the Chicken & Waffle sandwiches at Sleepy Hollow in Magic Kingdom will be disappointed to learn that they have been removed from the menu. Sweet waffle concoctions such as waffles topped with cinnamon, powdered sugar and the fresh fruit waffle sandwich with chocolate hazelnut spread are still available. This marks the second time Sleepy Hollow has broken my heart as I'm still mourning the loss of the tub of handmade caramel corn (and no, the caramel corn at Big Top Treats while good is not the same).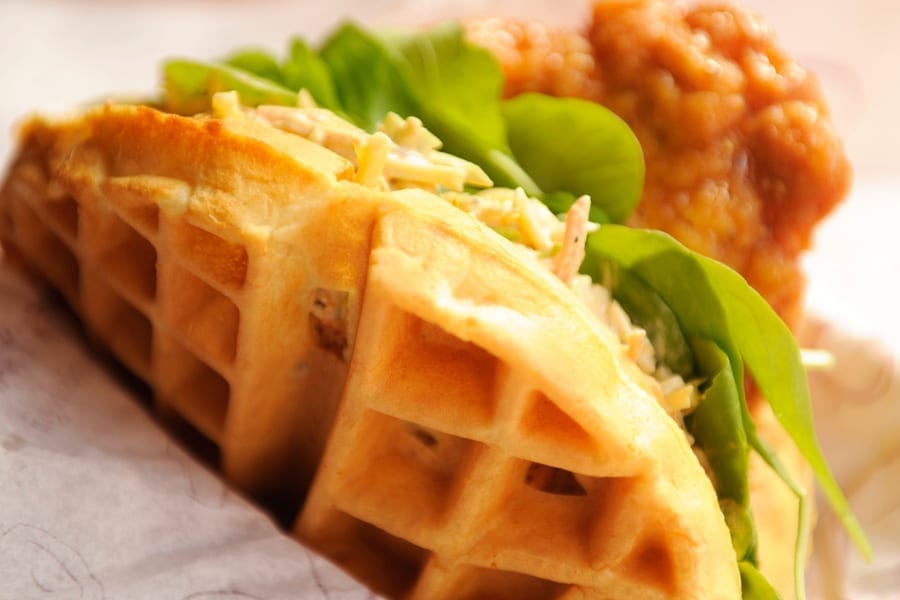 4 – La Cava Del Tequila Extends Hours
You may not have noticed, but Disney World has been rolling out some impressive options for adults and adult beverages. At the top of the list is La Cava Del Tequila. This little gem is hidden away inside the Mexico pavilion of World Showcase and is always packed. Featuring an unbelievable selection of tequilas, the mixed drinks here are absolutely top shelf. Good news as hours have been extended. La Cava Del Tequila will open a half hour earlier at 11:30 am and will now stay open past Illuminations until 9:30 pm.
5 – Gaston's Tavern Ads Seasonal Offering
Gaston's Tavern has a new limited time drink offering on the menu. Lafou's Winter Brrrew is a hot chocolate drink topped with toasted marsh mellow, whipped cream and crushed candy cane. Lafou's Winter Brrrew cost $3.99 in a regular cup or $9.49 if you opt for the souvenir mug.