Moderate resorts at Walt Disney World are amazing!  They really do give you the best of both worlds.  You get the benefits of additional amenities and service while paying half the price of a standard night at one of the deluxe resorts.  With many of the renovations and additional room types, these stays are actually quite luxurious and you would be happy to call any one of these your home away from home during your day.  Here is a great overview of the best moderate resorts at Walt Disney World:
5 – Caribbean Beach Resort
This resort is very pretty!  From the moment you arrive, you definitely feel like you could be a swashbuckler from deep in the Caribbean.  This is the oldest resort out of the moderate resorts, but it recently received a beautiful and modern update inside the guest rooms that put the finishing touches on paradise.  You have access to an amazing fortress pool, views of the gorgeous beach, dining and lounge options and so much more. You also have the option to select one of the Pirate-themed rooms to stay in.  These rooms have been completely transformed to all things pirates and so much fun for the pirate lovers in your family!  The grounds here are absolutely stunning!
4 – Port Orleans French Quarter
I just love the instant feeling of New Orleans as soon as you enter the lobby.  So much care was put into all of the little finishings and details that just make this resort absolutely perfect.  This resort is extremely popular and often not included or extremely limited in many of the discount promotions that Disney offers throughout the year.  If you don't like to do as much walking or like the feel of a less crowded resort, this is an amazing option for you.  This resort is much more compact and the smallest of all of the moderate resorts.  The resorts shares amenities with its sister resort, Port Orleans Riverside, so you really get two resorts in one with this one.  The resort still has its own pool with an impressive serpent water slide into the main pool!  Be sure to take the boat transportation to Disney Springs, too, as this is definitely an advantage that this resort has over the others!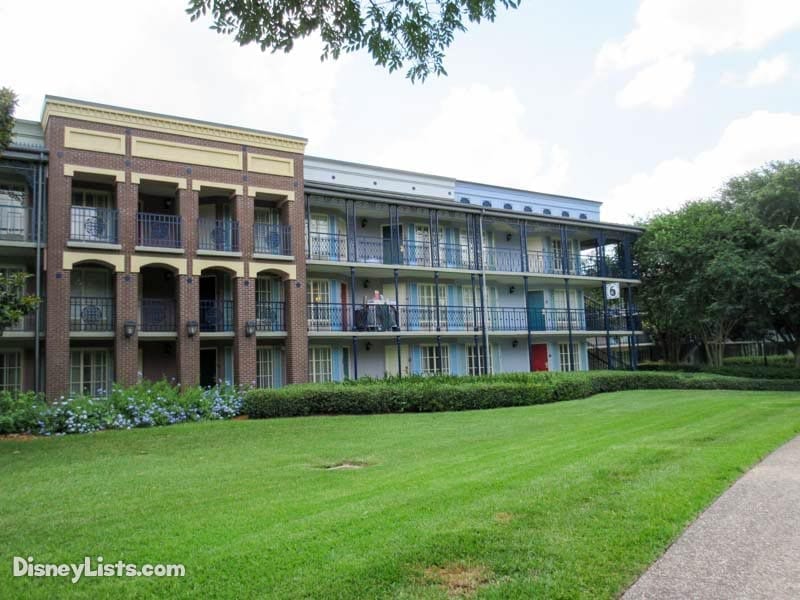 3 – The Cabins at Fort Wilderness
I think the Cabins at Fort Wilderness are an amazing deal.  If you love the beauty of nature and having a few extra amenities available to you, but don't really like the idea of tent camping, then the cabins are perfect!  With the cabins you get a kitchen so you can actually do some cooking if you like, which may save you money on meals.  (You can even complete a grocery order and your groceries will be stocked for you at your cabin!) You also have a separate bedroom from the living space.  The cabins usually sleep around 6 people, so they are great for families, too.  Outside of the cabin you have your own picnic table and a grill area so that you can whip burgers and other delicious items up on the grill.  You still have access to all of the amenities at Fort Wilderness, including the pool and all other recreation activities that you can see and experience while you are there.  There is so much to do while you enjoy the great outdoors, but still maintain comfort and a little bit of privacy!  The Magic Kingdom and many of the deluxe resorts are only a boat ride away so you have so many options when it comes to getting around Walt Disney World.

2 – Coronado Springs Resort
Coronado Springs is a Spanish-style lakeside resort.  The resorts boasts its own convention center so it gets a lot of traffic for conventions and other events on the property.  This location also has its own salon, so you can get salon and spa service from this resort.   Be sure to check out these packages if you have girls in your group looking for "Princess" packages.  There are often more options here and the prices are likely less than Bibbidi Bobbidi Boutique There are also more table-service food service options than any of the moderate resorts, which are all Spanish-inspired.  So if you are a foodie that could also be a selling point for you since you have more options to enjoy right from your resort.  The rooms are very modern and beautiful.  I just love the pop of the teal blue on the beds when you walk in!  The Mayan-inspired pool is gorgeous and like you get to enjoy a trip to Mexico from the heart of Florida.  You will love this one!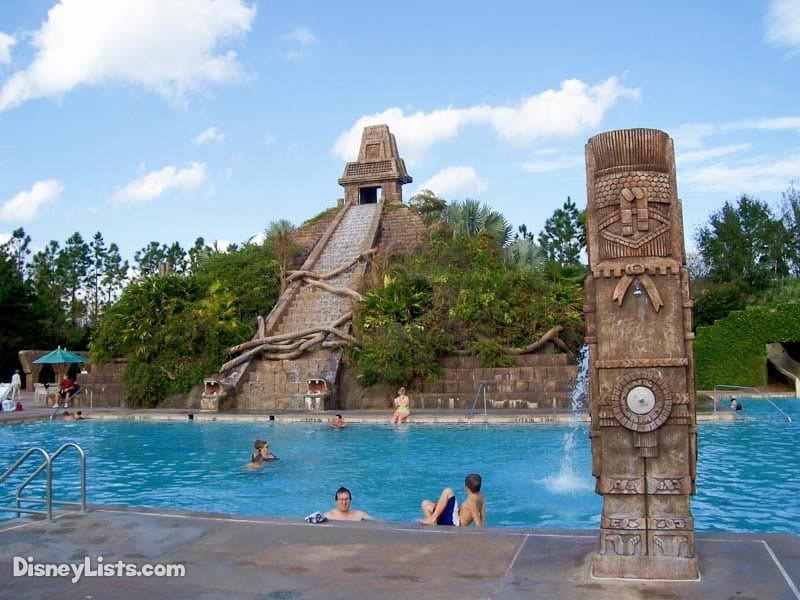 1 – Port Orleans Riverside
This resort is the sister resort to Port Orleans French Quarter.  These resorts used to be two resorts in one, called Dixie Landings.  They were split into the two separate resorts that we know and love today.  The theme for this resort is beautiful!  The resort is on the "bayou" and has lots of pathways that make for an amazing stroll around the grounds.  The entire resort looks like a grand plantation that you would expect to see in the South.  It has a rich, elegant beauty that you just can't get enough of.  You will get the boat transportation to Disney Springs at this resort, too, which is a much more relaxing and enjoyable way to travel to the fabulous shopping and dining district than taking the buses.  The table-service restaurant and most of the amenities for the Port Orleans resort live at this resort, which puts a world of fun and recreation at your fingertips.    Be sure to try out one of the Princess rooms at the resort.  These rooms have been transformed as Princess Tiana's royal rooms and even have firework shows that go off on the headboards of the beds.  It is definitely an amazing stay for everyone, not just the little princesses!
For a no obligation, FREE Quote on a Disney vacation package, please contact our travel partner Magical Vacation Planner at 407-442-0227 (407-442-0215 for Spanish). You can also request a FREE quote online by Clicking HERE.