It official! A very interesting new breakfast option with a twist is coming to Disney World beginning in late April 2016. Want early access to Fantasyland? How about mickey waffles and rides? Sound fun? Details below.
Information from Disney:
Fantasyland Fun Before the Park Opens
Make your Magic Kingdom morning more magical than ever with this limited-entry, first-access experience in the park.
With the purchase of regular theme park admission and a ticket to Disney Early Morning Magic, Guests of all ages can be among the first to enter Magic Kingdom park and experience a trio of famous Fantasyland attractions: The Many Adventures of Winnie the Pooh, Seven Dwarfs Mine Train and Peter Pan's Flight!
Plus, in addition to rising with the sun for some early-morning fun, you can also get your fill of a fantastic breakfast at Pinocchio Village Haus—featuring such scrumptious breakfast fare as:
Chilled juices, coffee and teas
Seasonal fruit and berries
Freshly baked pastries
Cheese and cured meats
Scrambled eggs with assorted toppings
Vegetable frittata
Smoked bacon
Pork and turkey sausages
Fried potatoes with caramelized onions
Waffles with butter and syrup
Disney Early Morning Magic is a separately ticketed event taking place on select Tuesdays and Saturdays from 7:45 AM to 10:00 AM. However, the number of available tickets is very limited—be sure to buy your tickets before it's too late!
Please note: regular theme park admission is required, in addition to a ticket for this special event.
Buy Tickets Online or by Phone
Don't miss this all-new special event in Fantasyland at Magic Kingdom park. Purchase your tickets today! Disney Early Morning Magic tickets are available for $69 per adult and $59 per child (tax not included).
For tickets, please make your purchase online or call the Disney Reservation Center at (407) 827-7350 for assistance. Guests under 18 years of age must have parent or guardian permission to call.
Know Before You Go
Learn all you need to know about this special event—including where to check-in and when you can enter the park.
Official check-in will take place near the far left turnstiles of the Main Entrance to Magic Kingdom park beginning at 7:30 AM.
Guests who have purchased both regular theme park admission and a special event will receive an event sticker for identification upon check-in.
Starting at 7:45 AM, event Guests will be admitted into the park and guided into Fantasyland.
The Many Adventures of Winnie the Pooh, Seven Dwarfs Mine Train and Peter Pan's Flight are the only attractions that will be operational during this special event.
From 8:30 AM to 10:00 AM, breakfast will be available at Pinocchio Village Haus.
Around 9:00 AM, the theme park will open to Guests with regular Magic Kingdom admission tickets and event-only attraction access will end.
Please note that regular theme park admission is required for this event, in addition to a Disney Early Morning Admission ticket.
The number of tickets for these events is limited. In addition, all tickets are non-refundable, non-transferrable and are only valid for admission during the special event date and hours.
All attractions, entertainment and experiences are subject to change without notice.

This will not interfere with Extra Magic Hours as it will likely be offered on mornings where no Extra Magic Hours have been scheduled, similar to where the Disney After Hours event will not be offered on evenings with Extra Magic Hours. Considering the cost of other breakfast buffets on property the up-charge for early access to the park isn't unreasonable.
FOLLOW UP:
Since posting this article, I've been asked why I think a $70 breakfast buffet is worth it. Fair question. First, it really isn't $70 for breakfast. Let's say you're paying $30 for breakfast and $40 for an extra hour and half of so of extra time in the park. Is that worth it? Price-wise that's consistent with the cost of other extra hours events like the holiday parties. More importantly, two of the three rides that are open for the breakfast happen to be consistently the two longest lines in Magic Kingdom. These rides pretty much require FastPasses. If you attend this breakfast you may be able to get a few rides in on each with very little wait AND you can FastPass two other rides later in place of these. If you look at it this way, for $70 you are getting a buffet breakfast, an extended day in Magic Kingdom, multiple rides on Mine Train and Peter Pan with very little wait, and you are in effect getting two extra FastPasses right away. Is everyone going to like it? Some will think it's a great idea and some will think it's crazy. But, if you are planning a big breakfast anyway, you want to ride Mine Train a few times and you feel that park time is precious (and too short), and you can afford it, have a blast!
RELATED ARTICLE
Top Breakfast Spots at Walt Disney World
by Christy Caby
Who doesn't love a delicious breakfast to start the day?  You do so much walking and have so much excitement, that you need a hearty meal to start the day so you have enough energy to make it from sun up to sun down.  If you are looking for that perfect spot, here are the top breakfast spots across all of Walt Disney World.
10 – Starbucks Locations – All 4 theme parks and Disney Springs
Not only does Starbucks make amazing coffee (and boy do they make amazing coffee… we can't enter the park without stopping at Starbucks, but I digress) but they also have breakfast sandwiches and pastries that make for a very filling and delicious breakfast to start your day.  The great thing is that the is a Starbucks at all of the theme parks as well as Disney Springs, so you are able to find that comfortable favorite no matter where you start your day.
9 – Akershus Royal Banquet Hall – Epcot
This is a princess character dining experience that is extremely popular.  This is also one of the few breakfast options at Epcot and at the World Showcase, allowing you to explore the World Showcase before it actually opens.  The meal is all you care to enjoy, so come hungry and plan on skipping lunch!  Get ready to meet all of your favorite princesses, too!
8 – Rainforest Café – Animal Kingdom
This restaurant is just so much fun!  The restaurant is located just outside the front of Disney's Animal Kingdom.  The breakfast menu is delicious with unique options that are extremely filling.  Another great benefit to dining here for breakfast is that the restaurant has a private entrance into Animal Kingdom, which will help you bypass the lines at the main entrance!
7 – Kona Café – Polynesian Village Resort
This is one of our favorite spots for breakfast.  The food is absolutely amazing, the Polynesian Village Resort is beautiful and then you can hop the monorail and head right over to the Magic Kingdom or to Epcot.  It really does have it all.  If you haven't tried their Tonga Toast, then you are missing out and you must make this happen in your upcoming trip.  So delicious!
6 – 1900 Park Fare – Grand Floridian Resort
This is an extremely popular character breakfast experience at the Grand Floridian.  The characters vary at the location and the atmosphere is beautiful and elegant.  Right after you fill up on a delicious meal, you can hop the monorail and hit the parks.  It is amazing to have that transportation option after a delicious breakfast!
5 – Chef Mickey's – Contemporary Resort
This is one of the most popular character breakfasts in all of Walt Disney World.  The monorail comes right by the restaurant every few minutes, and from the huge concourse within the Contemporary, it completely immerses you in the Disney experience.  Plus, you can either hop the monorail or just simply take a short walk over to the Magic Kingdom so you can get to the fun right after.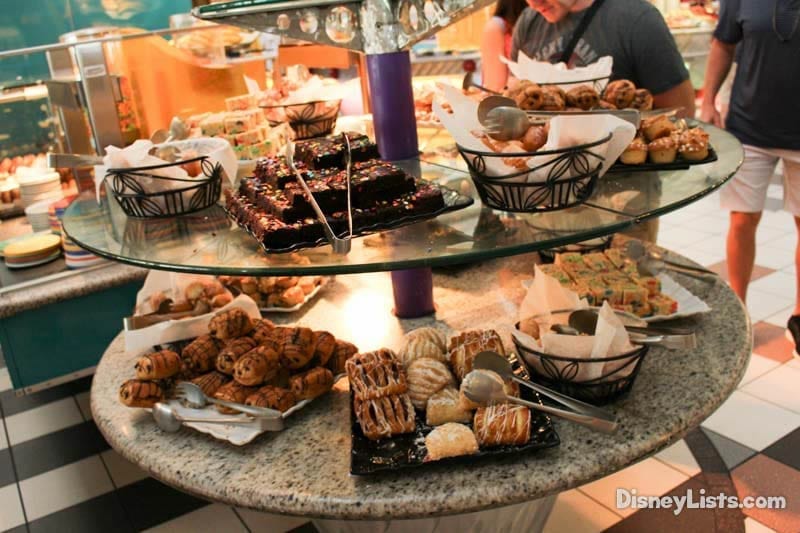 4 – Crystal Palace – Magic Kingdom
Have you heard anyone mention the coveted 8:05 Crystal Palace reservation? This is definitely an extremely popular restaurant and especially at that time.  The reason is because the Magic Kingdom typically opens at 9AM each day.  With this reservation, you get to enter the park early before anyone else and get pictures in front of the castle without all of the guests all over.  It is an amazing photo opportunity, plus you get to have a magical breakfast with the Winnie the Pooh characters and get finished and are energized and ready to hit the parks with your family.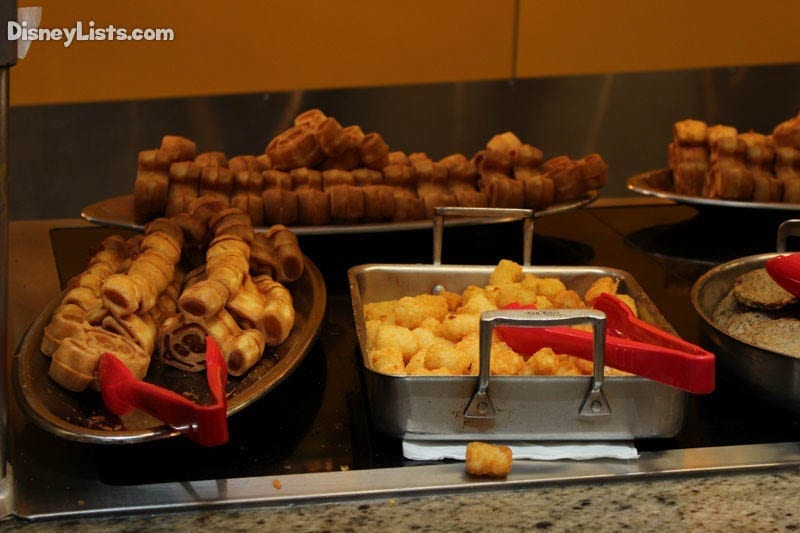 3 – Tusker House – Disney's Animal Kingdom
The food here is absolutely amazing!  This is an all you can to enjoy character breakfast set to a safari theme with Donald, Goofy, Daisy and Mickey!  The food has a bit of an African flare, which is perfect since it set within Africa at Animal Kingdom.  The jungle juice at the location is absolutely amazing and my husband requests a pitcher of it for the table every time.
2 – O'hana – Polynesian Village Resort
This is our absolute favorite breakfast location.  You have an amazing view of the Polynesian grounds and Cinderella's Castle right from the restaurant.  The cast there treats you like you are family (after all O'hana does mean family in Hawaiian).  The meal is served family style, but is all you care to enjoy.  Plus, this is the only dining location with Lilo and Stitch, so if you are fans of these two, you definitely don't want to miss this one.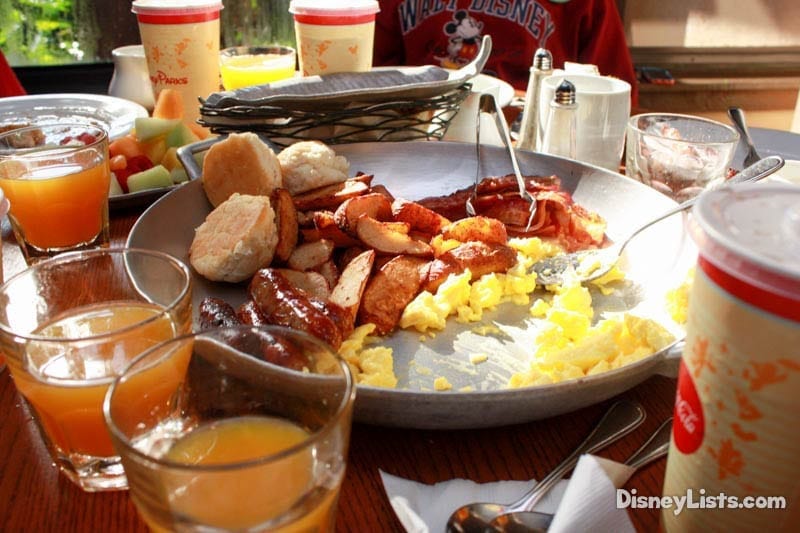 1 – Cinderella's Royal Table – Magic Kingdom
This is probably the most popular breakfast across all of Walt Disney World.  What is more exciting and magical than breakfast from inside Cinderella's Castle overlooking the Magic Kingdom?  It is also one of the most expensive breakfasts on property, but well worth it.  The menu is French-inspired and an amazing dining experience.  Not only do you get delicious food, but you also get to dine with your favorite Disney princess for the most magical breakfast ever.  Just be sure you book early for this one, because it books up extremely fast.
What is your favorite spot for breakfast at Disney World?