News
NEWS & COMMENTARY: Disney Announces New After Hours Event at Magic Kingdom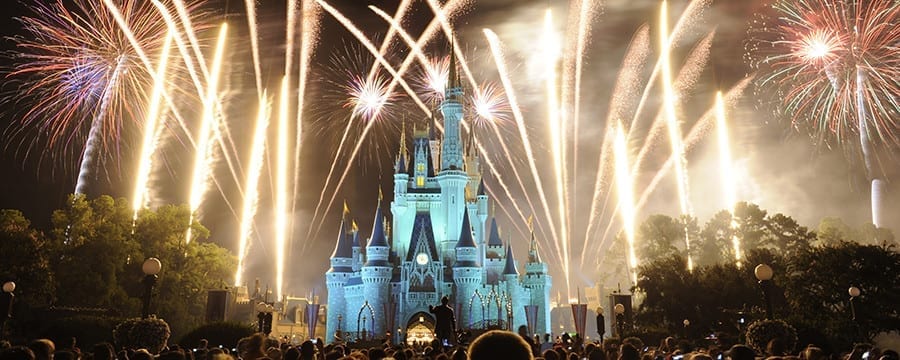 Disney World has announced a brand new, after hours, special ticketed event to be held select nights in the Magic Kingdom called "Disney After Hours". Similar to the Halloween and Christmas parties, a limited number of guests will enjoy the run of the park after Magic Kingdom closes to day guests. Sound's interesting, right? Well, hold that thought. Read first what Disney has to say along with the details and then I'll share some of my initial thoughts and questions.
From Disney:
Starting today, guests will have the opportunity to experience more of that nocturnal splendor and enjoy more time in the park with "Disney After Hours," a special, ticketed event at Magic Kingdom taking place on select nights throughout April and May.
This event will enable participants to enjoy more exclusive time in Magic Kingdom – with quicker than typical access to popular attractions like Space Mountain and the Seven Dwarfs Mine Train and character greetings like the ones in Town Square and Princess Fairytale Hall. Ice cream novelties and bottled beverages also will be available for guests during the three hours of the event. [NOTE: Disney Resort Guests will continue to be able to enjoy Extra Magic Hours, while this new event takes place on different dates and is another option for enjoying Magic Kingdom.]
"Disney After Hours" is a three-hour event that will take place once the park closes on the following dates:
    April 14, 21 and 28
    May 5, 8, 12 and 19
A separate event ticket is required for "Disney After Hours." Guests can check in starting at 7 p.m. each night, with the event hours from 11 p.m. – 2 a.m. Pricing is $149 plus tax for both adults and children (ages 3-9).
Separate ticketed, special events are nothing new at Disney World. For year's Disney parks have played host to events such as Mickey's Not So Scary Halloween Party, Night of Joy, Mickey's Very Merry Christmas Party, etc. Held after the parks normal operating hours, guests can enjoy several hours of special entertain, parades, fireworks and more in addition to the standard Magic Kingdom offerings. Tickets generally run around $90 and will also include free trick or treating in the case of the Halloween parties, or cookies and cocoa in the case of the Christmas party. The parties are wildly popular with most nights selling out.
However, there are a few key differences between this and the Halloween or Christmas party. The first difference, of course, is the lack of a Holliday theme or events. The biggest draw for the holiday parties is the decorations and costumes and generally amazing holiday atmosphere. The theme here seems to be "open late with shorter lines". But since "limited number" is completely undefined who knows what this really means. If you've ever been to a sold out holiday party, you know that short lines are few and far between. If anything crowds are heavier.
The second key difference is the price. The price for Disney After Hours is roughly 50% more than the Halloween and Christmas parties. More importantly, it's almost 36% more than the cost of a one-day ticket to the Magic Kingdom. What exactly are you getting for that substantially higher price? That's a good question. It does include free ice cream and drinks, but if you eat enough ice cream to cover the extra cost it better also include free Kaopectate.
So let me get this straight, on the first night of the event (April 14) the Magic Kingdom is open from 9 am to 11 pm (14 hours) and will cost me $110 if I buy a one-day ticket (the most expensive way to do it). Or, I can buy a Disney After Hours event ticket for $149 plus tax and get 3 hours. Even if I show up at 7 pm when special event guests can enter, that's still only 7 total hours. So, for a ticket that is 36% more than a one-day ticket I get half the time without all the special extras that come with the holiday parties? Unless I'm missing a huge piece of the puzzle, I just don't get it.
We are huge fans of Disney's Halloween and Christmas parties and other special ticketed events. We have yet to attend one that we didn't think was absolutely worth every penny and highly recommend to our readers. We also understand price increases and the high costs of visiting Disney World because their product is incredible and the cost of delivering that experience is unbelievably high. We understand that there is incredible demand for their product and attendance is at record highs and when demand exceeds capacity prices will go up. Almost always, we believe Disney delivers a level of value that justifies the price.
However, this isn't one of those occasions. We believe this is one of those rare Disney misses. Frankly, it comes off as a thinly veiled, poorly thought out, over priced, un-themed and desperate move by charging for extra magic hours. This during a time when Disney Parks financial troubles over seas and costing cutting here at home is in the news daily. If the price were in line with what is charged for the Halloween or Christmas party then maybe it would be a different story, but at 50% more than those awesomely themed, planned and executed parties? Not a chance.
Again, we love Disney. We are completely supportive of charging for special events and higher prices for higher value. However, Disney has failed to deliver the value or experience to justify the price in this event. This is one we recommend guests take a pass on.
RELATED ARTICLE
6 Things You'll Love about Mickey's Very Merry Christmas Party
by Jenn S

Many guests will visit Walt Disney World the week of Christmas which is historically one of the busiest times of the year. But guests visiting during the less busy weeks leading up to Christmas don't have to miss out on the holiday festivities.  Mickey's Very Merry Christmas Party is a separate ticketed event held on select nights at Magic Kingdom theme park in November and December from 7 pm to 12 am. Prices for this event range from $74 to $82 plus tax, per person. Prices depend on the date of the party and advance purchase prices are often cheaper. There are also discounts for Military and Annual Passholders on select nights.  You may be wondering what all the hype is about, so here are 6 things you'll love about Mickey's Very Merry Christmas Party at the Magic Kingdom.
6 – Limited ticketed event
Each Mickey's Very Merry Christmas Party night has a limited number of tickets available, and once a specific night is sold out, no additional tickets for that night can be sold. This means that guests can experience this special event with fewer crowds. If you are looking to ride the attractions you will find short wait times for even the most popular attractions at Magic Kingdom, including Seven Dwarf's Mine Train, Space Mountain, Big Thunder Mountain and Meet Anna and Elsa at Princess Fairytale Hall. Other attractions will be nearly a walk on during the party.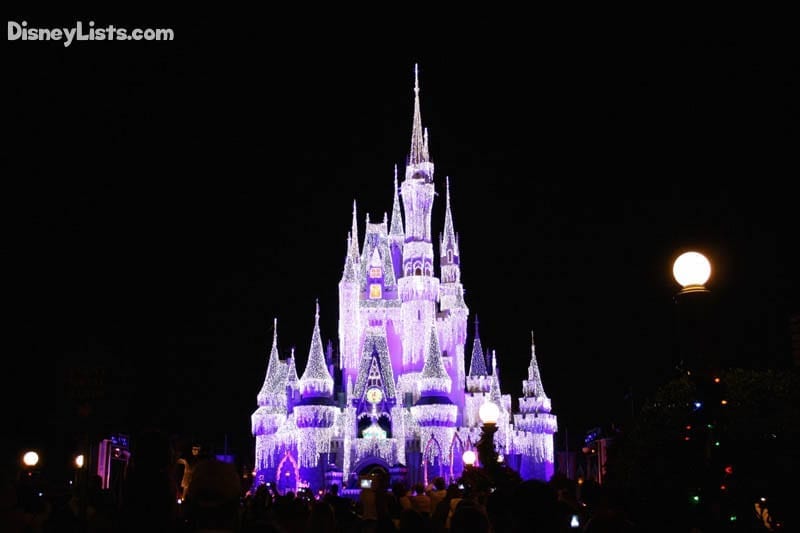 5 – Complimentary Hot Cocoa and Cookies
While you are enjoying the attractions, character meet and greets and all the great entertainment options you may find yourself getting a little hungry. Be sure to pick up some complimentary hot cocoa and cookies at the designated stations throughout the park.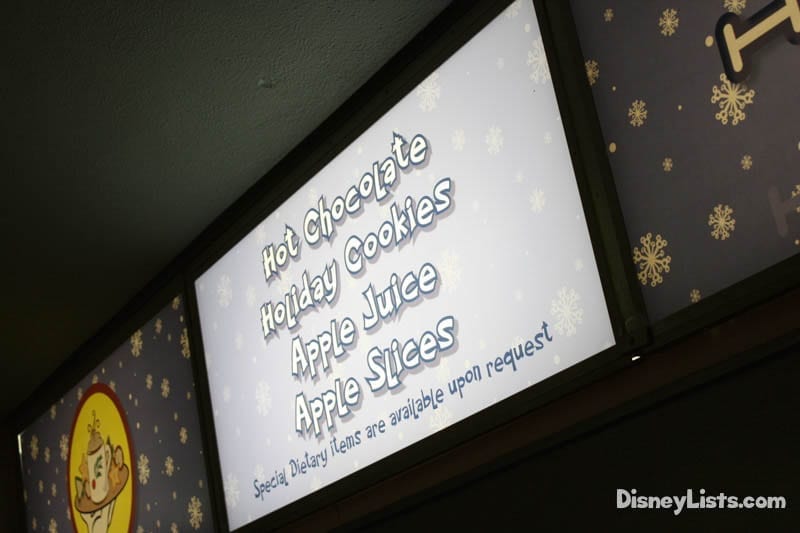 4 – Holiday Wishes Fireworks
Holiday Wishes is a special nighttime spectacular shown at Mickey's Very Merry Christmas Party instead of the regular Wishes nighttime spectacular. During this display the sky above Cinderella's Castle is lit up with holiday cheer. This special holiday version of Wishes is hosted by Jiminy Cricket and the finale even features artificial snow! You will love this holiday display of fireworks and music!
3 – Special Character meet and greets
If you love meeting characters, Mickey's Very Merry Christmas Party offers some great opportunities to meet some classic and rare characters. Jack Skellington from The Nightmare Before Christmas often makes an appearance as "Sandy Claws." Another Christmas Party fan favorite is the Seven Dwarfs, who normally can only be seen in the Main Street Electrical Parade or at Mickey's Not So Scary Halloween Party. The dwarfs do not sign autographs but it is your chance to get your photo with all seven of them at once! Many other character meet and greet locations are located throughout the park, and classic Disney characters are wearing their Christmas outfits or winter wear.
2 – Holiday themed shows
During the party there are several special holiday themed shows.  Frozen Holiday Wish, which takes place on the Castle Forecourt Stage features Anna and Elsa from Frozen. In this show Elsa uses her powers to turn Cinderella Castle into an ice palace. Over 200 strands of LED lights light up Cinderella Castle in this display.  Another great show that takes place several times throughout the party on the Castle Forecourt Stage is the Celebrate the Season Show. In this show Mickey, Minnie, Donald and Goofy tell their version of The Nutcracker complete with dancing reindeer and toy soldiers.  Finally, head on over to the Rockettower Plaza Stage for the Totally Tomorrowland Christmas show featuring Mike Wazowski, Buzz Lightyear and Stitch as they travel the galaxy to find Santa Claus.  Be sure to check your event guide for show times during the party!
1 – Mickey's Once Upon a Christmastime Parade
Mickey's Once Upon a Christmastime Parade is shown twice during each party night with the parade beginning in Frontierland and ending on Main Street U.S.A. If you are going to be staying later or for the entire party it is typically less crowded during the second parade, making it easier to find a spot.  Mickey's Once Upon a Christmastime Parade features festive holiday music and some of your favorite characters decked out in their holiday outfits. You can expect to see Mickey and the gang, Jiminy Cricket, Winnie the Pooh, Tigger, Scrooge Mcduck and many more as they dance down the street with Elves, and Gingerbread men. The parade concludes with Santa Claus aboard his sleigh wishing Christmas cheer to all! This parade is also shown as the daytime parade at Magic Kingdom during the week of Christmas, but you can see it during the party without the crazy holiday crowds.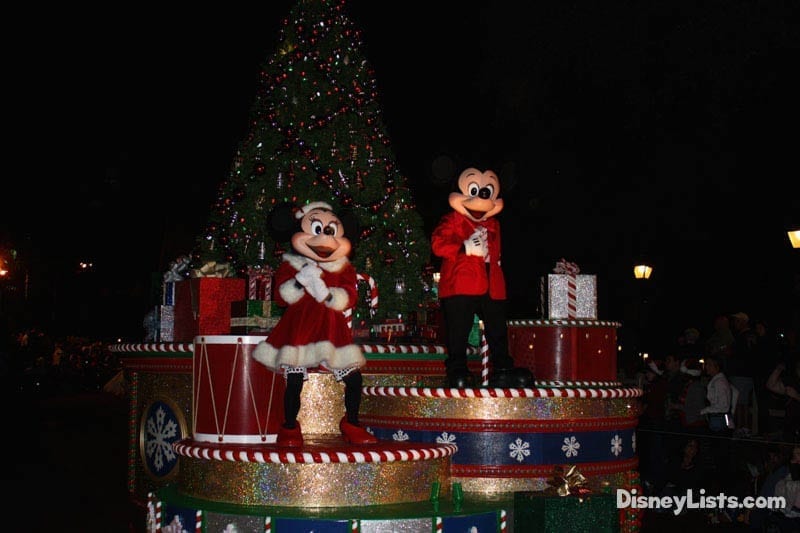 Mickey's Very Merry Christmas Party is a fun filled special event. You will love the access to the attractions, character meet and greets, entertainment offerings and complimentary cookies and hot cocoa. Have you been to Mickey's Very Merry Christmas Party before? What was your favorite thing about the event?