We don't normally cover the release of toys as a news item. However, as die-hard Disney fans, the latest announcement from Disney simply can't be ignored. Disney has just announced that starting in May, LEGO will offer a line of mini-figures based on classic Disney Characters.
LEGO is one of the most recognizable toy brands in the world and only continues to grow. Having grown up loving LEGOs, and now having kids who love LEGOs, there's know doubt that LEGOs have an unexplainable way of working their way into the hearts of fans (and every nook and cranny of the house). How can you possibly make LEGO any better? Combine the world's most beloved toy with the world's most beloved Disney movies.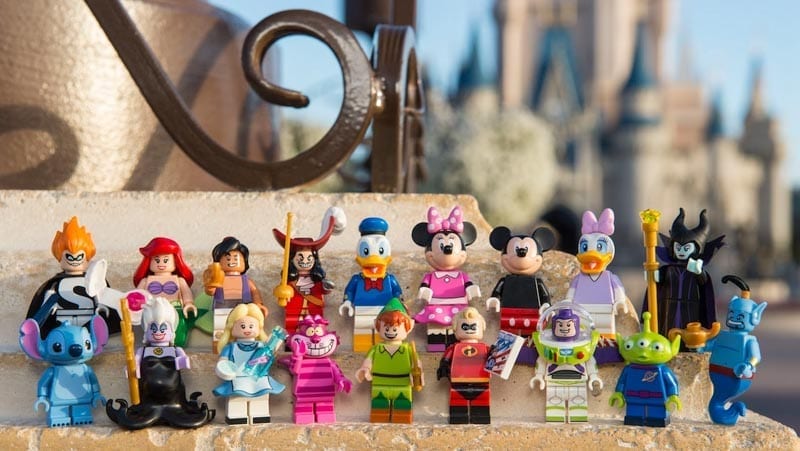 With several LEGO series based on Disney shows, and a significant presence in Disney Springs, LEGO and Disney have long been associated in the minds of Disney World visitors. That association will take a giant leap forward in May when LEGO releases a line of 18 mini-figures based on classic Disney characters such as Mickey, Buzz, Ariel and more. The mini-figures will be available at a variety of retail locations including World of Disney and the LEGO store in Disney Springs. They will sell for a suggested retail price of $3.99.
Seriously, how awesome are these?
RELATED ARTICLE
10 Best Disney World Souvenirs for Kids Ages 5-9
by Mike & Jamie Sylvester
Our daughter's favorite place in the world is Disney World – but what 7-year-old doesn't feel that way!? Family and friends have been polled and here's our top picks for the best Disney souvenirs for kids ages 5-9.
1 – Pins from Disney Pin Trading Collection
There are so many kinds of pins throughout all of Disney to purchase. If your child has a favorite Disney character, favorite ride, or even a favorite resort – it is likely there is a pin for the occasion! Plus, the pin trading process is very simple. Buy a lanyard and some Disney pins then go make friends! Your young one can trade pins with Cast Members and/or other Guests if they would like, or simply keep the pins for themselves. Our daughter loves the excitement of seeing what pin she may trade for next! Pins are a great souvenir and you can just keep adding to your collection year after year.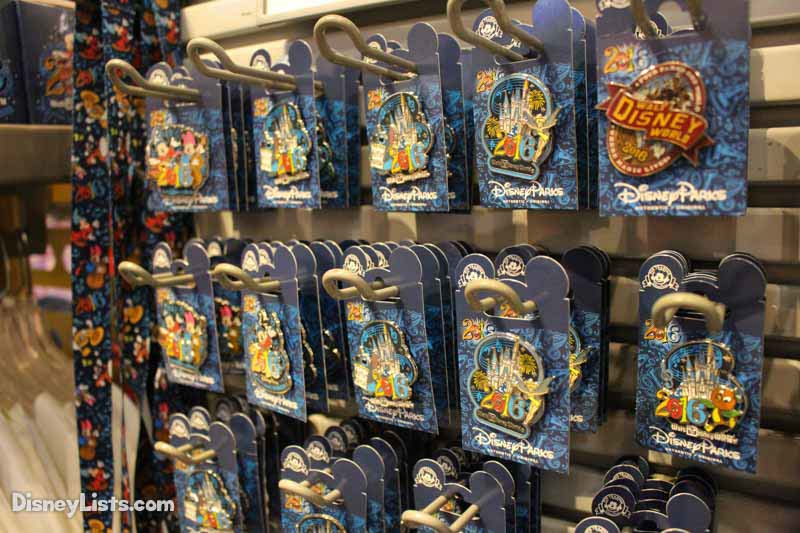 2 – Kingdom Keepers Book
Wait a minute – a book my child actually wants to read!? Whether you would like to read a book to your child or have your child independently read, the Kingdom Keepers book series is outstanding for a young Disney fan that is now into chapter books. The Kingdom Keepers series takes the reader to Disney World after regular park hours. Could the Villains be trying to overthrow Disney World and maybe even the world? These descriptive books place you in familiar settings, on familiar attractions, and face to face with familiar characters. But surely, good will prevail…. right? While you can purchase these books at major book stores, we suggest you purchase it as a souvenir from Disney to bring the book to life through your child's own magical experience.
3 – Disney Charm Bracelet or Necklace
In almost every Disney gift shop throughout the parks, Disney Springs, and even at the resorts, you may notice a charm bracelet and necklace stand. What makes these charms unique? Disney characters, Disney desserts, iconic Disney symbols, and much more – these charms have it all! Much like the Disney Pandora charms for adults, your kiddo can have a charm bracelet of their own. Collect as many charms as you'd like and keep adding to the collection as you go. When your child gets back home, they will enjoy sharing with friends and family what each charm means to them. We also love that this is an inexpensive souvenir compared to some of the others!
4 – Build Your Own Lightsaber
The ultimate experience and souvenir for your young Star Wars fan. Located at Disney Springs in Once Upon a Child and at Hollywood Studios in Tatoonie Traders (Star Tours Gift Shop), your child can build their own lightsaber! Type of lightsaber (good vs. evil), size, and features are all up to you. This is one souvenir your child will be thanking you for time and time again! One small tip – you'll want to take the lightsaber fighting outdoors when you get home… or you can simply get all lamps and valuables away from the force!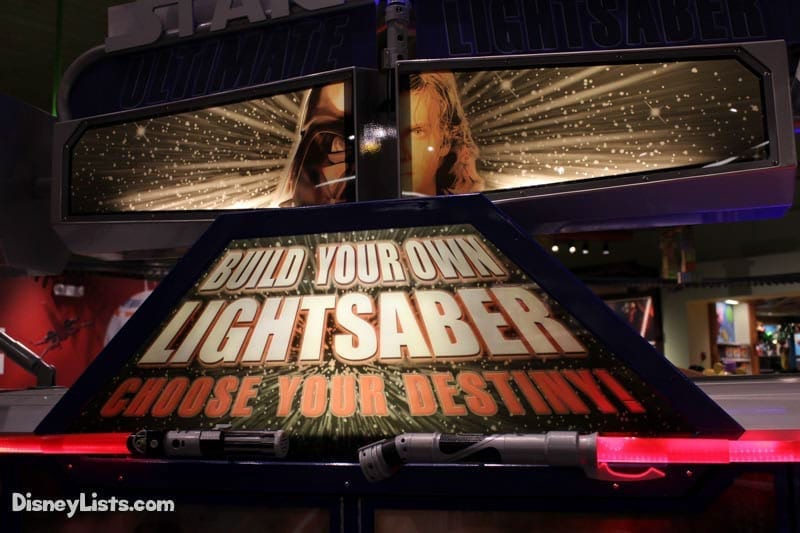 5 – Photo Album and Journal
This is one of our favorites as parents! We enjoy seeing what our daughter values the most about our Disney trips as we give her a camera to snap photos for her very own photo album. The pictures are spectacular and she takes pride in arranging them to her liking in her Disney Album. Go one step further, and give your child a journal if they enjoy writing. Our daughter has transformed her journal into an "Imagineer Book". She is putting notes and tips down in writing that she plans to use one day as she says she's going to be an Imagineer. Why not ignite their creative side with this souvenir?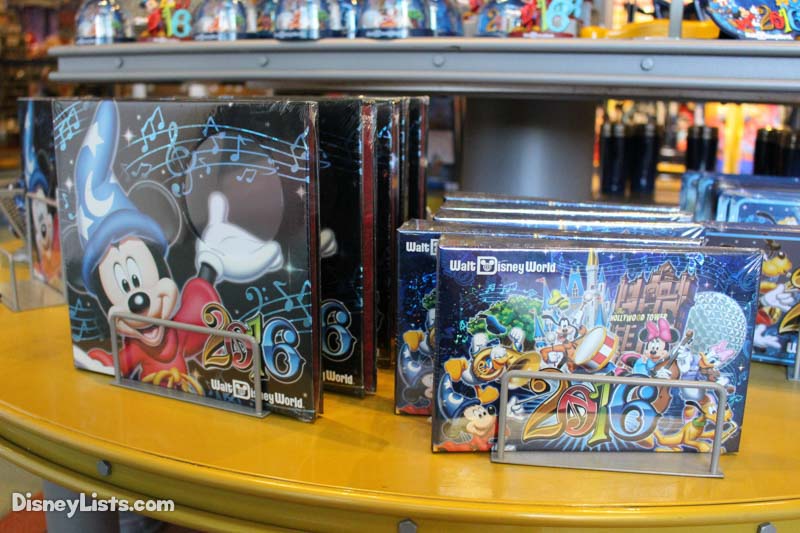 6 – Tsum Tsum Collectables
Tsum Tsum's are a new craze at Disney. No – we didn't sneeze! Tsum Tsums are small (fit in the palm of your hand) plush characters of all sorts. Located at several gifts shops throughout the parks and at Disney Springs, Tsum Tsums are fun and easy to collect. Each little Tsum Tsum has super cute, large eyes and is snuggable the moment you pick one up. You'll understand when you see the large collection how your child will want more than one of these adorable guys!
7 – Disney Dollars
The official currency of all things Disney! Disney Dollars are the same as actual money at Disney, but also make for fantastic souvenirs. The bills are colorful, very detailed, and are available in three denominations ($1, $5, $10). You can pick up Disney Dollars from any Guest Service location or simply ask a Cast Member where the nearest Disney Dollar exchange is. One little tip – is your little munchkin still into the Tooth Fairy? We have found Disney Dollars to an exciting and different gift from the Tooth Fairy, especially if they loose a tooth while on a Disney trip.
8 – Figure Play Set
What is your child's favorite Disney movie? You may get lucky and find a whole figure play set at a fairly inexpensive price for Disney's standards. Look among Disney park gift shops and throughout Disney Springs for these little Figure Play Sets. Each play set is specific to a Disney movie, such as the movie Tangled. One play set includes small, plastic figurines of several of the popular characters in the movie (Rapunzel, Flynn Rider, Maximus, Pascal, etc). We especially love how easy it is to pack up these little figurines for your child to enjoy just about anywhere. This a simple souvenir, yet one of our daughter's favorites that she plays with over and over again.
9 – Personalized MagicBand
Now you're talking! A MagicBand to a child is already the coolest thing they've ever had on their wrist (ok, adults feel that way too!). Disney has recently expanded their custom making of MagicBands to a whole new level, giving us one more perfect souvenir for your child. To customize and personalize a MagicBand, head to MagicBand On Demand Station located in Magic Kingdom within Tomorrowland Light & Power Co. (the gift shop located at the exit of Space Mountain). With roughly 50 graphics to choose from and even the ability to add your child's name to the band, you'll be impressed as will your child with this high tech experience. We love the variety of this souvenir!
10 – Disney Racers
Last, but not least, we must make mention of the Disney Racers collection. Check out these die cast metal body race cars of different characters (same size at Hot Wheels). It's hard to explain, but Disney someone turns even a character like Dumbo into a cool looking race car! You can find these cars in several Disney gift shops throughout the parks and at Disney Springs. A great place for a large selection is the Test Track gift shop at Epcot. Whether your child wants to collect these items or just play with them, they are a great souvenir for the car fan in your family!
Keep in mind while these are our fun souvenir ideas for children ages 5-9, every child is different! We recommend you listen and look to see what your child is eyeing the most. Of course, the BEST souvenir you of all will be the memories you create as a family at Disney!