News
NEWS: Details Announced Night of Joy 2016 at Disney World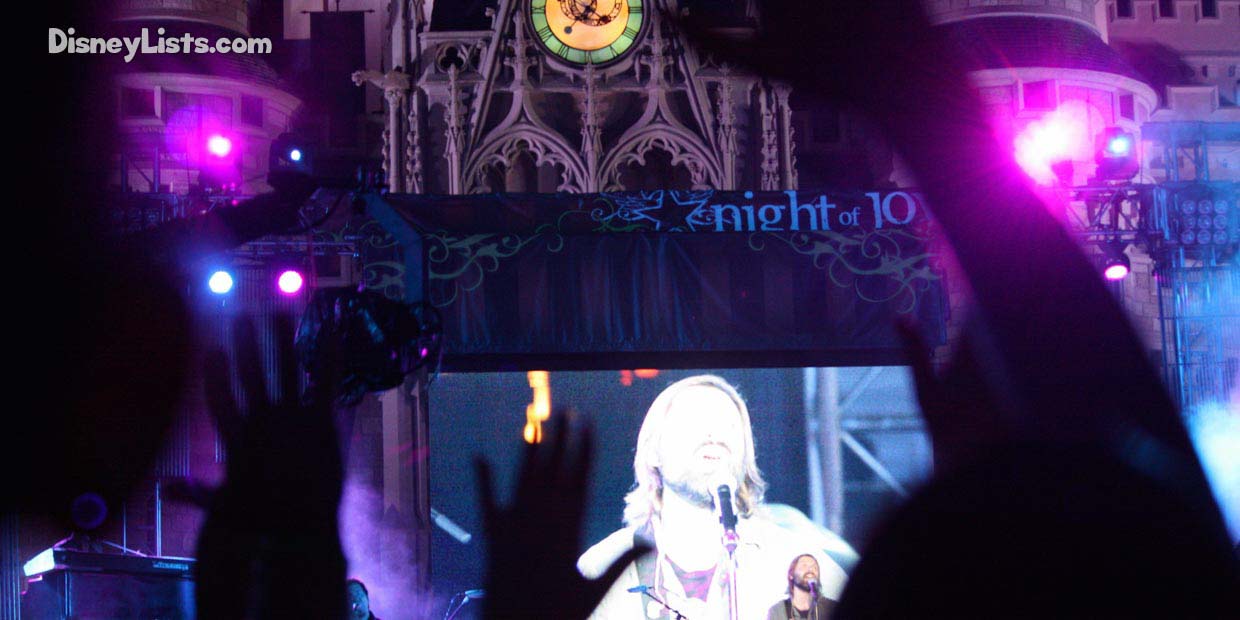 Disney has released the 2016 details for the very popular Night of Joy festival. Held the weekend following Labor Day, Night of Joy is a 2 night festival of Christian Music concerts. For years, Night of Joy has been held at the Magic Kingdom after the park closes to day guests. This year marks a retooling as just about every aspect of the event is seeing big changes. The biggest change, of course, is that of venue. Night of Joy is being moved from Magic Kingdom to ESPN Wide World of Sports. This will allow of several indoor venues which would eliminate the impact of foul weather that is common that time of year. Other changes include ticketing options. Full details on the changes as well as concert line ups are below.
From Disney:
Disney's Night of Joy 2016 will expand, with the concerts being held for the first time ever at ESPN Wide World of Sports Complex. This year's artists represent one of the best lineups in all of Christian Music with 15 top performers and groups including 2015 Grammy® Award Winner Francesca Battistelli.
Friday, September 9 – MercyMe, Casting Crowns, Chris Tomlin, Francesca Battistelli, Crowder, Matthew West, Stars Go Dim, Zealand Worship
Saturday, September 10 – newsboys, for King & Country, Young & Free, Switchfoot, Red, Thousand Foot Krutch, Tim Timmons
This year, we're expanding Disney's Night of Joy in many ways. Guests will have more options than ever with two nights of Contemporary Christian music, ample seating at indoor and outdoor venues, amazing performances on multiple stages, including Champion Stadium, and opportunities for fellowship and fun. We also have ticket options that allow you to maximize the park time doing rides and then maximize your concerts and fellowship time at night – plus you pick your park!
Fans will have more ticket options for this year's event than ever before. They will be able to purchase:
A single-night ticket for Friday's concerts – $39 plus tax (in advance); $45 the day of the show (if available).
A ticket which would include a day at one of the four Walt Disney World Resort theme parks and the concerts for Saturday night – $99 plus tax (in advance); $114 plus tax the day of the show (if available).
A 2-Day ticket which includes both nights' concerts, a day at one of the four Walt Disney World Resort theme parks – $119 plus tax (in advance).
And, if that weren't enough, guests who purchase the 2-Day ticket before August 9, 2016 will also receive one (1) admission to their choice of Disney's Blizzard Beach or Disney's Typhoon Lagoon from September 6 – September 12, 2016. Group discounts also are available.
Tickets will go on sale in mid-April.
Time will tell how this new format plays out. Certainly there was something really special about seeing your favorite artists performing in front of Cinderella's Castle. Although, logistically concerts held at ESPN Wide World of Sports will allow for greater flexibility in the case of severe weather. Concerts in 2015 saw rain and thunderstorms that affected the night's concerts.
The price offerings are also very interesting and surprisingly affordable. If you buy a single day Saturday night ticket including a 1 day at any of the four parks, you are actually getting the concert admission for free, since one day tickets start at $97 in the value season, $102 in the regular season and $114 in the peak season. A two-night concert package with the 1 day at the parks and even a 1 day water park ticket if purchased before August 9 is a great value to those who do not have a ticket package or annual pass.
Another question that needs to be answered is transportation to the ESPN venue for Disney Resort guests. While nothing has been announced, Disney will likely run chartered buses to the venue, much like they do for runDisney events. We will update you with more information as Disney releases it.