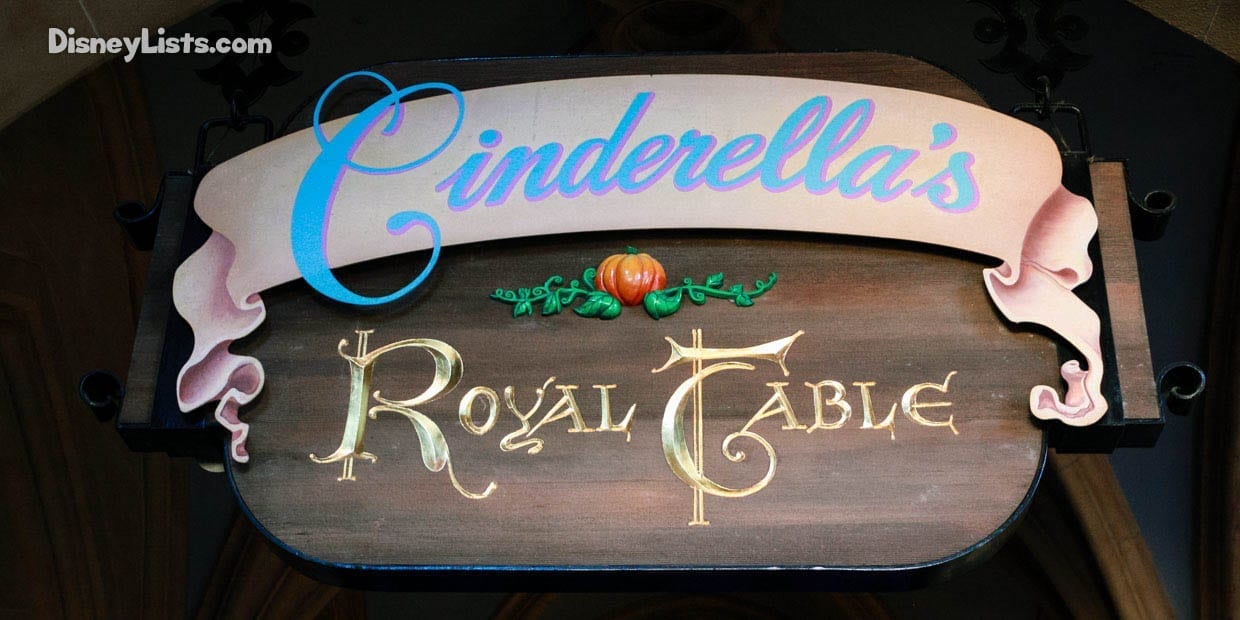 The Disney Dining Plan is an excellent option for guests who want the freedom to choose which dish they'd like to try without worrying about the cost. While there are many restaurants to choose from, not all are created equal. Table-service meals on the Disney Dining Plan allow for one entree, one dessert, and one nonalcoholic beverage. The Disney Deluxe Dining Plans give an appetizer as well. At some of the fine dining restaurants, 2 table service credits are required from the dining plan. But are these restaurants worth using the extra credit? To help you plan out your dining experiences, we have put together a list of all the 2-credit meals and our opinion on whether you should use your dining plan credits or if you're better off paying out of pocket.
1 – Fairytale Dining at Cinderella's Royal Table
Dining in Cinderella Castle can be a wonderful once-in-a-lifetime opportunity for guests who dream about dining with Disney Princesses.  Depending on the time of year, the cost for dining here is around $67-$77 for adults and between $41 and $46 for children 3-9.
Verdict:  Worth It – especially for parents traveling with kids ages 3-9, since the cost of paying outright for the kids meals is more than using their credits up.
2 – Jiko – The Cooking Place
Jiko at the Animal Kingdom Lodge has a vibrant décor with a cozy atmosphere and incredible food inspired by the best in African cuisine. There's a definite elegance to this restaurant, which serves up some incredible dishes like the Nigerian-spiced Pork Shank, Chermoula-rubbed Colorado Lamb Chops, or the Botswana-style Seswaa Beef Short Ribs.
Verdict: Worth It – With most entrées priced well over $40, making the use of 2-credits seems a little more practical.
3 – Flying Fish
Over at Disney's Boardwalk Resort, the Flying Fish is a seafood lover's dream. An array of fresh seafood dishes are on the menu, including fan-favorites like the Grilled Hokkaido Scallops, Chilean Sea Bass, and the unique Bison Strip Loin.
Verdict: Not Worth It – With the majority of entrées priced very reasonably between $30-$40, it's much better to bank your credits for other meals and pay out of pocket.
4 – California Grill
Up on the 15th floor of the Contemporary Resort, California Grill is one of the flagship resort restaurants in Walt Disney World. With entrées like Seared Jumbo Scallops, Bison Strip Loin, and the ever-popular Wagyu Beef Strip Loin, the cost of most dishes hovers between $35-$55.
Verdict: Worth It – No one wants to settle for a dish simply because it's less expensive. 
5 – Cítricos
At the Grand Floridian, Cítricos is a cozy restaurant where American cuisine is infused with flavors from the Mediterranean. The vibrant menu includes Marcho Farms Veal Chops, Oak-grilled Yellowfin Tuna, and a healthy Seared Tofu Ratatouille.
Verdict: Not Worth It – With most entrées sitting between the $30 and $45 mark, even at the added cost, it's worth it to save your credits for a more expensive indulgence.
6 – Narcoossee's
The Grand Floridian plays host to another 2-credit restaurant in the form of Narcoossee's. Sitting along the water of the Seven Seas Lagoon, the menu has a wonderful selection of seafood and land-based fare all within a romantic atmosphere.
Verdict: Depends on what sparks your taste buds from the menu. The chicken, pork, and shrimp dishes are less expensive and not worth using your dining plan credits, while the filet mignon or the 2-pound Steamed Lobster make the use of 2-credits much more lucrative.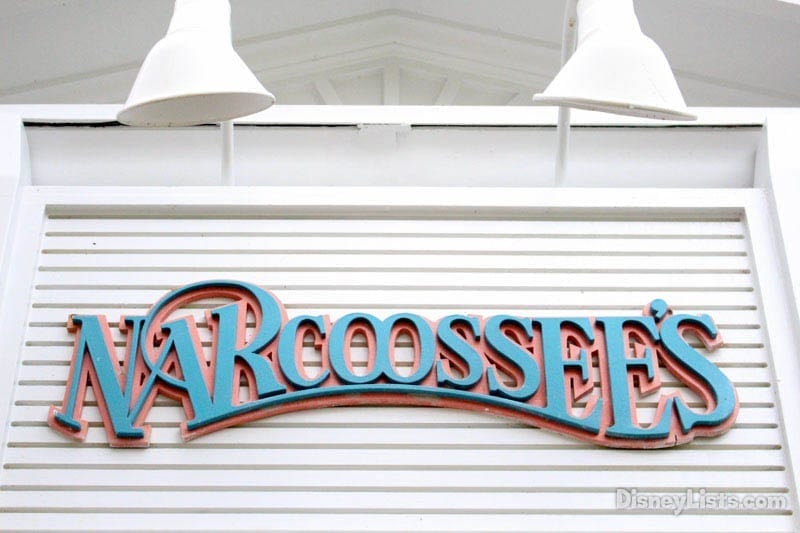 7 – Yachtsman Steakhouse
In a New England-style setting, this restaurant at Disney's Yacht Club Resort primarily serves incredible steaks aged 21 days in the restaurant. With many cuts and sizes to choose from, it's every steak lover's dream to be here to enjoy a perfectly prepared cut of beef.
Verdict: Worth It – With steak being the primary menu item, the cost of entrées easily clears $45 for most options, with prices going up to $60 for individual items.
8 – Le Cellier Steakhouse
Keeping with the Steak theme, another incredible restaurant is Le Cellier in the Canadian Pavilion at Epcot. Le Cellier dishes up entrées like the Black Angus Boneless Rib-Eye and the Seared Canadian Bison Strip Loin, making for a mouthwatering experience.
Verdict: Depends – Use your credits if you're thinking about steak. For everything else, it's more cost-effective to pay out of pocket.
9 – Monsieur Paul
Sitting on the second floor, above Les Chefs des France, Monsieur Paul is an escape to French culture and cuisine in Epcot. Delectable dishes like the Grilled Beef Tenderloin or the Red Snapper are meticulously crafted to incredibly high standards.
Verdict: Worth It – Most entrées are in the mid-$40 range, but with expensive desserts, a wine list, and a prix-fixe menu, which includes an appetizer, using 2 credits makes a lot of sense to experience this restaurant.
10 – The Hollywood Brown Derby
At Hollywood Studios, the Brown Derby offers a dining experience right out of the golden age of Hollywood. Serving up American cuisine with entrées like Lamb Two Ways and Spit-roasted Cheshire Pork Rack.
Verdict: Not Worth It – Apart from the Filet of Beef, all of the entrées are reasonably priced with some being as low as $19
11 – The BOATHOUSE
As one of the newer restaurants to pop up in Disney Springs, The BOATHOUSE sits on the waterfront, giving guests a beautiful view in a relaxed atmosphere. Serving a huge menu full of seafood and land-based dishes, there is undoubtedly something for everyone when it comes to visiting the restaurant.
Verdict: It depends – The steak on the menu can reach prices up to $62, which makes the extra credit worth using. The Baked Stuffed Lobster is $48. However, the lower-priced entrées average around the $20-$30 mark.
12 – STK Orlando
Disney Springs's latest signature dining provides the best steaks on Disney property, fantastic atmosphere, and delicious sides and desserts. STK is an artful blend of a modern steakhouse and a chic lounge all wrapped up into one. With three levels and different eating areas, a DJ spinning music for an energetic vibe, you'll be sure to have a fantastic time at this restaurant. Save this experience for a special occasion, and you won't be disappointed.
Verdict: Worth It – Even more pricey than The BOATHOUSE, STK Orlando features a fantastic array of ten different steaks, ranging in price from $36 to all the way to $92! Lower entrees range from $28-$45. Sides and desserts also run at $10 each, making it well worth it to use two credits.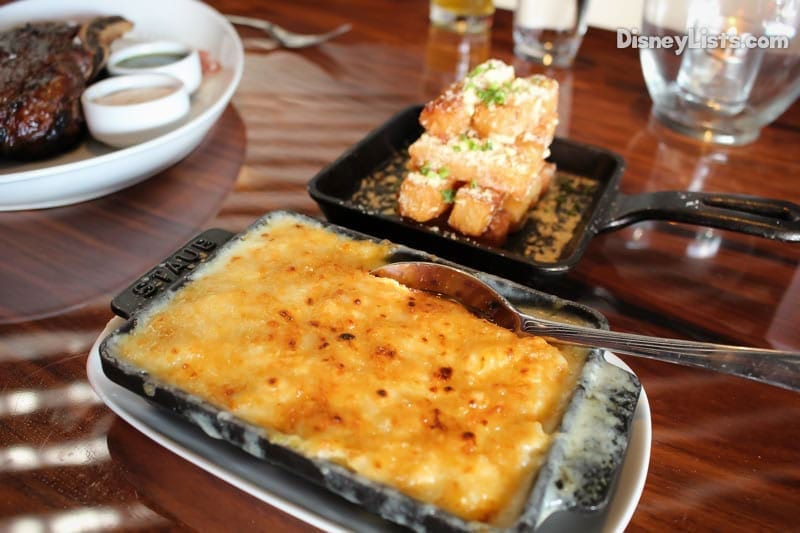 13 – Dinner at Be Our Guest
Be Our Guest is a very popular dining location in the Magic Kingdom that, like Beast, can't quite decide what it wants to be. During breakfast and lunch, the location is considered a quick or counter service restaurant, even though reservations can be made (and are essentially required). However, during dinner, Be Our Guest transforms to a table service location with a prix-fixe menu. Dinner includes an appetizer, entree, and dessert sampler.
Verdict: Worth It – The prix-fixe menu is $55 for adults. It's a close call, but at this price point, we'd opt to use credits.
14 – Morimoto Asia
Another newcomer to Disney Springs, Morimoto Asia, offers the very best in Pan Asian cuisine from a menu designed by Iron Chef Masaharu Morimoto. You can be sure to find something that will appeal to your taste buds, from the sushi bar to the noodles, fish, and even the Peking Duck. Note that you can enjoy lunch at Morimoto Asia for only one table credit. This will allow you to try the restaurant while only using one credit!
Verdict: Not Worth It – Most dishes are in the $20 range, making this an obvious no! Unless you're planning on getting the filet mignon at $46 or the lobster at $45, you would be much better off paying out of pocket or getting a lunch reservation (especially since the prices are the same at lunch!)
15 – Paddlefish
The reimagined Paddlefish in Disney Springs (formerly Fulton's Crab House) is the place to go for incredibly fresh seafood, flown in daily from around the world. Aboard the paddleboat, guests can dine on Lobster and Crab leg dishes, as well as Swordfish, Salmon and Idaho Rainbow Trout. Non-seafood lovers will love the steak, pork, and hamburger options.
Verdict: Depends – If you're heading for the high-end crab leg dishes, $45 to $70 per entrée might be hard to take, but if you're looking to enjoy a well-executed seafood dish or land fare, you can find entrées from as low as $25, making it a little easier to save your dining plan credits.
16 – Hoop-Dee-Doo Musical Review
At Disney's Fort Wilderness Resort, the Hoop-Dee-Doo Musical Review Dinner and Show offers an all-you-care-to-enjoy dinner. Choosing from American classics like Fried Chicken, Smoked BBQ Pork Ribs, and fresh Cornbread, guests can fill up or relax and try a little bit of everything as they take in the performances at Pioneer Hall.
Verdict: Worth It – With adult tickets running between $64-$72, you're getting more than your money's worth for this dinner and show.
17 – Disney's Spirit Of Aloha Dinner Show
At the Polynesian Resort, Disney's Spirit of Aloha Dinner Show takes you to a traditional tropical luau featuring another all-you-care-to-enjoy feast on Pulled Pork, BBQ Ribs, Roasted Chicken and Vegetables, not to mention the famous Pineapple-Coconut Bread. Dinner plays second fiddle to the performances of the dancers, drummers, and the incredibly talented fire-knife performer.
Verdict: Worth It – Much like the Hoop-Dee-Doo Musical Revue, tickets run between $64-$76, making it an easy choice when it comes to using the second dining plan credit.
What's your favorite 2-credit dining experience? Tell us about it in the comments!
18 – Tiffins @ Animal Kingdom
"Tiffin" is the Indian word for a lunchbox used by travelers (also a mid-day meal), and the 252-seat restaurant in the park's Discovery Island area is open daily for lunch and dinner with menus that takes diners to Europe, Africa, Asia, and the Americas. A detailed map within the restaurant's entryway sets the stage for an immersive dining experience celebrating world travel, with bold artwork derived from sketches, journals, and research from those who created the theme park. From the familiar to something new, the menu offers diners starters such a Lobster-Popcorn Thai Curry Soup with Basil and Peanuts and marinated grilled octopus. Entrées include Wagyu Strip Loin and Braised Short Rib with rainbow carrots, roasted Peruvian potatoes, and chimichurri; Pan-Seared Duck Breast with leg confit, forest mushrooms, parsnip puree, truffle reduction, and huckleberry compote; and more.
Verdict: Worth It – if you choose an entrée that is over $40. While there are a few choices in the $30 range, many main entrees are over $40 and go up to $53. Desserts cost between $9-$12. With the right choices, this restaurant can be enjoyed while using 2 meal credits.
For a no obligation, FREE Quote on a Disney vacation package, please contact our travel partner Magical Vacation Planner at 407-442-0227 (407-442-0215 for Spanish). You can also request a FREE quote online by Clicking HERE.