The massive closures at Disney's Hollywood Studios has been the topic of a tremendous amount of discussion, controversy and frustration among fans. Earlier this month, the construction walls went up and a significant portion of the park closed for demolition (For compete details read Construction Updates: 5 Things You Need to Know by clicking here). All of this is to make way for the biggest construction project since the park's opening which will reboot, rebrand and hopefully revitalize the park. Yesterday, Disney release more details on half of the expansion, Toy Story Land. Here's a sneak peek at two of the featured attractions.
From Disney
In Toy Story Land, you'll find yourself shrunk to the size of a toy to explore the world of Andy's backyard with your favorite Toy Story characters, including Woody and Buzz. There are two new themed attractions being developed for Toy Story Land.
The first – Slinky Dog Dash – will be a family coaster attraction you'll want to ride again and again. The attraction features a coaster track that Andy has built all over his backyard using his Mega Coaster Play Kit, but as you know, he has a pretty amazing imagination, so he's combined it with some of his other toys, according to Imagineer Kathy Mangum. Take a look at a concept video of Slinky Dog Dash.
On Slinky Dog Dash, you will zip, dodge and dash around many turns and drops that Andy has created to really make Slinky and his coils stretch to his limits.
The second all-new attraction in Toy Story Land will be Alien Swirling Saucers. This attraction is designed as a toy play set that Andy got from Pizza Planet, inspired by the first Toy Story film. Aliens are flying around in their toy flying saucers and trying to capture your rocket toy vehicle with "The Claw."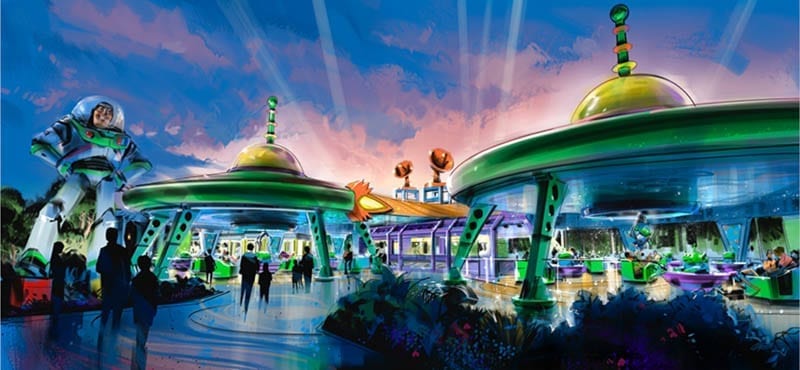 As you rotate around the toy planets and satellites as part of the game, you'll swirl to the beat of fun "Space Jazz" music developed just for this experience, Mangum said. The music, the lighting, and the sound effects will add to the flurry of your adventure while "The Claw" looms ominously over you.
Also today, Disney shared a number of other updates including opening dates for Soarin, the third track for Toy Story Mania, the new Magic Kingdom stage show and more. Check out these other stories for a complete rundown of the other announcements.
NEWS: Disney Announces Opening Date for Soarin'
News: More Opening Dates Confirmed (or at least narrowed down) for Major Additions at Disney World
NEWS: Disney Releases Ride Footage of New Soarin' Around the World
BIG NEWS: Disney Announces Replacement Show for Rivers of Light
RELATED ARTICLE
8 Reasons Hollywood Studios is Still Worth a Visit
by Chad N
If you've been to Disney's Hollywood Studios recently you may have noticed, it's beginning to look a little more Detroit and less Hollywood. It seems hardly a week has gone by this year that we haven't heard news of another attraction closing. Add in closures of food service and merchandise locations and I have to admit that it's a little depressing to see so many closed doors and papered over windows. While the future of the Studios is exciting, the current state of the park is moderately concerning. Many people are beginning to wonder if it's even worth visiting. I was in the park tonight and I'm here to tell you that despite the current state of transition, Hollywood Studios is still an awesome park and should be on the agenda of every guests. Here are the 8 reasons why.
8 – Conquer Disney World
I admit that I tend to think like a graduate of the General Patton School of Vacation Planning. But even if you don't approach a day at Disney like there is going to be a winner and a loser, how could you possibly call a trip complete without at least getting a taste of all four parks. Unless your trip is going to be less than four days, you really need to include Hollywood Studios.
7 – Brand New Star War Themed Fireworks
There's nothing hotter right now that Star Wars. So it's appropriate that Disney World's latest fireworks show brings the music of the galactic saga to life in the sky. Set the music of the collection of Star Wars movies, including The Force Awakens, this refreshed version of the Star Wars weekends show is a can't miss.
6 – Fantastic Nighttime Spectacular
Fantasmic is an amazing show. Wondering how good it is? Check out the line to get a seat. Sorcerer Mickey, clips from favorite Disney films shows on water screens, boats and a giant Dragon? What's not to like? Here are 10 things you need to know about Fantasmic.
TIP: To ensure a seat to the very popular show and save a lot of time standing in line, book a Fantasmic Dinner Package.
5 – Star Wars
Star Wars is back and as popular as ever. Yes, I'm nearly going out of my mind. If you have a Star Wars fan in your family, then Hollywood Studios is a must do. The Studios is Star Wars central. The Star Wars stage show is running, Launch Bay is open, Star Tours offers a variety of different ride experiences and the Jedi Training Academy is just awesome for kids. There are also plenty of opportunities to spend money on Star Wars themed merchandise. Finally, if you need a break from the princesses, you can find it here. Check out all the ways you can have a Star Wars kind of day.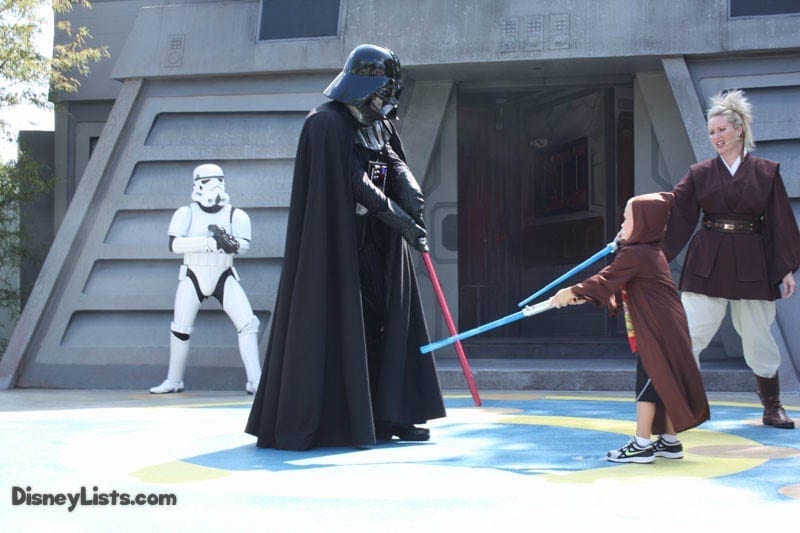 4 – Lot's to do with Kids
When you think of attractions for young children, almost everyone thinks of Magic Kingdom (and rightfully so). But don't ignore Hollywood Studios. The truth is, when it comes to stuff for younger kids to do, Hollywood Studios has a surprisingly large number of offerings. It clearly the second most kid friendly park. Most of the shows (Voyage of the Little Mermaid, Beauty and the Beast, Muppet Vision 3D) are great for kids. Those are in addition to the ultimate kids show: Disney Jr. Live on Stage. Plus . . .
3 – Lots of Unique Character Meet & Greets
Hollywood Studios has a uniquely high concentration of characters that can only be met here. Doc McStuffins, Sofia the First and Jake from Neverland Pirates are musts for any autograph book, just to name a few.
2 – Three TOP 10 Rides in this Park
I'm constantly perplexed when I hear people say there isn't a lot to do at Hollywood Studios. The Studios is home to three of the top 10 rides at Disney World. Rock 'N' Roller Coaster which is Disney's only legitimate hard core coaster. Toy Story Mania which is consistently the hardest FastPass to get and the longest line of all 4 parks. Finally, Tower of Terror which I personally think is the best ride at Disney.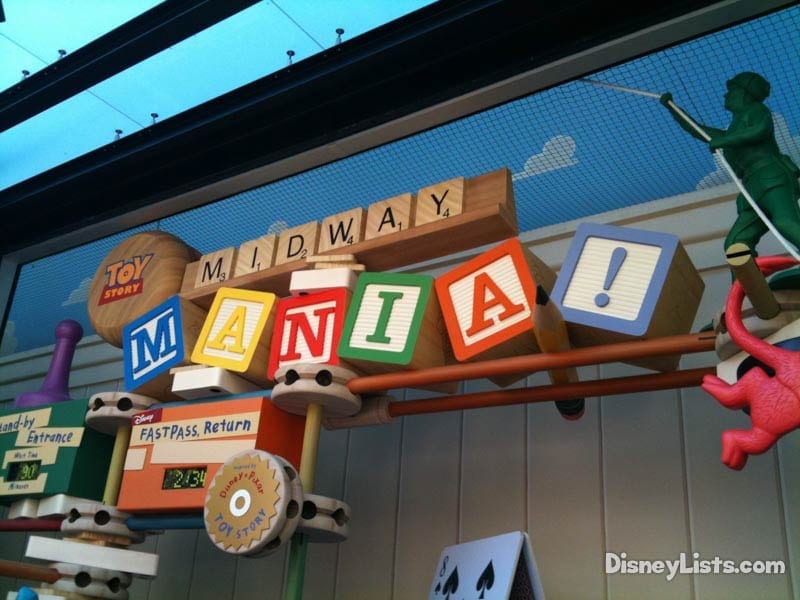 1 – Three Great Restaurants including the 1st & 2nd Best Themed dining experience at Disney World
There are several dining options at the Studios that would justify a visit alone. 50's Prime Time Dinner is without question the best themed dining experience at Disney World. This is the one restaurant that has been on our list every single trip. Beside great comfort food, how can you not love getting scolded for having your elbows on the table and reminded to, "clean your plate or Dad won't let you have dessert?" I've even had one server help me finish my green beans by "flying the plane into the hanger". This place is just plain fun.
A close second on cool theming is Sci-Fi Dine-In Theater. Can you beat eating in a car at a drive in while watching a film reel of ridiculous "scary" movies?  Finally, for fine dining Hollywood Brown Derby is one of Disney's better options. The setting is Hollywood elegant and you don't have to compromise on food quality just because it's inside a theme park.
So seriously, this is still a great park. Yes, it's a park in transition, and yes there are a number of closed attractions. However, to say Hollywood Studios isn't worth going to because of this is a big overreaction. And we haven't even talked about the plethora of special events at the Studios like Star Wars Weekends. Get over to Hollywood Studios. You won't regret it.
What is your favorite part of Hollywood Studios?
Photo Credit: Disney