There's no such thing as a boring week at Disney World. This week we got a number of details on ongoing projects around the kingdom of the mouse. Details were finally released on the future of Disney World's most popular restaurant along with very exciting details on the upcoming summer evening festivities at Animal Kingdom. Disney also announced a number of upcoming events as well as a mind and budget blowing new wedding option. Finally, runDisney stubs its toe with the premier of the Star Wars Half Marathon and follows up with a head scratching new race option.
1 – Disney World Icon Comes Down
As big as Disney World is with as many attractions as it has, there are a handful of structures that stand out and are truly iconic. This week, one of those icons came down. The Earful Tower, the water tower outside Hollywood Studios with Mickey ears on top, became the latest casualty of the expansion, transformation and complete reimagining of that park. Being one of the first Disney structures guests saw coming up World Drive, the Earful Tower was always a welcome sight. As exciting as the coming expansion is, it's a little sad to see these type of thing go.
2 – Details Released Fulton's Crab House Replacement
We reported a few months ago that Fulton's Crab House would be closing for an extended and extensive refurbishment that would likely mark the end of the Fulton's Crab House era. That was confirmed this week with the announcement that Fulton's Crab House was indeed being retired and would reopen this fall as Paddlefish. Paddlefish will feature steaks, seafood and chops in an opulent, inviting atmosphere.
Fulton's Crab House was wildly popular with many loyal fans. In fact, not only was it the highest grossing independent restaurant on Disney World property, it was the 13th highest in the United States. Fans of Fulton's can relax a little bit. The restaurant will continue to be operated by Levy Restaurants and will offer many Fulton's Crab House favorites including Florida Stone Crab, Alaska King and Queen Crab and Lobster Corn Dogs.
3 – Disney Unveils Details of Animal Kingdom After Dark Experiences
With very few exceptions Disney's Animal Kingdom has been a daytime park since it opened. That's unfortunate as the park is absolutely enchanting after dark. That's changing this summer as Disney launches Animal Kingdom Awakens, a celebration of the park after dark with a special nighttime safari featuring a new lineup of nocturnal animals, all new entertainment offerings along with the chance to experience favorite attractions in the dark. The new evening hours and summer celebration start Memorial Day weekend.
Check out more details on what's coming by clicking here.
5 – Disney World Offers New Dream Wedding Location
Weddings at Disney World are nothing new. Every year, thousands of happy couples tie the knot at the happiest place on Earth. Disney has a dedicated wedding pavilion located between the Grand Floridian and the Polynesian along with an army of florist, bakers, photographers, planners and more to make sure the special day exceeds everyone's wildest expectations. Now, Disney is stepping it up a notch by offering weddings in front of Cinderella Castle in the East Garden Plaza (formerly the site of Wishes FastPass viewing area). That's right, for only $75,000 you and 100 of your closest friends can celebrate the special occasion at the very center of the magic.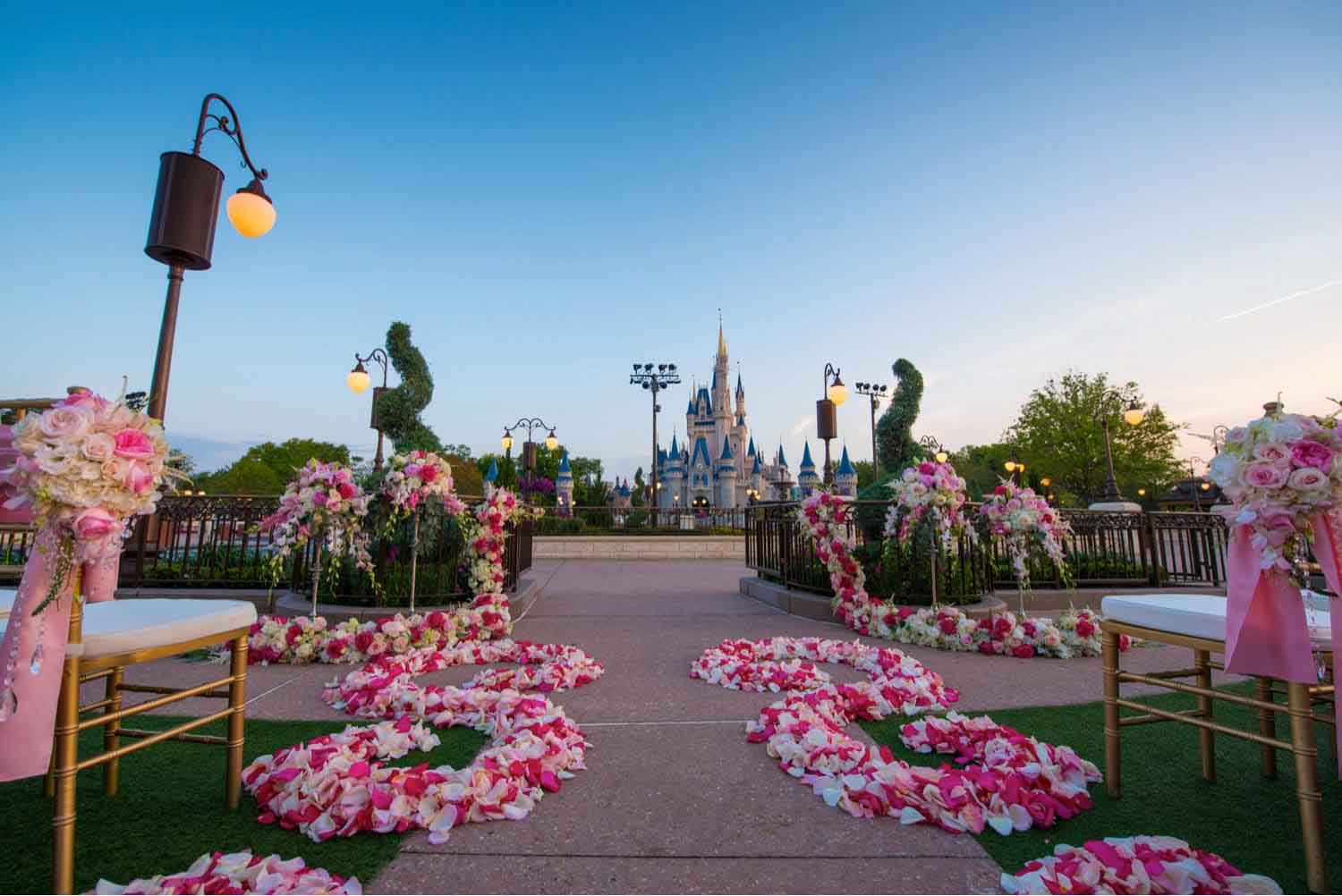 From Disney:
The fairest wedding wish of all comes true as couples can now say their "I do's" in the heart of Magic Kingdom Park with enchanting Cinderella-like weddings now offered at Walt Disney World Resort.
For the first time ever, Magic Kingdom park goers may enjoy unforgettable glimpses of once-in-a lifetime celebrations as trumpeters herald a bride's grand entrance down Main Street, U.S.A. aboard Cinderella's glass coach or horse-drawn carriage, as ceremonies are staged in the morning hour just after the official "rope drop" at the park entrance.
As part of the popular "Wishes Collection," couples can now exchange vows in the newly enhanced East Plaza Garden offering up to 100 guests a picture-perfect view of Cinderella Castle.
"Couples have been seeking a celebratory location showcasing the iconic Cinderella Castle," said Korri McFann, Marketing Director for Disney's Fairy Tale Weddings. "We are thrilled to have the opportunity to make those dreams a reality."
The colorful floral and customized décor enhance the lush garden setting creating an elegant venue fit for a princess. And after the celebrated "I do," guests are whisked off for reception festivities at a variety of locations throughout Walt Disney World Resort.
The expert team at Disney's Fairy Tale Weddings & Honeymoons has helped to create and execute fantasy engagements, weddings and honeymoons for almost 25 years, delivering everything couples may dream about for an unforgettable event. Guests may choose from a variety of magical settings and destinations around the world, including theme parks, breathtaking beaches and grand ballrooms. This top-ranked wedding and honeymoon destination hosts more than 1,200 weddings yearly at Walt Disney World Resort.
Disney's Fairy Tale Weddings package collections start at $2,500, and custom experiences begin at $12,000. Premiere locations such as Magic Kingdom Park, with a completely customized ceremony and reception for 100 guests, start at $75,000.
6 – Star Wars Half Marathon Race Weekend Premiers with a Number of Disturbances in the Force
The first annual Star Wars Half Marathon: The Dark Side, premiered with a weekend full of races for all ages and multiple distances. Fans of Star Wars were out in full force with awesome costumes. As would be expected, character photo stops featured Star Wars characters and classic Star Wars scenes such as the trash compactor from Episode IV. Entertainment at the starting line and along the course included Star Wars music and numerous giant video screens showing the best light saber battles. Overall, the weekend was a lot of fun, although there were an uncharacteristically large number of logistical problems that had many runners giving into their anger and embracing the dark side of the force.
Read the full race report here for a run down on the good, the bad and the ugly.
7 – runDisney Announces Virtual Races
runDisney races have grown exponentially and the popularity of the events is enormous. Every year more races are added to the calendar at Disney parks around the globe and overall, hundreds of thousands or runners in total participate. As races and the calendar fill to capacity, runDisney is looking for new ways to expand and they've done so with the addition of four "virtual races" this year. Unlike traditional runDisney events where runners get up at ungodly hours, stand in long lines for porta-potties and then go for a magical run around Disney property, virtual races are done at a time and place of the participants choosing. For a registration fee of $39, runners can go out and run 5k (in the neighborhood, treadmill, wherever) and runDisney will mail participants their medal and digital race bib. Proof the run was actually completed is not required.
Ooooookay. I don't get it, but we'll see.
8 – Disney Announces 30th Anniversary Pixar Celebration Pin Party
If you love Pixar and Disney Pin trading, this is the event for you. For two days, the Pin Party will celebrate 30 years of Pixar animation (has it really been that long?).
From Disney:
This "totally wicked" event is slated to take place August 26 (from 10 a.m. – 6:30 p.m.) and August 27, 2016 (from 9:30 a.m. – 6 p.m.) at World ShowPlace in Epcot at Walt Disney World Resort. Join us as we celebrate 30 colorful years of Pixar Animation Studios! This award-winning studio has produced a myriad of full length feature films, shorts, (Car) Toons, and television specials full of colorful characters that we love and cherish. The pins for the Pixar Party will feature characters from "Cars" to "Brave" to "infinity and beyond." The event team shared as many details as they could with me, so here's the scoop!
Admission to Pixar Party is $140 per guest and includes the following:
Trading Board Games (four (4) vouchers per day)
Pixar Party Scavenger Hunt
Auction Opportunity (includes pre-production pins, artist proof pins and more)
Meet Disney Pin Merchandisers
Artist Signings with Disney Design Group Artists
One (1) $30 Disney Gift Card
Other event offerings include:
First opportunity to pre-purchase select themed Pixar Party merchandise via the Random Selection Process
Limited Edition Commemorative Gifts
Welcome Pin
Pixar Party Scavenger Hunt Six (6) Pin Gift Set (previously found on trading boards)
Goodbye Pin Set
Here's a look at the Pixar Party event merchandise catalog. Some of these designs are absolutely "incredible!"
Hungry for more? There's even a "Little Chef" Breakfast you can sign up for, which includes a breakfast buffet, trading time inside the Pixar Party venue (from 8:30 a.m. – 10 a.m.) and a limited-edition commemorative gift pin – available only to breakfast attendees. Keep in mind this package sells out fast.
Sign up for the Pixar Party beginning Thursday, April 28, 2016. Ticket Sales begin at 2:00 p.m. Eastern Standard Time on DisneyParksMerchandise.com. Reminder: Event admission does not include theme park admission to Epcot but theme park admission is required to attend the event. Package limited to availability. No discounts will be offered in conjunction with this package.
9 – Force for Change Returns to Disney Parks May 4th
May 4th is a day of celebration around the world of all things Star Wars (May the 4th be with you). Disney will again mark the occasion with Star Wars: Force for Change, a fundraising opportunity that supports UNICEF.
From Disney:
This year, we will offer t-shirts for adults and youth that feature the logo for the upcoming film Rogue One: A Star Wars Story. These shirts are the first products for the new film created especially for Disney Parks.
Twenty-five percent of the retail sale price of this product will be donated to U.S. Fund for UNICEF in support of UNICEF Kid Power. UNICEF Kid Power gives kids the power to save lives. By getting active with the UNICEF Kid Power Band, kids can go on missions, earn points and unlock therapeutic food packets for severely malnourished children around the world.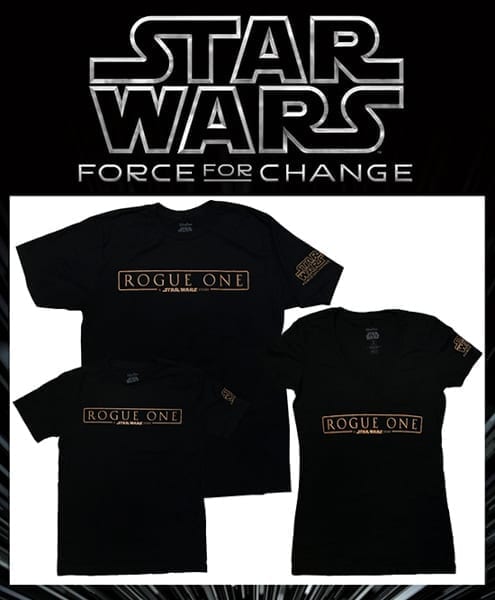 The shirts will be released at the following locations:
Disneyland Resort
Disneyland park – The Star Trader and Star Wars Launch Bay
Downtown Disney District – D-Street and World of Disney
Walt Disney World Resort
Disney's Hollywood Studios – Tatooine Traders and Star Wars Launch Bay
Disney Springs – Star Wars Galactic Outpost and Once Upon A Toy
Magic Kingdom Park – Merchants of Venus
These items will not be available on the Disney Parks online store or via the Shop Disney Parks mobile app.
Rogue One: A Star Wars Story will revolve around a rogue band of resistance fighters who unite for a daring mission to steal the Death Star plans and bring new hope to the galaxy. The film arrives in theaters on December 16, 2016.
To learn more about Star Wars: Force for Change, please visit ForceForChange.com.
The U.S. Fund for UNICEF does not endorse any brand or product. No portion of the purchase price is tax-deductible.