News
BIG NEWS: Disney Making Changes to 2017 Dining Plans
According to WDW News Today, visitors to Walt Disney World can expect to see some big changes to the popular Dining Plan in 2017. The Dining plan, where guests pay in advance for dining and snack credits, is a popular choice for many visitors and is also included free in select packages from time to time during the year. However, guests who have come to enjoy the Dining Plan as a reliable way to control dining costs and in many cases save some money as well, will have to deal with some changes next year.
The biggest change that will affect most guests is the elimination of the dessert choice from the counter service meal credit. Counter service meals will now include only a drink and an entrée. However, in place of dessert, guests will now receive two snack credits per day instead of one. The table service credit will continue to include dessert.
This change will impact the Quick Service Plan (which includes two counter service meals only per day) more than the Basic Dining Plan (which includes one counter service and one table service) as Quick Service Plan guests will be losing two desserts but only pick up one snack credit.
Additionally, Disney will be completely eliminating the Platinum and Premium plans.
There are no expected changes to the Deluxe Dining plan.
2017 Quick Service Dining Plan
2 Quick Service Meals (Non-alcoholic drink and an entrée) per person per day
2 Snack Credits per person per day
2017 Basic Dining Plan
1 Quick Service Meal (Non-alcoholic drink and an entrée) per person per day
1 Table Service Meal (Non-alcoholic drink, entrée and dessert) per person per day
2 Snack Credits per person per day
Read Our Related Article Below: 7 Reasons We Love the Disney Dining Plan
RELATED ARTICLE: 7 Reasons We Love the Disney Dining Plan
by Christy Caby
The Disney Dining Plan is definitely a must for us when we are on vacation.  We have always bought the dining plan and found the value in having the plan, even if the costs don't always equal out to completely match what we might have paid separately.  (Usually it does save us money since my husband is a big time steak eater.) If you aren't quite sold on the dining plan yet or know what value it can provide, here are 7 reasons why my family absolutely loves the Disney Dining Plan:
7 – A vacation with an all-inclusive feel.
One of the greatest things about trips to Mexico or cruise experiences is that all-inclusive feel that you get.  There is just something about showing up and not having to worry about very much.  That is exactly one of the benefits that the Disney Dining Plan provides.  Your meals are all taken care of and you can experience your meals and snacks without worrying about pulling out your wallet every time.  You just have to keep track of your entitlements, which they will help you with at any of the restaurant locations or your resort front desk.
6 – Easy budgeting in advance.
The dining plans help family to budget for their entire trip in advance. It would be a huge mistake not to have a healthy budget for dining at Disney.  Many families experience sticker shock when they realize just how expensive the food and many of the dining locations at Disney can be.  The dining plan gives you a set cost that you pay in advance before your trip, so that the money you bring with you really is for souvenirs and additional activities.  It is great to have one less thing to worry and stress over.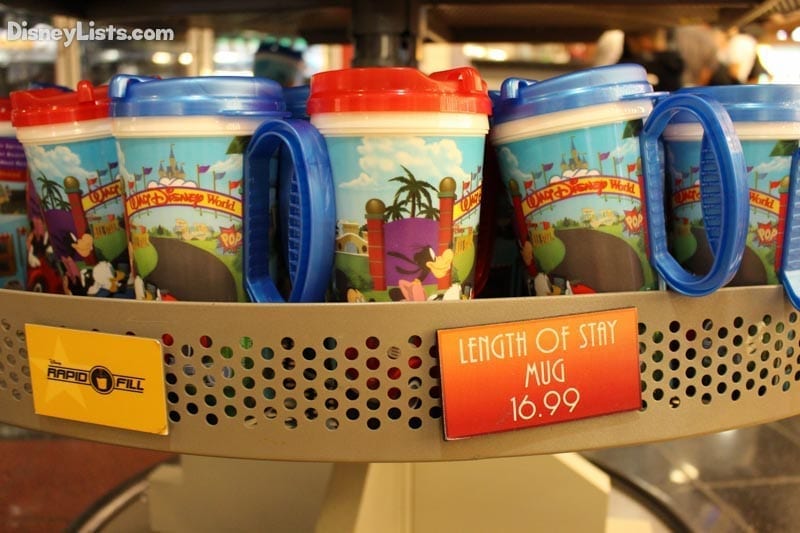 5 – Rapid Refill mugs.
Each paid member of your party on the Disney Dining Plan, adults and children alike, will all receive rapid refill mugs.  It is great that each person gets their own mug, so they can make their own drink selections for the duration of your trip.  The mugs get picked up and activated at Disney resort gift shops and then you can refill them over and over again during the duration of your stay.  You can fill up before you head out to the parks, too, so you have coffee or soda to start the day.  You also get to keep the mugs and take them home with you, so it makes a great souvenir and a great cup to use once you are sadly back at home.
4 – The flexibility in using entitlements.
The entitlement structure is extremely flexible.  You don't have to use your allotment of points each day.  You can save the up for a specific dining experience that may be more entitlements or maybe a day when you plan to do more dining that another day.  You can also save up the snacks so that maybe you snack around Epcot one day for meals instead of having snacks each day.  I love how it is customizable and easily tailored to each family and their needs/habits.  You don't have to feel locked in to a set time or cadence for planning your meals.
3 – The opportunity to try new things.
This is definitely a big plus.  When you are paying large prices for dining experiences, you may be apprehensive about trying some of the restaurants or different meals out of fear that you won't like it or it would feel like a waste.  For many people, the psychology changes a little bit when they are on the dining plan.  When you aren't actually shelling out your wallet each time you don't feel as much like it is hitting you in the pocket book to try something new.  You can also use this opportunity to try the most expensive items on the menu since there will be no added cost for you!  You don't have to shy away from ordering the steak every meal if a steak is what you would truly love to have!
2 – Don't have to tell the kids "No".
Not saying that kids don't need to hear the word no from time to time, because they definitely do.   Sometimes it is just nice to not always have to say no or be so worried about your budget that you don't want to let the kiddos indulge a little.  Depending on which dining plan you have and which entitlement you are using they come with drinks, so the kiddos can get a break from the cups of water if they tend to like a little something different to drink.  Many of the meals may also include desserts, so where you might have had to tell them no before, it is included now.  We usually limit our children's dessert/sweets intake, but on a Disney vacation, we know they are burning off that extra energy and love that we can give them a little bit of a treat to really enhance their already magical vacation!  Sometimes it feel so good to say, "Yes".
1 – Tons of delicious food!
A meal on the dining plan is usually way more than most people can eat, at least not consistently for 2-3 meals a day.  It is a lot of food!  We actually love that about it.  We always leave feeling like we got what we wanted to eat and satisfied.  We never feel like we skimped, ate lighter or did without in order to conserve costs.  You also get a great sampling of items so you get to try and experience more of what the restaurants have to offer instead of just one dish.  Plus, you'll be doing a ton of walking, so don't feel bad about having that dessert!
Is the Dining Plan Worth it? We did some number crunching. Click here to read the results of our testing and some other thoughts on the dining plan.