Let's celebrate the United States of America – Disney World style! If you find yourself at the Disney World parks for the 4th of July festivities, here are 14 ways to keep the patriotism flowing!
1 – Fireworks and Special Nighttime Events
4th of July doesn't feel complete without fireworks! If you are looking for a great display of fireworks, Disney World is the place to be. Of the four parks, Magic Kingdom and Epcot have special Independence Day events for guests. We've included the other two parks and their nighttime happenings as well for whichever park you may be at on July 3 and/or July 4.
Magic Kingdom:               
"Disney's Celebrate America! A Fourth of July Concert in the Sky" rockets into the air above – and all around – the park. This special, fireworks spectacular will be presented two nights in a row, at 9:15 p.m. on both July 3 and 4. You can also rock out each night to DJ dance parties in Tomorrowland and Frontierland, each a great location from which to catch the fireworks! The Muppets Present…Great Moments in History: Miss Piggy, Kermit, Fozzie Bear and friends reenact famous moments in American history in a whimsical way. The live show is performed daily in Liberty Square at the Magic Kingdom.
Epcot:
On July 4, Epcot will have an enhanced fireworks display with some highlights that celebrate Independence Day! Stick around until the very end of the show to see IllumiNations: Reflections of Earth culminate in its own one-of-a-kind tribute to the Red, White, and Blue with, "The Heartbeat of Freedom." "IllumiNations: Reflections of Earth" will end its nearly 20-year run on September 30, 2019. So this will be the last chance to experience the patriotic Fourth of July grand finale of this beloved nighttime spectacular.
Hollywood Studios:
During Star Wars: A Galactic Spectacular, fireworks are just one portion of this immersive nighttime experience at Disney's Hollywood Studios. Adding state-of-the-art projection effects, dynamic lighting and lasers, the show transports guests to a galaxy far, far away and into iconic scenes from the Star Wars saga. This one-of-a-kind "wow" begins at 10 p.m. on July 4. The show now includes an all-new sequence from "Solo: A Star Wars Story."
Animal Kingdom:
Animal Kingdom does not have fireworks so they don't spook the animals. They do however their usual night show, Rivers of Light: We are One with two showings nightly at 9:15 pm and 10:15 pm.
2 – Voices of Liberty 
The absolutely spectacular Voices of Liberty will perform special evening Fourth of July concerts at the America Gardens Theatre on July 4th at 5:30 pm, 6:45 pm, and 8 pm. Disney Characters dressed in their "Spirit of '76" Independence Day attire will meet guests during the day at The American Adventure.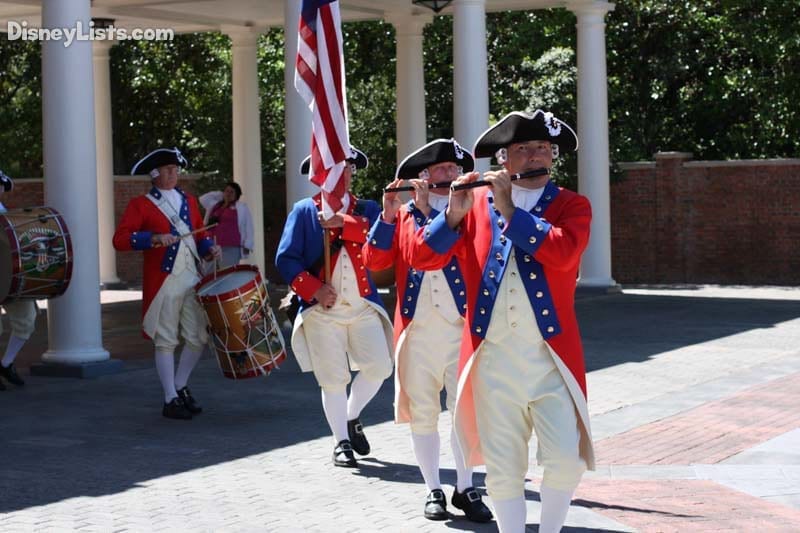 3 – The Hall of Presidents
One of the most patriotic attractions at Disney World has to be The Hall of Presidents in Liberty Square at Magic Kingdom. Relax in a large theater with 3 massive screens to watch America's history unfold. The best part is when the screen moves and all 43 audio-animatronic U.S. Presidents take the center stage! Before the show, be sure to browse the Hall of Presidents which includes authentic artifacts from Presidents such as George Washington.  
4 – The American Adventure
Among the other festivities taking place at the American Adventure Pavilion in Epcot, don't forget to go into the American Adventure attraction. Audio-animatronics, film, and music bring America's past to life during this 30-minute show!
5 – Flag Retreat
One of our favorites! The Flag Retreat is a daily experience at 5:00 pm at Magic Kingdom in Town Square on Main Street U.S.A. The American flag retires for the night with a special tribute to thank veterans for their service. The pledge allegiance is said, followed by a trumpet fanfare. The American flag is lowered as Magic Kingdom's philharmonic band plays the "Star Spangled Banner." The most amazing touch is when a guest veteran is handed the flag. It doesn't get much more patriotic than this special moment!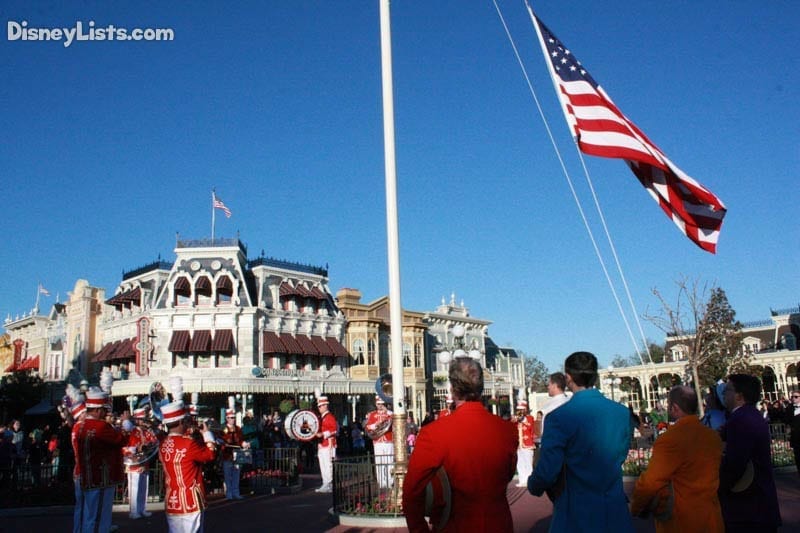 6 – Walt Disney Presents: One Man's Dream
It's no secret that Walt Disney was dedicated to his brilliant dreams and making them become a reality for all of us to enjoy. Some, however, don't know that Walt Disney was a very patriotic person! Some of Walt's most famous quotes speak of his love for America…
"Laughter is America's most important export."
"Tomorrow will be better as long as America keeps alive the ideals of freedom and a better life."
"Actually, if you could see close in my eyes, the American flag is waving in both of them and up my spine is glowing this red, white, and blue stripe."
Visit the attraction Walt Disney Presents: One Man's Dream at Hollywood Studios and take a walk in Walt's footsteps.
7 – Special Patriotic Treats
Guests can indulge in themed eats and sips honoring Independence Day throughout the park – everything from patriotic cupcakes and special dining packages to red, white, and blue sangria and a Boom Berry Lemonade.
Click here for the 2019 4th of July Foodie Guide.
8 – Liberty Tree Tavern
Dine on the excellent American flavors offered at Liberty Tree Tavern in Magic Kingdom. This table service buffet style restaurant pays great tribute to our founding fathers. With a catchphrase of "Life, Liberty, and Pursuit of Deliciousness" there is no questioning this is a great place to eat while celebrating American patriotism! 
9 – American Food Snacking
We may have mentioned Liberty Tree Tavern above, but let's not forget about some of the most famous and best American foods and snacks which can be found throughout the Disney parks. Enjoy a hot dog from Casey's Corner, fill up on delicious funnel cakes at any of the parks, and taste the amazing flavors of the barbeque being sold at the American Pavilion.
10 – American Disney Merchandise
Special red, white, and blue Disney style apparel is available to celebrate the holiday throughout the parks. The best place to find Disney style American apparel and merchandise is at Epcot's American Adventure Pavilion gift shop called Heritage Manor Gifts.
11 – The Dapper Dans
Magic Kingdom's barbershop quartet, known as The Dapper Dans, sing in beautiful harmony while sporting their pinstripe outfits. While listening to the Dapper Dans anytime is a joy, it is especially fun with the 4th of July holiday because they key in on some of the oldie but goodies American tune favorites. Check performance times and listen out for "Yankee Doodle Dandy" being sung on Main Street U.S.A. for a musical patriotic moment.
 12 – Snap a Selfie
Show off your patriotic side with a quick and simple selfie while posing next to one of Disney's patriotic locations. The Liberty Bell, Liberty Tree, or Flag Pole at Magic Kingdom make for the perfect selfie spot. You could also stand in front of the American Adventure Pavilion sign at Epcot with the golden eagle in the shot. Get creative and have fun with it!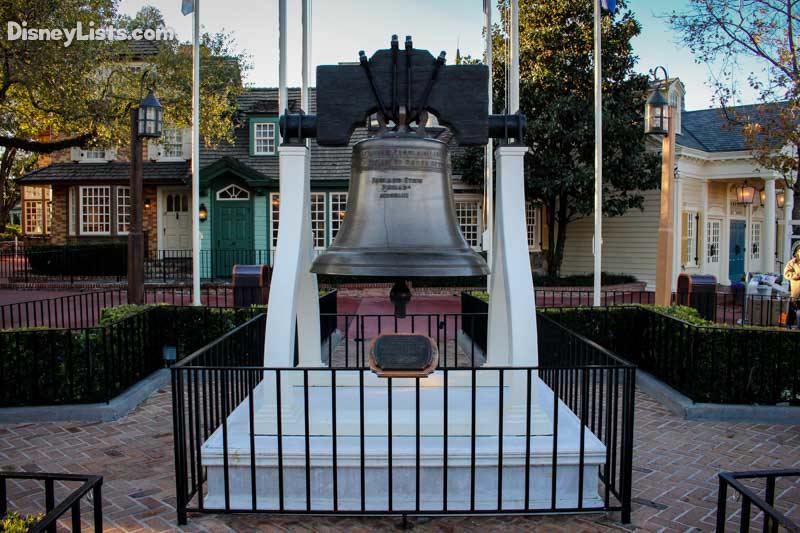 13 – Face Painting
If you've been to Disney World before, chances are you've spotted the face painters located in each of the parks. They are very talented and can provide a range of art. Have a seat and ask to get your patriotism on… literally ON your face with some red, white, and blue colors.
14 – Celebration Button
Last but not least, snag a celebration button from any Guest Relations location. Simply ask for a free celebration button and write on it "Independence", "Freedom", "U.S.A", or whatever you want to celebrate for the 4th of July occasion!
From our DisneyLists family to yours… have a happy, safe, and magical Fourth of July! Thank you to all the brave who served in the past and serve now to ensure we always remain the land of the free!
For a no obligation, FREE Quote on a Disney vacation package, please contact our travel partner Magical Vacation Planner at 407-442-0227 (407-442-0215 for Spanish). You can also request a FREE quote online by Clicking HERE.